Newspapers Spark Outrage With Front Page Coverage Of TV Journalist Killings
The New York Daily News and other newspapers featured images of Virginia TV reporter Alison Parker being fatally shot. Warning: This post includes graphic and controversial images.
Newspapers in the U.S. and U.K. sparked outrage Wednesday evening after publishing front page images showing the brutal murder of two TV journalists in Virginia.
The New York Daily News tweeted an image of its Thursday front page showing three still images from the video Vester Flanagan recorded as he killed WDBJ-TV reporter Alison Parker and cameraman Adam Ward. The images were framed by the words "EXECUTED ON LIVE TV."
The Daily News and its cover quickly began trending on Twitter, with the vast majority of comments criticizing the front page as insensitive and tasteless.
At one point Wednesday evening, outrage over the cover drove the Daily News to at least the third most popular trending topic on Twitter in the U.S.
The Daily News could not immediately be reached for comment.
The New York Post also used a similar still from the same video on its front page.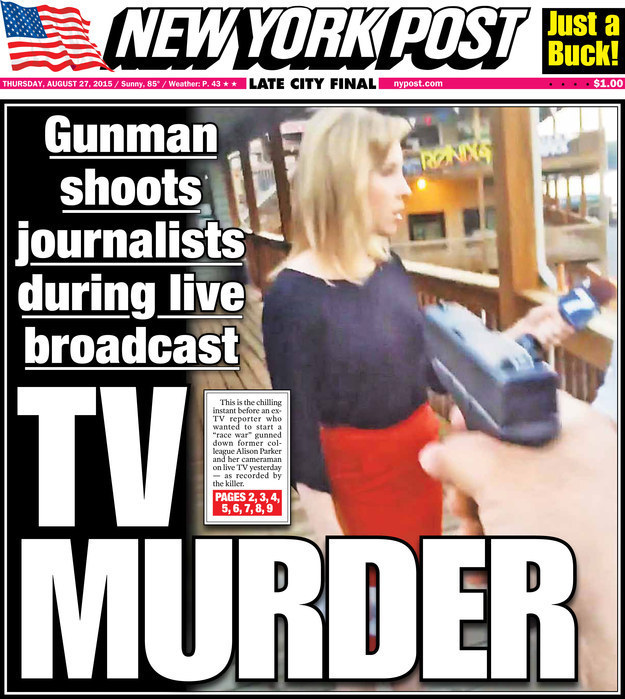 The papers were not the only organizations to prominently share images from Flanagan's video, but they nevertheless seemed to become a focus for uneasiness about the way the shooting generally played out in the media.
Newswire service Reuters also posted a similar series of photos from the killings to its Facebook page late Wednesday.
Several tabloids in the U.K. also ran front pages with images from the video that showed Flanagan's gun going off and Parker's terrified reaction just moments before her death.
While the U.S. has seen a string of mass shootings in recent months and years, news of Wednesday's killing spread especially quickly through social media after Flanagan posted videos on Twitter and Facebook. The video he recorded, and his relatively active online presence, also provided an abundance of media that could be quickly shared and distributed.
All of that media combined with new technologies, such as auto-playing videos on Facebook and Twitter, led some to view the horrific images before they had a chance to opt out.
But by the end of the day Wednesday, many people were expressing dismay over the images thrust into their timelines, and with organizations — including the Daily News — that spotlighted those images.
Amid the criticism, however, some publications and users were praised for sharing images of Parker and Ward.