"It Looked Like Armageddon:" One Person Has Been Killed As Fires And Explosions Destroy Dozens Of Homes Near Boston
Tens of thousands of people were urged to evacuate as dozens of homes and buildings were engulfed in flames.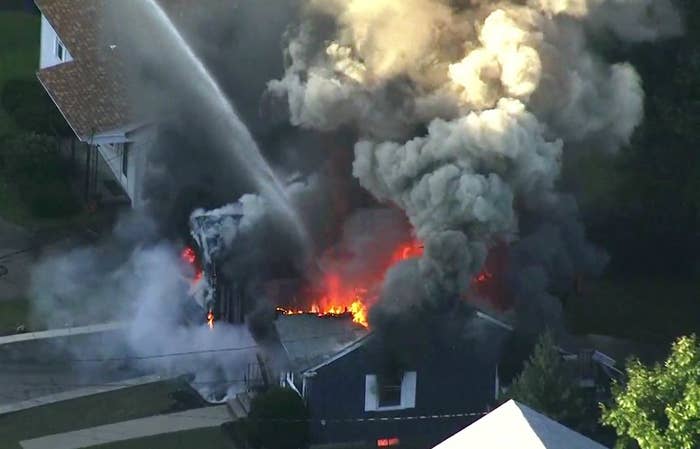 Hundreds of natural gas specialists are being brought to neighborhoods near Boston to inspect homes before thousands of residents can return after a series of large explosions on Thursday killed one person and injured more than 25.

"This will not be a simple process. And doing it right is essential to making sure everyone remains safe," Massachusetts Gov. Charlie Baker said Friday morning.
Dozens of homes on Thursday were engulfed in flames in the towns of Lawrence, North Andover, and surrounding communities about 30 miles north of central Boston. Massachusetts State Police tweeted that there were 70 different incidents in the area.

Leonel Rondon, 18, from Lawrence, was killed when an explosion caused a chimney to collapse on his car, according to the Essex County District Attorney's office. He was rushed to Massachusetts General Hospital, but died of his injuries around 8:30pm.
Baker offered his condolences on Twitter.

While the cause of the fires was still under investigation, Andover Town Manager Andrew Flanagan told CNN Thursday evening that "it's our understanding that it has to do with gas pressure." As many as 33,000 people in the town were urged to evacuate, with Flanagan calling the situation "historic."
The National Transportation Safety Board is launching an investigation into the incident as it looks after pipelines.
The governor noted on Friday that local authorities will work with the federal government "to investigate how this occurred and who should be held accountable for the results and their actions."

Baker, who said he is not satisfied with Columbia Gas's recovery efforts, declared a state of emergency on Friday, allowing the state to take greater control of the response effort.
Lawrence General Hospital said it treated 13 victims for injuries including smoke inhalation and "blast trauma." One person in critical condition was transferred to a Boston trauma center.

Police advised anyone with gas service in the towns of Lawrence, North Andover, and Andover to "evacuate their homes immediately if they have not already done so."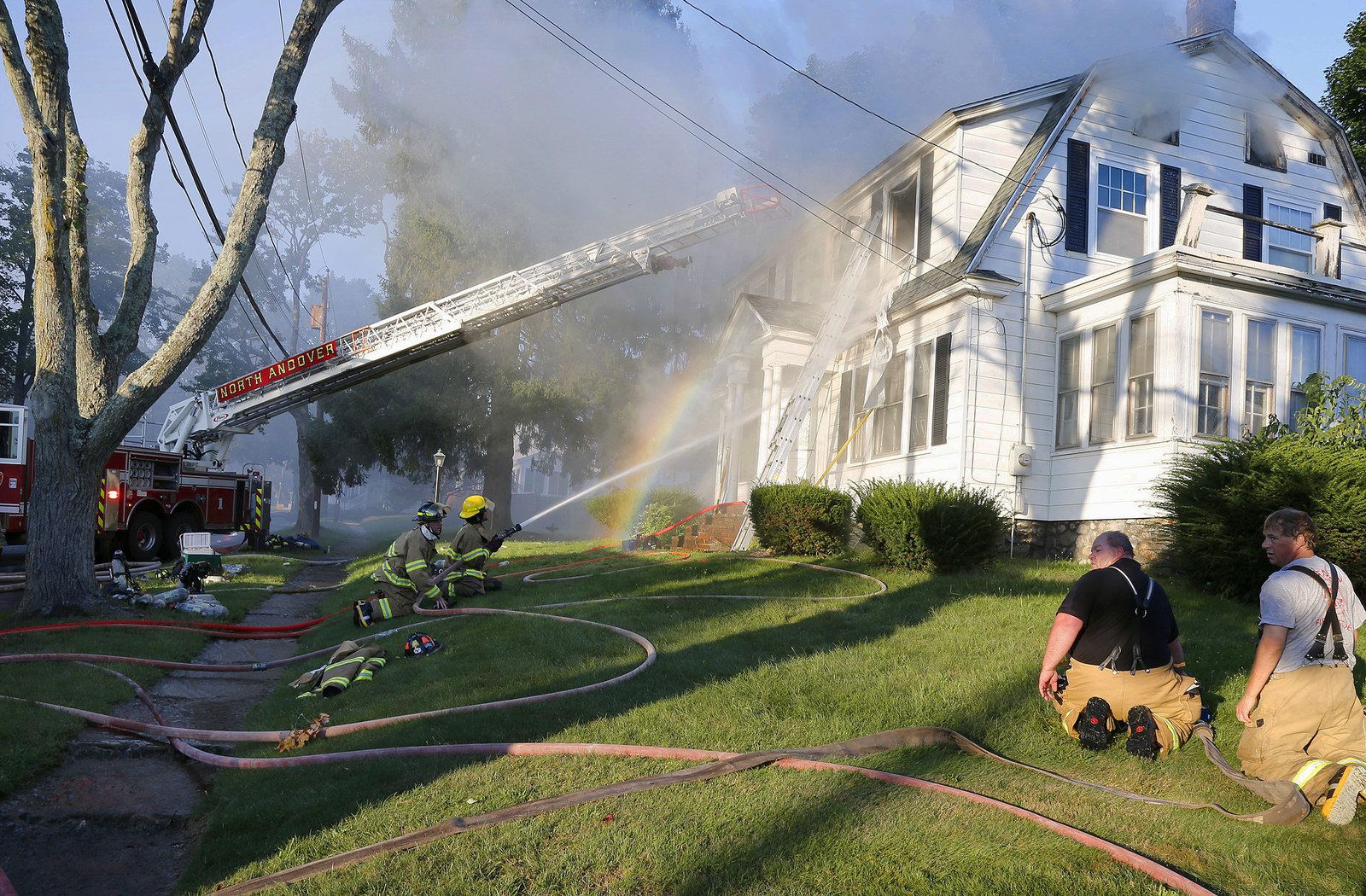 Andover Fire Chief Michael Mansfield told reporters Thursday night that 50 firefighting vehicles and 20 ambulances responded to the scene.
"I've been in the fire service for almost 39 years and I've never seen anything like this in my entire career," he said. "It looked like Armageddon."

Mansfield described the fires as "an overwhelming event" and said his crews would put out one structure fire then walk outside and "find the next building on fire as well."
Andover and other communities were working with the local utility company Columbia Gas to determine the cause of the explosions. Police said that electricity was being shut off across the area, and also cautioned people to be wary of gas odors.

Columbia Gas announced on its website that it would visit each of the 8,600 customers to shut off gas meters and conduct safety inspections. It also noted that people should not turn the gas back on in their home.
Officials repeatedly declined to say how many residents in total were evacuated.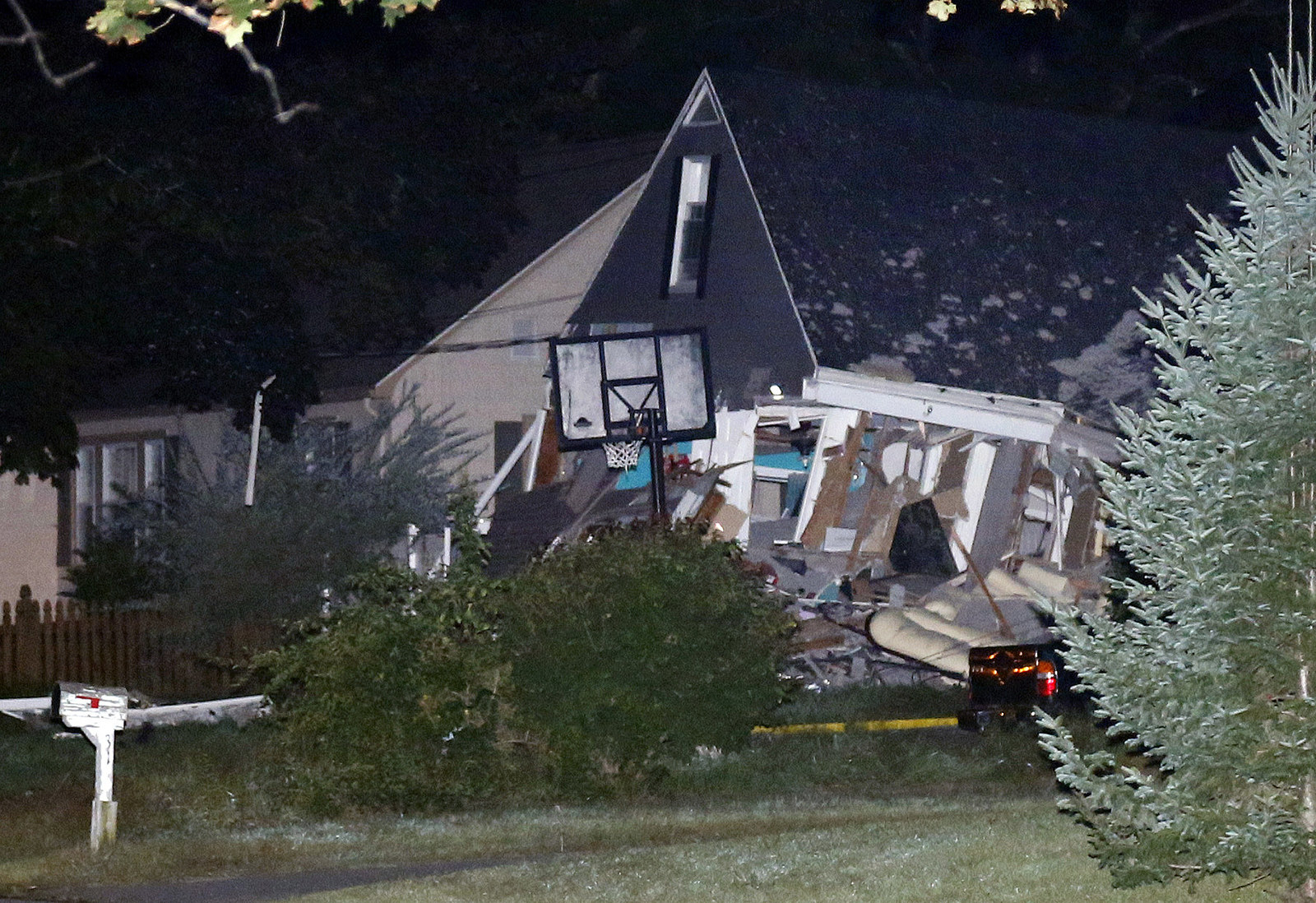 As the fires burned, local media reported that resources were spread thin and some houses were burning without crews being able to respond.

Aerial video showed multiple homes and buildings engulfed in flames. At least one home appeared to have had its walls blown out, and debris was scattered across a lawn outside the house.