Mormon Podcaster Excommunicated After Pushing For LGBT Rights, Feminism
John Dehlin was excommunicated for apostasy Monday. His ouster is the latest in a series of high profile disciplinary actions the Mormon church has taken against outspoken members.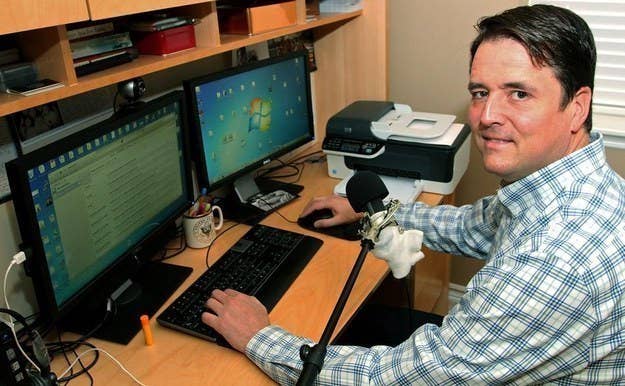 A Mormon podcaster has been excommunicated after speaking out in favor of female ordination, same-sex marriage, and other topics that are traditionally taboo within the faith.
The Church of Jesus Christ of Latter-day Saints — commonly known as the Mormon church — excommunicated John Dehlin Monday for apostasy. In a statement posted to his website, Dehlin says he was excommunicated for his refusal to censor his podcast, for publicly expressing doubts about Mormon teachings, and for publicly pushing "for the ordination of women and for civil same-sex marriage."
Dehlin founded and runs the "Mormon Stories Podcast," which has covered LGBT issues, female ordination to the church's lay ministry, doubt, and an array of other topics.
In his statement, Dehlin wrote that his understanding of the apostasy charge is based on his "interpretation of both written and verbal conversations" with his local church leaders, who were responsible for taking disciplinary action against him. Dehlin also posted the letter he received announcing his excommunication. The letter cites Dehlin's teachings about God and Jesus, as well as assertions that the Book of Mormon and other sacred texts within the religion "are fraudulent and works of fiction," among other things.
The Mormon church took the unusual step Tuesday of issuing a statement about Dehlin's excommunication, saying it "has the responsibility to correct the public record."
Discipline within the Mormon church officially happens at a local level and top officials in Salt Lake City, Utah, rarely comment when a member is excommunicated. For example, the church responded to the excommunication of Kate Kelly — who pushed for female ordination as the leader of Ordain Women — by issuing a brief statement directly to the media.
In Dehlin's case, however, the church posted a considerably longer statement directly on its press page. The church's statement disputes Dehlin's characterization of his excommunication:
In this case, attempts have been made to create the impression that the disciplinary council convened on Sunday, February 8, 2015, and which has resulted in a loss of Church membership or excommunication of Mr. Dehlin arose largely because of his views on same-sex marriage and priesthood ordination for women. Although his stated positions on those subjects are not consistent with the Church's teachings, they were not cited in the local leader's letter delivered to Mr. Dehlin on February 9...
Practically speaking, Dehlin's excommunication means that he can no longer participate in church rituals, enter some church buildings, wear religiously significant clothing, and do other things. According to Mormon theology, it also means that he is no longer destined to spend the afterlife with his family and loved ones.