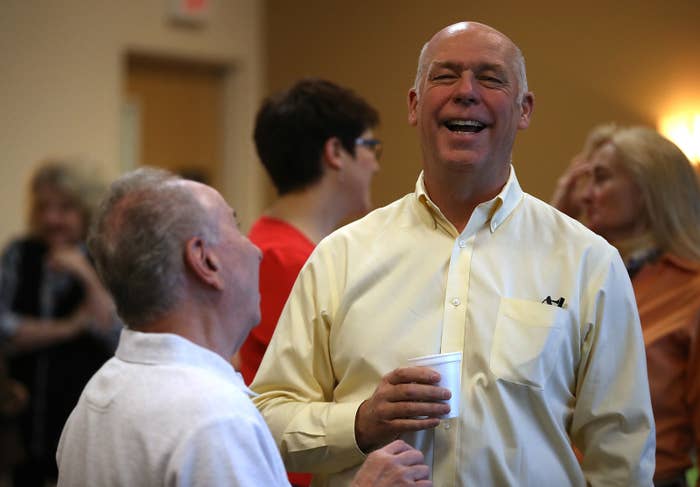 Republican Greg Gianforte, a tech millionaire who made headlines this week for allegedly body-slamming a reporter, won Thursday night's special election in Montana to fill the state's single US House seat.
Gianforte beat Democrat Rob Quist, a musician, in a race that had tightened in recent weeks. It drew national attention as many looked to the race as barometer of political sentiment after several months, and scandals, of the Trump presidency. The AP called the race as Gianforte led Quist, 50.6%–43.9%.
The race was always going to be a tough one for Democrats — the seat had been held by Republicans for 20 years. But Gianforte was viewed as a flawed candidate, and, just over six months ago, had lost the governor's race to Democrat Steve Bullock. The night before the election, Gianforte was charged for misdemeanor assault when he allegedly attacked a reporter from The Guardian, giving Democrats 11th-hour hope they'd be able to flip the seat.
In his victory speech, Gianforte apologized to Guardian reporter Ben Jacobs by name — the first time he had publicly addressed the incident.
"Last night, I learned a lesson," he said, and some in the crowd began to yell in protest at the direction this was heading in, evidently feeling that an apology was neither necessary nor warranted.
"No, please," Gianforte said, trying to quiet them. "I need to share something from my heart here and I just ask you to bear with me. And when you make a mistake you have to own up to it, that's the Montana way. Last night I made a mistake, and I took an action that I can't take back. And I'm not proud of what happened. I should not have responded in the way that I did, and for that I'm sorry."
Gianforte went on to apologize to Ben Jacobs by name.
After he did so, a woman shouted that he was forgiven — to cheers from the crowd.
Gianforte's press secretary had previously put out a statement saying Jacobs had "aggressively shoved a recorder in Greg's face" and that "after asking Jacobs to lower the recorder, Jacobs declined. Greg then attempted to grab the phone that was pushed in his face. Jacobs grabbed Greg's wrist, and spun away from Greg, pushing them both to the ground."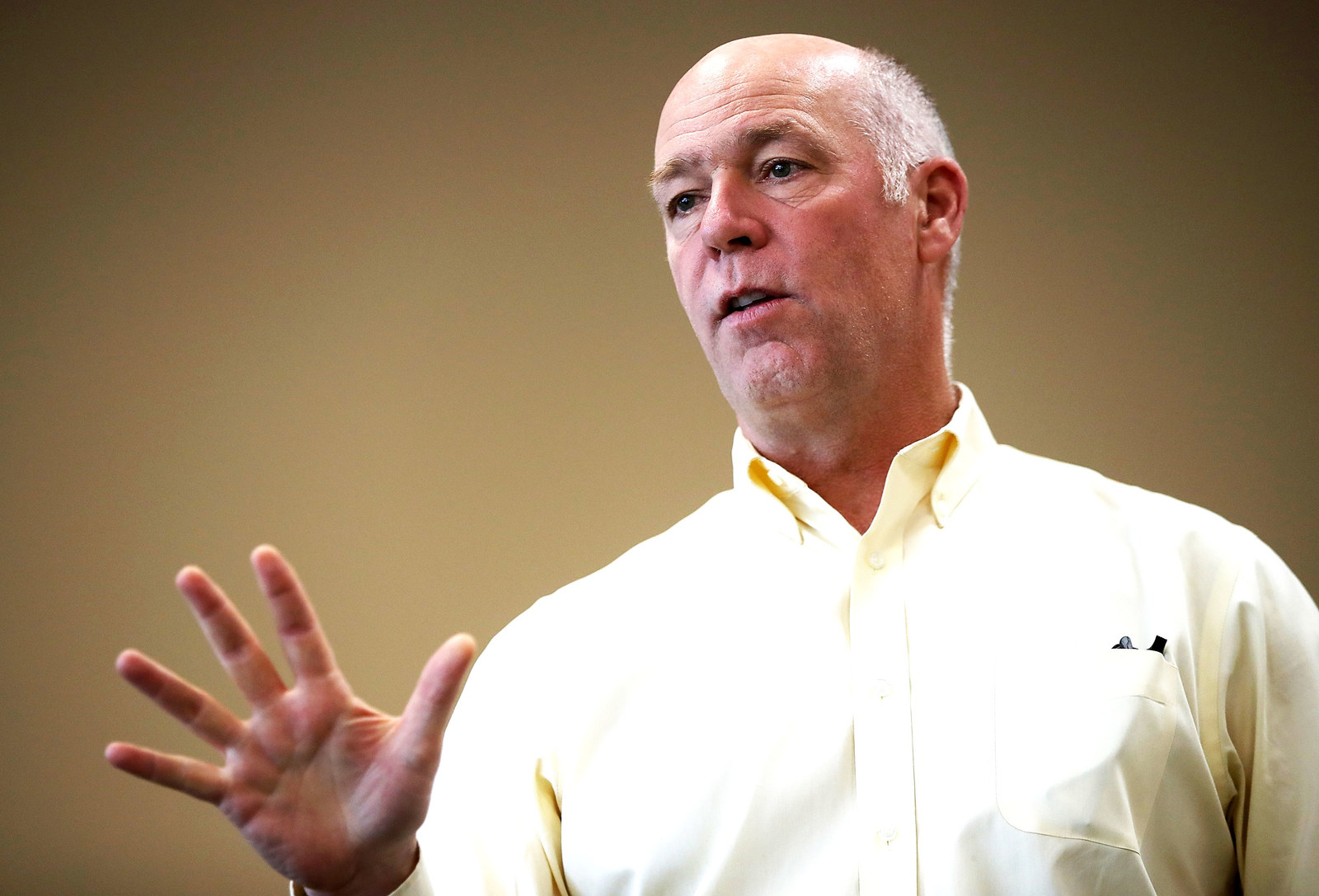 By 9:30 p.m., the ballroom of the Hilton Garden Inn in Bozeman — where Gianforte's watch party was taking place and decorated with red, white, and blue balloons anchored by blue cowboy boots — was filling up with a loud and chatty crowd.
The ends of the room occasionally let out short cheers as the results on the screens at either end of the room — one displaying the Associated Press results page, and another displaying the Montana secretary of state results page — continued to move in Gianforte's favor.
When the event first opened around 7 p.m., one of the screens was airing The Five on Fox News, but there was no one in the room to see the segment it aired on Gianforte's alleged assault the evening before.
The podium was set up with a Gianforte sign on a sparkly blue curtain backdrop. But there had been no sign of the candidate, and one couple were overheard speculating whether or not he would actually appear at the party after yesterday afternoon's events.
There was also some careful treading around the press. After an initial misunderstanding about whether or not a BuzzFeed News reporter was credentialed, staff were scrupulously polite when handing out credentials, but decidedly not talkative. There was some audible chatter about people disliking reporters, but for the most part everyone steered clear of the tables full of journalists, with the exception of one woman who announced her intention to "find the right press and flip them off." She later returned to negatively compare the media as a profession to that of being a flight attendant.
The mood at the Quist party was warm as he conceded the race and hugged volunteers on his way out, while noting that the race "had been one of the greatest experiences of my life."
To recap, here is what you need to know about the election:
The election was needed because Ryan Zinke, who previously represented Montana, left the House of Representatives to become Trump's secretary of the interior.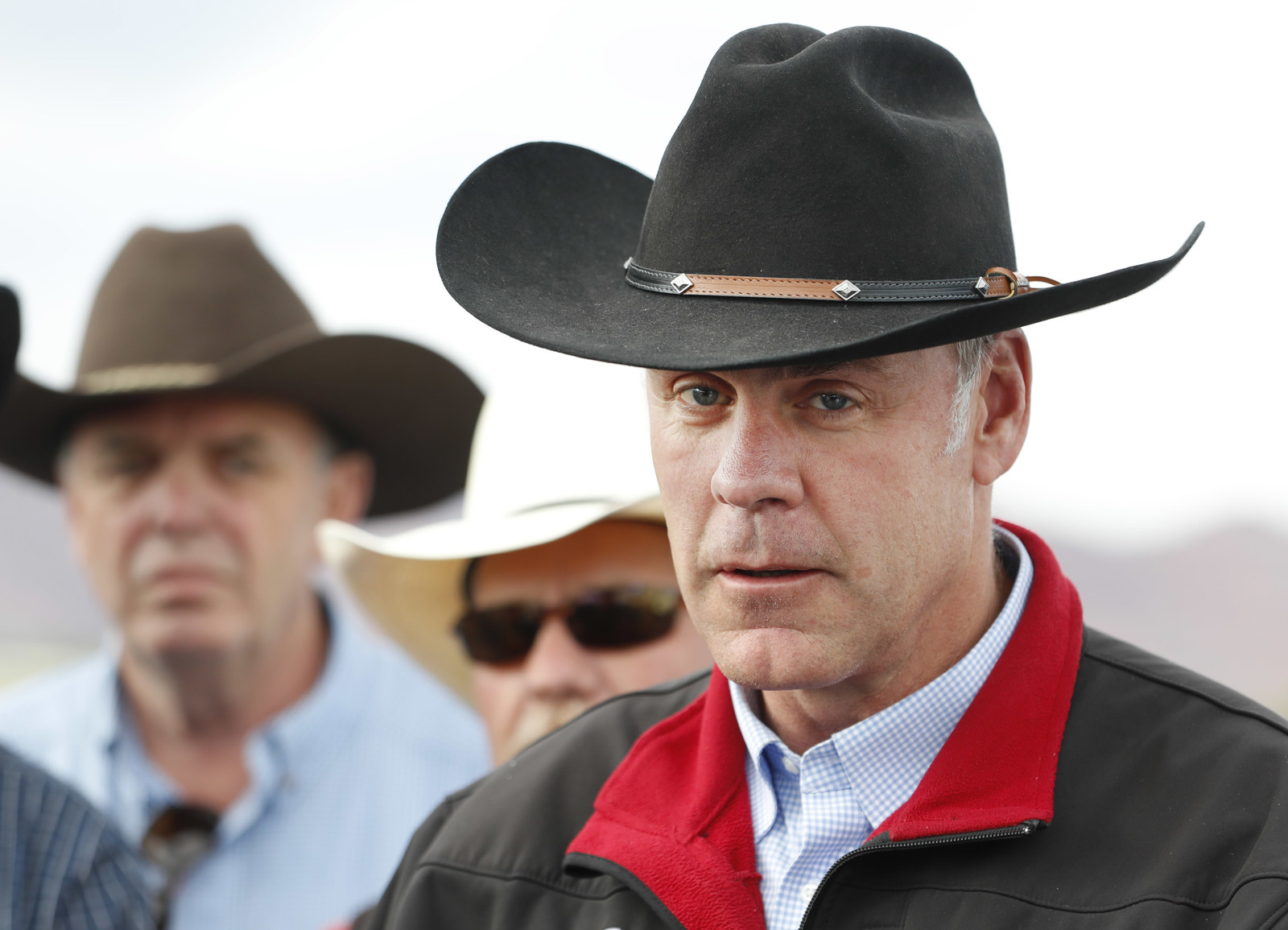 Montana has only one representative in the US House, and Republicans have controlled it since 1997.
The election was considered an important test to see if Democrats can flip a red district, or come close to it, following Trump's win in November.
The race in Montana comes more than a month after another special election in Kanas, where Republicans barely held onto a seat in a traditionally red district. Though Democrats lost that race, they celebrated the fact that they came so close.
If Democrats finished strong, or won, in Montana, that could foreshadow future gains down the road. It could also bolster recruiting and fundraising for Democrats elsewhere.
More broadly, the Montana election was being scrutinized for clues on how voters will cast their ballots following both Trump's win in November and a seemingly never-ending string of controversies out of the White House.
Quist, 69, is a Montana native and a founding member of the country and bluegrass outfit Mission Mountain Wood Band. On his website, Quist describes himself as "a small businessman, award-winning songwriter, and entrepreneur." He is a gun owner and a self-described "strong supporter of our Second Amendment rights."
He opposed the Republican replacement for Obamacare. He also opposes transferring public land to states.
Quist has won the support of several big names, including Bernie Sanders and actor Michael Keaton.
Greg Gianforte, the Republican candidate, is a businessman and former tech CEO.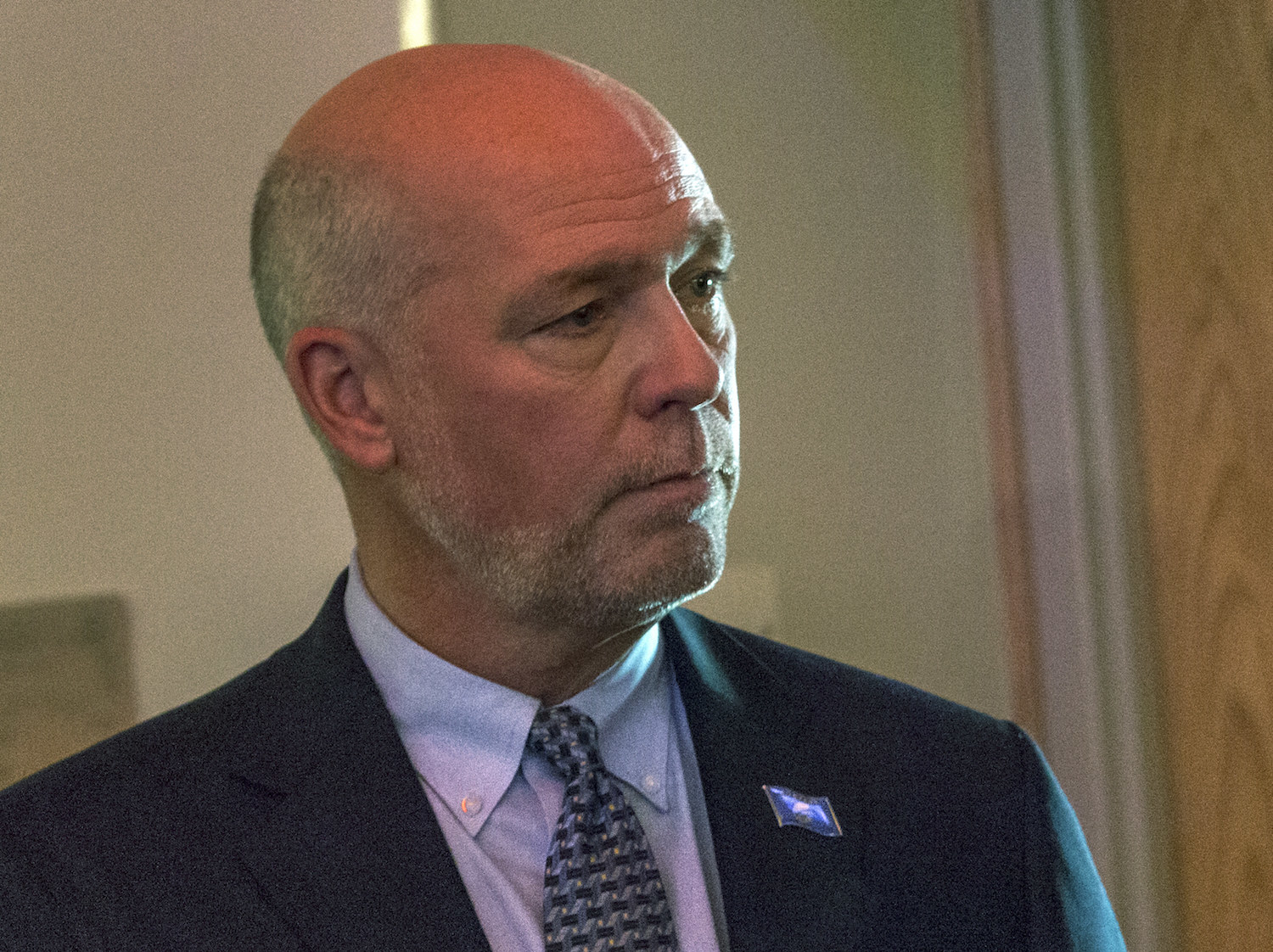 Gianforte, 56, was born in California, grew up in Pennsylvania, and went to college in New Jersey. He moved to Montana in the 1990s, and went on to start RightNow Technologies, which he sold for $1.5 billion in 2011. His net worth is believed to be in the hundreds of millions.
During his campaign for Congress, Gianforte has prominently featured Trump in his campaign, promising to "drain the swamp" and deploying a robocall from the president. He supports gun rights, and writes on his website that "overregulation is strangling our economy and making it difficult for Montanans to thrive."
In 2016, Gianforte lost a race for governor of Montana.
Guardian reporter Ben Jacobs was attempting to ask Gianforte a question when the candidate allegedly grabbed him and slammed him to the ground. Jacobs tweeted about the incident, saying that his glasses were broken during the alleged altercation.
Gianforte was charged with misdemeanor assault after the incident. In the aftermath, House Speaker Paul Ryan called on Gianforte to apologize. The incident also cost Gianforte endorsements from three Montana newspapers.
BuzzFeed News covered the election live on Twitter and BuzzFeed.com as results came in Thursday night.