Missouri Governor Ignored Pleas To Deploy The National Guard In Ferguson, Mayor Says
Mayor James Knowles III said Wednesday he asked Gov. Jay Nixon to deploy the National Guard on Nov. 24. Nixon, however, waited to send in troops.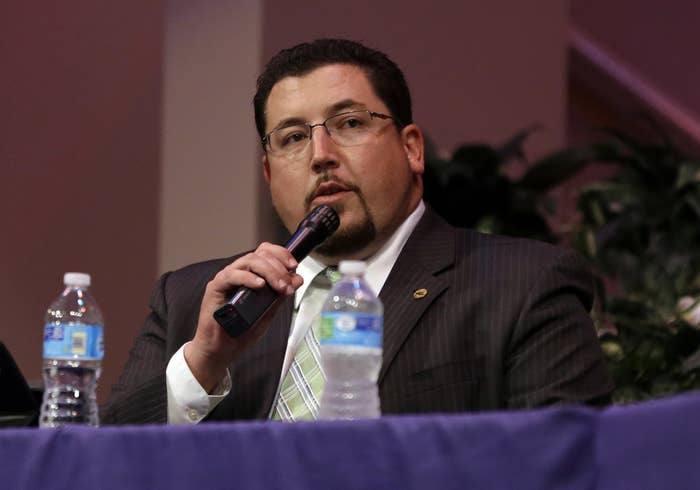 As Ferguson burned last November, Mayor James Knowles III asked for the National Guard to help patrol the city. The troops never arrived, however, and no one could reach the governor that night.
Knowles recounted his attempts to bring in the National Guard Wednesday while testifying before a Missouri legislative committee, the Associated Press reported. The mayor said that in November, as a grand jury finished weighing charges against Ferguson Officer Darren Wilson, he was told by St. Louis County police the National Guard would be on hand to deal with potential unrest.
Gov. Jay Nixon also declared a state of emergency a week before the decision, and said the National Guard would be available.
According to Knowles, however, St. Louis County Police Chief Jon Belmar later told him Gov. Nixon had decided not to deploy troops.
The grand jury verdict — which cleared Wilson in the shooting death of Michael Brown — came on Nov. 24. A large crowd gathered that night outside the Ferguson Police Department to protest, and some in the crowd began looting, burning police cars, and setting buildings on fire. West Florissant, a street near the site of Brown's death, saw several buildings burned to the ground.
About 10 p.m. that night, Ferguson Police Chief Tom Jackson asked for the National Guard to be deployed, KRCG reported. The troops didn't arrive, so Knowles personally reached out to two of Nixon's staffers. That also didn't work, so he contacted several political leaders including U.S. Sen. Claire McCaskill. They too failed to reach Nixon, Knowles said.
It wasn't immediately clear why their efforts failed, but Knowles told lawmakers Wednesday that he hasn't spoken with Nixon since Nov. 24.
Knowles, however, believes that if the National Guard had arrived earlier, police could have been deployed to protect neighborhoods.
"Those officers could have been — should have been — protecting those neighborhoods and businesses, as opposed to standing guard out in front of the police and fire department, where the National Guard could have been," Knowles said, according to AP.
Nixon defended his approach to Ferguson during a news conference Wednesday, saying that trained and certified officers were the ones who should be on the front lines, according to the St. Louis Post-Dispatch.
Firefighters also testified Wednesday that they left buildings burning and abandoned their hoses because they lacked adequate protection.
Two fire district chiefs, Matt LaVanchy and Greg Brown, testified that they had been promised protection from the National Guard, the St. Louis Post Dispatch reported. However, when the troops didn't arrive, the firefighters retreated in the face of looting and gunfire.
The National Guard eventually arrived early on Nov. 25 and subsequent nights were considerably more peaceful.
Knowles said Wednesday he was rarely consulted about how to handle law enforcement during the unrest in Ferguson.
During the same legislative testimony, Knowles said police commanders from the Missouri Highway Patrol, St. Louis County, and St. Louis city cut him out of the loop, KRCG reported. Knowles added those commanders also prohibited Ferguson city cops from patrolling certain areas.
The mayor was the first of many witnesses that will testify before the 14-member legislative panel, which was organized in 2004 to study inefficiency and misconduct in state government. The hearings will take place over the coming weeks and will including various leaders and law enforcement officials from the St. Louis area.