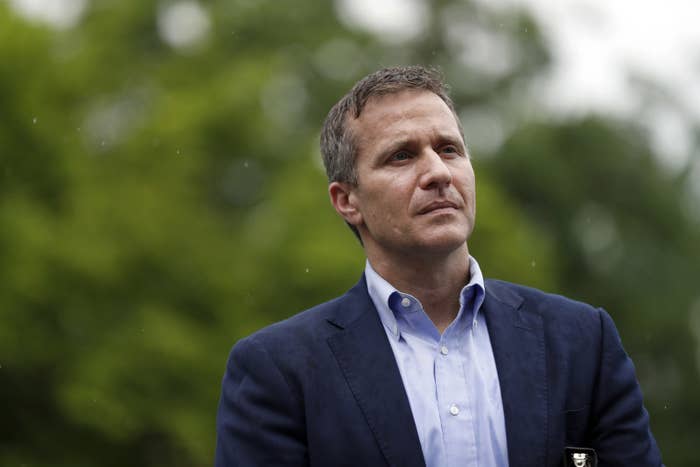 Embattled Missouri Gov. Eric Greitens announced Tuesday that he will resign his office effective June 1.
The resignation comes after a series of scandals eroded Greitens' political support and undermined what many had believed would be a promising political career for the former Navy SEAL. Greitens did not mention specifics of those scandals Tuesday in his brief resignation announcement, but said that he had been the victim of "endless personal attacks" that have been "incredibly difficult for me and our family."
"This ordeal has been designed to cause an incredible amount of strain on my family," he said. "It's clear that for the forces that oppose us there is no end in sight."
The Republican governor was arrested in February and charged with invasion of privacy for taking nude photos of a woman without her consent while carrying on an extramarital affair in 2015. In April, the woman, who had worked as Greitens' hairstylist, accused him of forcing her into a nonconsensual sexual encounter while she was blindfolded and had her hands bound. The woman has told both lawmakers and local media that the incident happened as she lay crying on the floor of Greitens' basement.

Greitens has admitted to having the affair, but has denied her allegations of blackmail and abuse.
The invasion of privacy charge was dismissed earlier this month, though prosecutors have said they planned to refile it in the future.
In an unrelated case, Greitens was also charged in April with computer tampering for allegedly raising money for his 2016 gubernatorial campaign by using a list of people who donated to a veterans charity. Missouri Attorney General Josh Hawley has also opened an investigation into Greitens' use of social media.
Last week, lawmakers subpoenaed Greitens and on Tuesday a judge ruled that a group supporting the governor would have to turn over documents to state lawmakers weighing possible impeachment proceedings, the AP reported.
Greitens and his team have repeatedly criticized the prosecutor who brought the various charges against the governor. After the computer tampering charges were filed, Greitens said the prosecutor's "original case is falling apart — so today, she's brought a new one."
"By now, everyone knows what this is: this prosecutor will use any charge she can to smear me," Greitens said.
Striking a defensive tone Tuesday, Greitens insisted that he had not broken any laws, nor "committed any offense worthy of this treatment." He repeatedly described himself of the victim of legal harassment and political attacks, but said that he would "always be a fighter for the people of Missouri."
"I will let the fairness of this process be judged by history," he added.
In a statement Tuesday evening, St. Louis Circuit Attorney Kimberly Gardner said that she had been in touch with Greitens' legal team and "reached a fair and just resolution of the pending charges." Gardner said details about the resolution would be released Wednesday.
Another prosecutor who is considering refiling the invasion of privacy charge said in a statement that her investigation would continue.
Calls for Greitens' have been growing steadily in the months since his 2015 affair — and his alleged abuse of the woman involved — came to light. In April, even Illinois Gov. Bruce Rauner, an erstwhile Republican ally of his Missouri counterpart, called for called on Greitens to resign. Earlier this month, Missouri lawmakers gathered enough signatures to call a special session in which they would consider impeaching Greitens.
On Tuesday, hours before Greitens announced his resignation, Republican strategist Andy Surabian — a former aide to President Donald Trump who is now assisting Donald Trump Jr. in his political activities — called on Greitens to resign in a Washington Examiner guest column.
"If Greitens truly cares about the Trump agenda, the Republican Party and the people he serves in Missouri, he won't wait for a drawn-out impeachment process," Surabian wrote. "Rather, he will resign immediately so that Republicans can move on from the dark cloud caused by his administration and get on with the hard work of fighting to make America great again."
Following Greitens' announcement, Surabian — who has worried about the political fallout from the governor's scandals hurting Hawley's Republican senate campaign — told BuzzFeed News he believed the timing was coincidental.
"This is a good thing for Republicans everywhere, especially those who care about holding the United States Senate and continuing to pass the Trump agenda," Surabian said.