Colorado Mine That Turned River Yellow Was Deliberately Opened, Congressman Says
A blowout at the Gold King mine sent 3 million gallons of contaminated water into the Animas River in August, turning it bright yellow.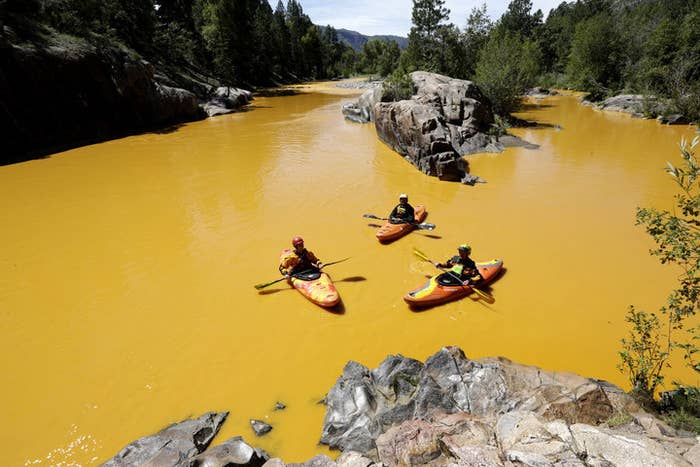 A mine blowout that spewed millions of gallons of pollution into a Colorado river, turning it brownish yellow, happened after officials opened the mine "on purpose," a Republican lawmaker said Tuesday.
The Gold King mine blowout, which in August sent 80,000 pounds of metals and 3 million gallons of contaminated wastewater into the Animas River a sickly brownish-yellow, had previously been described by officials as an accident.
But on Tuesday, Rep. Rob Bishop of Utah produced an email that he said showed officials were actually trying to open the mine up. In the email — which was sent on Aug. 7, two days after the blowout — a Bureau of Land Management official said the Environmental Protection Agency was "deliberately" trying to remove a plug that held waste water inside the mine.
"They fully intended to dig out the mine and breach it," Bishop said, referencing the email. "It was a major mistake and due to a lack of engineering planning, but it was done on purpose."
The polluted water that rushed out of the mine eventually spread from Colorado's Animas River to the San Juan River, and into Utah and New Mexico. Both Colorado and New Mexico declared emergencies in response to the spill.
Bishop, who is chairman of the House Committee on Natural Resources, read from the email during an Interior Department Budget hearing Tuesday. The mine has been abandoned since 1923.
Before reading the email, Bishop quoted previous comments from Secretary of the Interior Sally Jewell stating that she did "not see any deliberate intent to breach a mine." Bishop asked Jewell — who was at the hearing Tuesday — if she wanted to retract those comments.
"No I completely agree with that," Jewell replied. "It was an accident."
After reading the email, Bishop asked Jewell for a response.
She replied that "the EPA work was preparation," then pointed to a Bureau of Reclamation study on the blowout.
In the past, EPA officials have said on multiple occasions that they planned to stop short of breaching the mine so they could get more equipment, the Associated Press reported.
Bishop later slammed the Department of Interior for not handing over the email earlier.
"This should have been part of the information that was given to us and it was not," Bishop said.