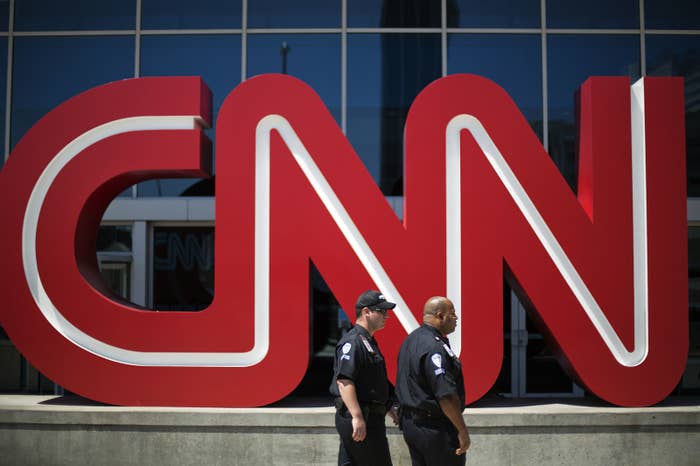 A Michigan man has been arrested after allegedly calling CNN 22 times earlier this month, repeatedly threatening "to gun you all down" and hurling racial epithets, according to court documents unsealed Monday.

The man, identified in court documents as Brandon Griesemer, began calling a publicly listed number for CNN's Atlanta headquarters on Jan. 9, and made a series of threats to kill employees at the company, according to an affidavit filed in a Michigan federal court. Griesemer, who lives in the Detroit area, was arrested last week and is accused of making threats across state lines.
The case began Jan. 9 when a man — who investigators later concluded was Griesemer — called CNN and described the network as "fake news," then added that "I'm coming to gun you all down. Fuck you, fuckin' ni***rs," the documents state. Minutes later, the man allegedly called back from the same number and said an attack was imminent.
"I am on my way right now to gun the fuckin' CNN cast down," the caller reportedly continued. "Fuck you."
Half an hour after that, the man allegedly called back once again and said he was "coming for you, CNN."
"I'm smarter than you," the man said, according to the documents. "More powerful than you. I have more guns than you. More manpower. Your cast is about to get gunned down in a matter of hours."
The calls continued the next day, when the man made "disparaging remarks regarding Jewish individuals," according to the court filing. He also claimed to "have a team of people" and promised to "fucking gun every single last one of you."
Investigators say a total of 22 calls were made to the network's headquarters on Jan. 9 and 10, four of which included threats. After the calls began, CNN reportedly put its own investigator on the case, who eventually managed to record a phone conversation with someone who identified himself as "Brandon." The man's voice appeared to match the one from the threatening calls.
Griesemer also allegedly called the Islamic Center of Ann Arbor in September and made "derogatory comments relating to the mosque and Muslims," according to Friday's court filing. Police later tracked Griesemer down, the filing states, and he told them "that he was angry at the time of the call."
The court documents do not mention any charges resulting from the September phone call. But the calls to both the mosque and CNN were made from the same phone number, which federal investigators said is registered to Griesemer's father.
Griesemer was arrested Friday, and released the same day on $10,000 bond. He is set to appear in court on Feb. 9.
CNN did not immediately respond to BuzzFeed News' request for comment Monday evening. But a statement included in CNN's own story about the incident said the network has "been in touch with local and federal law enforcement throughout."
"We take any threats to CNN employees or workplaces, around the world, extremely seriously." the statement said. "This one is no exception."