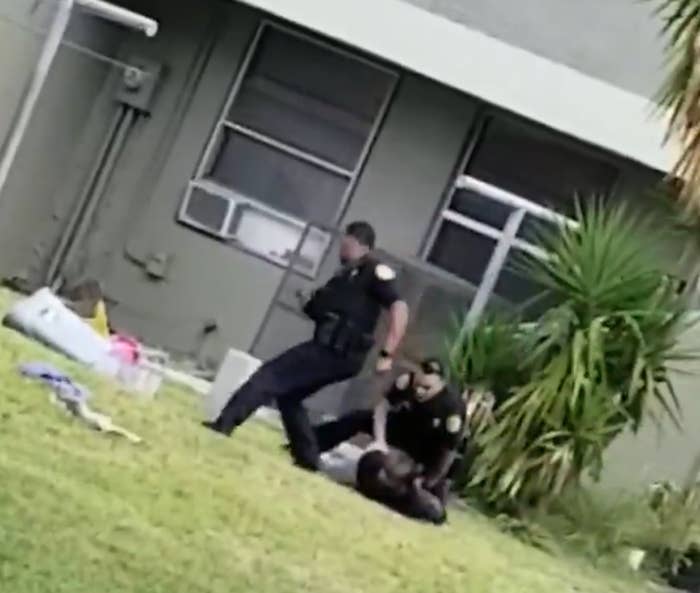 A Miami police officer has been relieved of duty after he was caught on video kicking a defenseless, handcuffed man in the head.

The incident happened Thursday morning after two officers pursued a Jeep Cherokee that was suspected of being stolen into an apartment complex, according to a police report obtained by BuzzFeed News. The man behind the wheel allegedly crashed the Jeep into a concrete wall, then fled from officers on foot before he was finally restrained.
After one officer handcuffed the suspect, another officer ran toward the man and kicked him in the head. A bystander caught the moment on video and posted it to Facebook.
Miami Police Chief Jorge Colina said in a statement Thursday that the video "depicts a clear violation of policy."
"The officer has been relieved of duty and the Miami-Dade State Attorney's office has been contacted," Colina added.
The relieved officer is Mario Figueroa, a 2-year veteran of the department, Miami Police spokesperson Kenia Fallat told BuzzFeed News in an email Thursday. He has been relieved with pay while the incident is being investigated.
The police report identifies the suspect as David Suazo, a 31-year-old black man. He allegedly drove the Jeep "at a high rate of speed" through the apartment complex and at one point "took a fighting stance" when ordered to get on the ground, police reported.
One officer fired a taser at Suazo, but it was ineffective, the report states. Moments later, Suazo was "placed at taser point and was given verbal commands to get on the ground."
"The defendant was then placed into custody," the report adds.
Suazo did not have a weapon, according to police.
The report does not mention the kicking or the video, which begins after Suazo is already on the ground.

Police did not say if Suazo received any medical treatment following the incident.
The woman who posted the video Thursday did not immediately respond to BuzzFeed News' request for comment. However, in the footage, a woman can be heard off camera gasping as Suazo is kicked.
"You ain't have to do all that buddy, you tripping," she adds.
In the description of the video, the woman called the altercation "uncalled for" and said the suspect "was not resisting arrest he got on his knees and put his hands on his head."