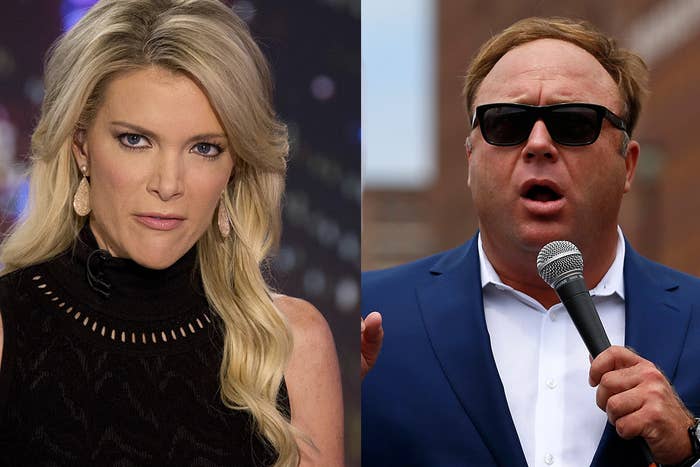 An upcoming NBC News interview with right-wing conspiracy theorist Alex Jones has generated a massive backlash online, including from the families of the 26 people killed in the 2012 Sandy Hook Elementary School shooting, sending one of the network's advertisers fleeing.

Megyn Kelly's interview with Jones — the sometimes-shirtless impresario of right-wing media outlet Infowars — is scheduled to air this weekend on the former Fox News host's new program, Sunday Night With Megyn Kelly. In a teaser for the interview, Kelly asks Jones about being "the most paranoid man in America." The clip later shows Jones saying the Sept. 11, 2001 terrorist attack was an "inside job," and that "30 years ago they began creating animal-human hybrids."
Jones is a well known purveyor of conspiracy theories whose national profile, along with that of his Infowars brand, has exploded over the last year as Donald Trump channeled far-right angst on his road to the White House.
But Kelly's interview with Jones has generated significant pushback, particularly from the families of victims killed in the Sandy Hook massacre who say the interview will only serve to elevate his voice. Twenty children and six adults were killed in 2012 when 20-year-old Adam Lanza opened fire inside a Newtown, Connecticut, elementary school.
Jones has repeatedly referred to the shooting as a "hoax," and said it was "synthetic, completely fake, with actors."
The victims' families have consequently expressed outrage that Kelly is interviewing Jones on her show. On Sunday, Nelba Márquez-Greene tweeted a picture of her daughter, who was killed in the Sandy Hook shooting, directing it at Kelly. Márquez-Greene then went on to describe the harassment her family has received since the shooting. She asked Kelly to "shine a light on the parents, siblings and their journeys."

Cristina Hassinger, daughter of the principal who died at Sandy Hook, also criticized the decision to interview Jones, tweeting "shame on you @megynkelly" and sharing screenshots of tweets in which people harassed her about the shooting.

Sandy Phillips, whose daughter died in the 2012 Aurora, Colorado, movie theater shooting along with 11 others also criticized Kelly.
Sandy Hook Promise, an anti-gun violence organization led by several victims' families, also said in a statement that it could not support the decision to give a "voice or platform to Alex Jones." As a result, the organization said Kelly would no longer host its annual gala, which is scheduled for Wednesday.
Kelly responded saying she's disappointed she won't attend the event and said she finds Jones's conspiracy theory about Sandy Hook "revolting."
"It left me, and many other Americans, asking the very question that prompted this interview: How does Jones, who traffics in these outrageous conspiracy theories, have the respect of the president of the United States and a growing audience of millions?" Kelly's statement reads. "President Trump, by praising and citing him, appearing on his show, and giving him White House press credentials, has helped elevate Jones, to the alarm of many."
She went on to say the interview is meant "to shine a light" on Jones and to "discuss the considerable falsehoods he has promoted with near impunity."
While several family members of mass shooting victims noted the harassment they have received since the death of their loved ones, observers pointed out that last week a Florida woman who believed the Sandy Hook shooting was a hoax was sentenced to prison for making death threats against a parent.
As part of the woman's sentence, a judge ordered she not access a list of conspiracy theory websites, including Jones' Infowars.
By Monday afternoon, the controversy over Kelly's interview with Jones had spread, with scores of people tweeting the hashtags #ShameonNBC and #BoycottMegynKelly. A number of high profile figures including Chelsea Clinton and Ana Navarro joined in the criticism.

In the face of the backlash, at least one advertiser reportedly pulled their commercials from NBC News. According to the Wall Street Journal, JP Morgan asked that its commercials be removed from Kelly's show until after the interview has aired. JP Morgan's chief marketing officer also tweeted that she was "repulsed" by the prospect of Kelly's interview with Jones.
A spokesman for JP Morgan declined to comment to BuzzFeed News on the matter.
Somewhat ironically, Jones himself also said he was unhappy with the prospect of being the subject of Kelly's program. In a video posted Monday, he claimed "Megyn Kelly lied to me several weeks before she came down here," assuring Jones the interview wouldn't be about Sandy Hook and other conspiracy theories Jones has pushed. And in a tweet, he called on Kelly not to air the interview "for misrepresenting my views on Sandy Hook."

NBC News did not respond to a BuzzFeed News request for comment.
Kelly, however, has defended the decision to interview Jones. On Twitter, she noted that President Trump has praised Jones and his White House has provided press credentials for Infowars.
"Your reputation is amazing. I will not let you down," Trump told Jones in a December 2015 interview. Jones returned the admiration, saying "my audience, 90% of them, they support you."