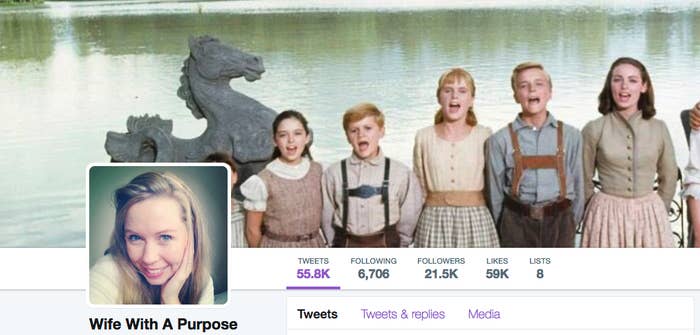 Last week, an alt-right blogger who goes by the name Ayla had a bone to pick.
"Mormonism and Utah are the next target for cultural destruction," she wrote on her blog Nordic Sunrise, and the culprit is "black, ghetto culture."

Her comment came in a post titled "Mormon 'Rap' and the Destruction of White, Western, Mormon Culture." It was jarring; Mormons are known for their moderate positions on issues like immigration and diversity, famously putting them at odds with now-President Trump. Extreme movements such as the alt-right — which catapulted into the public consciousness on a wave of support for Trump, Pepe memes, and white nationalism — are anathema to many members of The Church of Jesus Christ of Latter-day Saints (LDS).
And while Mormons have rejected Trump's brand of conservatism, thanks in large part to the president's more controversial positions, Ayla's comments represent a growing Mormon subculture that embraces the alt-right, at times openly cheering white nationalism, and intertwining ultra-conservative ideology with Mormon history, culture, and scripture.
Much of Ayla's content fuses Mormon concepts with alt-right themes. On Twitter, she retweets David Duke, the former Ku Klux Klan leader, and uses the #whiteculture hashtag. On her blog, she describes herself as "a white-majority nationalist for America."
She cites Mormon scripture as evidence that races should be separate, recently issued a "white baby challenge," and has argued that long-dead Mormon leader Brigham Young "predicted Cultural Marxism."

Ayla did not respond to BuzzFeed News requests for comment for this story.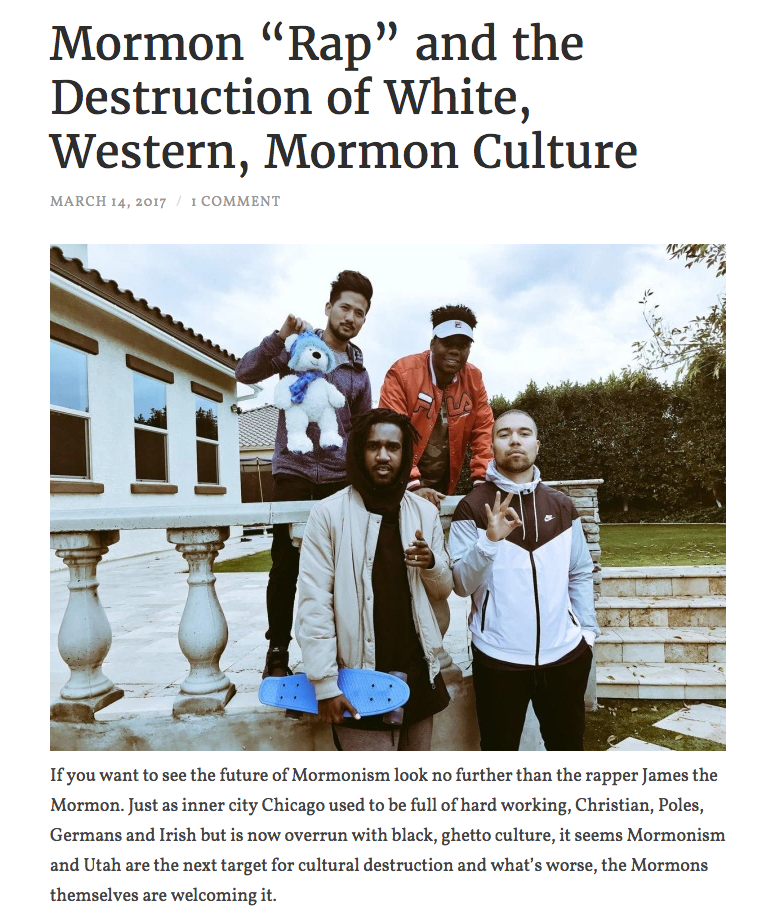 The alt-right's preoccupation with race pervades the Mormon wing of the movement.
Ayla isn't alone in her appreciation of David Duke's racist remarks. Members of the Mormon alt-right have Twitter timelines peppered with tweets about "white genocide," nationalism, and white supremacist slogans such as #14words.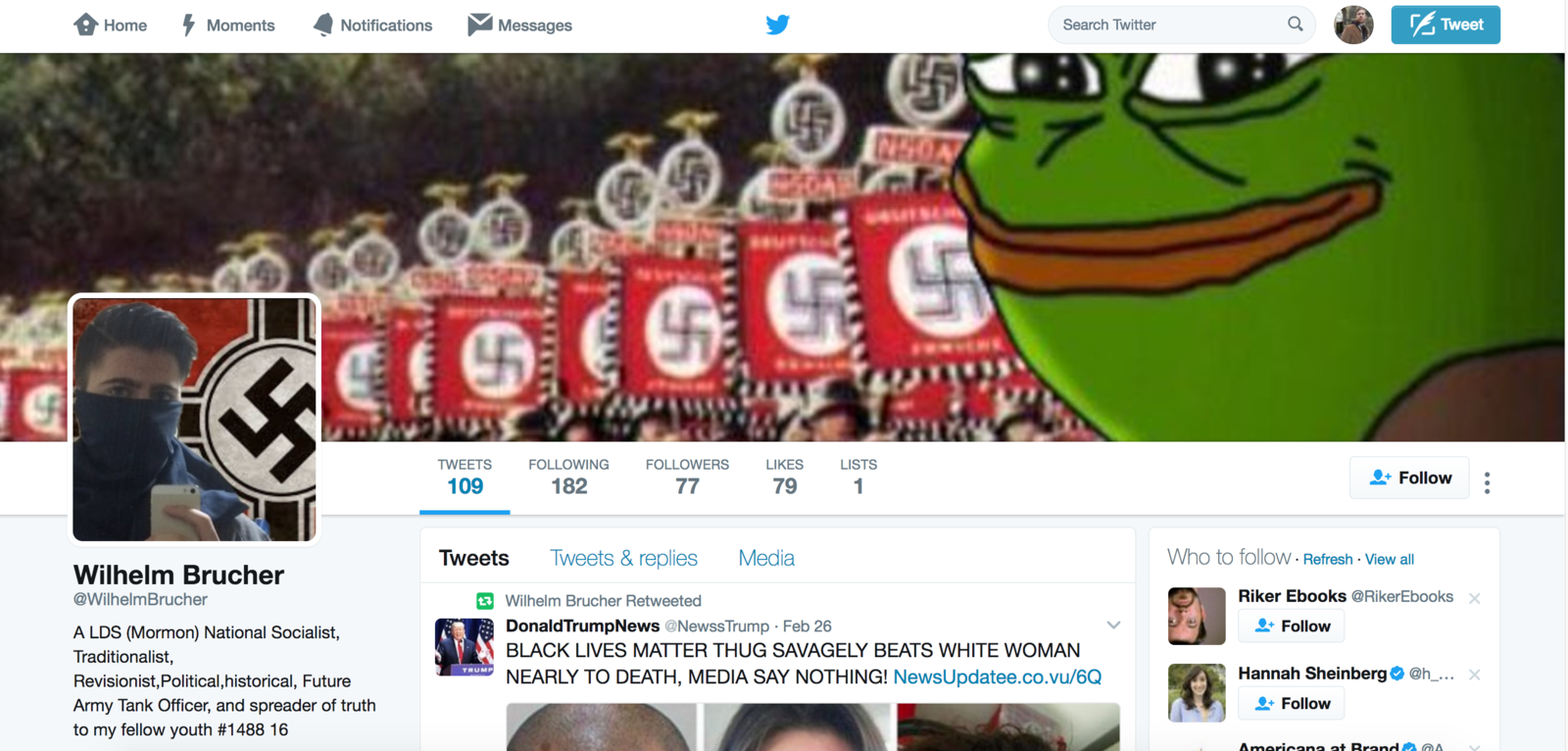 Others frequently cite the religion's namesake text, The Book of Mormon, as evidence that races shouldn't mix. Some merge important figures and images in Mormon theology with symbols of white nationalism. And sprinkled in are retweets from the LDS church's official account.
Members of this community aren't joining the alt-right in spite of their Mormonism, they're doing so because of their Mormonism.
The rise of a Mormon alt-right has been met with dismay by more centrist members of the religion, some of whom say Mormonism still has lingering problems with racism.
"It just really kind of boggles my mind to see racism in the LDS Church," Holly Richardson, a well-known Utah political blogger, told BuzzFeed News. "It's a little disturbing when I see some of these comments. To me they're just the antithesis of what it means to a member of the LDS Church."
Part of the issue comes down to interpretation. The Book of Mormon does include passages that describe an ancient people being "cursed" with dark skin. And the church infamously barred men of African descent from its lay priesthood between the late 1800s and 1978.
In many cases, members of the Mormon alt-right have seized on these racially-fraught parts of Mormon history as evidence in support of their cause.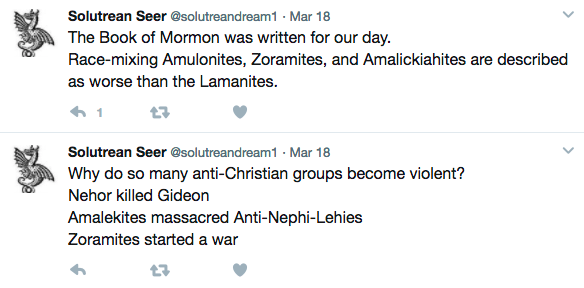 Richardson, however, rejected this view of Mormon scripture and history, calling it a "misinterpretation."
Janely Sanchez, a 25-year-old Latina Mormon who lives in Provo, Utah, called the racially-charged interpretations of LDS scripture "misconstrued" and "toxic."

"The thing about A Purposeful Wife is I know that's not my gospel," she said, referring to Ayla's Twitter handle.
Robert Taber, a Mormon and history professor at the historically black Fayetteville State University, said that The Book of Mormon tells a story about a people who were destroyed by their "ethno-nationalism."
"This is one of the core destructive things in Nephite society," Taber said, referring to the protagonists of The Book of Mormon. "This is a story of a people that failed."
Still, Taber said Mormonism has "elements of a pretty racist tradition" as well as "elements of a pretty anti-racist tradition."
Asked about the racially charged comments made by alt-right Mormons, Richardson said she's seen "quite a bit of it" in the church's home state of Utah.
Sanchez said she's experienced discrimination in Utah, but wouldn't characterize most Mormons as racist. The culture is still "catching up" and there are issues with people "living in a bubble" and stereotyping others, she said.
"I do want to hear the church disavow white supremacy," she added. "And I want people to be reminded that this is a world wide church."
Crystal Young-Otterstrom, a national co-chair of LDS Democrats, was "shocked" when she recently read one of Ayla's blog posts circulating on the web. Racism has "no place in Mormonism," she said, and the church needs to do more to clarify and disavow racist elements of its past.

"It's going to take more than one talk to get it out of our culture," Young-Otterstrom told BuzzFeed News. "It's going to take more examples of leadership embracing differences and talking about how differences make us great. We need leadership saying things like, 'this is racist talk and that is not okay.'"
But not every Mormon sees the alt-right as fundamentally racist, or necessarily wrong.
One man, who identified himself by his twitter handle @JRuebenClark (the name of a now-dead Mormon leader, and the namesake of Brigham Young University's law school), said in an email that he is an active Mormon and "simpatico" with the alt-right. He described the "unifying principle of the alt-right" as being against political correctness, adding that his "Mormon beliefs are certainly a huge reason why I find Leftist sexual politics so horrifying."
"I wholeheartedly believe that the trans movement is literally diabolical," he said. "By 'literally diabolical,' I don't mean 'really bad,' I mean Satanic."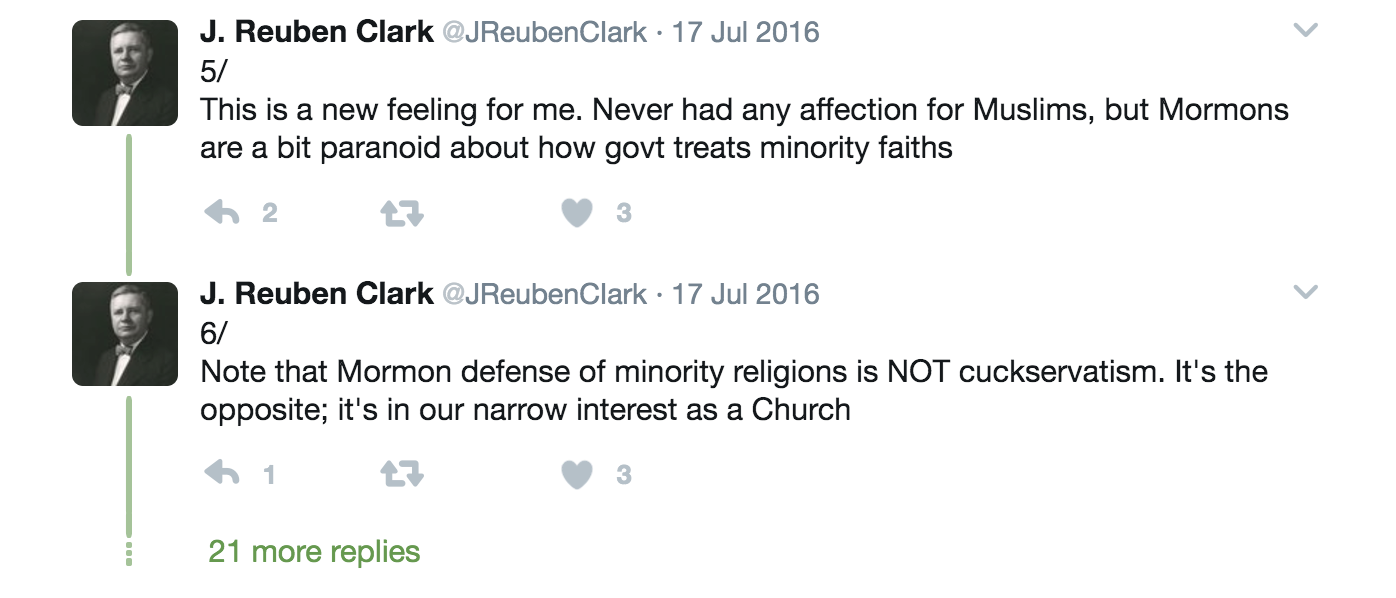 Clark said Mormonism is "not compatible with the 'Hitler Did Nothing Wrong' contingent of the alt-right." But when people like Ayla "cite The Book of Mormon or the Bible to support nationalist ideas, they aren't wrong," he said.
Clark added that in his view the biggest gulf between Mormonism and the alt-right was merely one of style.

"Mormons are nice people," he said, "and the alt-right largely isn't nice, and so it seems antithetical to Mormonism."
The Church of Jesus Christ of Latter-day Saints has condemned racism, but it's not entirely clear where it stands on nationalist comments made by its members.
The church declined to comment on individual members' online activity. Spokesman Eric Hawkins instead pointed BuzzFeed News to a series of essays the church has published condemning racism, taking a moderate stance on immigration, and embracing political neutrality, among other things.
"We believe we are all children of God," Hawkins said in an email.

The church did not answer questions about whether white nationalism is compatible with the faith, or what kind of vetting process is used for member profiles on Mormon.org — where at least one alt-righter has created a profile. It's consequently unclear if actions by members on the far right could result in the kind of discipline that several left-leaning members have faced in recent years for challenging church policies.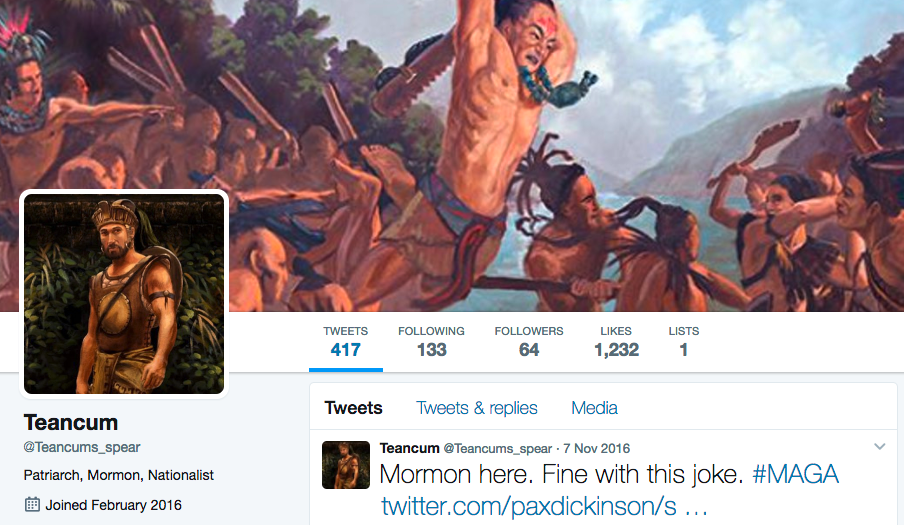 For now, the Mormon alt-right looks like it's here to stay, along with the larger movement that continues to influence American politics via media outlets like Breitbart.
Ayla, the de facto queen of alt-right Mormons, has more than 20,000 followers on Twitter, and her blog continues to generate discussion in Mormon circles. On her YouTube channel, she touches on her conversion to both Mormonism and conservatism, gardening, and making "more white babies."
Ayla's most-watched video — published in September 2015 and praised on a white nationalist forum — has been viewed more than 100,000 times. In it, Ayla blasts the "Muslim invasion of Europe" and blames feminism for the refugee crisis.
"It's gone to heck," Ayla says in perhaps the most Mormon comment ever uttered from within the alt-right.