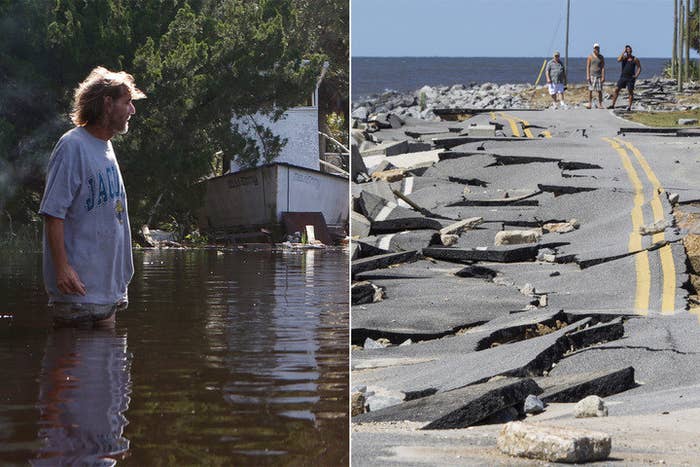 At least two people have died since Tropical Storm Hermine, downgraded from a hurricane, made landfall in Florida.
When it first made landfall as a hurricane, Hermine was the state's first in more than a decade. It has since blasted through the South, threatening to restrengthen and lash populated areas along the eastern seaboard through the Labor Day weekend.
A homeless man was killed in Ocala, Florida, on Friday when a tree fell on top of a tent he was sleeping in with two other people, according to the Marion County Sheriff's Office.
On Saturday, high winds in North Carolina caused an 18-wheeler truck to tip over on the freeway, killing him and resulting in a total shutdown of the road, according to the Associated Press.
Hermine made landfall early Friday in Florida, knocking out power to hundreds of thousands of people.
The storm has left 15 Florida communities without power, Gov. Rick Scott said in a statement on Saturday. In Leon County, more than 78,000 people, or 57% of the population, do not have electricity.
"It is a problem that so many people do not have power and I fully expect every city and county official to aggressively fix this," Scott said.
More than 100,000 people are also without power in neighboring Georgia, the Associated Press reported. The storm also knocked out power to 76,825 customers in South Carolina.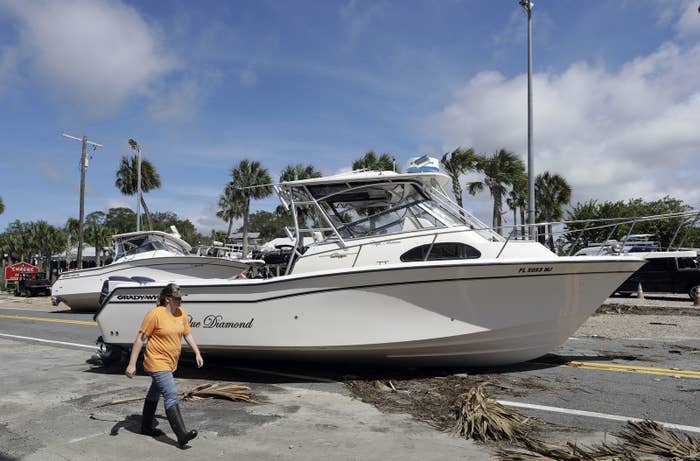 Hermine weakened as it moved over land and by Friday afternoon was located about 35 miles southwest of Myrtle Beach, South Carolina.
The storm was packing maximum sustained winds up to 50 mph and was dumping heavy rain on the area.
In Florida, the storm dropped up to 22 inches of rain in the Tampa area as heavy rain bands battered the state for days.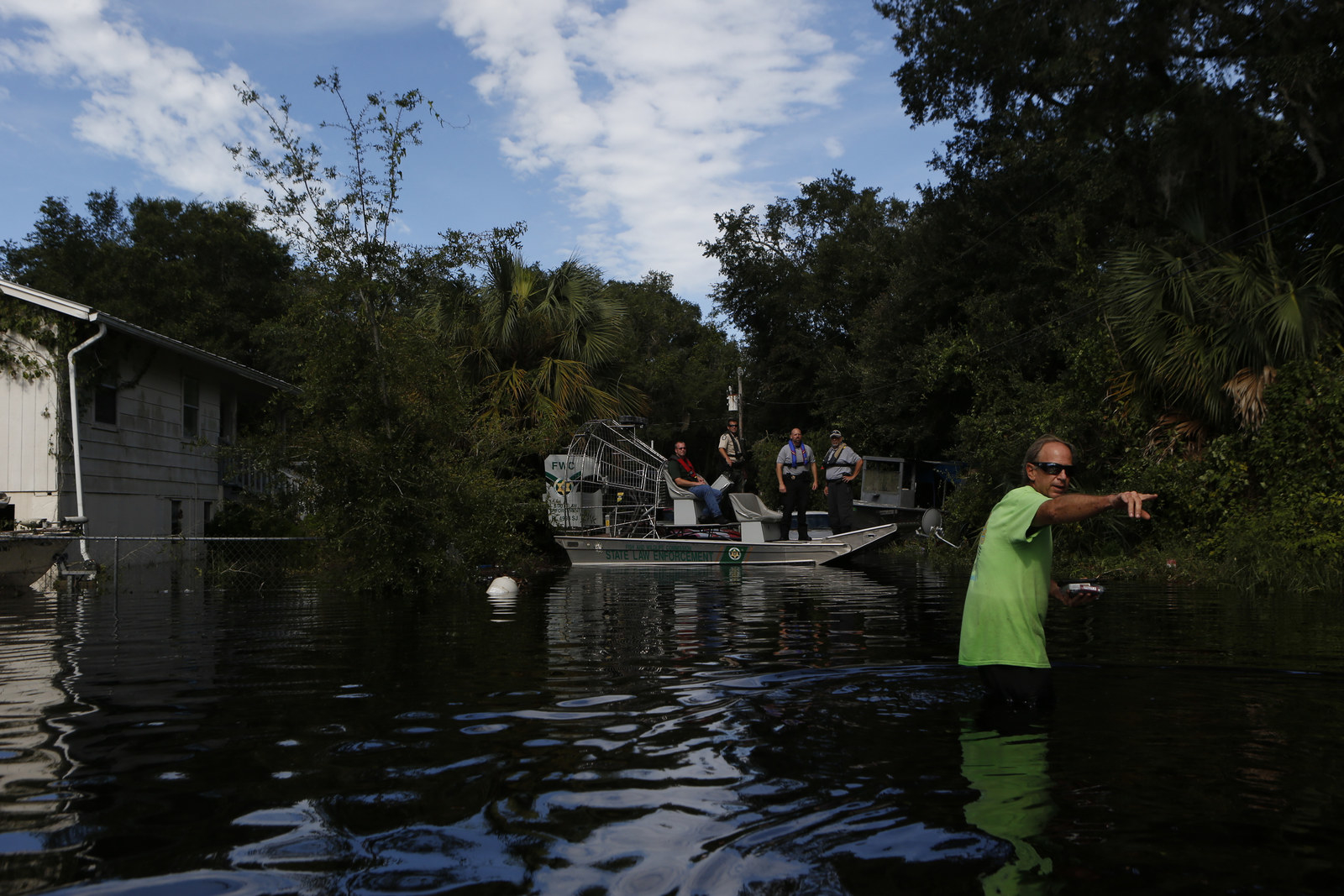 The National Weather Service issued flood warnings throughout the region.
Virginia Gov. Terry McAuliffe also declared a state of emergency, urging people in his state to "limit travel as the severe weather arrives and evacuate if recommended by officials."
Forecasters warned of "a danger of life-threatening inundation" Friday and Saturday in the Hampton Roads area of Virginia, with water rising as much as 5 feet. Dangerous flooding could also affect coastal areas on Saturday and Sunday between the North Carolina-Virginia border and to Bridgeport Connecticut.
Maryland Gov. Larry Hogan and North Carolina Gov. Pat McCrory both declared emergencies in parts of their states.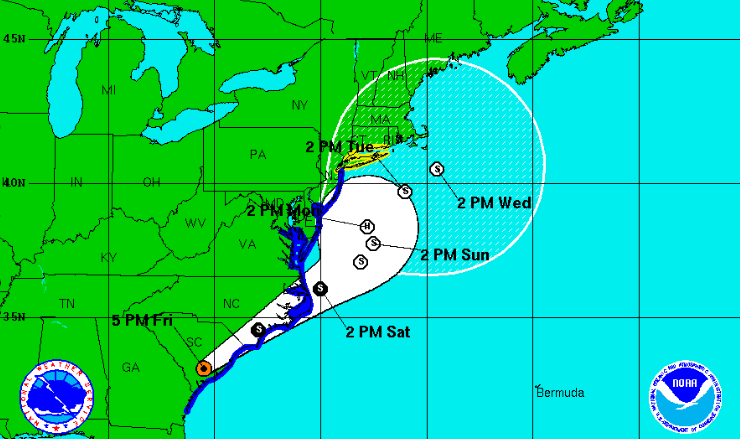 But the worst may still lie ahead.
Forecasters predicted Hermine would reemerge over the Atlantic by Saturday afternoon then strengthen to "near hurricane intensity."
National Hurricane Center spokesman Dennis Feltgen told BuzzFeed News that the storm is expected to become "post-tropical," meaning it will no longer have a warm core. Still, it will be powerful.
"Whether it's a tropical or a post-tropical system, that isn't going change the impacts," Feltgen said. "We still have it strengthening to hurricane force."
Hermine was expected to continue moving up the eastern seaboard, potentially impacting major population centers.
In response to the looming threat, the National Weather Service issued a tropical storm warning for all of Delaware and coastal New Jersey. Flooding was possible late Saturday and into Sunday in the region, including on the Delaware River in Philadelphia.
A tropical storm watch was also issued for New York City, Feltgen said. The storm was expected to become extremely slow moving off the mid-Atlantic coast, and water could begin to "pile up" along the coasts, increasing the chance for flooding, he said.
If there is one glimmer of hope, it's that the storm's path is still very much up in the air. The National Weather Service reported that "there remains quite a bit of uncertainty with the track east of our coasts Sunday through Monday," meaning it's possible Hermine could move away from land and miss the East Coast.