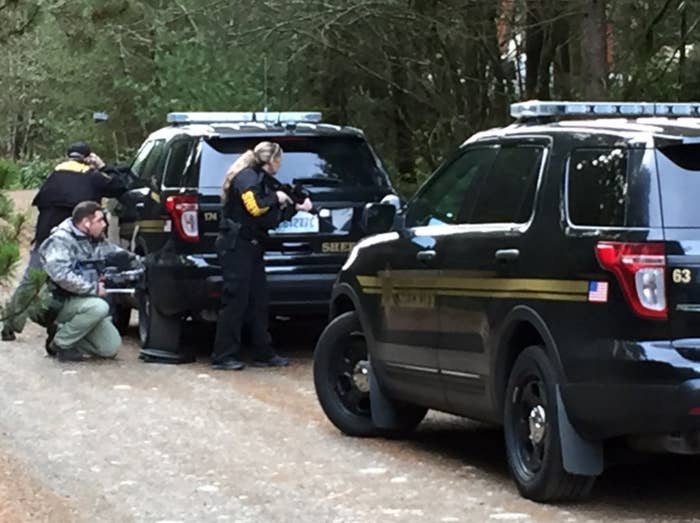 Police in Mason County, Washington, got a call Friday morning from a man saying he had killed four people. Then, after an hours-long standoff, the man killed himself in front of officers.
The incident began around 9 a.m. when a man called police saying he had shot two children, a woman, and one other person, Mason County Sheriff's chief criminal deputy Ryan Scurling told BuzzFeed News.
Scurling added that the man did not call 911, but instead dialed a direct number to a deputy with whom he had had past interactions.
Law enforcement arrived at the scene, a home in Belfair, Washington, about an hour and a half from Seattle.
The ensuing standoff — which eventually included SWAT officers and trained hostage negotiators — lasted nearly three hours, Scurling said.
Images from the scene showed heavily armed officers staging in a wooded area.
The shooter refused to speak with anybody but the deputy he initially called, Scurley said. That officer's name has not been released.
"This was an evil person," Scurling said.
The Mason County Sheriff later announced the suspect had killed himself, and that there were four other victims.
A 12-year-old girl was found alive at the scene after "getting away from the shooter," according to the Mason County Sheriff's Department. Her relationship to the shooter was not immediately clear.
Investigators also did not immediately describe the victims' relationships to the shooter. The sheriff's office will not release their names until coroner's office identifies them and notifies their next of kin, Scurley said.
The shooting comes less than 24 hours after a mass shooting in Kansas that left four people dead and 14 others injured. It also comes less than a week after a shooting in Michigan ended with six deaths.