This is a Los Angeles sidewalk. Clearly, it's awful.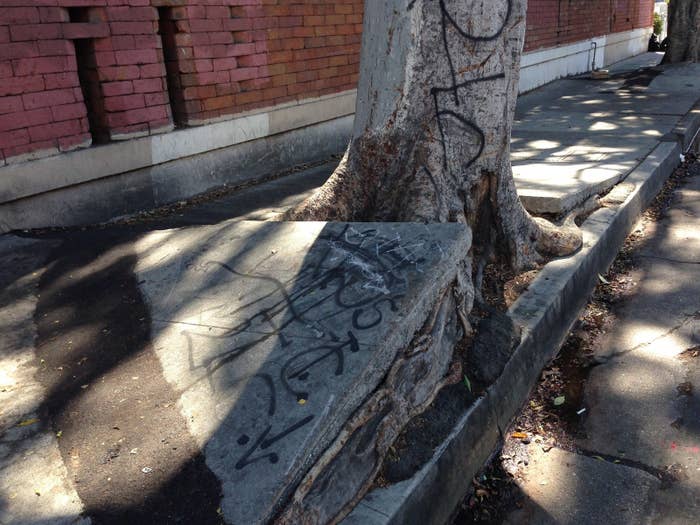 There's a cliche that no one walks in LA, but maybe that's because the city's sidewalks are just absolutely terrible. Many across the city appear similar to the one pictured above with randomly angled slabs of concrete jutting out of the ground like plates on the back of a stegosaurus.
In the city of 4 million residents, it's become common to see people pushing shopping carts and wheelchairs up the middle of the street alongside vehicles.
Jessica Meaney, executive director of advocacy group Investing in Place, told BuzzFeed News the problem began in the 1970s.

"They've been neglected for over 40 years," she said of the city's sidewalks.
The city now hopes a $1.4 billion pill will solve the issue.
On Wednesday, the Los Angeles City Council unanimously approved a massive plan to repair the city's abysmal pedestrian infrastructure. First, the city will begin repairing its miles and miles of broken sidewalks, then turn them over to property owners to maintain going forward.
Though California law makes sidewalks the responsibility of property owners, LA has been trying unsuccessfully to keep up with root damage since the Nixon administration.
"It will be weighted towards getting the worst of the worst done," LA City Council Member Paul Krekorian told BuzzFeed News.

The city also will give people a rebate if they pay for the repairs on their own.
The $1.4 billion approved for the program will come out of the city's general fund. Each year, the city will spend $31 million for "30 years or until we get every sidewalk in the city completed," Krekorian said.
The new plan comes as a result of a class action lawsuit after the sidewalks got so bad that people with disabilities said they could not use them.
The city settled the case last year.
Also last year, Angelenos began sharing photos of their sidewalks, and boy are they something.
But no one really knows how many sidewalks need fixing, or how long it'll take to get them all usable again.
LA has 11,000 miles of sidewalks, and Krekorian said there has never been a survey to determine exactly how many of them need to be repaired.

Last year, a city administrator told the Los Angeles Times that as many as 40% of sidewalks needed repairs. City administrators did not return BuzzFeed News' request for comment Wednesday.

Meaney said the scope of the problem is massive, but was optimistic that the city was finally taking steps to fix it.
"It's pretty crazy to me that we don't treat our sidewalks as part of our transportation network," she said. "I think there are the glimmers of hope that we could begin to change that."
The sidewalk program also comes as LA increasingly pushes to become something more than a car town. On Nov. 8, voters approved a sales tax measure meant to fund major investments in public transit. Krekorian situated the city's sidewalks in the broader push for "having a different kind of mobility in Los Angeles."
"You can't have a walkable community if you don't have walkable sidewalks," he said.