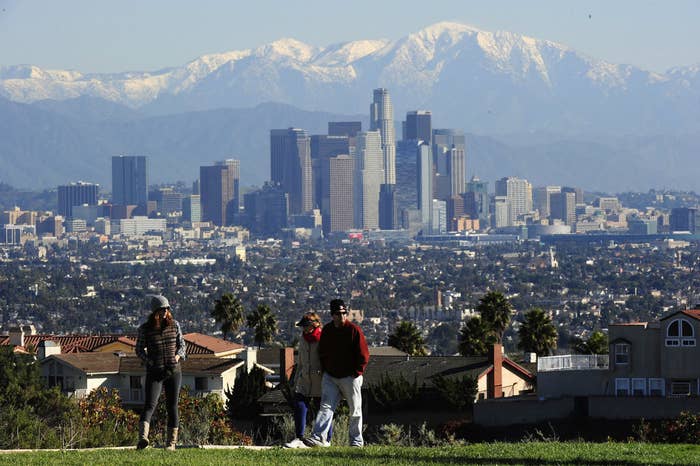 Los Angeles appears to be facing a growing crisis after two new reports showed that it has the least affordable housing in the U.S., stagnant wages, and a market that favors a "wealthy minority."
The most recent report was released this week by real estate website Zillow. It broke down the housing costs in major U.S. cities and revealed that renters in Los Angeles pay the highest percent of their income on housing.
The Southern California metropolis even beat out places infamous for their rents like San Francisco and New York City.
The graph below shows that renters in L.A. pay an average of 48.9% of their income on housing. By comparison, people in New York and northern New Jersey spend an average of 41.3% of their income on rent, while in San Francisco the average is 46.7%.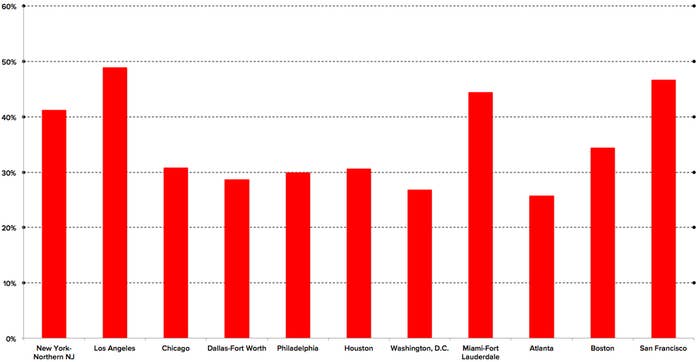 The problem isn't that L.A. has the highest rents in the U.S. It doesn't.
Instead, it means that L.A. has the highest rents relative to the median income of its residents. This is an idea known as "cost burden."
All of these numbers represent a sharp increase from the historical average between 1985 and 2000, when people in most cities (but not L.A.) were spending less than a third of their income on rent. In other words, it's getting more expensive to rent across the U.S.
The Zillow report also notes that while renting is getting more expensive, buying a house in many cities is relatively affordable. However, L.A. is not one of those cities.
The graph below shows the average percent of income people spent on mortgages from 1985 to 2000, in blue, beside the current average, in red.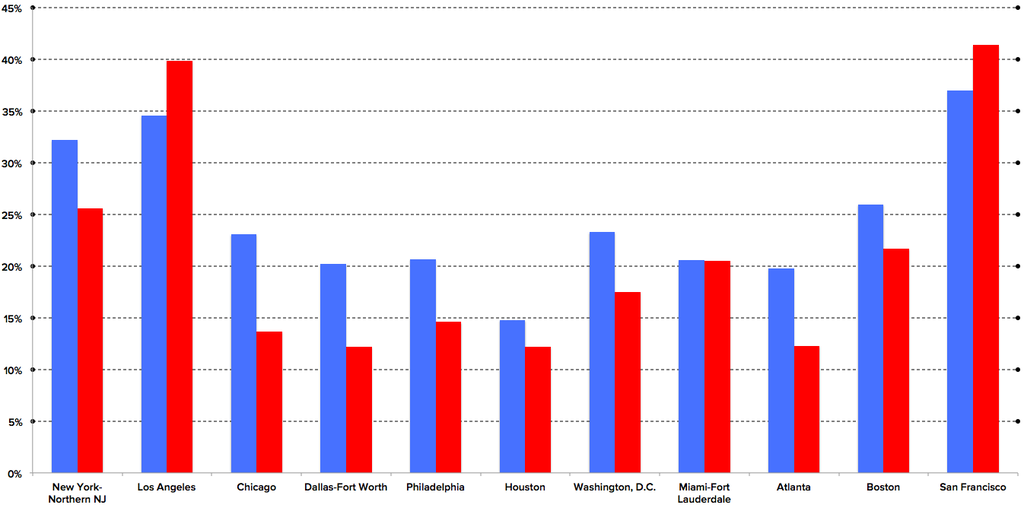 The data reveals that in nearly every major city, people who buy houses are currently paying less of their income on mortgages than they were a generation ago.
In L.A. and San Francisco, however, homeowners are actually paying more of their income on mortgages than they have in the past. And between the two California cities, L.A. saw the biggest jump in the relative cost of buying a home.
What this means is that housing in the L.A. area is uniquely expensive among U.S. cities for both renters and buyers.
A recent report from UCLA describes the situation in L.A. as an "affordability crisis."
The report — which was released by UCLA's Luskin School of Public Affairs on Aug. 5 — paints a dire picture of housing in the L.A. area. It reveals that "incomes have been stagnant in Los Angeles since the California recession of the early 1990s." Moreover, high housing costs have left the city with the lowest rate of homeownership among major metro areas.
"Los Angeles is the least affordable region of all metro areas," the report states. It adds that when factoring in income, "even the high cost regions of New York, San Francisco, and San Jose" are more affordable for homebuyers.
That's not necessarily surprising given the Zillow findings about L.A. being uniquely expensive. However, it is problematic because, the report says, "homeownership has traditionally been the largest asset and main source of wealth for households."
Income inequality skews L.A.'s housing market and reduces the supply of homes that are available to lower-income buyers.
Not only have incomes in L.A. "stagnated," but housing costs have continued rising, the report states. The report's authors further point out that the "market is distorted by the large buying power of a wealthy minority."
This is a multi-faceted problem: Not only do people who make less money then have a harder time finding an affordable place to live among existing homes, but developers building new housing also tend to cater to the wealthy. This, in turn, creates a shortage for lower- and moderate-income people.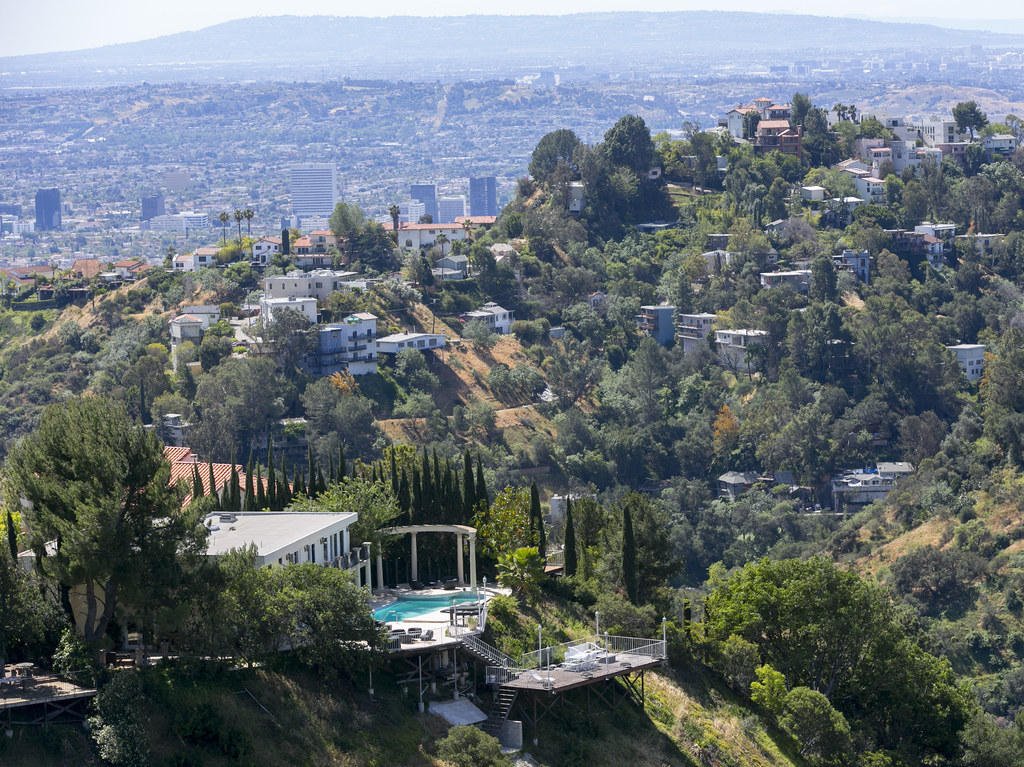 Los Angeles is trying to overcome this problem. The now-successful drive to raise the city's minimum wage was in part driven by the housing affordability crisis. The city has created new regulations that were designed to make it easier to build smaller houses — though that move was met with accusations that it perpetuates gentrification. And Los Angeles is adding new housing quickly, with nearly 20,000 permits for new homes — many of them in multifamily buildings — issued in the first six months of 2015.
Still, both the UCLA research and the Zillow report show a trend toward increasing housing burdens in the U.S. and, in particular, Los Angeles. And until something changes, Los Angeles remains, in the words of the UCLA report's authors, "the least affordable region of all metro areas."