Bisexual Americans Have The Highest Uninsured Rate, Suffer The Most Distress, Study Says
For the first time, sexual orientation has been included in a major survey by the Centers for Disease Control.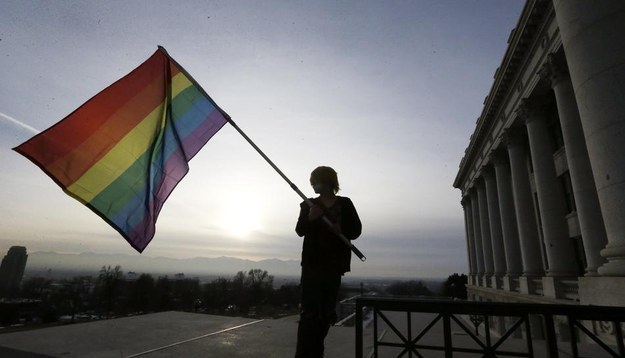 More bisexual Americans are uninsured and miss out on access to health care than their gay and straight counterparts, according to a new study from the Centers for Disease Control.
For the first time ever, the CDC's National Health Interview Survey has included measures of American adults' sexual orientation. The survey — which was based on interviews done in 2013 with 34,557 people — aims to better understand Americans' heath and health-related behaviors. Though it didn't find that any one group has poorer health overall, it did find significant differences among those who self-identify as gay or lesbian, bisexual, and straight.
Significantly, it found that bisexual American adults reported higher rates of missing out on needed health care due to cost, and higher rates of going without health insurance in general:
Gay and lesbian Americans also reported higher rates of not getting needed health care than straight Americans. And while the gay and straight Americans have nearly the same uninsured rates, the survey also reveals that 83.9% of straight adults have a "usual place to go for medical care." Only 80% of gay adults and 73.6% of bisexual adults can say the same thing, according to the survey.
People who identify as bisexual also reported experiencing more psychological distress in the recent past than their fellow gay and straight Americans.
The graph below shows the percentage of gay and lesbian, bisexual, and straight adults who reported suffering "serious psychological distress in past 30 days."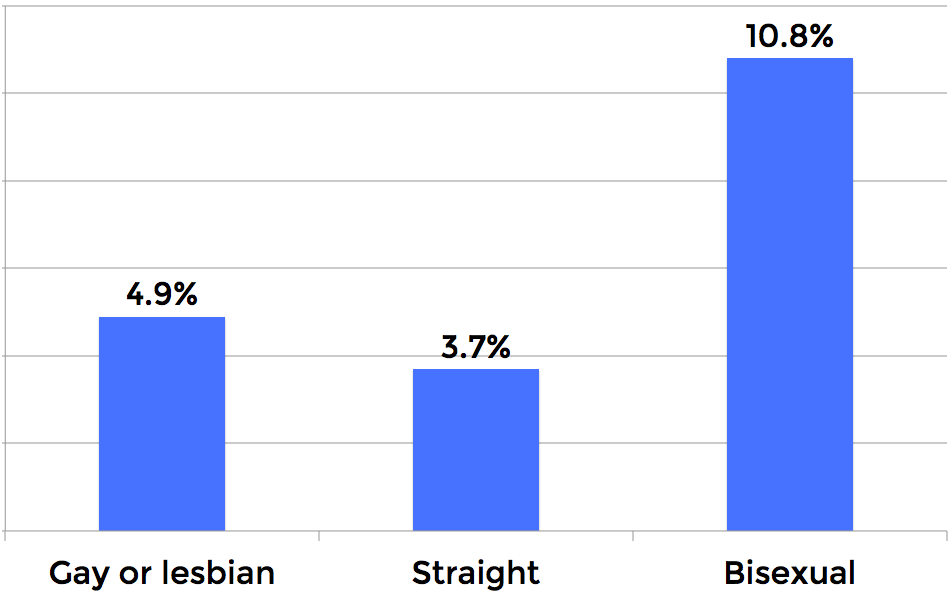 Bisexual Americans also reported having the highest obesity rates — 35.3%, compared to 29.5% for gay Americans and 29% for straight Americans — as well as the lowest percentage of people who described their health as "excellent or very good."
The survey does not go into detail about what may be causing these differences.
1.6% of American adults identify as gay or lesbian.
The survey involved asking people if they identify as gay or lesbian, straight, bisexual, "something else," and "I don't know." After those who gave the latter two answers were dropped from the analysis, researchers found that 97.7% of American adults identify as straight, 1.6% identify as gay or lesbian, and 0.7% identify as bisexual.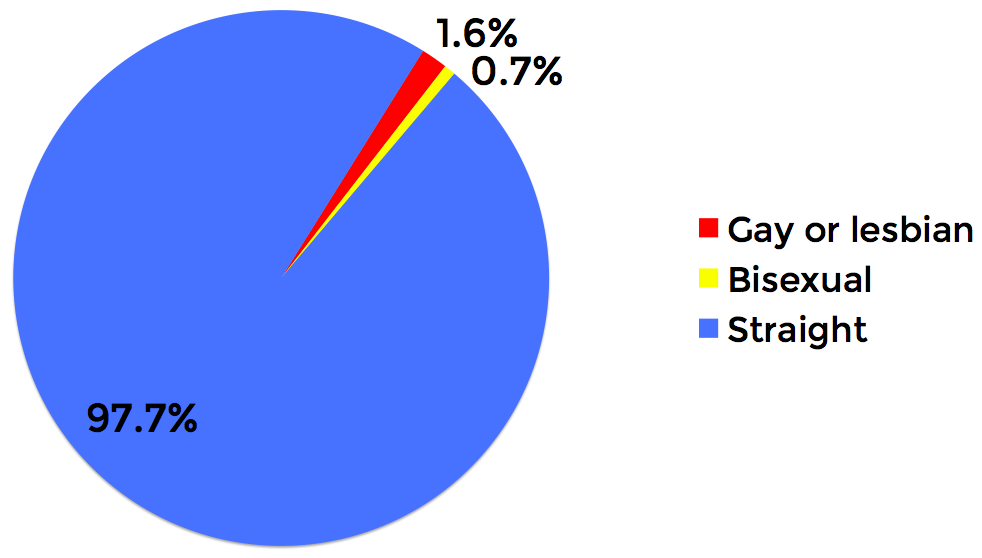 More women than men identify as bisexual.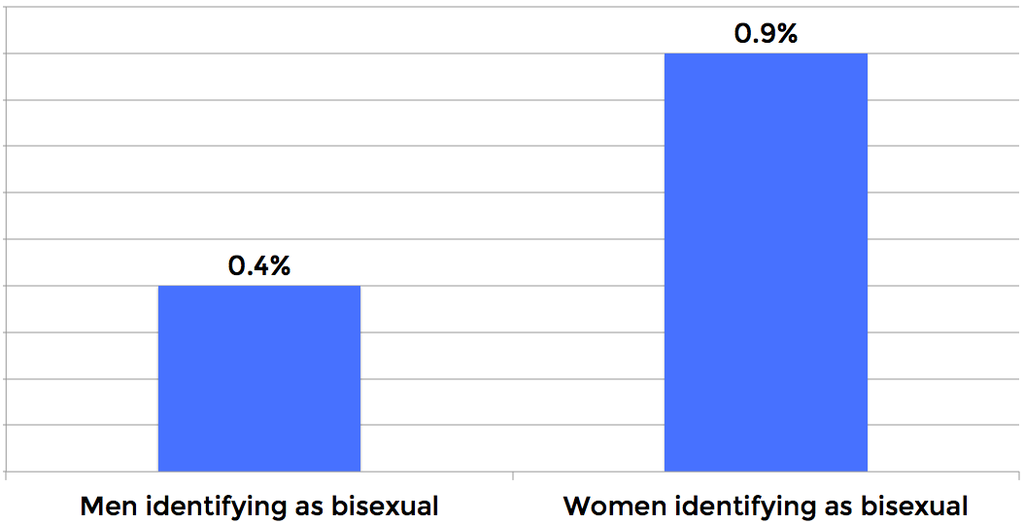 Bisexual adults also smoke and drink at higher rates than other Americans.
This graph shows the percent of gay or lesbian, bisexual, and straight adults who smoke, drink heavily, and exercise.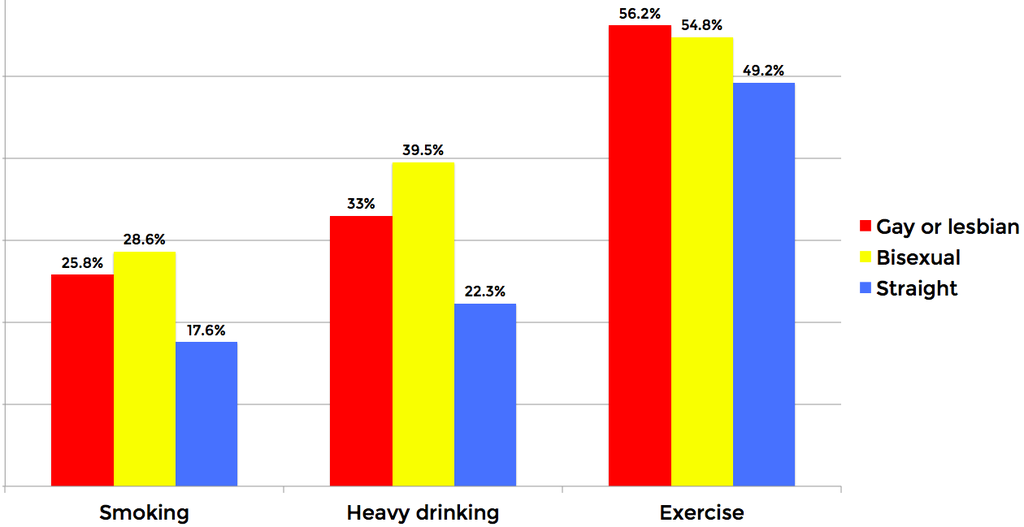 Smoking and heavy drinking, which the survey defines as having five or more drinks in one day during the last year, was highest among adults identifying as bisexual. Smoking and drinking was least prevalent among straight adults. Gay Americans fall in the middle, smoking and drinking at higher rates than their straight counterparts but at lower rates than bisexual adults.
Both gay and bisexual Americans reported exercising more than straight Americans, though the survey states that the differences in that category were not big enough to be significant.
Researchers also asked about HIV testing and found that those who identify as gay or lesbian get tested the most.