The response from US lawmakers was mixed Thursday night after President Trump ordered airstrikes against Syria.
The strike, which involved dozens of Tomahawk cruise missiles, targeted an airfield that the Syrian government used to launch a deadly chemical attack earlier this week. In the aftermath of the strike, prominent Republicans largely praised the action.
House Speaker Paul Ryan called the strike "appropriate and just."
Earlier this week the Assad regime murdered dozens of innocent men, women and children in a barbaric chemical weapons attack. Tonight the United States responded. This action was appropriate and just. These tactical strikes make clear that the Assad regime can no longer count on American inaction as it carries out atrocities against the Syrian people. Resolving the years-long crisis in Syria is a complex task, but Bashar al-Assad must be held accountable and his enablers must be persuaded to change course. I look forward to the administration further engaging Congress in this effort.
Republican Senators Lindsey Graham and John McCain, both leading foreign policy hawks, issued a joint statement commending Trump's move, adding that "he deserves the support of the American people."
We salute the skill and professionalism of the US Armed Forces who carried out tonight's strikes in Syria. Acting on the orders of their commander-in-chief, they have sent an important message the United States will no longer stand idly by as Assad, aided and abetted by Putin's Russia, slaughters innocent Syrians with chemical weapons and barrel bombs.

Unlike the previous administration, President Trump confronted a pivotal moment in Syria and took action. For that, he deserves the support of the American people.
Senator Marco Rubio, another Republican who has long called for military intervention in Syria's civil war, said in a statement that the strike "will hopefully diminish" Syrian President Bashar al-Assad's "capacity to commit atrocities against innocent civilians."
Tonight's strike against the Assad regime's Shayrat Air Base will hopefully diminish his capacity to commit atrocities against innocent civilians. By acting decisively against the very facility from which Assad launched his murderous chemical weapons attack, President Trump has made it clear to Assad and those who empower him that the days of committing war crimes with impunity are over. What must follow is a real and comprehensive strategy to ensure that Assad is no longer a threat to his people and to U.S. security, and that Russia no longer has free reign to support his regime.
Senate Foreign Relations Chair Bob Corker applauded Trump's "decisive action."
The US and the world community stood by as Syrian dictator Bashar al-Assad brutally tortured and murdered more than 500,000 of his own people, and I applaud President Trump for taking decisive action following the latest chemical weapons attack. It is critical that Assad knows he will no longer enjoy impunity for his horrific crimes against his own citizens, and this proportional step was appropriate. As we move forward, it will be important for the administration to engage with congress and clearly communicate its full strategy to the American people.
House Foreign Affairs Committee Chairman Ed Royce, a California Republican, also issued a statement praising the strikes as a "measured response."
Assad was warned, repeatedly, by the U.S. and the U.N. that the intentional targeting of innocent men, women and children is intolerable. Now Assad has been caught red-handed carrying out another abhorrent chemical attack, and the administration has taken a measured response. Moving ahead, the administration must work with Congress and lay out clear policy goals for Syria and the region.
And House Oversight Committee Chairman Jason Chaffetz tweeted simply: "God bless the USA!"
Some Democrats also voiced their support for the strikes. Senator Ben Cardin, the ranking Democrat on the Senate Foreign Relations committee, said the move sent "a clear signal that the United States will stand up for internationally accepted norms and rules against chemical weapons."
These military strikes against Assad's arsenal send a clear signal that the United States will stand up for internationally accepted norms and rules against the use of chemical weapons. The Joint Investigative Mechanism of the United Nations-Organization for the Prohibition of Chemical Weapons has confirmed multiple times that Assad regime forces have used chemical weapons against the Syrian people.

However, and I cannot emphasize this enough, any longer-term or larger military operation in Syria by the Trump Administration will need to be done in consultation with the Congress. Furthermore, it is the President's responsibility to inform the legislative branch and the American people about his larger policy in Syria, as well as the legal basis for this action and any additional military activities in that country.

Going forward, I will work with my colleagues in the Senate to have the Administration clearly articulate a comprehensive strategy for Syria that includes a plan for ending this war and removing Assad. He must be held accountable for his actions, along with Russian President Vladimir Putin.
Senate Minority Leader Chuck Schumer was cautiously optimistic as well, saying that making sure Assad knows he will "pay a price is the right thing to do."
Making sure Assad knows that when he commits such despicable atrocities he will pay a price is the right thing to do.

It is incumbent on the Trump administration to come up with a strategy and consult with congress before implementing it. I salute the professionalism and skill of our armed forces who took action today.
Dick Durbin, the Senate's second-highest ranking Democrat, called the strike a "measured response to the Syrian nerve gas atrocity."
My preliminary briefing by the White House indicated that this was a measured response to the Syrian nerve gas atrocity. Any further action will require close scrutiny by congress, and any escalation beyond airstrikes or missile strikes will require engaging the American people in that decision.
US Rep. Brad Sherman, a California Democrat, told BuzzFeed News that he thought the strikes were an appropriate move.
Sherman, a Democrat on the Foreign Affairs committee, said Thursday night that the 59 Tomahawk missiles launched by the US had "hit a particular air base from which we believe the chemical weapons were employed."
"The bad news is there may have very well been Russian servicemen at the airbase," Sherman said.
He added there had not yet been a classified briefing on the matter, but called the the strike appropriate.
"It doesn't solve Syria or come even close, but it does send a message," Sherman said. "This limited option will at least serve to protect international law with regard to chemical weapons."
Still, support for Trump's action was far from universal. Senator Rand Paul, a Kentucky Republican, posted a series of tweets criticizing the airstrikes, as well as Trump's decision to take military action without congressional approval.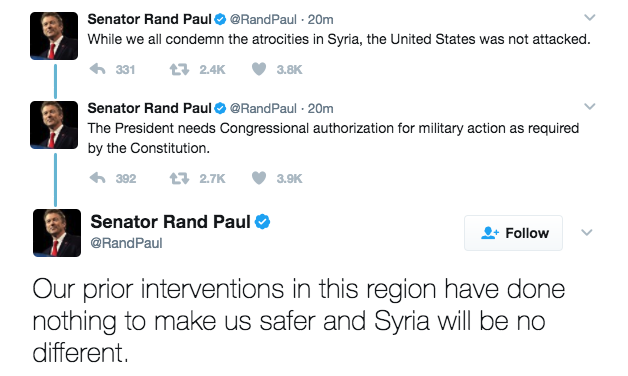 Sen. Tim Kaine, Hillary Clinton's former running mate, called Trump's decision to move forward without congressional approval "unlawful."
Assad is a brutal dictator who must be held accountable for his actions. But President Trump has launched a military strike against Syria without a vote of congress. The Constitution says war must be declared by Congress. I voted for military action against Syria in 2013 when Donald Trump was advocating that America turn its back on Assad's atrocities. Congress will work with the president, but his failure to seek congressional approval is unlawful.
Democratic Senator Elizabeth Warren said that while Assad's regime "must be held accountable," any expanded military intervention in Syria requires authorization from Congress.
The use of chemical weapons against innocent Syrian men, women, and children is a clear violation of international law. The Syrian regime must be held accountable for this horrific act, and its actions underscore why the United States should embrace innocent people who are fleeing terror.

But the Constitution gives the power to authorize the use of military force to the legislative branch. Expanded military intervention in Syria requires action by Congress. If President Trump expects such an authorization, he owes the American people an explanation of his strategy to bring an end to the violence in Syria. We should not escalate this conflict without clear goals and a plan to achieve them.
Even Texas Senator Ted Cruz stopped short of praising the airstrikes, and called on Trump to make the case for military action to Congress.
Today, after eight years of Obama foreign policy failures, Syria is a humanitarian disaster. Bashar al-Assad is a monster, a puppet of Russian and Iran, and he has once against used chemical weapons against his own citizens, murdering innocent men, women and children.

Our prayers are with Assad's victims, and with the victims of the ISIS and al Qaeda terrorists ripping Syria apart. And, as always, our support and prayers are with the brave Americans in uniform who carried out the military strike tonight.

Any military action in Syria must be justified as protecting the vital national security interests of American — including decisive action to prevent chemical weapons from falling into the hands of radical Islamic terrorists — and I look forward to our commander-in-chief making the case to congress and the American people how we should do so in the days ahead.
US Rep. Justin Amash, a Michigan Republican, said on Twitter that "atrocities in Syria cannot justify departure from the Constitution."
US Rep. Thomas Massie, another Kentucky Republican just shared a screen shot of an old Trump tweet with the hashtag #bigmistake.
House Democratic Whip Steny Hoyer criticized Trump for sending "mixed signals" to the Syrian regime.
Tonight's airstrikes, launched in response to the horrific atrocity of the use of chemical weapons, are not a sufficient answer on their own to the challenge posed by the civil war in Syria and the Assad regime's war crimes. President Trump must follow them with the presentation of a clear and coherent strategy and the articulation of what discernible goals these strikes were meant to advance. It would be a disservice to the outstanding men and women of our Armed Forces who carried out these strikes if the President neglects to do so. To date, President Trump has not provided a strategy; rather, he has sent mixed signals to the Assad regime, to its Russian and Iranian backers, and to the world about what the path forward must be in Syria. This week's chemical weapons attack demanded a response, and the White House must work closely with Congress in the days and weeks ahead to determine what strategy ought to be pursued and authorized by Congress to end the Syrian conflict in a way that restores stability, protects human rights, and denies ISIS a base of operations from which to threaten America and the world.
US Rep. Adam Schiff, the ranking Democrat on the House Intelligence Committee, said on MSNBC that "none of what we're doing in Syria is authorized." But he later issued a statement said the strikes could deter "further use of chemical weapons."
Late tonight, I was briefed by the Director of National Intelligence about the strikes U.S. forces made against an airfield in Syria believed to be the launching point of the recent chemical weapons attack. This strike will not hasten an end to the Assad regime, but it may deter its further use of chemical weapons.

Nevertheless, this missile strike and the military action of our forces already in Syria, have yet to be authorized by Congress. I will be re-introducing an authorization for use of military force against ISIS and al Qaeda when Congress returns to session. Congress cannot abdicate its responsibility any longer and should vote on any use of force not made in self defense. This is necessary whether action is taken against terrorist groups or, as here, against regime capabilities.

Finally, our concern for Syrian civilians should cause us to redouble our efforts to provide humanitarian relief to the millions of refugees who have fled their homes in the face of just the sort of barbaric attacks we have seen from the Assad regime this week.
Democratic Senator Brian Schatz, of Hawaii, said that a military response to the chemical attack in Syria "is not the answer."
The Assad regime's use of chemical weapons is abhorrent, but a military response is not the answer. The president has failed to articulate a strategy to end the Syrian civil war. A one-off strike may satisfy our desire to hold Assad accountable, but it risks deeper escalation without any sense of direction or objective. And unless this conflict ends, we will never defeat ISIL and prevent its return.

Regardless, congress must debate and authorize any escalation of US military involvement against the Syrian regime, as it is well beyond the 2001 Authorization for Use of Military Force. The United States must focus on leading a diplomatic effort among our partners and allies in the region to achieve a political solution that results in a post-Assad Syrian government that brings stability to the region.
And US Rep. Tulsi Gabbard, another Hawaii Democrat, went further, slamming Trump for taking "the advice of war hawks" and escalating "our illegal regime change war."
It angers and saddens me that President Trump has taken the advice of war hawks and escalated our illegal regime change war to overthrow the Syrian government. This escalation is short-sighted and will lead to more dead civilians, more refugees, the strengthening of al-Qaeda and other terrorists, and a possible nuclear war between the United States and Russia.

"This Administration has acted recklessly without care or consideration of the dire consequences of the United States attack on Syria without waiting for the collection of evidence from the scene of the chemical poisoning. If President Assad is indeed guilty of this horrible chemical attack on innocent civilians, I will be the first to call for his prosecution and execution by the International Criminal Court. However, because of our attack on Syria, this investigation may now not even be possible. And without such evidence, a successful prosecution will be much harder.