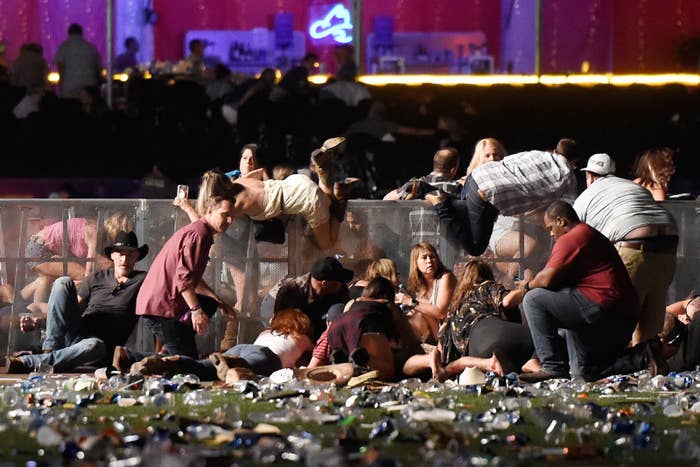 LAS VEGAS — When the shooting erupted Sunday night in Las Vegas, Bill Shermett thought the pops he heard were fireworks. Then he turned to his girlfriend, Dana, and saw blood.

"She said, 'I was hit,'" Shermett told BuzzFeed News Monday outside Sunrise Hospital. "I tried to find her wounds and cover them so they'd stop bleeding. She had blood in her lungs and her arm was open."
As the shooting continued at the Route 91 Harvest festival, Shermett tried carrying Dana out of the concert, but again and again, he said, new volleys of gunshots rang out and forced them to the ground. All around, it was chaos.
"You see people shot everywhere, blood all over everyone," he recalled. "It's different when you see it. It's not like on TV. When you see people bleeding everywhere, this is some real shit."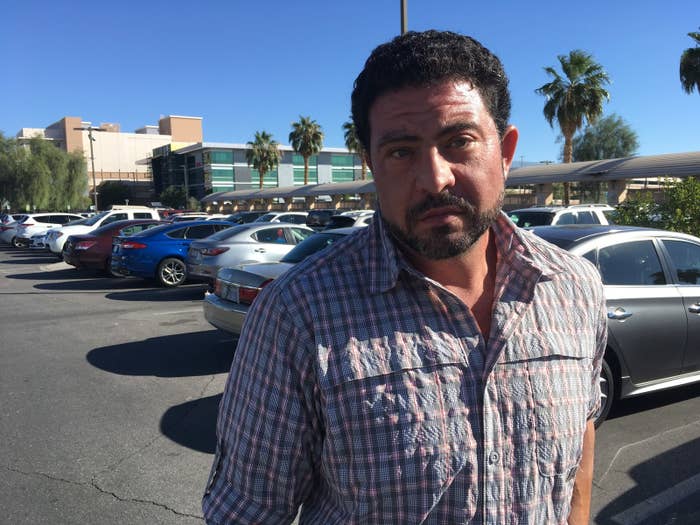 Dana, who Shermett declined to identify by last name, died from her wounds Monday, he said, becoming one of at least 59 people killed when Stephen Paddock, 64, opened fire on the concert from a room in the Mandalay Bay hotel. More than 500 other people were injured before Paddock killed himself, police say.

When the shooting began Sunday, James and Jodie Osisanya of Palm Springs, California, were standing in the same general area as Shermett. They too initially assumed the shots were fireworks, but then looked up and saw muzzle flashes from a hotel room.
"There was panic, fear," James said as he struggled to fight back tears. "I saw bodies everywhere. Just laying on the ground. Someone was in a wheelbarrow."

Jodie's brother, Michael Caster, was among those hit early on, but James said that in the chaos they were separated. The Osisanyas ended up sheltering in the nearby Tropicana hotel amid fears that a shooter might also be entering that building.
"We ended up in this garbage or trash chute room," James said. "I was trying to find a medic or someone to go with me to find him and help him. But no one would go."
Nearby, a bullet had just struck Elizabeth Rinehart in the leg, shattering her tibia, her brother Gary Rinehart, of Temecula, California, said. But there weren't enough ambulances at that point, so someone loaded Elizabeth and several other people into the back of a pickup truck and drove them to the hospital.
"She was holding her own IV bag," he said.

About the same time, Nicole Reliford had just arrived to pick up her brother and husband at the concert when she heard the gunshots.
"Suddenly people were running and hitting the ground," she said.
Reliford's husband, Darren Manzanares, and her brother, Patrick Deffphy, made it to an Uber that happened to be in the area and left the scene, but not before both were shot. When she found out, Reliford, who is seven months pregnant, was devastated.
"I thought I was going to give birth," she said.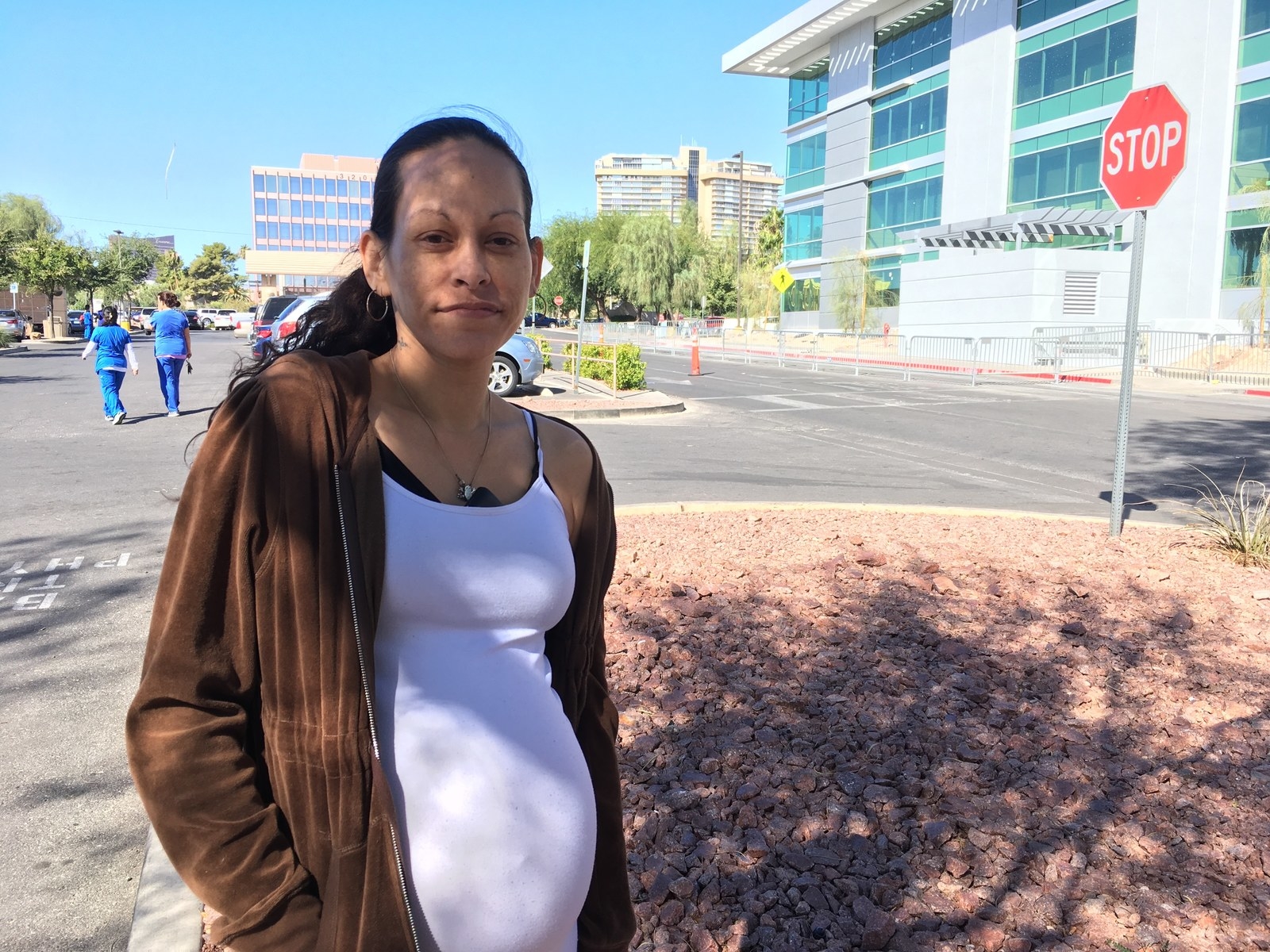 Deffphy was shot "in the back and it came out the front," Reliford said. Manzanares was shot in the neck, and by Monday morning had lost mobility.

"He can't move his legs and his spine," Reliford said.
Jodie Osisanya said her brother suffered a similar fate, and the family was awaiting a specialist Monday to determine if he would remain permanently immobilized.

"He's paralyzed now," she said. "The first thing he said was, 'I can't feel my legs.'"

The trauma continued to unfold Monday for hundreds of other families. Both Sunrise Hospital and University Medical Center saw steady processions of people throughout the morning, while police guarded the hospital doors and parking lots outside.
Many of the people who arrived at hospitals sobbed as they stood in the shade of wispy trees, making phone calls and leaning on fellow mourners. One man, who declined to give his name, said simply, "My brother isn't going to make it," before walking away, weeping.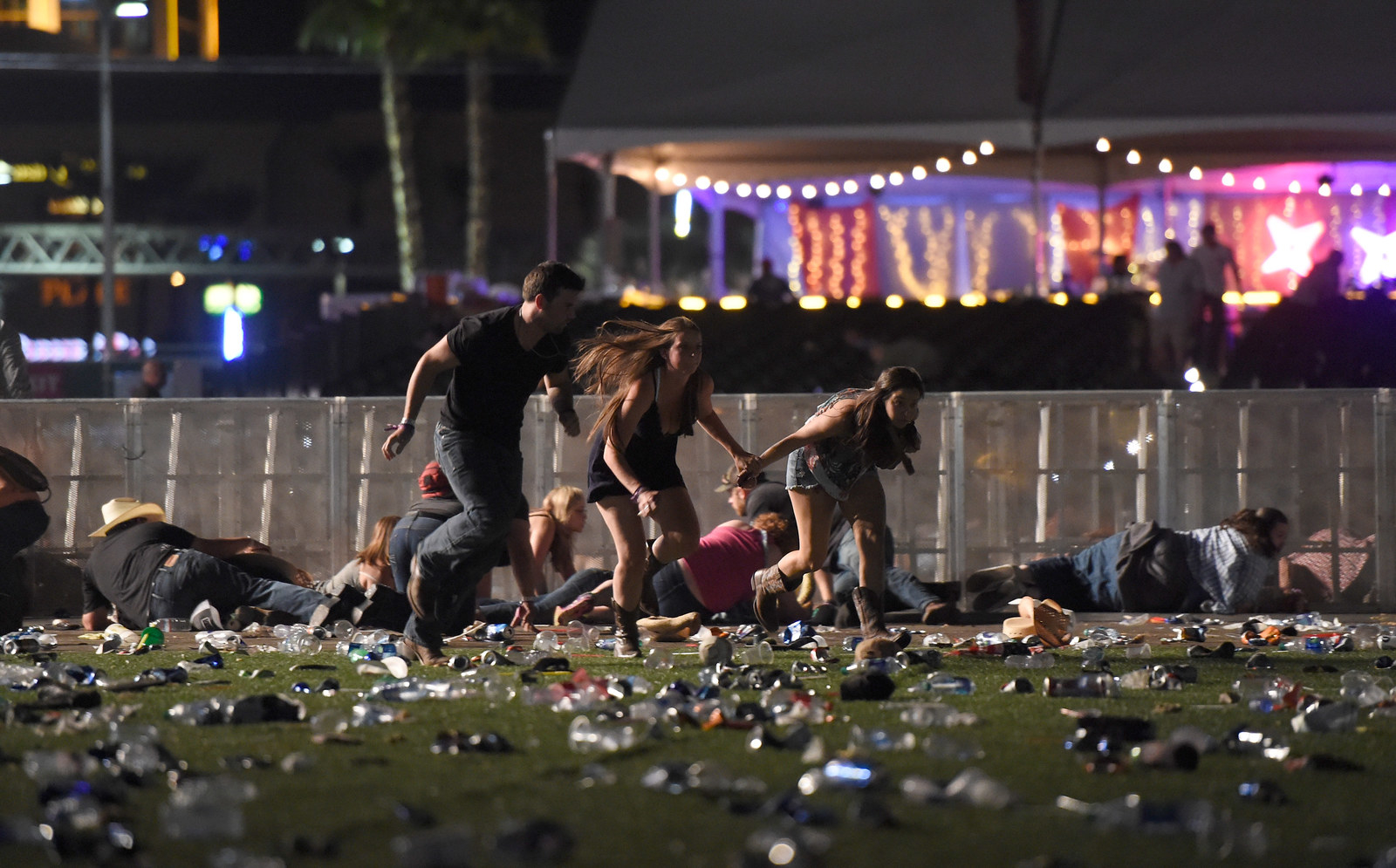 Another man, who also asked not to be identified, told BuzzFeed News his daughter and son-in-law had been seriously wounded.

"I thought I was dreaming," he said of getting a call with the news. "I'm wondering how somebody could do something like that."
Others were simply waiting for more news from the chaotic emergency rooms. Zachary Cooper, of Las Vegas, said that his two 17-year-old twin sisters were shot at the concert.
"One of my sisters, her leg has a hole in it," Cooper said. "My other sister was shot through the back, it went out through her chest and hit a lung. She has a tube down her throat and a whole bunch of other stuff."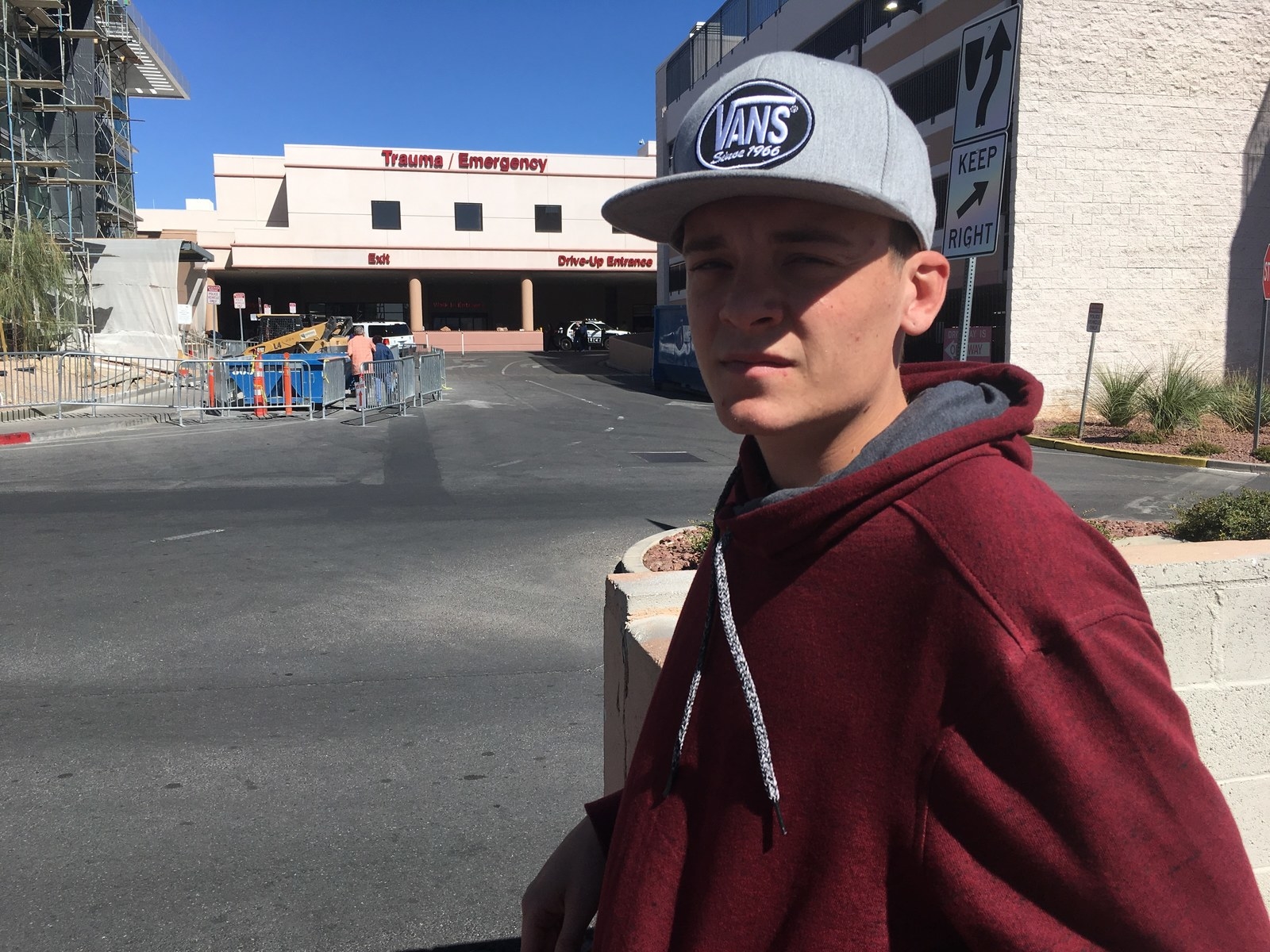 Cooper said a friend who attended the concert with his sisters also was shot and was in a coma.
Sunrise Hospital ultimately took in more than 180 victims, Dr. Jeffrey Murawsky, the facility's chief medical officer, said. More than 120 of those victims had suffered gunshot wounds, and though a doctor had seen them all by Monday afternoon, Murawsky said it could take up to a week for all of them to be fully processed through the hospital's systems.
He also expected the death toll to rise in the coming days.
"We've had mass events before, but nothing to this magnitude," he said. "No one's experienced this."