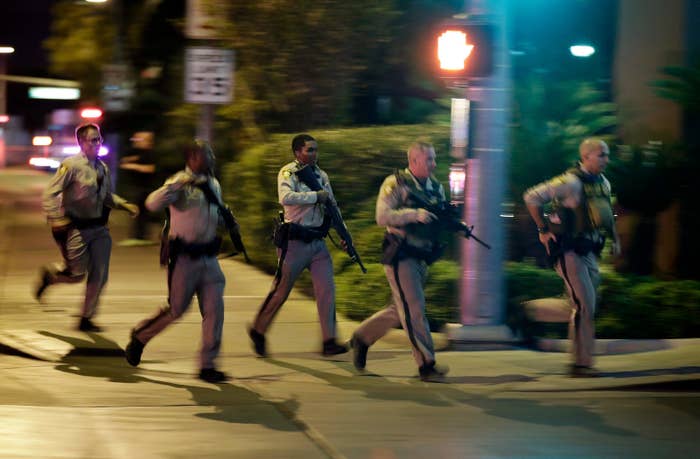 Police have released the first body camera footage from the Oct. 1 mass shooting in Las Vegas showing the moment officers stormed the hotel suite of shooter Stephen Paddock after he opened fire on a concert, killing and injuring hundreds of people.

The footage, released in multiple videos Wednesday afternoon, shows a group of heavily armored officers approaching, then entering, Paddock's room at the Mandalay Bay Resort and Casino at the south end of the Las Vegas Strip. Paddock used the 32nd floor hotel suite as a snipers nest to fire thousands of rounds at a nearby concert in the worst mass shooting in modern US history.
The shooting left 58 people dead and more than 800 others injured. Paddock ultimately took his own life before police reached him.
In one video, a group of officers is seen waiting outside Paddock's multi-room suite while a loud bang goes off. The officers then proceed to search the suite room by room, whispering instructions as they proceed.

"Rifles up, move up," an officer can be heard saying.
"Check under the bed," another officer later orders.
As police inspect the room, an officer appears to move an assault rifle away from the window.
Debris and a broken door are visible in the video, though Paddock's body is not shown.

In another video, officers appear to examine documents found in Paddock's room and can be heard asking for police to visit Paddock's home address in Mesquite, Nevada. As officers walk through the suite, Paddock's significant arsenal of assault rifles is visible scattered on the floor and furniture.
"We need to get armor for those bags over there," an officer can be heard saying as he scans the room. A moment later, referring to something in a bag, he asks other officers, "what's inside with the wires over there?"
Other videos show officers in the building floor by floor and telling hotel guests to stay in their rooms.
"A guy is shooting at people from one of these floors," an officer says to someone off camera. Another officer later tells his team to remain quite "because he could shoot through these walls."
According to the Review-Journal, the footage came from the body cameras worn by two K-9 officers who responded to the scene.

The release of the video comes after a legal battle between news organizations and the Las Vegas Metropolitan Police Department. After the shooting, the Review-Journal, Associated Press, Los Angeles Times, and other news outlets requested 911 recordings, body camera footage, and other documentation. When police refused to release that information, the media organizations sued.
The Nevada Supreme Court ruled Friday that police had to begin releasing the requested documents and files. A police spokesperson told BuzzFeed News on Tuesday that it took the department several days to figure out how to release the footage, adding that additional video would be made public in the coming weeks.
This is a developing story. Check back later and follow @BuzzFeedNews on Twitter for updates.