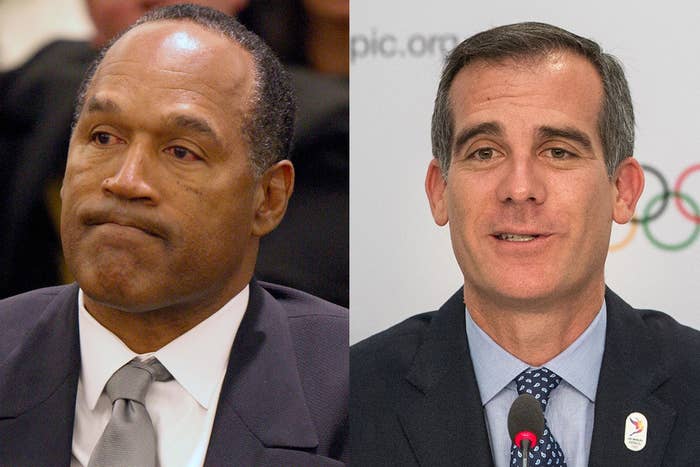 RANCHO PALOS VERDES, California — OJ Simpson won't be welcomed in Los Angeles after he leaves prison later this year, the city's mayor said Wednesday during a wide-ranging interview in which he discussed the city's bid for the Olympic Games and praised Tesla founder Elon Musk.

Simpson, 70, was granted parole last week after serving nine years in prison for armed robbery and assault in Las Vegas a decade ago. When asked about the case, Mayor Eric Garcetti — whose father, Gil Garcetti, oversaw the prosecution during Simpson's 1994 murder trial — said he doesn't think Simpson will return to LA.
"Is he welcome in Los Angeles?" Garcetti asked. "I don't think most Angelenos would welcome him. I don't think a lot of communities would welcome him."
"I think he'll probably go to Florida or something," Garcetti added.

The comments came during an interview with BuzzFeed Editor-in-Chief Ben Smith in Rancho Palos Verdes, California, Wednesday morning.

Garcetti also discussed LA's bid for the Olympics, all but confirming the Games would return to the United States in 2028. Paris and Los Angeles are both in the running for the 2024 and 2028 Summer Olympics, and Garcetti said Wednesday that "the bid is all but done. We have won."
The 2024 date, however, "is not probably most likely to happen," Garcetti explained, adding that International Olympic Committee officials are making the later date "financially so attractive, we'd be stupid not to take 2028."
Garcetti also publicly recounted for the first time a meeting with Elon Musk earlier this year, in which the two discussed tunneling under Los Angeles. The Tesla and SpaceX founder has raised eyebrows by suggesting the city could solve its infamous traffic woes with a subterranean network of tunnels for cars.

Garcetti said Musk called him earlier this year and announced "that he bought an excavator and a tunnel boring machine and he started digging and said, 'Do I need a permit for this?'" The mayor said after the call he drove to nearby Hawthorne where Musk "showed me his digging and he walked me through the SpaceX manufacturing facility."
Musk later tweeted about meeting with Garcetti, saying the two had "promising conservations" about the tunneling concept.
Despite some skepticism in the planning community about Musk's tunnel idea, Garcetti said he thinks the tech founder is "onto something."
"We haven't changed the technology of boring machines in decades," he continued. "It's a slow, cumbersome process to do this."
Garcetti said he wants Los Angeles to be "kind of like the Dubai of America" and a "test bed, not just for Elon, but for everybody who has an idea, or a company, or some crazy product that they want to test."

"Never bet against Elon," Garcetti added. "Just look at the track record."