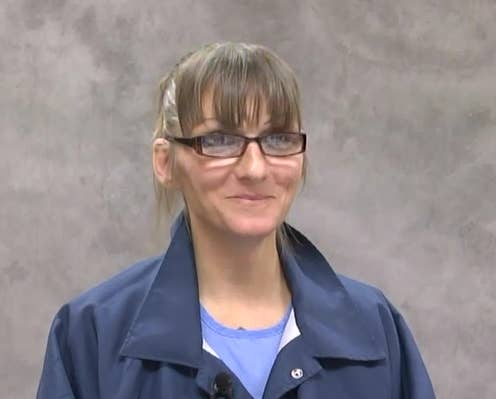 In a potentially precedent-setting move, a judge has for the first time ordered California's prison system to provide an inmate with sex reassignment surgery.
The judge ruled Thursday in favor of Michelle-Lael Norsworthy, 51, who is currently housed in an Ione, California, prison.
According to the ruling, the California Department of Corrections has to "take all of the actions reasonably necessary to provide" Norsworthy with the surgery. The surgery also should take place "as promptly as possible."
The origins of Norsworthy's case go back to 1987, when she went by the name Jeffery Norsworthy and was convicted of second-degree murder. Norsworthy's attorneys told BuzzFeed News Thursday the case stemmed from a bar fight.
In the 1990s, Norsworthy began identifying as a woman, according to court documents. She was diagnosed with what would come to be known as gender dysphoria in 2000. The documents quote Norsworthy as saying she is "a woman trapped in a man's body." She also is quoted as saying her condition "causes excruciating pain and frustration."
Attorney Ilona Turner, of the Trangender Law Center, told BuzzFeed News that Norsworthy began taking hormone treatment for her condition, but was gang raped in prison in 2009. As a result of the rape, Norsworthy contracted hepatitis C, which combined with her hormone treatment led to liver damage.
Turner also called the prison's past treatment "woefully inadequate" for addressing the pain Norsworthy experiences.
"She is suffering excruciating psychological and emotional pain due to her gender dysphoria," Turner said.
According to Turner, California has a blanket policy barring sex reassignment surgery for inmates. But, Turner added, Thursday's ruling means the Department of Corrections can't use a treatment "when it's not actually making the person better."
Instead, Turner said, "they have to take steps that will actually be effective."
Lawyers for the Department of Corrections had argued that Norsworthy didn't demonstrate "a medical necessity for such surgery, much less any sudden or dramatic deterioration in her medical or mental health that might otherwise warrant such an order," according to court documents. The department cited two medical experts who said the surgery wasn't necessary.
The department also told the Associated Press that the surgery could cost taxpayers almost $100,000.
Norsworthy's case is the first of its kind in California, and could be a factor in future cases.
The judge rejected the Department of Corrections' arguments, saying Norsworthy was entitled to constitutionally adequate care.
"The weight of the evidence demonstrates that for Norsworthy, the only adequate medical treatment for her gender dysphoria is [sex reassignment surgery]," the ruling states, adding "that the decision not to address her persistent symptoms was medically unacceptable under the circumstances."
Norsworthy's case is in someways similar to that of Michelle Kosilek, a Massachusetts inmate who is continuing to fight for gender reassignment surgery. However, Norsworthy is the first California inmate to receive a court order mandating the surgery.
Thursday, Turner said Norsworthy's case could be cited in future legal battles.
"I would definitely expect this case to be cited as a significant, historic decision in transgender rights," she said.
On Friday evening, California Attorney General Kamala Harris alerted the trial court that her office will appeal the ruling to the 9th Circuit Court of appeals. Additionally, she has asked the trial court to put the decision on hold during that appeal.
"As the state's lawyer, we are representing the California Department of Corrections and Rehabilitations in the case," California Attorney General Kamala Harris spokesman David Beltran told BuzzFeed News on Saturday in response to a request for comment on the decision to appeal. "For comment please reach out to the Governor's Office and CDCR."
Messages were left on Saturday with Gov. Jerry Brown's office and CDCR seeking comment.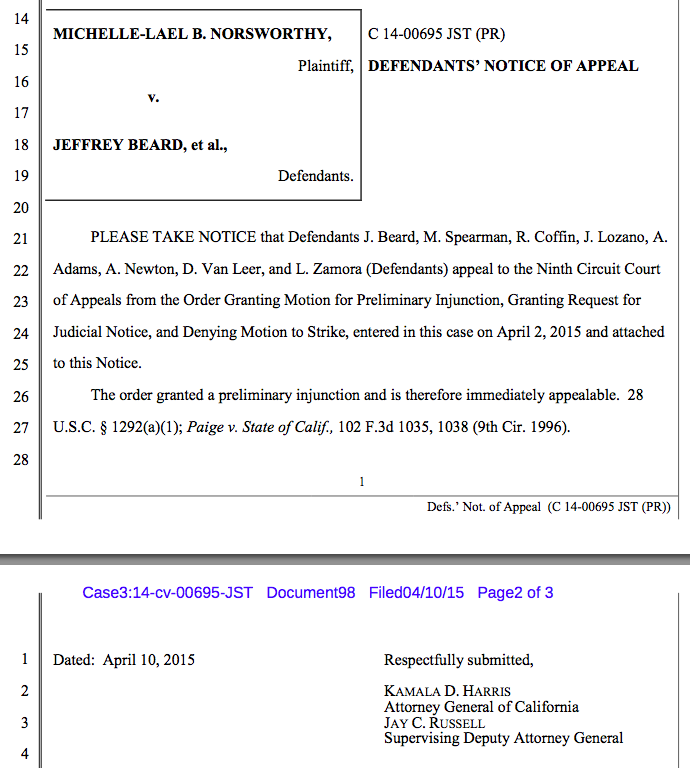 Legal Editor Chris Geidner contributed to to this report.