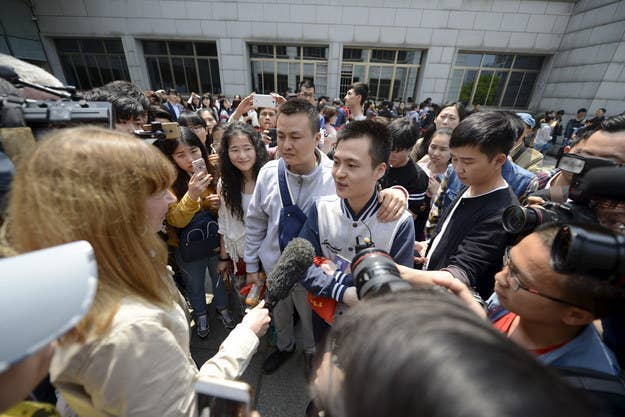 A judge in China has thrown out the first ever lawsuit over same sex-marriage in the country, thwarting the efforts of a couple who tried to marry last year.
Sun Wenlin and Hu Mingliang's lost their bid Wednesday to get married, the Associated Press reported. A local civil affairs bureau in Hunan Province reportedly denied the two men a marriage registration certificate in 2015, prompting them to file a lawsuit in December.
The lawsuit was the first of its kind for China, according to multiple reports, though other LGBT couples in the country have previously held informal marriage ceremonies.
The couple's case has been celebrated by LGBT activists in China, which does not currently recognize same-sex marriage. Before the ruling was handed down Wednesday, hundreds of supporters gathered at the court, the AP reported.
The couple met in 2014, according to CNN. Sun reportedly asked Hu to marry him after they saw the movie Pride. After the case was delayed earlier this year, Sun said he felt "too powerless."
Despite losing Wednesday, Sun has vowed to appeal.
"Even if we were the only gay couple in the world, we should be allowed to marry!" Sun told CNN in January. "It's the basic human right and I ought to enjoy it."

In the aftermath of the trial's result, Chinese internet users have taken to Weibo and other platforms to discuss the outcome. Shi Fulong — the couple's lawyer — has written four Weibo posts after the verdict so far, expressing both disappointment and belief in gaining back rights for the couple: "Although they won the case today, the victory of the future belongs to us!"

Many of the most liked comments, such as this one from user Nadie, noted how the status quo promotes the existence of "tongqi," a Chinese word short for "wife of a gay man." Nadie wrote that "to oppose same-sex marriage will cause the existence of more 'tongqi.'"
According to Zhang Beichuan, a renowned scholar and doctor dedicated to studying LGBT issues in China, there are about 16 million women that are married to gay men in China. Chinese parents expects their children to get married and have children at certain ages, which imposes huge amounts of pressure on young people, especially for those who share their sexual orientations with their family in the first place. The available research shows more wives of gay men than husbands of gay women.
At the same time, official Chinese research shows that 30 million Chinese men will be unable to find wives by the year of 2020, which is only four years from now. This is largely due to the preference for boys under China's controversial former One-Child Policy, leaving a huge sex-ratio imbalance – there are now 1.15 men for every woman in China.