Just more than a week after a massive hurricane battered the Texas coast, forecasters are now watching another storm that's charging through the Caribbean and could wallop southern Florida later this week.
Hurricane Irma grew into a Category 5 storm on Tuesday. According to the National Hurricane Center, the storm had maximum sustained winds of 175 mph, and a hurricane warning was in effect early Tuesday morning for Puerto Rico, the US Virgin Islands, and a number of other islands at the eastern edge of the Caribbean including Antigua, Barbuda, and Montserrat.
"Some fluctuations in intensity are likely during the next day or two, but Irma is forecast to remain a powerful Category 4 or 5 hurricane during the next couple of days," the hurricane centre said.
"Preparations to protect life and property should be rushed to completion."
Hurricane Irma prompted the governors of Florida and Puerto Rico to declare states of emergency Monday.
Florida Gov. Rick Scott's emergency declaration mentions that weather models predict Irma will "head into the Straits of Florida as a major hurricane," then "travel up the entire spine" of the state. The declaration — which applies to all of the state's counties — also outlines an emergency response plan, including potential policies such as waiving fees on toll roads, activating the National Guard, and setting up shelters in public buildings.
On Twitter Monday, Scott also urged "all Floridians to remain vigilant and stay alert to local weather and news" and "to get prepared."
In Puerto Rico, Gov. Ricardo Rosselló also declared a state of emergency, saying that Puerto Rican officials have issued price freezes on basic necessities, and that the US territory has 456 shelters that can accommodate 62,100 people.

On Tuesday, Monroe County in the Florida Keys issued a mandatory evacuation for residents and visitors alike, beginning at sunrise on Wednesday. "If ever there was a storm to take seriously in the Keys, this is it," Martin Senterfitt, the county's Emergency Management Director, said in a statement. "The sooner people leave, the better."
Right now, Hurricane Irma is several days away from Florida, and it's still too early to know exactly what will happen — but it could have a major impact on the East Coast.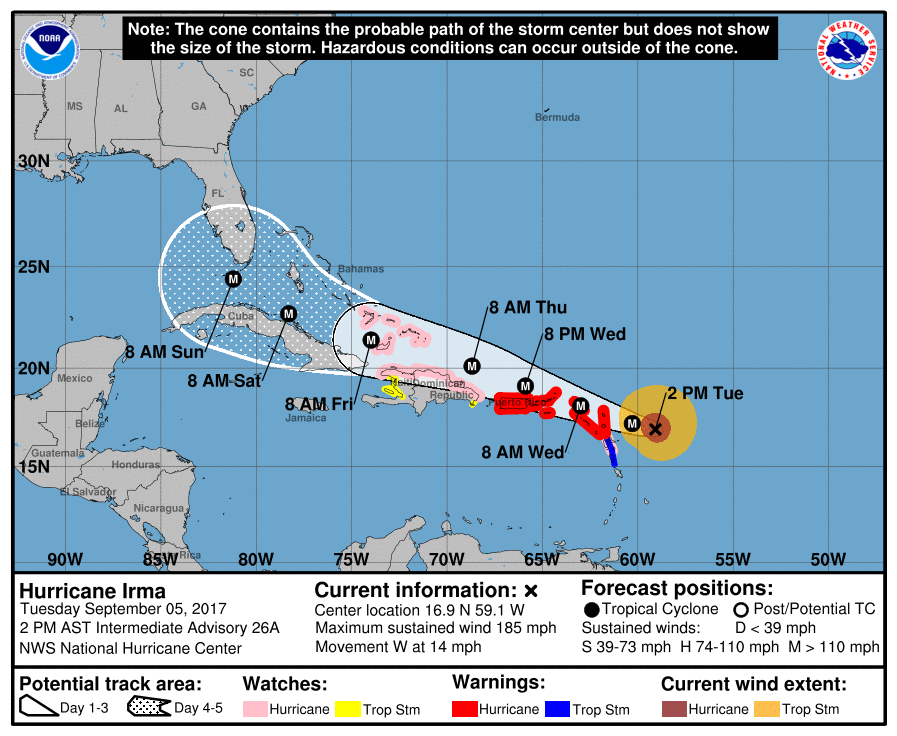 The National Hurricane Center expects Irma to reach Puerto Rico by Wednesday afternoon, followed by the Dominican Republic a day later.

Irma could finally reach southern Florida, as well as central and western Cuba, by Saturday. Forecasters can't predict the exact trajectory and intensity the storm will take over the week, so it could arrive in the US at a different location or time, or with a different intensity.
However, the hurricane center reported Monday that there is an "increasing chance of seeing some impacts from Irma in the Florida Peninsula and the Florida Keys later this week and this weekend." Weather models also indicated that there was a more than 50% chance Irma would reach the Florida region as a Category 4 or 5 storm, according to meteorologist Ryan Maue.
Preparations for Irma are now underway, even as the recovery from Harvey — a hurricane turned tropical storm that flooded large swaths of the coast, including Houston — is still ongoing.
In parts of the Caribbean, some schools and some businesses closed in anticipation of the storm, the Associated Press reported.
"We're looking at Irma as a very significant event," Ronald Jackson, executive director of the Caribbean Disaster Emergency Management Agency, told the Associated Press.
In the US, Florida officials activated emergency management teams Monday and Floridians began stocking up on supplies, according to CBS Miami.
The Red Cross also stopped sending volunteers from the mid-Atlantic region to help with the recovery from Harvey in Texas, WNCN reported. The decision was made so that resources would be available if Irma hits Georgia, the Carolinas, or other parts of the East Coast.

The decision also highlights how storm recovery resources are already stretched thin in the US. Harvey made landfall as a Category 4 hurricane near Rockport, Texas, on Aug. 25. It later weakened to a tropical storm, but nevertheless doused the Houston region with record-setting rainfall.
The rain flooded bayous, rivers, and neighborhoods, many of which remain underwater. Thousands of professional first responders and volunteers flocked to the region to help.
Now, even as many resources remain in place in Texas, observers are beginning to turn their attention to Florida and other eastern states, waiting to see what Irma will bring.