Hundreds Rally To Remove Confederate Flag From South Carolina Capitol Grounds
The rally took place just days after a racially motivated shooting left nine people dead at a historic Charleston church.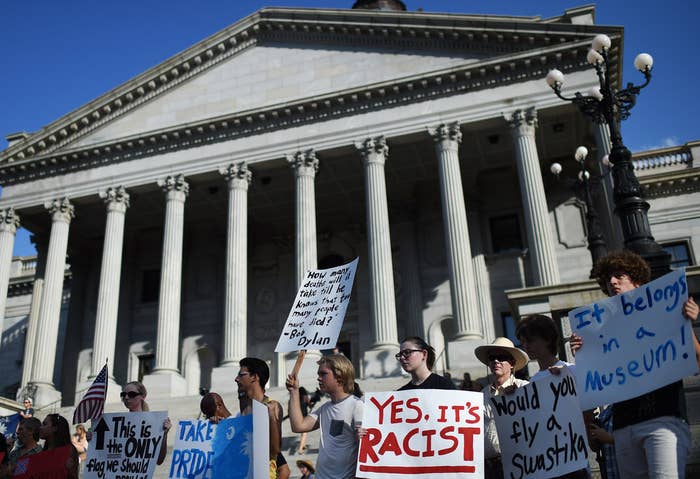 Hundreds rallied in Columbia, South Carolina, Saturday to call for the removal of the Confederate flag from the State Capitol grounds.
The rally took place outside the capitol building and included a series of speeches and chants before concluding with participants singing "We Shall Overcome." The Associated Press reported that there were hundreds of people at the demonstration.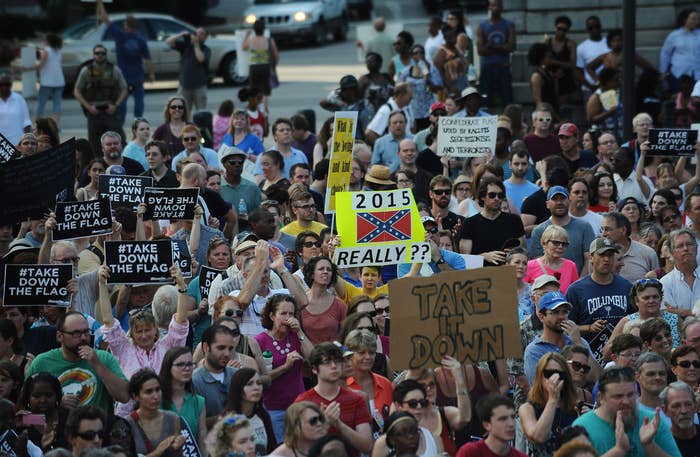 Demonstrators carried signs calling the Confederate flag racist and arguing against those who claim it should be flown as an emblem of the state's heritage.
BuzzFeed News reporter Joel Anderson was on scene and spoke with the organizers of the rally. One of those organizers, Mariangeles Borghini, expressed surprise at the large turnout, while Tom Hall, another organizer, declared that "this whole state is gonna change."
Some demonstrators called the flag hateful Saturday and compared it to a swastika. Others told BuzzFeed News it was "silly" that it was still flying over the State Capitol.
The rally came as political leaders are also increasingly calling for the flag to be taken down.
Mitt Romney and Jeb Bush have both come out in support of removing the flag.
On Saturday, South Carolina State Rep. Doug Brannon told the AP he also believes the flag should come down.
Brannon, a Republican, called the flag a symbol of both hate and "a symbol of pride in one's hatred." He added that the shooting in Charleston prompted him to finally speak up about the issue.
"I just didn't have the balls for five years to do it," he explained. "But when my friend was assassinated for being nothing more than a black man, I decided it was time for that thing to be off the Statehouse grounds."
Brannon plans to introduce a bill to have the flag removed.
Protesters also marched Saturday in Charleston.