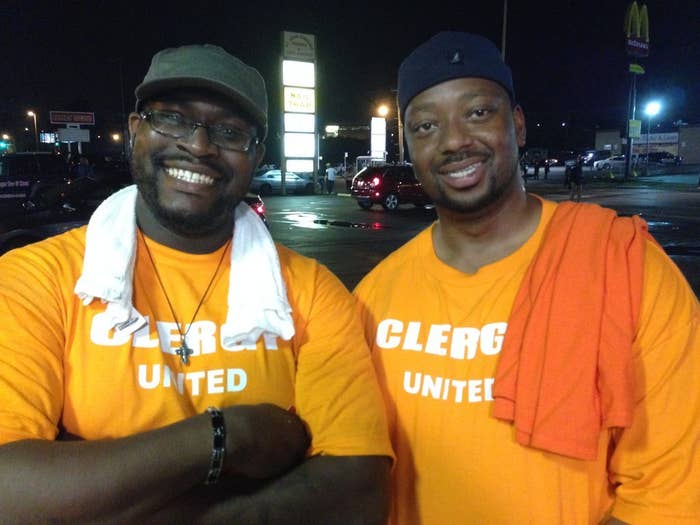 There was no tear gas Thursday in Ferguson, Mo. There was no smoke. There weren't even any significant clashes between protesters and police. It was peaceful, and that was in no small part due to presence of clergy.
The protests over the Aug. 9 death of Michael Brown had their most peaceful day Thursday, with only six arrests and no police effort to drive the crowds away. In large part, law enforcement didn't need to; after a day of oppressive heat followed by a brief but intense downpour, the gathering all but fizzled out on its own.
But smaller numbers didn't mean there weren't potential flash points. Early in the evening, a crowd gathered when supporters of Officer Darren Wilson, who shot Brown, showed up. Later, tensions flared again when police took a man into custody.
The night was peppered with incidents like these, but the protest ended peacefully anyway. And that's despite the fact that police haven't made the concessions — indicting Wilson, providing the incident report about the shooting, etc. — that protesters are demanding.
Instead, one of the big differences has been a larger, more active role on the part of a growing group of clergy. Here's how those religious leaders soothed the conflicts that ripped through the community for a week and a half.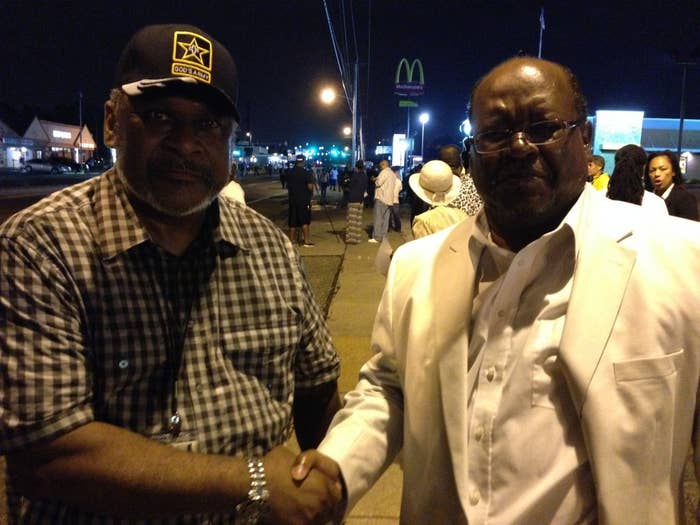 "We're promoting peace and love. That's what Jesus is all about." —Elder Cornelius Moore
One of the big impacts of having clergy on the scene is that there are more peaceful bodies at the protest. Elder Cornelius Moore, of Battle Horn Lighthouse Ministries in St. Louis, had been out for a week by Wednesday, and was among a group passing out flyers about Jesus. He wore a hat Wednesday that looked like an old veteran's cap — except that it was embroidered with the words "God's Army."
"The Bible says to go out into the highways and byways," Moore explained of his decision to come to the protests, "and compel them to come unto Christ."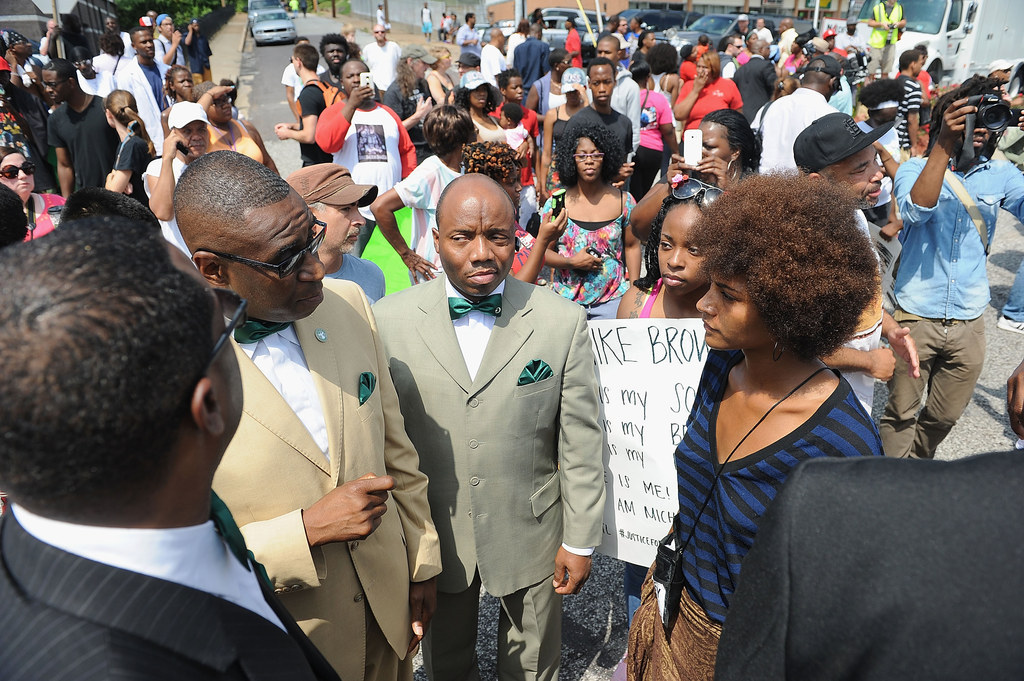 "Our job is to be the softer hand." —Pastor Tremaine Combs
To some extent, the police and the clergy at the protests have an overlapping mission: to keep the gathering peaceful. For a week and a half, that goal eluded officers as they pursued it with tear gas, smoke bombs, and rubber bullets.
Pastor Tremaine Combs said Wednesday the clergy is on scene to offer an alternative. In practice, that has meant speaking with protesters who become agitated until they calm down. It has meant acting as intermediaries between the crowds and police. At times, it has meant doing crowd control and helping keep people within designated areas. "We're doing all that we can to keep law enforcement at bay," Combs explained. "We're doing the best we can to keep ourselves in order."
That strategy had been deployed at the protests previously — the Nation of Islam has been a recurring presence for days at the protests — but the numbers of clergy have surged in recent days. Several different clergy who spoke with BuzzFeed Wednesday estimated their numbers were nearing 100 people, with some religious leaders arriving from far-flung cities and states.
Combs and other clergy around him Wednesday weren't marching or chanting with protesters, but their presence and conservations did seem to have a calming influence.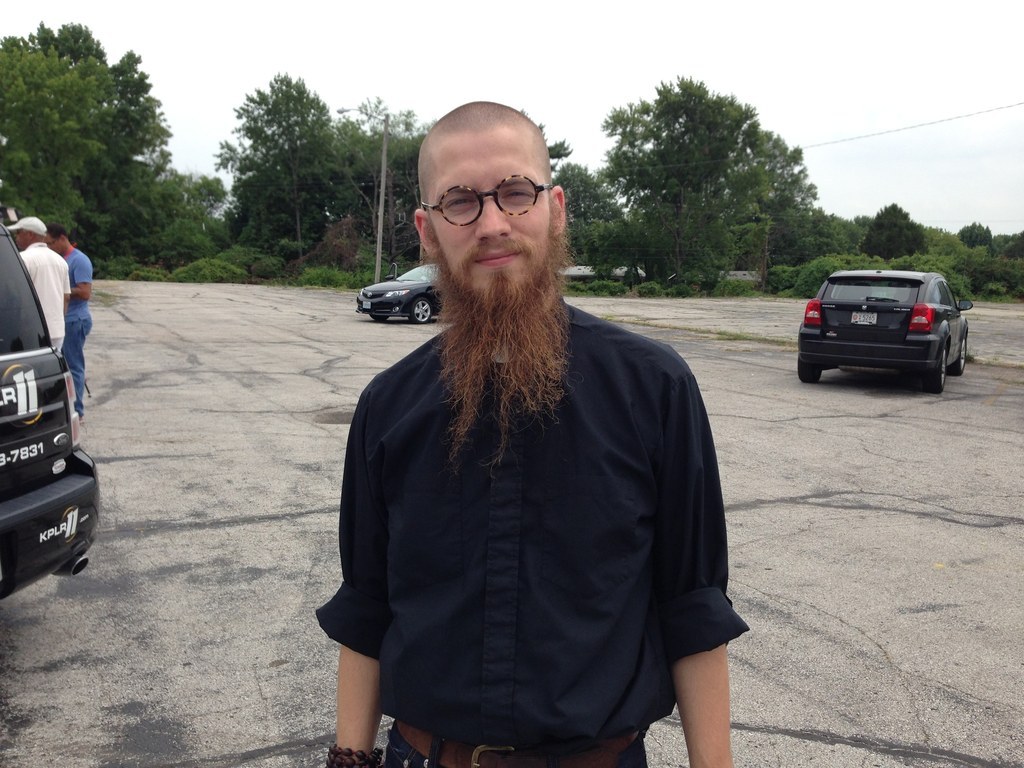 "We're treating them like they're our kids." —Bishop Giovanni Johnson
The protesters have consistently expressed anger at systemic problems: mostly white government in a mostly black community, racial biases in police practices, etc. The clergy at the protests consequently seem to have made headway by treating the protesters with respect. Johnson said many of the protesters may have had little to no positive reinforcement in their lives, so simply treating them differently can pay off. "Let me talk to you like a man," he explained. "Not like a thug. Not like a gang member."
Bishop Timothy Woods, of the First Free Will Baptist Church of St. Louis, said he used to be a gang member himself, and understands the anger some people in Ferguson may feel. That has helped him empathize. "I can identify with it," he explained. "And I know a lot of people didn't get the break that I got, which was having somebody in their life to drag them out."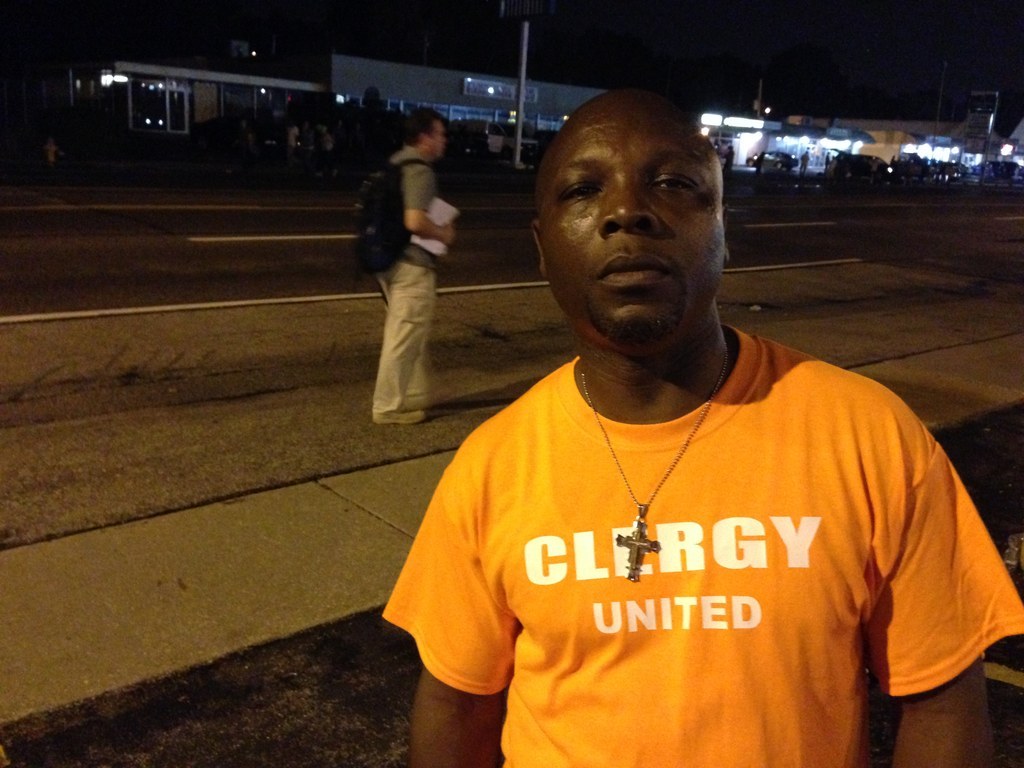 "If they start getting into a riot, we can contain the crowd." —Pastor Doug Hollis
If all else failed — especially Wednesday, but also Tuesday — the clergy stepped in as a physical barrier between protesters and the police. When a man was arrested Wednesday, for example, several clergy members, including Reverend Michael Kinman, of Christ Church Cathedral, jumped in as a human barrier to prevent protesters from getting too close to police.
At times, that barrier becomes a wall. Pastor Doug Hollis, of Clergy United, said that at one point on Wednesday he and other religious leaders formed a line, interlocked their arms, and wouldn't let anyone pass. The strategy evidently worked. "The atmosphere has been different ever since the clergy been out here," he said. "Ever since we've been doing the clergy thing, it's been great. The crowd has been peaceful."
This post originally misstated the name of the officer who killed Brown as Darren Smith. The officer's name is Darren Wilson.