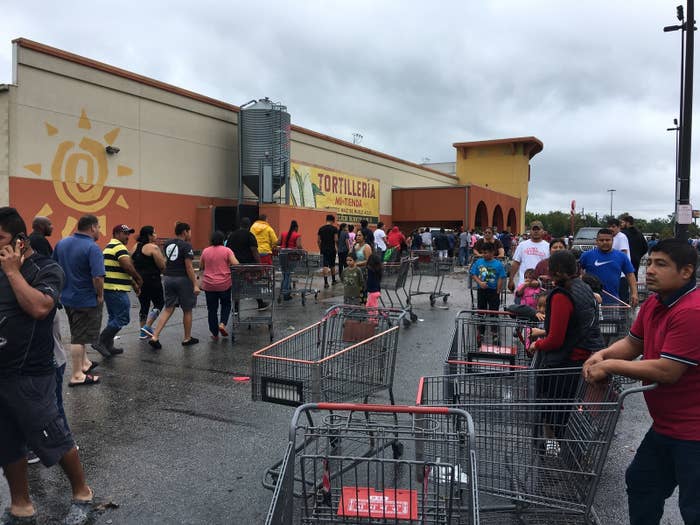 HOUSTON — The line just to get into the Mi Tienda grocery store snaked across the soggy parking lot, past a nearby alley, and down a row of neighboring shops. Shoppers waited for nearly an hour to get inside, even as the store rationed essential items like bread and milk to one per customer.

"Yeah, there's limits," Luis Castillo, a store employee who was working crowd control Tuesday, told BuzzFeed News. "But we already ran out of bread. There's no more bread."

Similar scenes have been playing out across Houston, where catastrophic flooding caused by Tropical Storm Harvey have effectively cut off supply lines to the outside world. Grocery stores across the city shuttered during the storm; those that have remained opened are besieged by long lines and increasingly empty shelves.
Food is still available — many stores still had plenty of canned goods and other nonperishable items Tuesday. But supplies are dwindling, and trapped residents are getting increasingly anxious as the storm stretches into its sixth day.
"We had it all planned out," said Jessica Jordan, describing a rationed meal plan of chicken noodle soup, spaghetti, and grilled cheese sandwiches that her family had planned for the hurricane. But even meteorologists had not anticipated the magnitude of Harvey's impact, and by Monday, Jordan's family decided it was time to restock.
When they arrived at their local Kroger supermarket, however, they found a line stretching across the length of a North Houston strip mall, and decided to come back. When they returned Tuesday, the line was gone, as were the bread, milk, and most of the store's produce selection. The possibility that the store might not get new shipments soon was unsettling.
"It's scary," Jordan told BuzzFeed News. "The thought goes through your mind."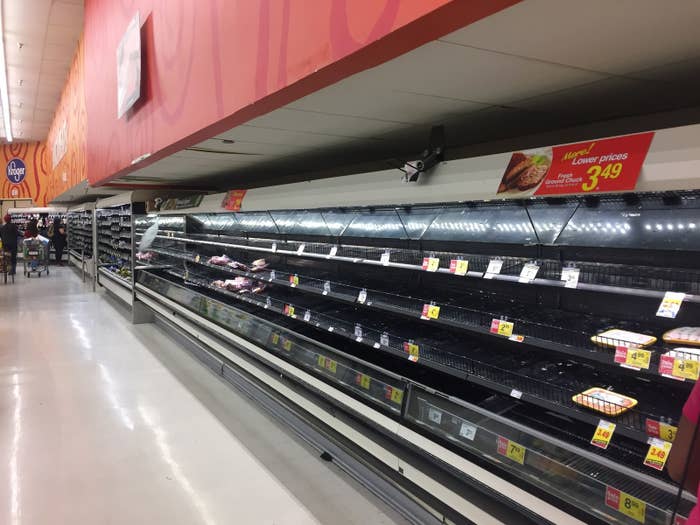 By Tuesday afternoon, other grocery stores in the area had started turning people away. At a North Houston Food Mart, managers locked the doors early, turning several disappointed shoppers away. When BuzzFeed News attempted to ask about the store's supplies, an employee yelled a phone number for Food Mart's corporate headquarters through the glass doors.

No one at that number returned calls from BuzzFeed News Tuesday.
Nearby, a growing cluster of would-be shoppers waited in front of a small grocery store and taqueria, bewilderedly watching as an employee periodically let customers out while refusing to let any new ones in. At a Walgreens across the street, a steady trickle of people knocked on the locked doors, and though there was a clerk inside, the store never opened.
In South Houston, Jose Reyna — a 33-year-old former Marine who has been using his boat to volunteer as a rescuer since Sunday — arrived at his local Kroger Tuesday to find "hundreds of people" waiting to buy food and supplies.
People in raincoats, carrying trash bags, and even someone sitting in a blowup boat waited in a line that stretched around the building. No one spoke much, Reyna said, because "someone would bring up their situation and it would cause someone else to break down."
Inside, the scene was starker. "They are very low on supplies," he told BuzzFeed News. Fresh food, like milk, eggs, and bread, was long gone. A smattering of assorted canned foods was almost all that remained on the mostly bare shelves.
"The mood was sad," Reyna said. "But we're pushing forward. There's plenty of beer and wine."

BuzzFeed News reached out to several supermarket chains with locations in the Houston area, including Kroger, Walmart, and H-E-B Tuesday to inquire about their inventories and find out when they expect new deliveries to resume.

A spokeswoman for Kroger told BuzzFeed News that, as of Wednesday morning, around 80 percent of their stores in the Greater Houston area were in operation. "We continue to reopen locations daily," she said.
Their Houston distribution center is "back online." "We have also dispatched trucks from Kroger distribution centers across the country to help replenishment and recovery effort," she said.

A spokesman for Walmart told BuzzFeed News Wednesday morning that even northern stores were stripped. He said that trucks from both within and without of Texas are working to restore stock, like water. "Many were full of water," he said.

During Katrina, he said, the corporation went through a similar emergency operation. "This is an all hands on deck situation," he said. "We've had teams in place for days watching this and working with centers to get supplies back as quickly as we can."
It's clear that stores hoping to restock face an array of challenges in the aftermath of Harvey's devastation. Five days after the storm first made landfall, roads into the Houston metropolitan area remain flooded, and in many cases store and warehouse loading docks are submerged under several feet of water. And even if supplies could be delivered, many employees would still be unable to get to work.

At Mi Tienda, which is owned by H-E-B, employees from other stores showed up to help out, having been unable to make it to their usual workplace. Castillo, who was wrangling the line Tuesday, was one of those employees; he was unable to get to his usual store because of the floods.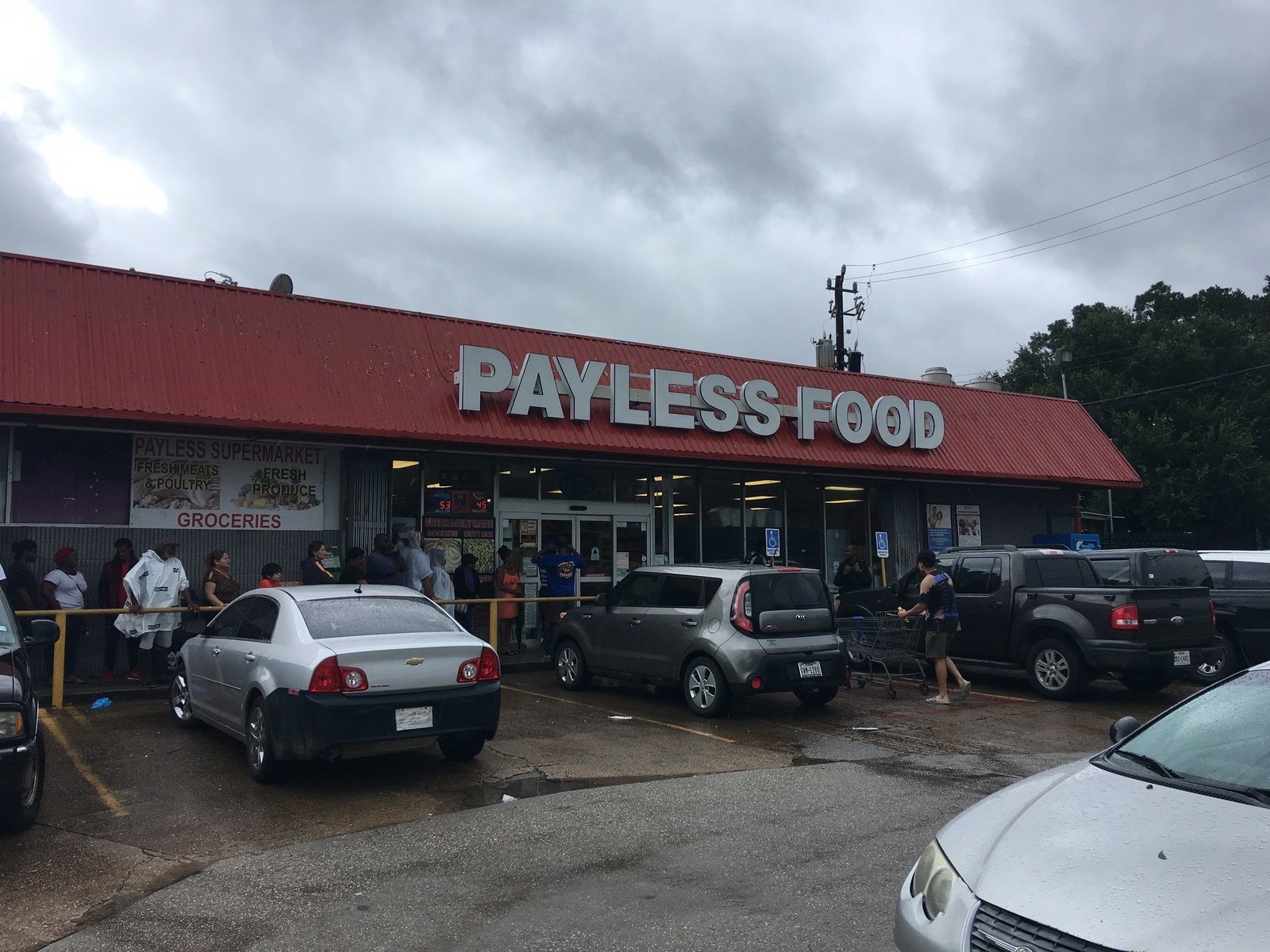 Regina McDaniels, a floor manager at another store owned by H-E-B, was also on hand Tuesday, smiling as she told anxious customers where to line up and how long they might have to wait.
The store receives supplies from San Antonio, where H-E-B is headquartered, McDaniels told BuzzFeed News, but she said she did not know if or when trucks would be able to get through with new supplies. "All of us have to band together to do this," she told BuzzFeed. "We've got to help one another."
By mid-afternoon, though, McDaniels' job entailed something it never had before: deciding who might actually get to buy groceries.
"I don't want to turn people away," she said. "But we're closing soon and I don't want people to wait then not get in."
If you've been impacted by the storm in Texas or have a tip about rescue, relief, government, or aid efforts, call the BuzzFeed News tipline at (646) 589-8598. Find us on Signal, email, SecureDrop, and more here.