Here Are The Cities Where The Rent Really Is Too Damn High
New data from Harvard shows that millions of Americans are paying an "excessive" amount of their incomes on housing, but burdens vary widely by city.
More than a third of all American households are paying an excessive share of their income on housing, according to a new report from Harvard University.
The report explains that in 2012 there were 40.9 million families and individuals in "cost-burdened" households, or those paying more than 30% of their income on housing. And while that number is a slight decrease from 2011, it represents an uptick of more than 9 million households from 2002. Minority and lower-income households are particularly suffering, according to the report, and renters in general are faring poorly due to income declines.
The report also explores "severely burdened" households — or those paying more than 50% of their income on housing — and notes that the data is "particularly alarming." In 2012, for example, more than a quarter of all American renters fell into this category. Among black households, 27% were severely burdened, as were 24% of Latino households and 21% of Asian households. Only 14% of white households were severely burdened.
The percent of households suffering from cost burdens varies widely by city.
The report includes an interactive map that shows what percentage of a given metropolitan area's households are suffering from too-high housing costs. The Los Angeles metro area takes the top spot, with 2.1 million households suffering from cost burdens. That's just shy of 50% of all households in the Los Angeles area. The chart below shows how L.A. and the other largest metro areas in the U.S. compare.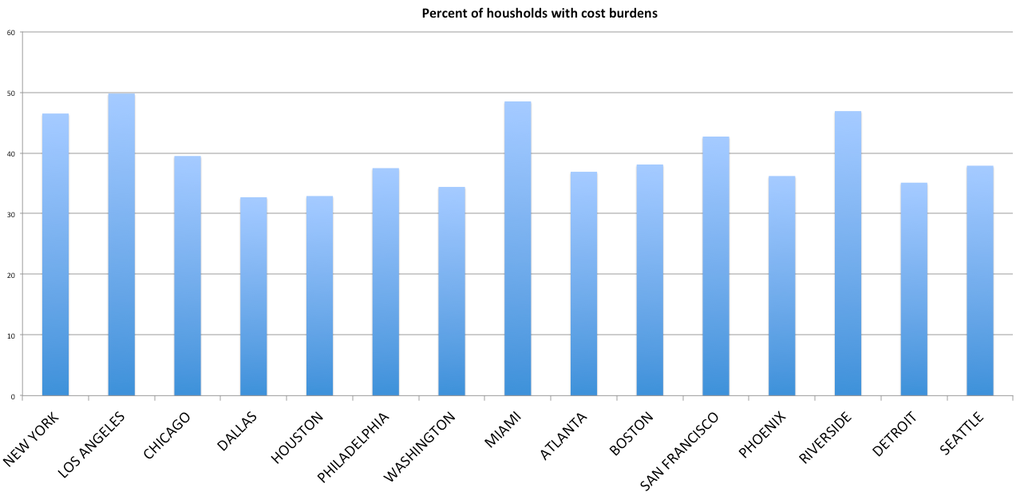 Other cities are struggling as well.
Clearly, L.A. is the city where the rent is too high for the most number of people.
However, the next chart shows the percent of cost-burdened homes from the Harvard study plotted with U.S. Census data on median incomes. The chart obviously doesn't indicate causation, but it is useful for visualizing which other cities have residents struggling to pay for housing.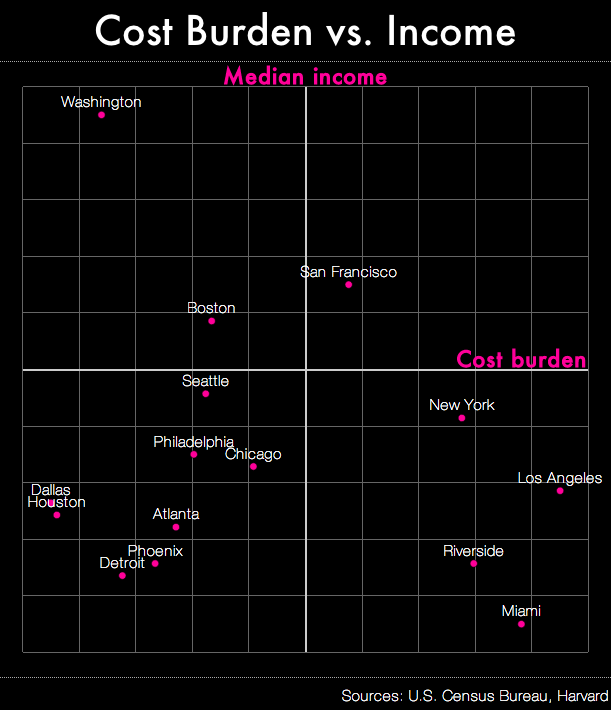 The chart shows that the metro areas of L.A., New York, Riverside, San Francisco, and Miami all have relatively large portions of their populations paying a too-high percentage of their income for housing. But incomes in these cities vary wildly; people in Riverside and Miami have the lowest median incomes, while those in San Francisco are among the best paid. On the other hand, Detroit, Phoenix, Atlanta, Dallas, and Houston also have lower median incomes, but fewer people suffering from cost burdens.
Which is to say that income is just one factor that makes the rent (or the mortgage) too damn high in one city, but not so bad in another. The report points to housing supply and subsidies, among other things, that are also shaping housing affordability in the U.S.
The report goes on to note that the consequences of living in a cost-burdened household can be dire.
If families are paying too much of their income on housing, they have less money for food and healthcare, the report points out. They can also end up with no option but to live in neighborhoods "beset by crime and blight."