Frantic 911 Calls Document The Horror Of The Marysville School Shooting
The calls were made by students, parents and others during the Washington state shooting that ultimately left four victims and the gunman dead.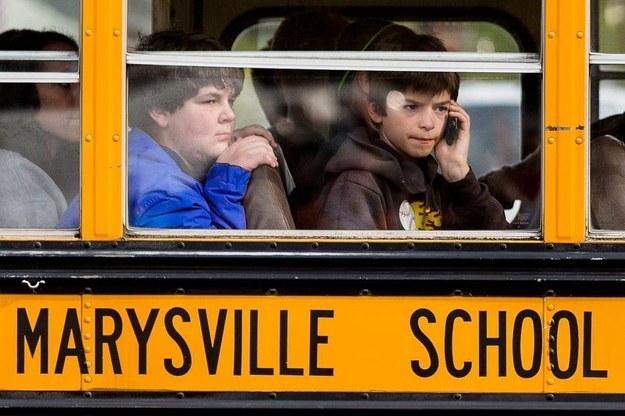 A series of frantic phone call recordings posted Wednesday capture the panic and horror of the Oct. 24 shooting at Marysville-Pilchuck High School.
The recordings were posted by The Seattle Times and document 911 calls made when Jaylen Fryberg opened fire in his school cafeteria. Fryberg ultimately killed four students — three of whom died afterward from their injuries — and took his own life.
According to the newspaper, there was a total of 43 emergency calls made about the shooting, some of which have not been released. The recordings posted by the times are below.
In one recording, a male student is the first person to speak to a 911 dispatcher, telling her "there's just been a shooting and two kids have been shot."
Moments later, teacher Megan Silberberger takes the phone and frantically tells the dispatcher where the shooting took place, adding that "blood is everywhere. I do not see the gun."
"I'm looking at him," Silberberger says, referring to the shooter. "I need help. I need help now."
She later tells the dispatcher that the shooter — who was eventually identified as Fryberg — had shot himself.
In another recording, a student tells a 911 dispatcher, "I think there's been a shooting at M.P." He says he heard the shots and that it happened "not even two minutes ago," but the call soon broke up and later dropped.
"My daughter just texted me that there are shots fired at her high school."
In one recording, an emotional mother tells a dispatcher that she learned of the shooting in a text from her daughter. The dispatcher later asks the woman if she has other information.
"Only that my daughter's not following lock down instructions and she and some other kids have run from their classroom," the mother replies.