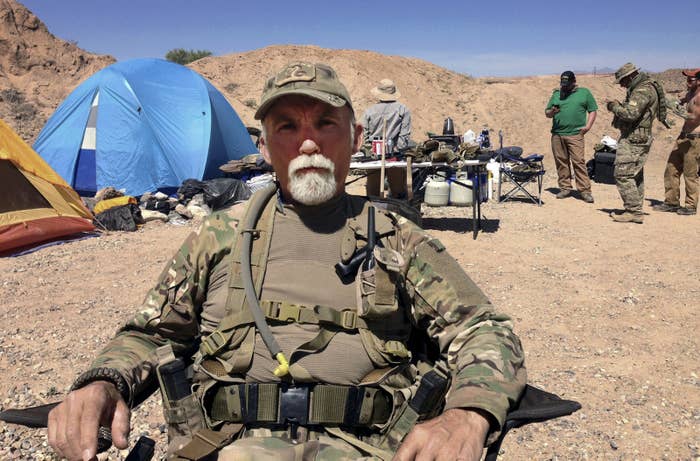 A man who helped run Donald Trump's veterans organization during the 2016 presidential campaign has been sentenced to prison for conspiring to bring firearms and gunmen to an armed standoff in Nevada.

A federal judge on Wednesday sentenced Gerald DeLemus, 62, to more than seven years in prison for his role in the 2014 standoff led by rancher Cliven Bundy. According to the Department of Justice, DeLemus' role in the standoff began when he spoke with Bundy in April 2014, promising to bring both guns and armed supporters to southern Nevada, where the rancher and his family had long refused to pay cattle grazing fees.
Tensions over Bundy's cattle — as well as long simmering angst over federal land management in the West — eventually sparked a confrontation in which Bundy and his armed supporters protested, closed a freeway, and faced off with federal agents.
In mid April 2014, DeLemus traveled to the standoff from his native New Hampshire, according to the Justice Department, eventually becoming a leader and organizer of Bundy's supporters. His roles included providing personal security for Bundy, organizing and leading armed patrols, manning checkpoints, and calling on other supporters to join the demonstrations.
After the standoff, DeLemus went on to gain leadership experience in another movement: Donald Trump's presidential campaign.
DeLemus, a former US Marine, served as a New Hampshire state co-chair of Trump's veterans coalition, according to the Union Leader. While serving in the campaign, DeLemus traveled to Burns, Oregon, and met with participants in another armed standoff with the federal government, this one led by Bundy's sons.
Federal prosecutors indicted DeLemus in March 2016, and he was subsequently arrested. While still in jail and under indictment, he was named an alternate delegate for Trump to the Republican National Convention in Cleveland.
In August, DeLemus took a deal and pleaded guilty to one count of conspiracy and one count of interstate travel in aid of extortion.
Bundy and other high profile supporters, meanwhile, are jailed and awaiting trial. A trial for several other participants in the standoff ended last month in a mistrial on most counts. Two men were convicted on a handful of charges in that trial, but are still awaiting sentencing.
DeLemus is the first person to receive a prison sentence for his role in the standoff. During Wednesday's hearing, Chief US District Judge Gloria Navarro called DeLemus a "bully vigilante" before handing down a longer-than-expected prison term, the Associated Press reported. DeLemus has already spent about 16 months in jail, meaning he now faces another six years in prison.
"I have to say, Mr. DeLemus," Navarro said at the sentencing, "that you unfortunately are blinded by the information you choose to believe."