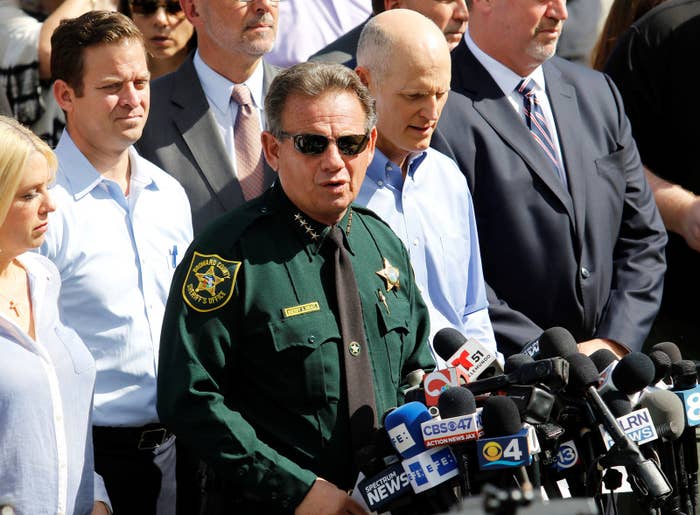 Sheriff's deputies who patrol schools in the Florida county where 17 people were killed last week in a campus shooting were ordered Wednesday to start carrying AR-15s, the same model of gun used to carry out the attack.

Broward County Sheriff Scott Israel said at a news conference that the order applies to deputies who are "trained and qualified," and that school district officials supported the decision. He added that "most" officers will be armed with AR-15s.
"Our deputies who do have the ARs will have single shot rifles," Israel said. "One trigger pull one shot. They're not fully automatic."
When not carrying the rifles, deputies will store the guns in locked law enforcement vehicles, Israel added.
The Broward County Sheriff's Department did not immediately respond to BuzzFeed News' request for additional information.
The decision to arm sheriff's deputies with assault rifles comes one week after Nikolas Cruz, 19, allegedly opened fire at Marjory Stoneman Douglas High School, in Parkland, Florida. Authorities say he used an AR-15 rifle.
When asked Wednesday about Cruz's motive, Israel said simply, "Pure evil."
The shooting revealed the need for schools to be better equipped to handle violence, Israel said. He suggested schools could be built in ways that reduce the potential for crime, and that every campus in the US should have a resource officer.
"I think schools as soft targets need to be fortified," Israel said. "We need to look at how many school resource deputies are being employed at each school."
Marjory Stoneman Douglas High School had one armed school resource officer on campus during the shooting, though he did not fire. Israel said investigators are still working to determine what role the officer played during the attack.

Israel also said that "we also need to talk about sensible gun control. There are certain people in this country that should not be allow to have a gun."
Last week's shooting intensified talks of gun control, and high school students who survived the carnage have been among the most prominent voices calling for change.
The investigation into the shooting is still going, Israel said, adding that "my approach to this whole thing is never again."
Watch Israel's comments here: