Ferguson's Future Hinges On A Choice Of Histories
Ferguson's city council candidates agree on a lot, but their very different backgrounds offer diverging visions of the future.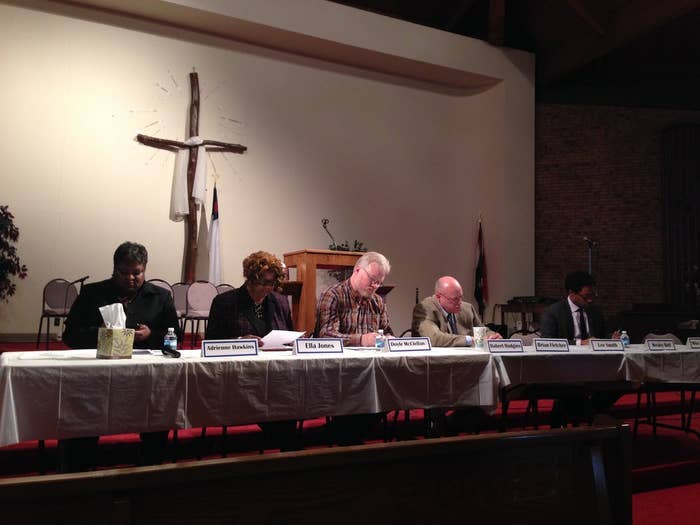 FERGUSON, MO — Ferguson's city council candidates agreed on a lot Saturday night.
Sitting beneath a roughhewn cross at a local church, six of the eight contenders — two candidates didn't attend — all agreed that there should be independent investigations when police kill someone. They agreed on the value of community oriented policing, on the importance of schools, and on the problems with city management.
There were differences, too, but more than anything else each of the candidates zeroed in on one idea: change.
On April 7, Ferguson will vote in a municipal election for the first time since Michael Brown's death. Three of the six sitting council members are not seeking reelection, and much has been made of the city's looming opportunity to shake up its elected leadership.
The race is already symbolically important; four of the candidates are black, which is significant because prior to this election the city has only ever had three black council candidates in the previous 120 years.
The city council also writes laws. It created the civilian review board. Less than two weeks ago, it was the council that gave embattled city manager John Shaw a "mutual separation agreement."
In other words, the city council can play a major role in shaping Ferguson's recovery and it's future. But while each of the candidates have ambitious plans for the future, their histories may actually be the most important factor in this election.
The establishment candidates:
Brian Fletcher previously served as mayor of Ferguson before "stepping down in 2011 just to have a break," he told BuzzFeed News Saturday morning. Today, Fletcher, who is white, is the chairman of I Love Ferguson — an organization that raises funds for "businesses that have been hurt by recent looting in the aftermath of the recent Ferguson tragedy."
As a former mayor, Fletcher's history makes him the most establishment candidate in the race. He did not attend the forum Saturday evening, but when asked about "change" during a separate interview, he praised the current council for creating a civilian review board for the police. He also lauded the council for allowing former Police Chief Tom Jackson and other city employees to resign.
Fletcher also criticized the recent Department of Justice report on racism, saying investigators didn't "look for anyone who looked for nice things to say about the police department."
"Quite frankly I don't think they listened to the majority of the residents," he told BuzzFeed News.
Mike McGrath is another white candidate who has worked on various city commissions. He did not immediately return BuzzFeed News' calls Saturday, nor did he attend the candidate forum, but The New York Times described him as "something of a status quo candidate."
The insurgents:
Bob Hudgins doesn't look like a typical Ferguson protester. A white former TV journalist who looks a bit like Hank Schrader from Breaking Bad, Hudgins is often mistaken on the streets for a cop. But he isn't one.
"I am protester," Hudgins told BuzzFeed News during an interview Friday. "You ask anybody out there. I'm a protester."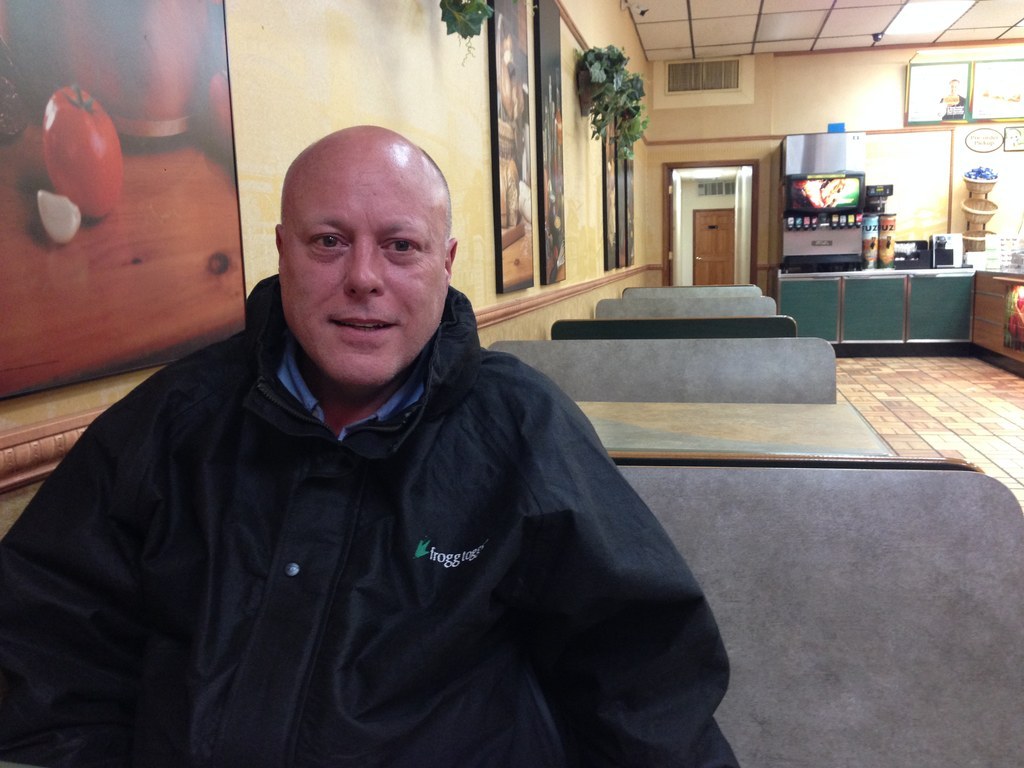 Hudgins has positioned himself as a kind of a protest candidate. A future with Hudgins is one informed by a past in the streets, protesting.
Hudgins has also allied himself with two black candidates: Lee Smith and Ella Jones.
Smith is a former factory worker and retired union leader who has lived in Ferguson for decades. This election marks his first time seeking public office.
During Saturday's forum, Smith focused more on his past than the future, mentioning how he moved to Ferguson for the schools, only to see them decline years later. He also drew applause when asked about his qualifications for the job.
"I have a lifetime of experience," he exclaimed, "with racism, injustice."
Jones introduced herself Saturday evening as a long-time Ferguson resident and entrepreneur who also served on the Human Rights Commission of Ferguson.
"When the decision needs to be made, I can make the tough call," she said Saturday night.
The young lawyer:
Wesley Bell — a lawyer, teacher, and municipal judge — is 40-years-old but looks far younger. One of the four black candidates in the election, Bell's first foray into politics came last year when he ran unsuccessfully for county council.
After Saturday's forum, he told BuzzFeed News his run for city council grew out his experiences during his first campaign.
"You start getting the heartbeat of the community," he added.
Bell was the most vocal and specific supporter of community-oriented policing during Saturday's forum. But probably more than anything else, Bell stressed his past experience with the law.
"I understand how to write legislation," he told the audience.
The newcomers:
Among the eight city council candidates, Doyle McClellan is the newest to Ferguson. He arrived in 2012 and, despite working as a professor today, still has walls covered in old maps and dusty paintings from his past as an antiquities dealer.
"If you took August out of it, its everything we hoped for," McClellan added of the decision to move to Ferguson.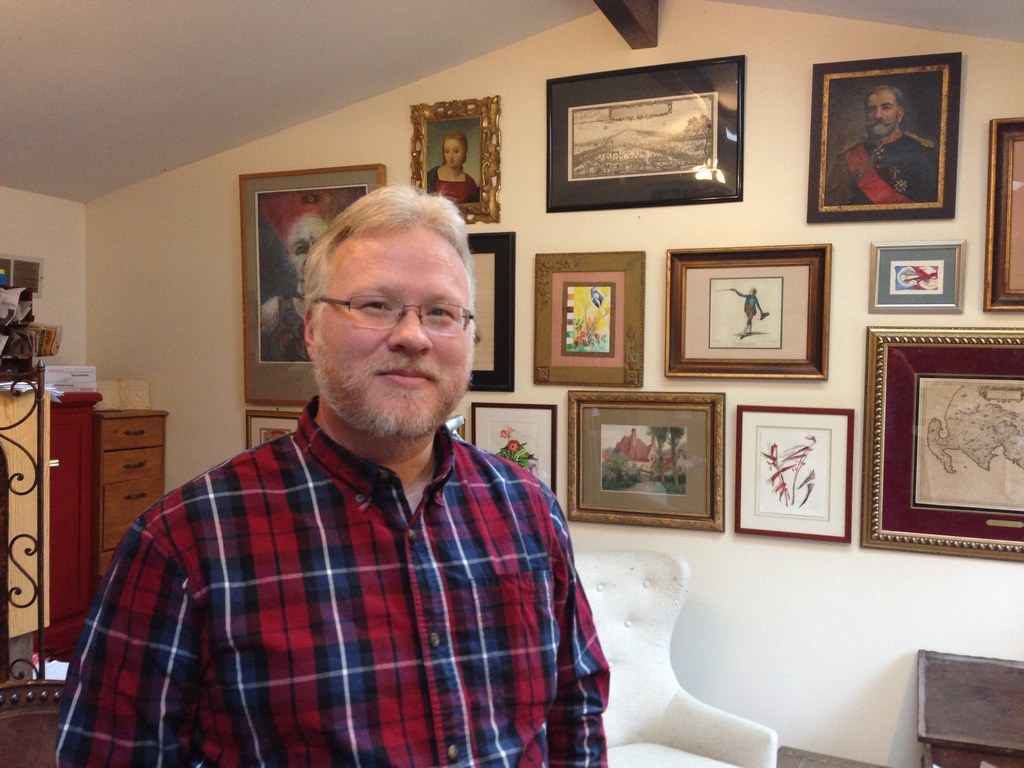 During Saturday's forum, McClellan was the candidate most likely to dissent. And earlier, while talking to BuzzFeed News, he described numerous ways to fix what he described as Ferguson's economic divides. But maybe more than anything else, McClellan also brings a newness to Ferguson that is unique among the candidates.
Adrienne Hawkins is also something of a newcomer, though for entirely different reasons. A longtime Ferguson resident who temporary moved away so her twin sons could attend better schools, she acknowledged Saturday that she is new to politics.
"A lot of people feel that I lack a lot of experience," Hawkins said, "but people with experience messed up. I will learn the game but I'm not afraid to buck the system."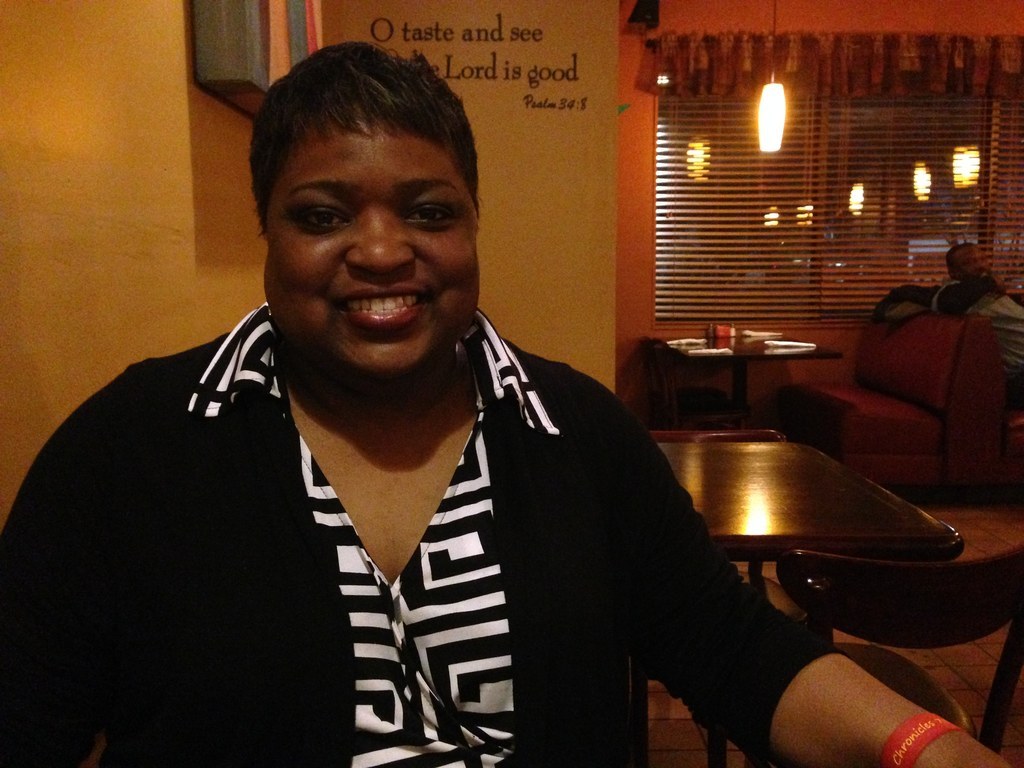 Hawkins told BuzzFeed News Friday that she has more specific plans, and that unlike others who form coalitions she has "strictly been independent."
"I didn't see any candidate that represented what I wanted to see," she added. "So I decided to become one of them."
She and McClellan — who are both running for the same council seat — are very different candidates. But in their own ways, they are also both attempting to offer voters a kind of clean slate, without the political and cultural encumbrances of the past.