Ferguson Police Forced To Duck For Cover As Gunman Opens Fire
The shots were fired Tuesday as officers arrested six people who allegedly were burglarizing a beauty supply store damaged during protests violent protests in November.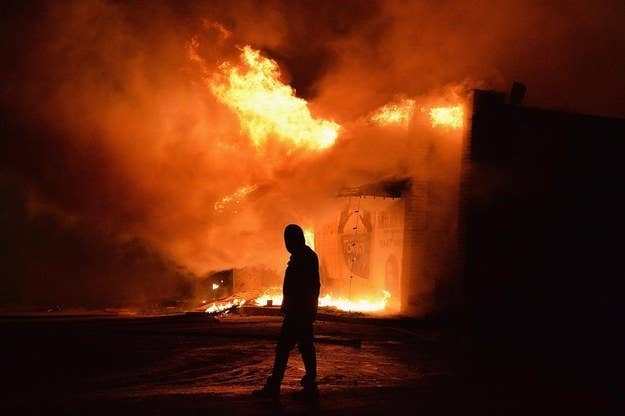 A group of Ferguson, Missouri, police officers had to duck for cover Tuesday when they suddenly found themselves under fire at while making arrests on West Florissant Avenue.
The shooting happened as the officers responded to reports of a burglary at Beauty Town, a store located in the heart of what was a protest zone in August and November.
According to a police statement issued to BuzzFeed News, the officers arrived and found "several people coming out of the business with hair care products."
As the officers were arresting six people, someone fired at them from behind the store and from the direction of an apartment complex. The officers "ducked for cover to keep from getting hit," the police statement said. A second round of gunfire then broke out from across the street.
Both volleys were "fired directly at officers," according to the statement.
By Tuesday evening, police were considering the shooting an unplanned, "sporadic incident."
More police soon arrived and the scene was secured, then cleared in about 20 minutes. No shooters were ever located and police did not return fire.
There were no injuries, according to police.
Beauty Town was one of several businesses gutted by fire on Nov. 24.
The owners of Beauty Town could not be reached Tuesday and Google listed the business as "permanently closed." During the unrest in November, Beauty Town was one of several West Florissant businesses that were ravaged by fire.
Police did not elaborate Tuesday on what exactly the suspected burglars were taking, except to say that the items are believed to have been in the basement.
However, theft can result in massive losses for beauty stores, which were a frequent target for looters during the recent unrest.
Gary Pak owns Remy Beauty Supply, which is down the street from Beauty Town and repeatedly hit by looters during the protests. He told BuzzFeed News in November that people managed to carry away tens of thousands of dollars worth of merchandise from his store.