Ferguson Just Ousted A Bunch Of Officials, So Why Are People Still Protesting?
People tell BuzzFeed News why they continue to demonstrate even after a major shake-up in Ferguson city leadership.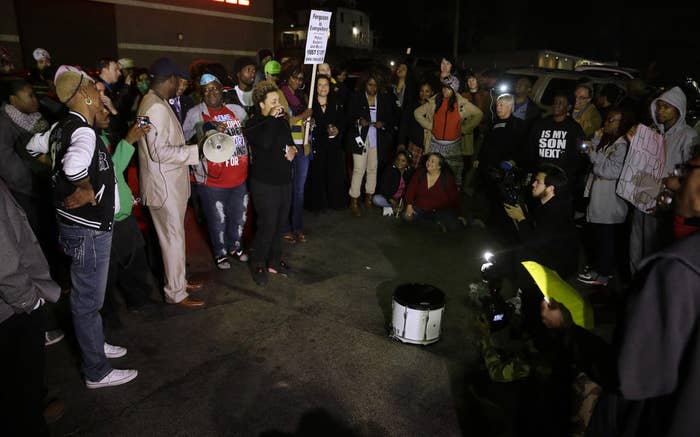 FERGUSON, Missouri — Last Friday night, a group of older, mostly white demonstrators gathered in front of the Ferguson Police Department. They held signs displaying the words "I Love Ferguson," and said they had gathered to show support for police officers, including two who were shot early the day before.
Some of the demonstrators expressed skepticism about the recent Justice Department report on Ferguson, or said they felt like their city had been unfairly maligned in the press. But one woman in particular drew nods of agreement when she asked what seemed to be on many minds: "What do the protesters even want now?"
It's a question many in the U.S. have been asking recently. After Ferguson ousted a series of city officials — the police chief, the city manager, a court clerk, a judge, and two police officers — it looked like real change had finally arrived in the troubled town.
And yet, the protests persist.
Over the last several days, BuzzFeed News spoke with many protesters about what they still hope to accomplish, and why they keep coming out. Their answers were diverse — the protests are a collection of individuals, not a unified organization with a single agenda — but they all agreed that the protests will continue and there is more they want to accomplish.
Some of the protesters are looking for much larger, systematic changes to the way law enforcement deals with race.
DeRay Mckesson — one of the most prominent voices to emerge from the protests — told BuzzFeed News the recent resignations of Ferguson officials were an important step, but criticized the decision to let them step down and receive benefits.
"Justice is either never experiencing the trauma, or accountability for those who initiate and perpetuate it," Mckesson said. He added that the recent oustings "could have been accountability, but weren't" because of the way officials were allowed to exit.
Mckesson went on to say that one of the objectives that keeps him protesting is a desire to see "changes that systemize accountability." His point was that it shouldn't require protests to hold police accountable for killings.
"We shouldn't have to fight this hard for trials," he added. "This fight was too deep and it didn't need to be."
Protester Catherine Jackson agreed that change needs to happen on a much larger scale. She told BuzzFeed News that she wants to see legislative change "not just in Ferguson, but in this country." Jackson was particularly disturbed by what she said were stark contrasts with the way police across the U.S. deal with race, and suggested one remedy could be requiring officers to live in the communities they patrol.
Other protesters also stressed the need for specific, and in some cases dramatic, changes to Ferguson's police department.
One protester, who asked only to be identified as Kenny, said it was unacceptable to have an overwhelmingly white police force in Ferguson, which is about two-thirds black. He said he would continue to protest until the force became more diverse.
Other protesters said they want Ferguson's police department entirely disbanded. That would be a drastic measure, but it's something Attorney General Eric Holder has previously said he would consider.
At a small gathering outside the Ferguson Police Department Sunday night, Ebony Williams suggested replacing the department with a community center.
Calvin Kennedy agreed that the Ferguson Police Department should be disbanded and said the protests would continue until "every bad cop" is held accountable.
Finally, many protesters are trying to maintain both their momentum and the community that is pushing for change.
Mckesson said when the protests began, people simply turned out to confront "a system that we considered to be unjust." Over time, the people who were participating met and grew into a community. That core community has sustained the protests in the months since Michael Brown's death, and is largely responsible for setting the tone of the gatherings.
Tony Rice, who also prominently uses social media to document the protests, also mentioned the importance of the protest community for continuing to push for change.
"We protest just about every day," he added.
For Rice, one of the objectives is bringing about change internally, without significant federal intervention. And protesting, he said, is one way to work toward change on a community level.
"We don't want necessarily to have a federal moderator here," Rice explained. "That's not our complete goal. The sooner we can make the changes for ourselves the less restrictive it will be for us."