LA Will Pay $1.5 Million To Family Of Mentally Ill Black Man Killed By Police
Two LAPD officers shot Ezell Ford in 2014, two days after an officer in Ferguson, Missouri, killed Michael Brown.
Los Angeles will pay $1.5 million to the family of a mentally ill black man shot and killed by police in South Los Angeles in 2014.
Prosecutors last month announced the two police officers involved in the shooting of 25-year-old Ezell Ford would not face criminal charges. But on Wednesday, the Los Angeles City Council voted to settle a lawsuit filed by Ford's family, which argued that police had violated his civil rights. The settlement is $1.5 million, the Los Angeles Times reported.

Los Angeles Police officers Sharlton Wampler and Antonio Villegas shot Ford near his home on Aug. 11, 2014. According to a report from the Los Angeles County District Attorney released Tuesday, the shooting happened after the officers confronted Ford in a "known gang area." When Ford ignored the officers' request to talk, the report states, Wampler grabbed him and a struggle ensued.
During the struggle, Ford grabbed for Wampler's gun, prompting both officers to open fire. Ford died two days later. An autopsy found that he was shot three times, including once in the back. Ford suffered from schizophrenia and bipolar disorder, the report states.
According to the report, Ford posed an "immediate threat" to the two officers, who responded with deadly force "in fear for their lives." Prosecutors ultimately concluded that Wampler and Villegas acted in self defense.
"Although the loss of Mr. Ford's life is tragic, we believe the officers' actions were legally justified and the evidence supports our decision," District Attorney Jackie Lacey said Tuesday in a statement.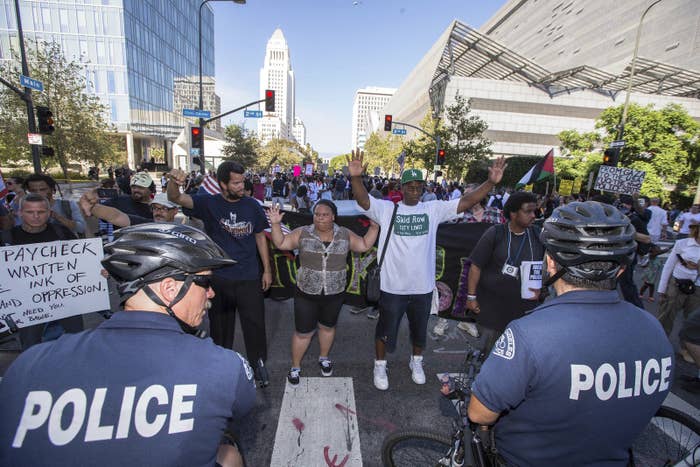 Ford was shot just two days after Officer Darren Wilson shot and killed Michael Brown in Ferguson, Missouri. That shooting sparked weeks of protests and unrest, and launched the Black Lives Matter Movement.
Ford's death, coming on the heels of Brown's, also sparked protests and was cited by activists as an example of police misbehavior.
Though prosecutors have now declined to charge the officers, a police commission also found in 2015 that Wampler was wrong to use deadly force.
At a news conference Tuesday, Ford's mother Tritobia Ford slammed the decision not to file charges, saying repeatedly that her son was murdered. She also said that justice "would have been for the officers to go through due process like any other murderer would have."
"These officers are going Scott free," she added. "They are getting away with murder. There is no justice for Ezell. We have just leaned that the last bit of hope that we have is crushed."