The three attackers responsible for carrying out the deadly attack at Instanbul's Ataturk Airport were nationals of Russia, Uzbekistan and Kyrgyzstan, a Turkish official confirmed to BuzzFeed News.
Police carried out a series of raids on 16 locations early Thursday and detained at least 22 ISIS suspects, including three foreign nationals, according to a Turkish official.
The death toll of the attack increased to 43 on Thursday after a woman in her 20s, identified as Sondos Shraim, had succumbed to her injuries, according to the AP. The victim had been in Istanbul for Ramadan with her husband and 3-year-old son.
In addition to the 43 killed, 239 others injured after three suicide bombers attacked Istanbul's airport Tuesday evening, officials said.
The death toll of the attack was initially 41 but had increased to 43 as of Thursday. The number killed excludes the three attackers.
The attack happened after 9 p.m. when three attackers arrived at the airport in a taxi. The attackers, armed with guns and suicide bombs, opened fire on travelers near the airport's entrance before detonating their vests, Turkish Prime Minister Binali Yildirim said at a news conference.
Security forces responded to the assault, firing on the gunmen as they entered the terminal. The attackers then detonated suicide bombs while under fire from police, officials said.
A Turkish official told BuzzFeed News on Wednesday that the first attacker detonated a bomb at X-ray machines in the downstairs section of the airport.
During the chaos, the second attacker arrived in the terminal, walked upstairs to the departures area, and detonated explosives.
A third terrorist waited outside the building during the attack and detonated their bomb after the first two explosions.
Officials told BuzzFeed News 13 foreign nationals were among those killed in the attack. Authorities from Ukraine and Iran confirmed citizens from their countries were among the dead, according to multiple reports in Turkish media.
The assault appeared to be the work of the terrorist group ISIS, Yildirim said, though investigators Wednesday were still piecing together exactly what happened and a motive.
The death toll rose steadily in the hours after the attack, with the prime minister initially confirming 36 people and three suicide bombers had been killed. Yildirim said the wounded had been taken to area hospitals, some in critical condition.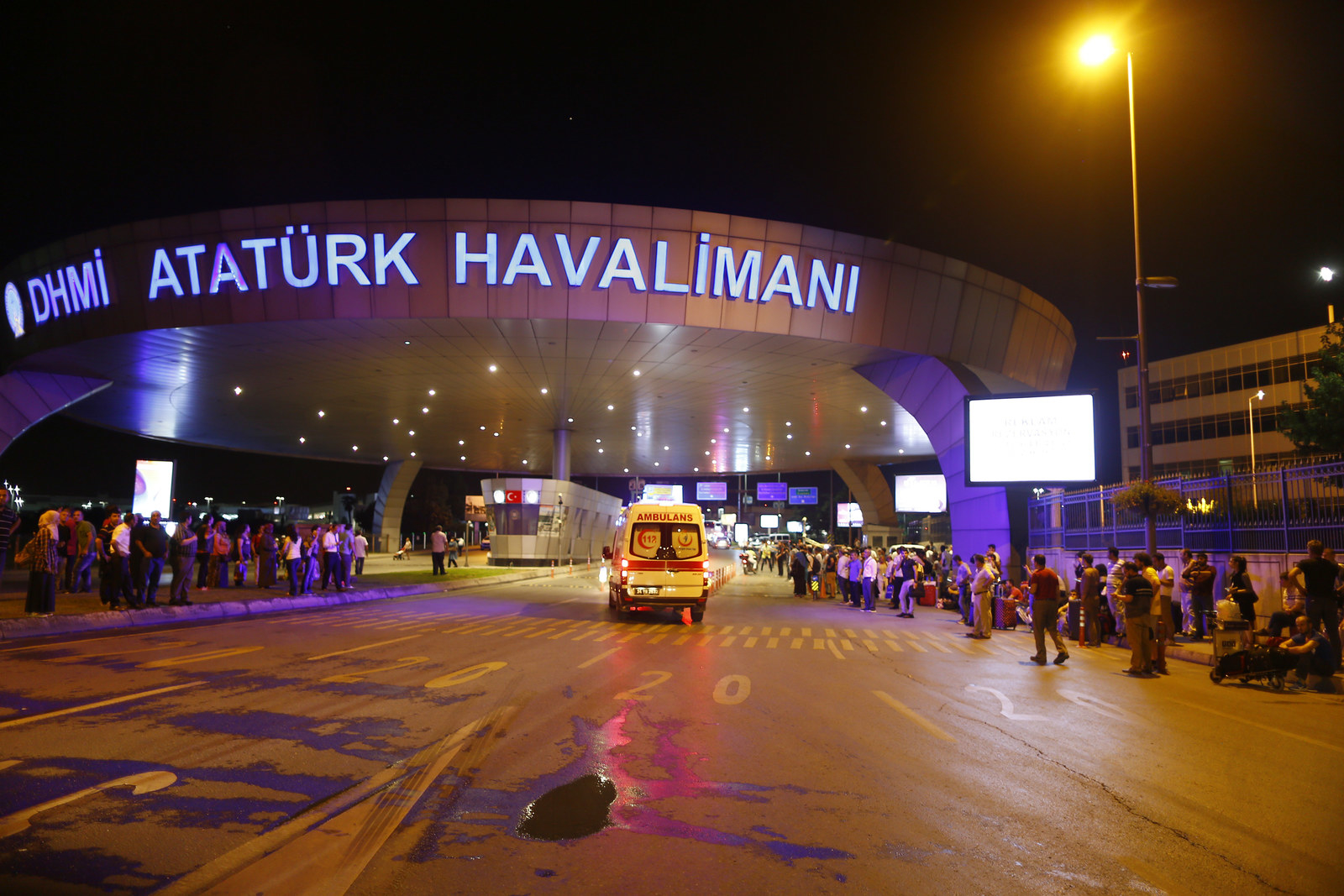 "I would like to say all the civilians who lost their lives, may they rest in peace," Yildirim said. "We share the pain of their relatives and we wish a speedy recovery for the wounded."
Yildirim said that both foreign nationals and police officers were wounded in the attack, according to Turkey's official press office.
Justice Minister Bekir Bozdag told the Associated Press that "a terrorist at the international terminal entrance first opened fire with a Kalashnikov and then blew himself up."
Images from the scene showed what appeared to be an assault rifle–type weapon lying on the floor of the airport.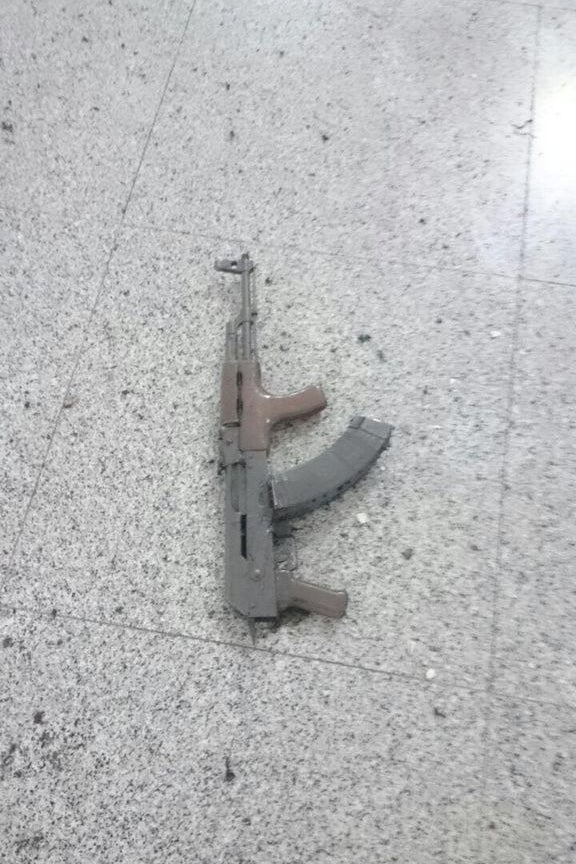 Witnesses described widespread chaos and panic at the airport.
Alireza, a 29-year-old from Tehran, told BuzzFeed News he was in a duty-free shop when "we heard first one explosion and then another."
"Everywhere there was panic and confusion, we had to rush out of the terminal," Alireza said. "There was blood and injured passengers everywhere. It was very scary. It was terrorism."
Trice, 36, a businessman from Congo, told BuzzFeed News that panic broke out when the explosions went off.
"Everything was OK and then all of a sudden there was an explosion and everyone panicked and then there was another explosion and then everyone really panicked," he said. "We didn't know which way to go, because we were afraid there would be more explosions."
Paul Roos, 77, told Reuters he saw one gunman "randomly shooting" in the terminal.
"He was just firing at anyone coming in front of him," Roos said. "He was wearing all black. His face was not masked."
In a video purportedly showing the scene, a man who appears to have a gun falls to the ground. Seconds later, the man blows up. (WARNING: GRAPHIC VIDEO.)
Turkish President Recep Tayyip Erdogan condemned the attack.
Erdogan called the bombings "terrorist attacks" and said they were "done with no specific goal in mind but to create propaganda against our county using the blood and pain of innocent people."
"The fact that this is happening on the holy month of Ramadan shows us again that terror does not value anything, including faith, and does not discriminate between its victims," Erdogan added.
Erdogan said he expects "the world, especially the Western countries, to put a solid stance against" terror organizations.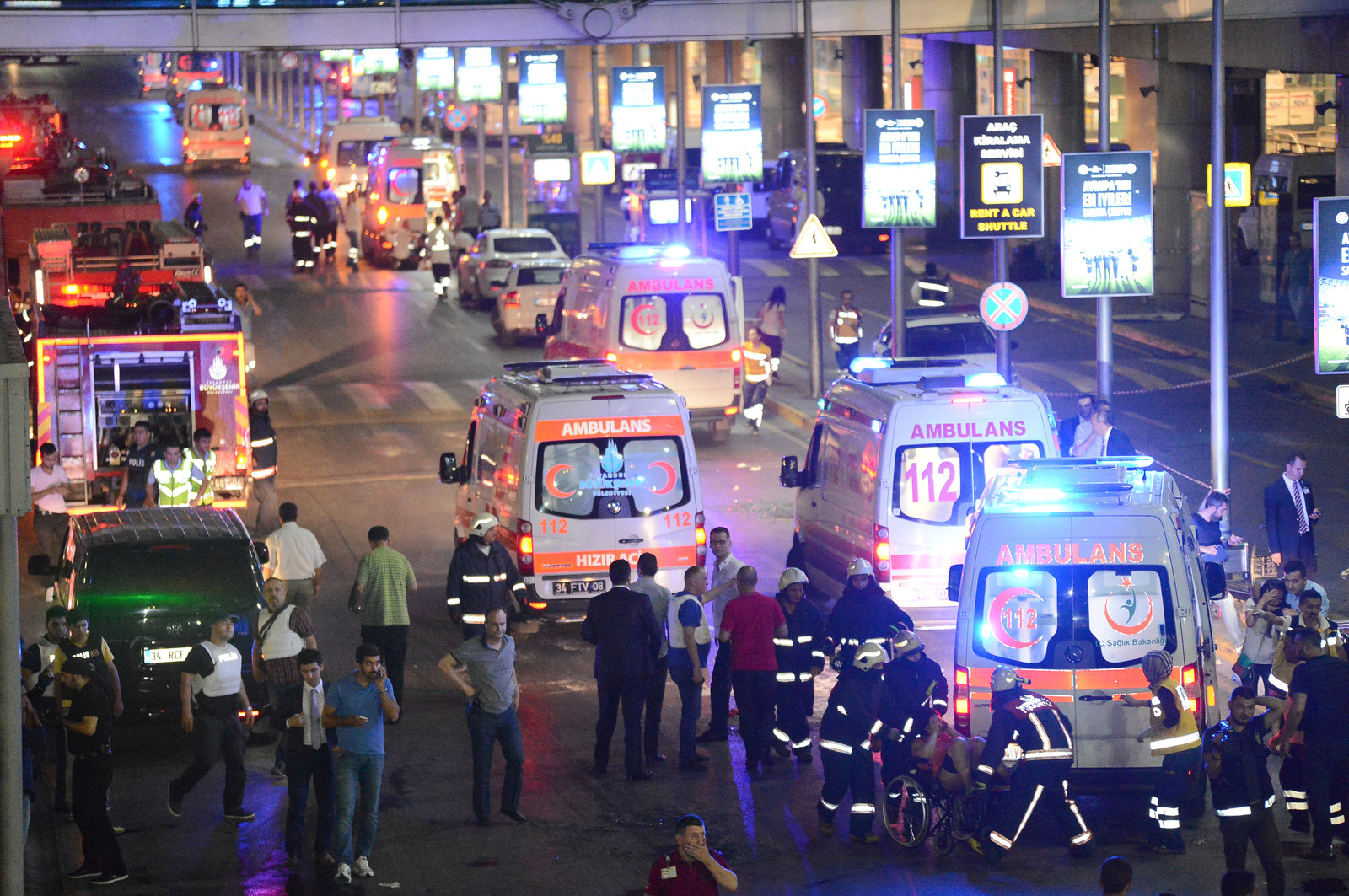 In his comments early Wednesday, Yildirim called for a "joint" response to global terrorism and for "every citizen to act in unity."
"Once more we see that terror is a threat against all humanity and all states," he said. "It's a global incident."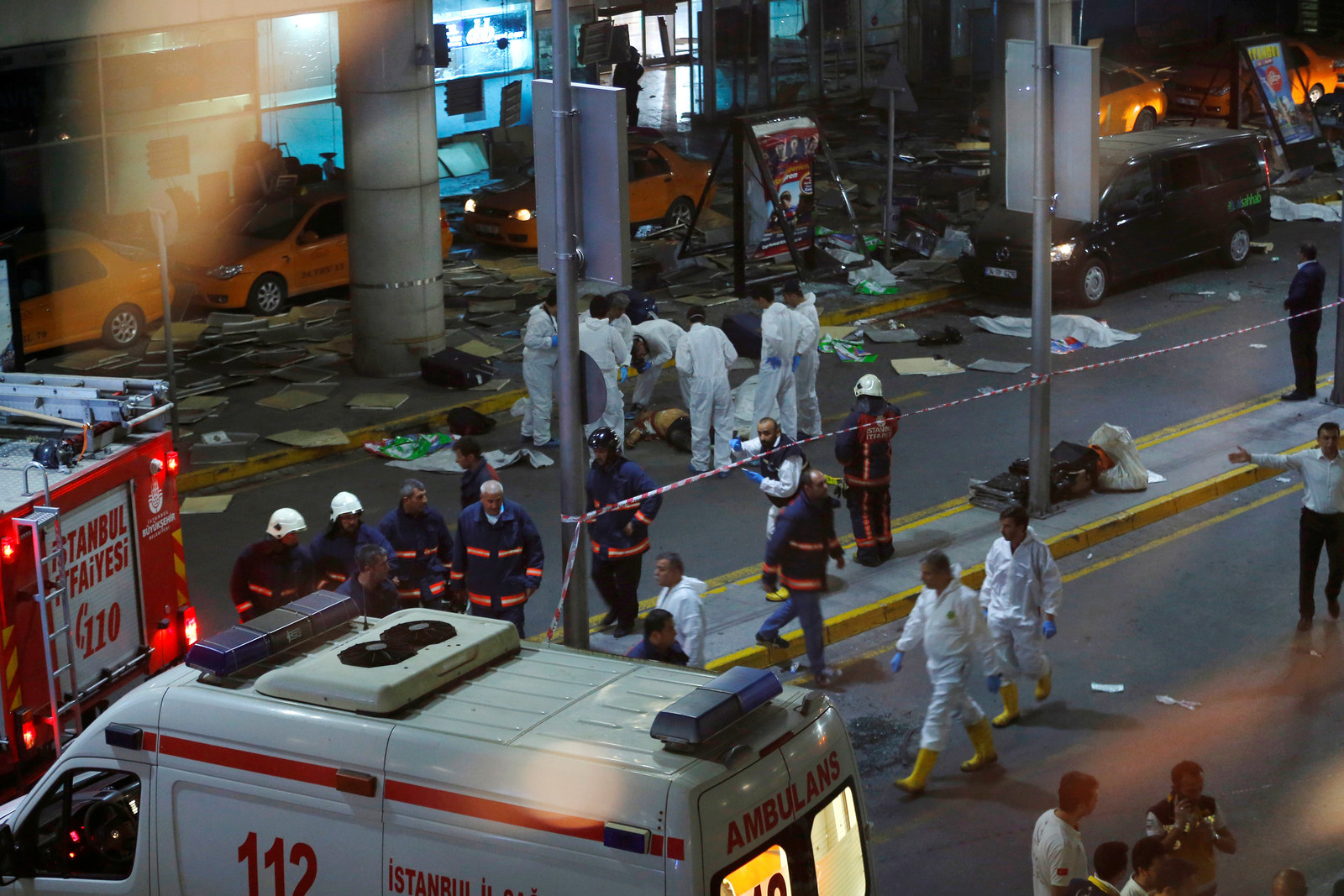 Other images showed ambulances, damage to buildings, and people apparently being treated for injuries.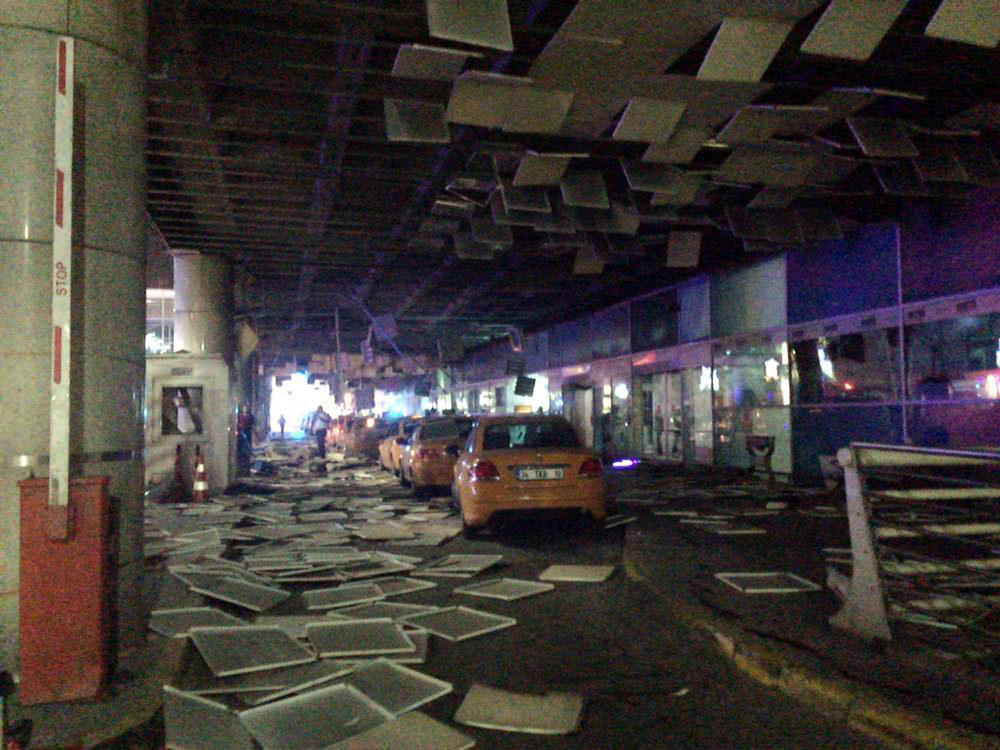 Another video from the scene showed people fleeing through a terminal while someone could be heard saying, "There's pandemonium, go back, go back."
Other images showed large groups of people seeking safety in airport stores and crouching in the airport terminal.
A Twitter user who uploaded pictures said in Turkish that "the situation is very terrible" and he's "not uploading photos of disembodied limbs."
The U.S. State Department said it was working to determine if Americans were killed in the attack.
The U.S. Embassy in Istanbul encouraged people to check in on social media Tuesday evening. After the explosions, Facebook activated its Safety Check feature for people in the area.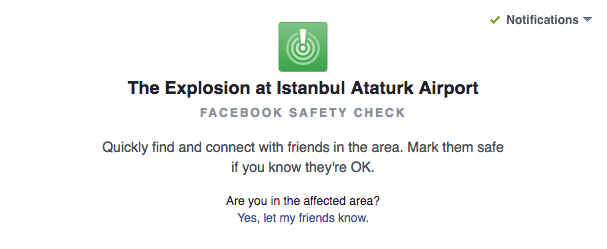 All flights between the U.S. and Istanbul were suspended for several hours Tuesday.
The Federal Aviation Administration grounded all U.S. flights departing for Istanbul, as well as all flights leaving Istanbul for the U.S., the agency told BuzzFeed News. The FAA began allowing flights again Tuesday night.
The Port Authority of New York and New Jersey also stepped up security at airports, adding "high visibility patrols equipped with tactical weapons and equipment at Kennedy, LaGuardia and Newark Liberty airports."
The Port Authority was also collaborating with law enforcement Tuesday evening to monitor the situation.
British Airways also cancelled three flights between London Heathrow and Istanbul Ataturk on Wednesday, citing "safety and security" fears.
On Wednesday morning, Yilidirim said that air traffic had returned to normal and that "our airport has been opened to flights and departures from 02:20 (local time) on."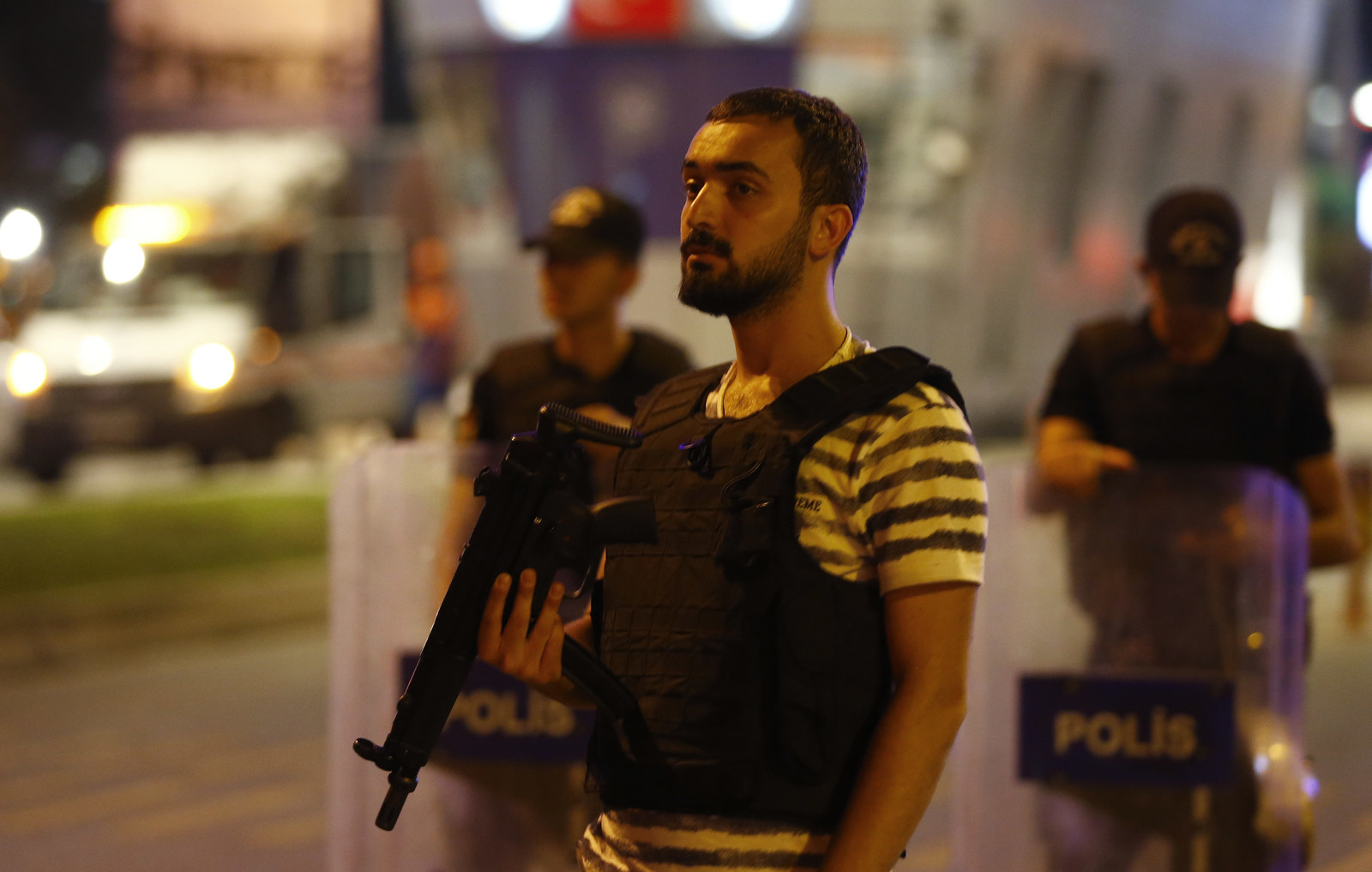 The White House condemned the assault, referring to it as a "heinous terrorist attack."
In a statement, the White House called Ataturk Airport "a symbol of international connections" and compared what happened in Istanbul to the attack in Brussels in March.
"We remain steadfast in our support for Turkey, our NATO Ally and partner, along with all of our friends and allies around the world, as we continue to confront the threat of terrorism," the White House said.
Presumptive Democratic presidential nominee Hillary Clinton condemned the attack as well, saying in a statement that "all Americans stand united with the people of Turkey against this campaign of hatred and violence."
Donald Trump, the presumptive presidential nominee of the Republican Party, said in a statement after the attack that "we must take steps now to protect America from terrorists."
"The terrorist threat has never been greater," Trump said. "Our enemies are brutal and ruthless and will do anything to murder those who do not bend to their will."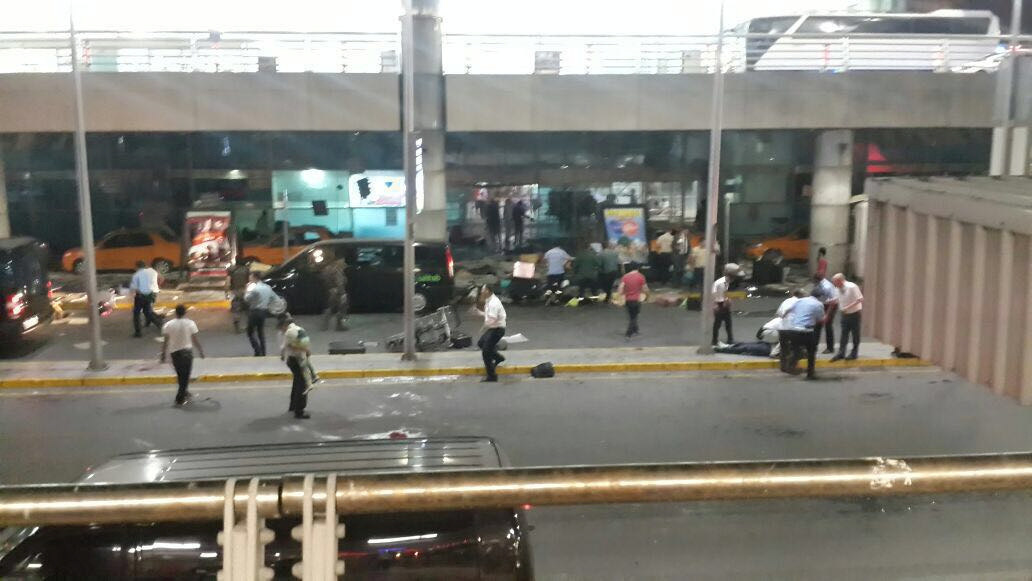 In the hours after the attack, large numbers of travelers were stranded outside the airport.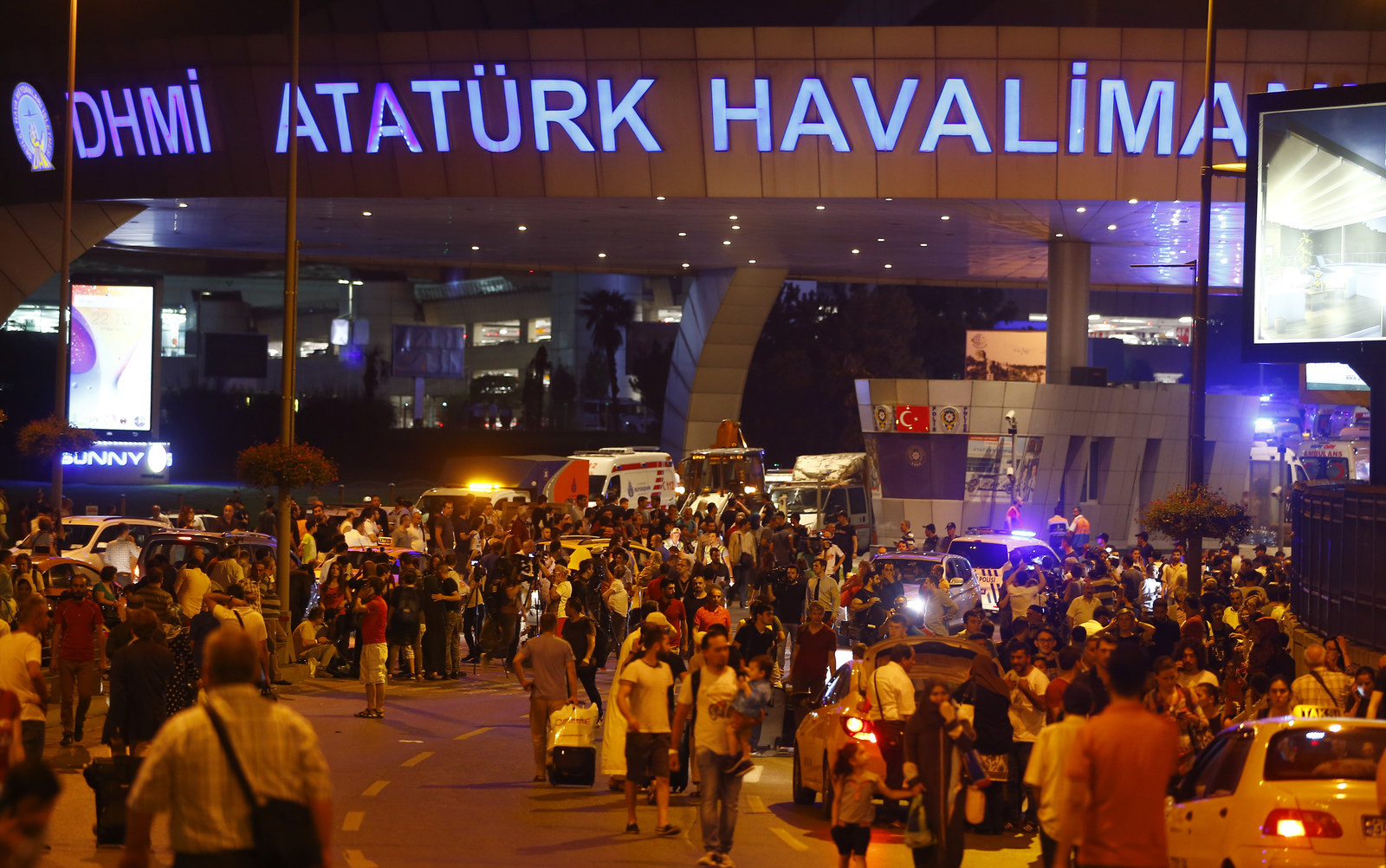 Ataturk airport is located about 11 miles from popular historic sites including the Hagia Sophia and the Blue Mosque. In 2015, Ataturk was the third busiest airport in Europe, after only Heathrow in London and Charles de Gaulle in Paris.
This is a developing story. Check back later and follow @BuzzFeedNews on Twitter for updates.