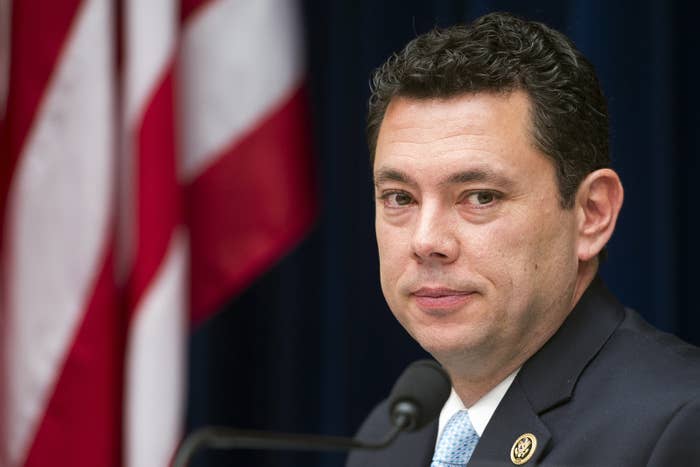 Just hours after Utah Rep. Jason Chaffetz stunned the political world Wednesday, announcing he would not seek reelection, a former presidential candidate, popular mayor, and state lawmakers were considering a bid for the House seat, BuzzFeed News has learned.
Chaffetz, who has built a powerful national profile as the chairman of the House Oversight Committee, announced Wednesday morning that he would not run for reelection. The announcement came as a surprise to many — Chaffetz won reelection last year in his fifth consecutive landslide — and ignited chatter about who would replace one of the highest profile members of the US House.

Much of the talk Wednesday focused on John Curtis, the popular Republican mayor of Provo, a city of about 115,000 that lies at the heart of Chaffetz's congressional district. In an interview with BuzzFeed News Wednesday, Curtis, 56, did not rule out a run but was adamant that he had not made any decisions yet.

"I will not force it," he said. "If I did run, it would have to be because I came to the conclusion that it was the right thing to do."
Curtis added that Chaffetz's decision not to seek reelection changed the "dynamic" surrounding a potential bid.
"It was a very, very small possibility that has slightly increased," he said, hours after Chaffetz's announcement.
Should Curtis run, one of his most likely potential challengers is Evan McMullin, who garnered significant support in the state last fall as an independent presidential candidate and a leader of the "never Trump" movement. A source close to McMullin told BuzzFeed News Wednesday that he was indeed considering running for the seat, but had not made any decisions yet.
That position echoes one McMullin himself staked out last month in a discussion on Reddit.
"It is possible that I will challenge Chaffetz or Senator [Orrin] Hatch," McMullin wrote, "but there are a lot of factors that go into that decision. One of the primary factors is what the people of Utah want."

McMullin would bring a national profile to the race, as well as experience with large scale fundraising. Still, he could face a tough battle against someone with strong local ties like Curtis.
"Utah really likes politicians that they produce," Sherrie Hall Everett told BuzzFeed News. "Who are really familiar with Utah issues, community issues."
Hall Everett, a former Provo councilwoman running to replace Curtis, spoke highly of the mayor's record and said that he's "built trust for a really long time."
"When you find somebody like a John Curtis you don't want to let them go because they did a good job," Hall Everett said.

Curtis is also the subject of a campaign to draft him into the race, which as of Wednesday had raised more than $11,000. The campaign was started by Owen Fuller, a friend of Curtis' who runs a company in Utah's burgeoning tech corridor, often dubbed the "Silicon Slopes." Fuller said that Curtis was seriously considering a run.
"I think we've reached him," Fuller said. "I know that he's listening."
Democrat Kathryn Allen, who announced plans to run last month, has received a similar outpouring of support, raising a half million dollars to challenge Chaffetz before he announced he wouldn't seek reelection.

It's difficult, however, to imagine any scenario in which a Democrat could win in Utah's 3rd District, no matter how much money they might spend. The district has been controlled by Republicans for the last 20 years — Chaffetz's last five Democratic challengers were all non-starters — and Provo has been described in the past as the most conservative city in the country.
That means the race will likely come down to whichever Republicans throw their hats into the ring. Though no one is committing yet, it could end up being a crowded field. Hall Everett, for example, pointed to a number of state lawmakers who could make a bid for the seat, saying "I think probably the next place to look is probably the legislature."
Curt Bramble is one of those lawmakers. Bramble, a high profile Republican state senator, told BuzzFeed News that he has been receiving calls from supporters encouraging him to run. But like Curtis and McMullin, Bramble is yet to make a decision.
"To say I'm running, that's not at all accurate, and to say I'd rule it out is is also not accurate," he said.
Deidre Henderson, another Utah state senator, is also considering a run. Henderson told BuzzFeed News supporters have encouraged her to launch a congressional bid, and she was "really overwhelmed today by the outpouring of support" following Chaffetz's announcement.
"I am seriously considering it," she said of a potential run.
The race may shape up to be a crowded fight, though among local Republicans, Curtis, with a crowdfunding campaign already raising money, appears to have a head start. He told BuzzFeed News that there were a number of things that give him pause about running, including the need to brush up on national issues, the demands of campaigning and fundraising, and the impact it would have on his family.

Significantly, however, Curtis said his family would support him running.
"They have unbounded confidence in me," he said. "They would be highly supportive."