European Citizens Providing Food, Other Help To Exhausted Refugees Marching To Austria
More than 1,000 Syrians began marching from Budapest to Austria Friday as they fled violence in their own war-torn country. Along the way, local residents provided some help.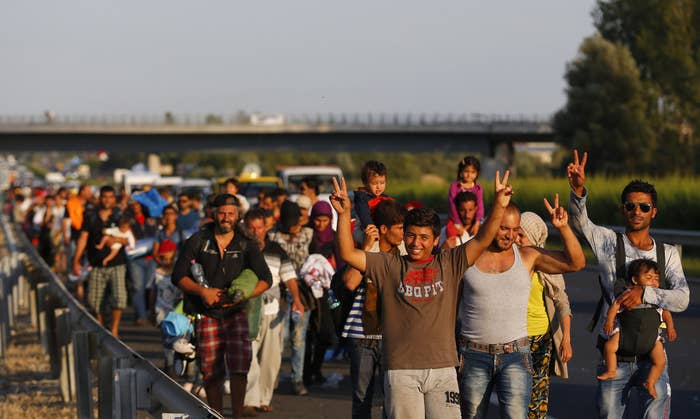 More than a thousand Syrians marching from Hungary to Austria Friday were met by Hungarians bearing food and supplies along the route.
The refugees have fled war, persecution, and attacks by ISIS in Syria. The exodus has in recent weeks converged on Budapest's Keleti train station, where refugees took temporary shelter while seeking asylum in Europe. Thousands of people — including children and the elderly — have been living in tents and on cardboard mats.
Meanwhile Friday, thousands of Austrians organized a social media campaign for those promising to pick up the marching refugees in private cars and buses.

The "Convoy Budapest Vienna - Schienenersatzverkehr for Refugees" had nearly 3,000 confirmed participants as of early Saturday. The plan included meeting the refugees at the Austria-Hungary border, then driving them the rest of the way to Vienna in whatever cars and vans people could bring.
"If they are not here on Sunday, we drive together in a convoy to the border crossing Nickelsdorf, give a honking concert against existing borders, that only apply to some but not to others," the Facebook invite read.
The Hungarian government also announced Friday that it would bus the refugees to the border.
The march included about 1,200 people who left from the train station in Budapest with plans to make it all the way to Vienna, Austria — which along with Germany announced it would let the refugees in.
The route is about 150 miles long, and images shared by journalists and witnesses showed Hungarians sharing food and water.
Other images showed people handing out toys and strollers for children who were part of the march.
The Hungarian government has faced criticism for its handling of the crisis, while Prime Minister Viktor Orban has described it as "Germany's problem."
Many refugees have said they hope to make it to Germany. Some told BuzzFeed News Friday they had traveled long distances to escape war at home, and in some cases, left the professional, well paying jobs they had before conflicts broke out.
Some of the refugees also said they came to Europe because they saw it as a "place where there is peace."