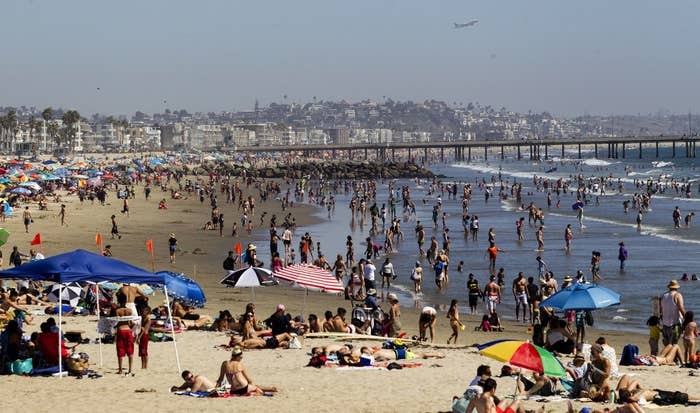 It's record hot in California. Though it's only February, dry Santa Ana winds are blowing in Los Angeles, curling hair, and making nerves jump and skin itch.
It is not at all like winter, in other words, and even less like an El Niño winter — which for months was billed as a coming deluge and answer to years of drought. A quick survey shows how dry conditions still are: Reservoirs in California are low; Snowpack levels are above average, but far below the 150% of normal that experts said was needed; And the entire state of California is still suffering from abnormal, and in some cases extreme, dryness.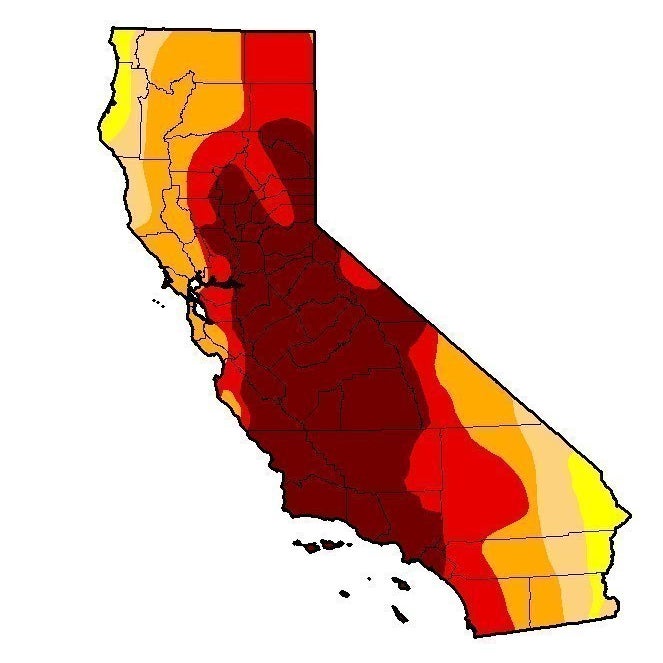 The U.S. Drought Monitor released Thursday, on left, shows about 40% of California still experiencing exceptional drought conditions, compared with one year ago, on right.
So, what's going on?
The short answer is El Niño rains are probably still coming to California, it's just taking longer than normal.
California's historic drought has been dragging on for four years, but El Niño was trumpeted as, if not the solution, then at least an event that could get the state back on track. The last really big El Niño — which did soak California — happened in 1997 and 1998.
NASA climatologist Bill Patzert told BuzzFeed News the previous El Niño peaked in November 1997. A few months later in February when the giant pool of warm Pacific water began to weaken — it sent a series of moisture-laden storms to Southern California.
This time around, however, El Niño is still going strong — much stronger in fact than the El Niño of 1997-98 was at this time of the year.
The result, Patzert said, is that Southern California still ought to receive wetter-than-normal weather, just in March and April.
"This El Niño is not done yet," he said.
Robbie Munroe, a meteorologist at the National Weather Service in Oxnard, agreed, telling BuzzFeed News that California is "still in play." He said "there are signs we might be heading into a wetter period," but thus far in 2016 a high pressure system has been driving storms away from the region.
Which brings up the other major effect of El Niño this year: It's delivering plenty of moisture farther north on the West Coast.
In Oregon, just 4% of the state is experiencing extreme drought, a dramatic change from 3 months ago when more than 60% of the state was in the red. And in Washington state, the drought has melted away almost entirely.
"There has been plentiful moisture," Munroe said, "it just hasn't been directed at southwestern California."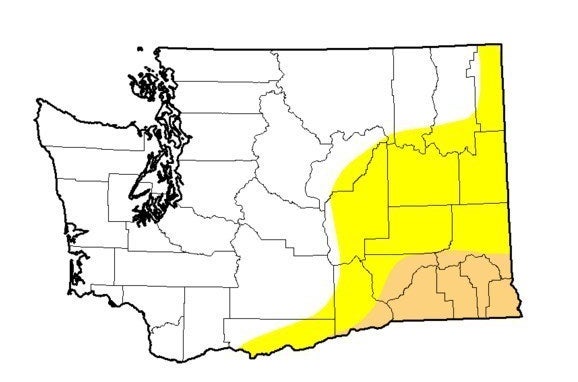 This is unusual. Munroe said that during an El Niño year the Pacific Northwest might receive less precipitation than average. Instead, we're seeing "almost like a reverse of what we would normally expect," the forecaster said.
Unusual or not, however, precipitation farther north is a good thing; much of the West — and in particular California — relies on snowpack from the Sierra Nevada and Rocky Mountain ranges for water.
Whatever happens next in America's western states, El Niño almost certainly won't be the silver bullet to end the drought.
Munroe said that "at this point it's going to be difficult to end the season above normal, but even if we could get near normal that would be an improvement over the last several years."
According to Patzert, El Niños contribute a mere 7% of California's water supply over the course of a generation. That means it will take multiple years of above-average precipitation to make up for years of dryness.
"At it's best it'll be a downpayment on a huge mortgage that we've accumulated with this drought," he said.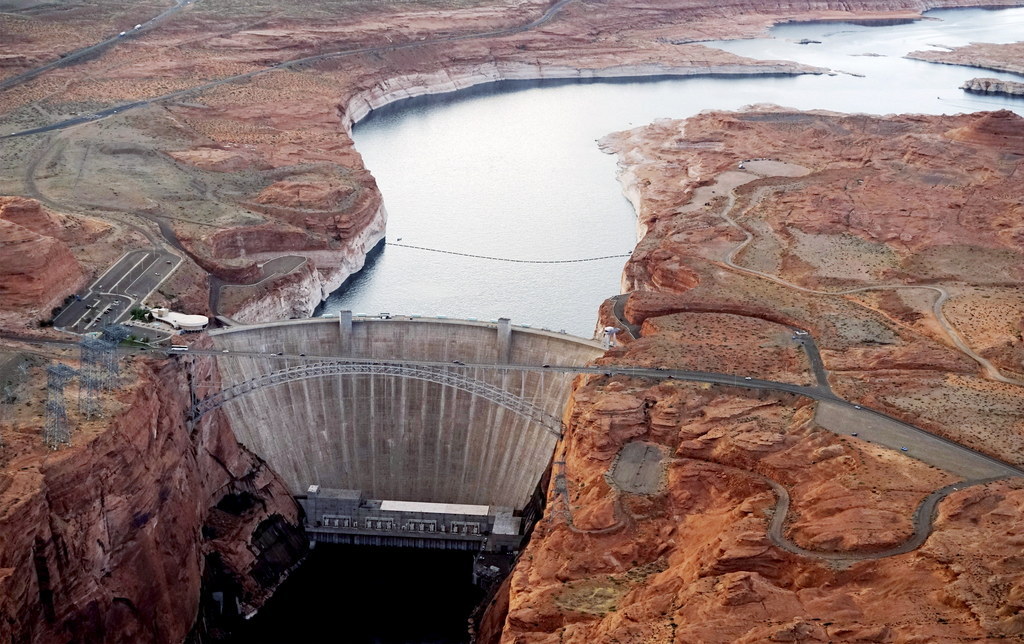 It's unclear how much impact El Niño — bust or not — will actually have on the lives of people in drought-plagued California.
Thanks to years of drought, California has enacted a series of policies and regulations — most of which will probably stick around after this year's El Niño event. For example, the state's fire fighting agency, Cal Fire, kept staffing levels higher than usual this winter — a practice it began last year as part of its drought response. And since Jan. 1, those extra firefighters have remained busy fighting 70 wildfires.
"It's definitely a lot," Cal Fire spokesman Daniel Berlant told BuzzFeed News. "It's been the new normal for winters during the last 4 years."
Cal Fire is just one agency, but the point is that California has geared up to fight a drought and El Niño probably won't change that. Another case in point: The state's restrictions requiring cities to make (in some cases steep) cuts to their water use have been extended for eight months.
State water regulators did not respond to BuzzFeed News' request for comment for this story, but Patzert speculated that this drought-induced new reality is probably here to stay.
"The positive to take away from the drought," he added, "is that it took us to a place where we probably should have been anyhow."