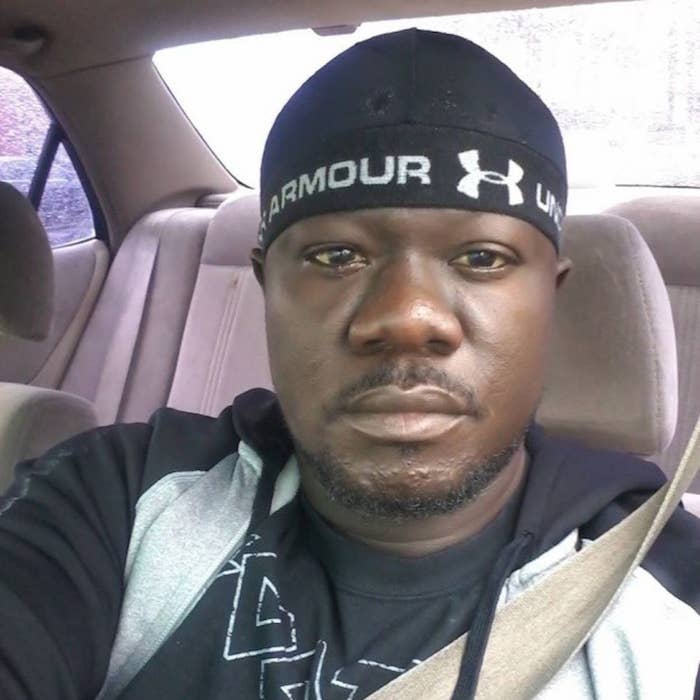 Police released video Friday that showed an officer fatally shooting an unarmed black man earlier this week in El Cajon, California.
El Cajon Police Chief Jeff Davis released the video Friday afternoon during a news conference. The video shows Alfred Olango walking quickly around a parking lot. Two officers can then be seen arriving, and moments later shots are heard and Olango falls to the ground.
The video was taken from a fast food restaurant's surveillance camera, and from a witness who was recording on a cell phone.
Davis said the decision to release the video was made with San Diego District Attorney Bonnie Dumanis and other police officials as a means to alleviate what have been outbursts of violent protests.
"Our goal today is to clarify and hopefully calm the community's concerns," Davis said, adding that officials decided to release the video "based on our collective concern for public safety in the community."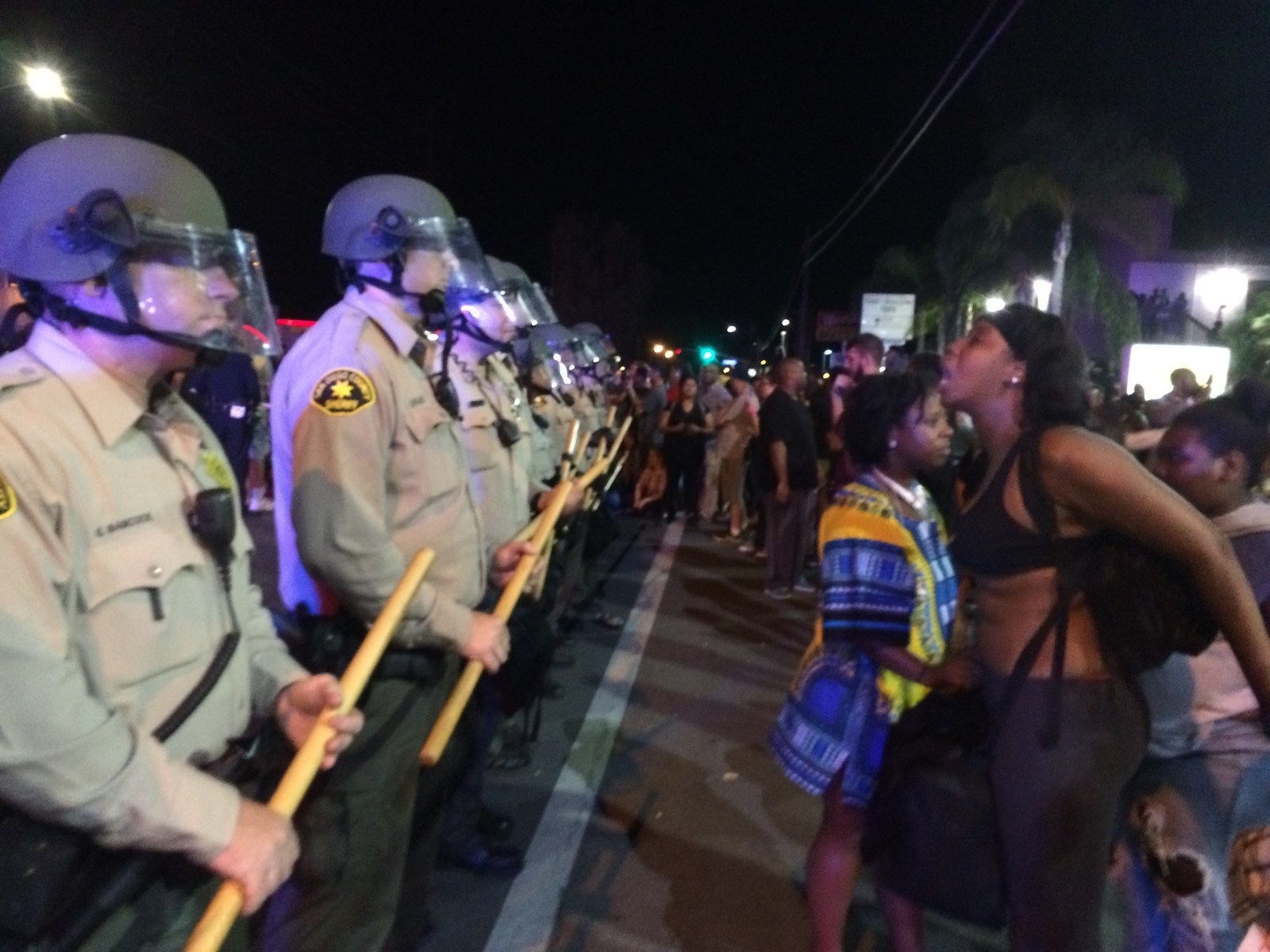 Police killed Olango Tuesday while responding to a call about someone who was acting erratically and possibly mentally unstable. Officers — who were not members of El Cajon's specialized Psychiatric Emergency Response Team — arrived at the scene about 2:10 p.m. and opened fire within about a minute.
Olango was unarmed at the time of his death. Police have said he was holding a vape device and "placed both hands together on it and extended it towards the officers" before taking a "shooting stance."
Officer Richard Gonsalves fired the fatal shot. Officer Josh McDaniel also responded to the scene, Davis said at Friday's news conference.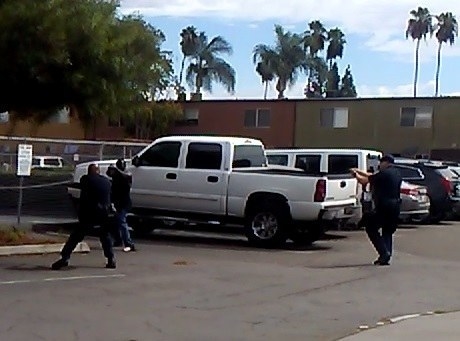 During Friday's news conference, Davis showed images of the vape device that he said Olango was holding at the time, including from the angle that he said the officers saw pointed at them.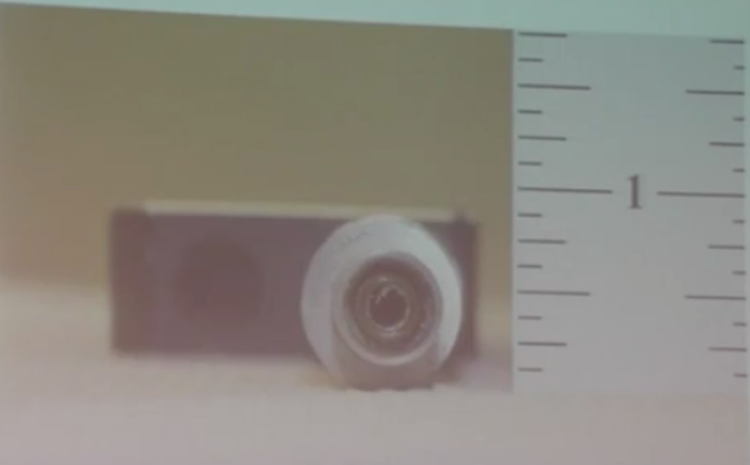 In Facebook Live video captured just after the shooting, a woman can be heard screaming, "You killed my brother. I called for help!"
"Why couldn't you guys Tase him," she said. "I told you he was sick, and you shot him."
Olango's mother, Pamela Benge, has since said that he was having a mental breakdown while grieving the death of a friend and "needed someone just to calm him down."
In the aftermath of the shooting, community members called for police to release the full video of the incident. Among them, Rev. Shane Harris — a community leader and supporter of Olango's family — said the still image showing Olango in a "shooting stance" was "cherry picked" by police to support their version of events.
Davis said Friday that the decision to release that image was initially "done to counter misinformation and correct a misconception" about the shooting.
Community leaders praised the release of the video. Rev. Gerald Brown said at Friday's news conference that "we want to move forward in peace," adding that "we commend the mayor and the city of El Cajon for releasing this video."
Andre Branch, president of the NAACP's San Diego branch, also praised police for releasing the video.
"Full disclosure to the public builds trust and it demonstrates respect," Branch said. "And so we are quite pleased that Chief Davis has decided to take this action."
Dumanis — who will be responsible for deciding if charges should be filed in the case — said Friday that "we will wait for a thorough investigation to make sure we come to the right results."
"Video evidence is one piece of the evidence that is out there," Dumanis said, "but we want to make sure that we have every bit of the evidence."
Protests over the shooting have grown increasingly violent this week. Though the gatherings began peacefully, Thursday night protesters broke car windows and knocked a motorcyclist off his bike, according to police. A freelance photographer also reportedly was assaulted and robbed early Thursday while covering the protests.
Davis said that during Thursday night's protests officers "came under attack by rocks, bottles and eventually large bricks." Police eventually deployed pepper balls and made five arrests.
Olango's family, which fled Uganda years ago, has called on demonstrators to remain peaceful.
"I don't want war," Olango's mother, Pamela Benge, said earlier this week. "If you have seen war, you will never, ever want to step near where there is war."