Dozens Of West Point Cadets Bloodied And Injured In Violent Pillow Fight
The cadets suffered concussions and other injuries when some participants swapped stuffing for solid items meant to inflict pain during an annual pillow fight among West Point freshman.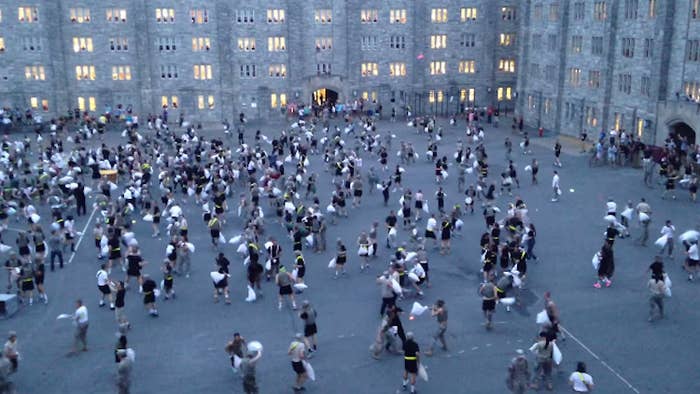 Dozens of West Point cadets were injured last month after they bludgeoned each other with concealed hard objects during a pillow fight.
The pillow fight took place Aug. 20 and left 30 future American soldiers with injuries, West Point confirmed to BuzzFeed News in an email. The injuries included 24 concussions, which West Point described as not severe.
According to The New York Times, one cadet also sustained a broken leg, and others ended up with dislocated shoulders.
Some of the cadets who spoke to the Times said one student was taken away in an ambulance and has not returned to school, though according to West Point, all cadets have returned to duty.
West Point said the "chain of command" took "mitigating measures," including requiring everyone to wear a helmet.
While some cadets do appear to be wearing body armor in the videos, few participants appear to be wearing any protective headgear. And according to The Times the helmets were actually used in some cases as weapons after being stuffed into pillow cases.
Some students also appeared to have used carts and mattresses to build makeshift battering rams.
One cadet who spoke anonymously to The Times said he was told by upperclassmen that "if you don't come back with a bloody nose, you didn't try hard enough."
Another cadet described hearing about "the body count."
"My friends were really excited," she told The Times. "And right after, when we learned how many people had gotten hurt, everyone felt totally hardcore. I know it looks weird from the outside, but it really bonds us."
Numerous images of the pillow fight, as well as the injuries students sustained, were posted to Twitter, Instagram, and YouTube. However, after the story went public Friday night many of those images were quickly taken down.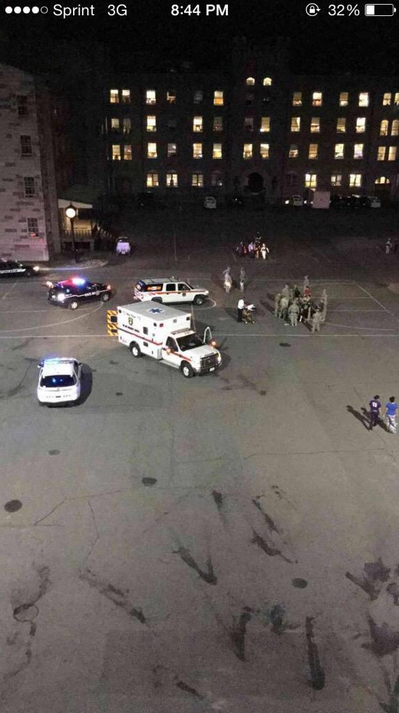 The pillow fight is being investigated, but so far no one has been disciplined and there are no plans to cancel future fights, The Times reported.
West Point said that previous classes have "done similar events over the years," and that the goal is to "build esprit de corps among their class, especially following their tough first summer."
"West Point applauds the cadets' desire to build esprit and regrets the injuries to our cadets," the school added.
The investigation into the pillow fight will try to "identify cadets who may have intentionally caused harm," West Point said.