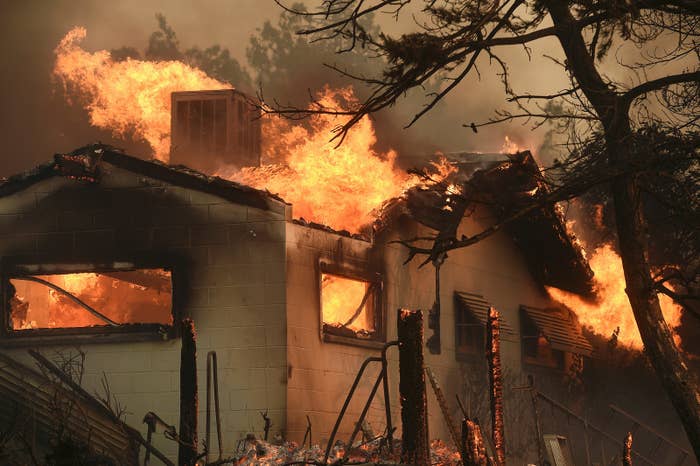 A fast-moving wildfire that started Thursday in central California killed at least two people and destroyed more than 250 homes, officials said Sunday, prompting a state of emergency.
Two bodies were found at a home Friday as firefighters continued to try to contain the flames of the Erskine fire. They were identified Monday as Byron and Gladys McKaig, KERO Bakersfield reported.
Officials found additional remains over the weekend and initially said they could have belonged to a third victim, but later determined they came from an animal, KGET reported.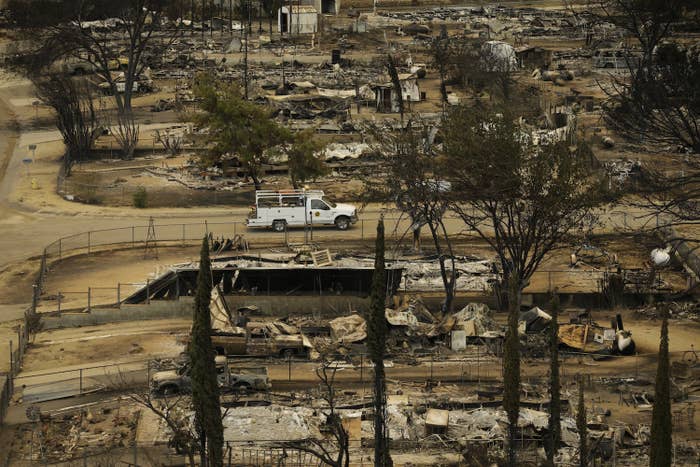 The Erskine Fire erupted Thursday afternoon and within hours destroyed dozens of homes near Lake Isabella, in Kern County. By Friday afternoon, officials estimated that a total of 100 structures had been destroyed, 80 of them homes. Another 1,500 structures were threatened.
As of Sunday, 250 structures had been destroyed and another 75 damaged, officials said.
"This is going to go down as the most destructive wildfire in Kern County history," Kern County Fire Chief Brian Marshall told the Associated Press.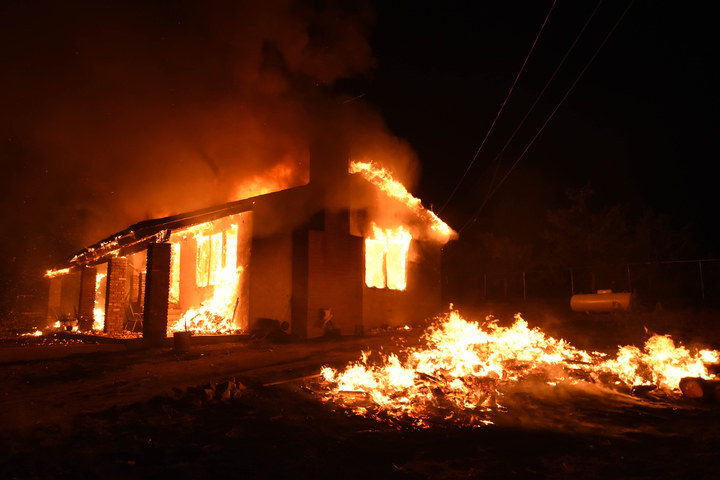 By Monday afternoon, the fire had charred at least 45,388 acres, or more than 70 square miles — an area larger than Washington, D.C.
The fire's rapid growth quickly made it California's largest of 2016, and by Sunday, it was 40% contained, officials said at a news conference.
Gov. Jerry Brown declared a state of emergency in response to the blaze.
In an announcement Friday, Brown requested federal aid and said the fire was "likely to go beyond the control of the services, personnel, equipment, and facilities of any single local government." He said the blaze "continues to threaten thousands of structures."
"Anne and I extend our heartfelt sympathies to everyone impacted by this destructive blaze," Brown said.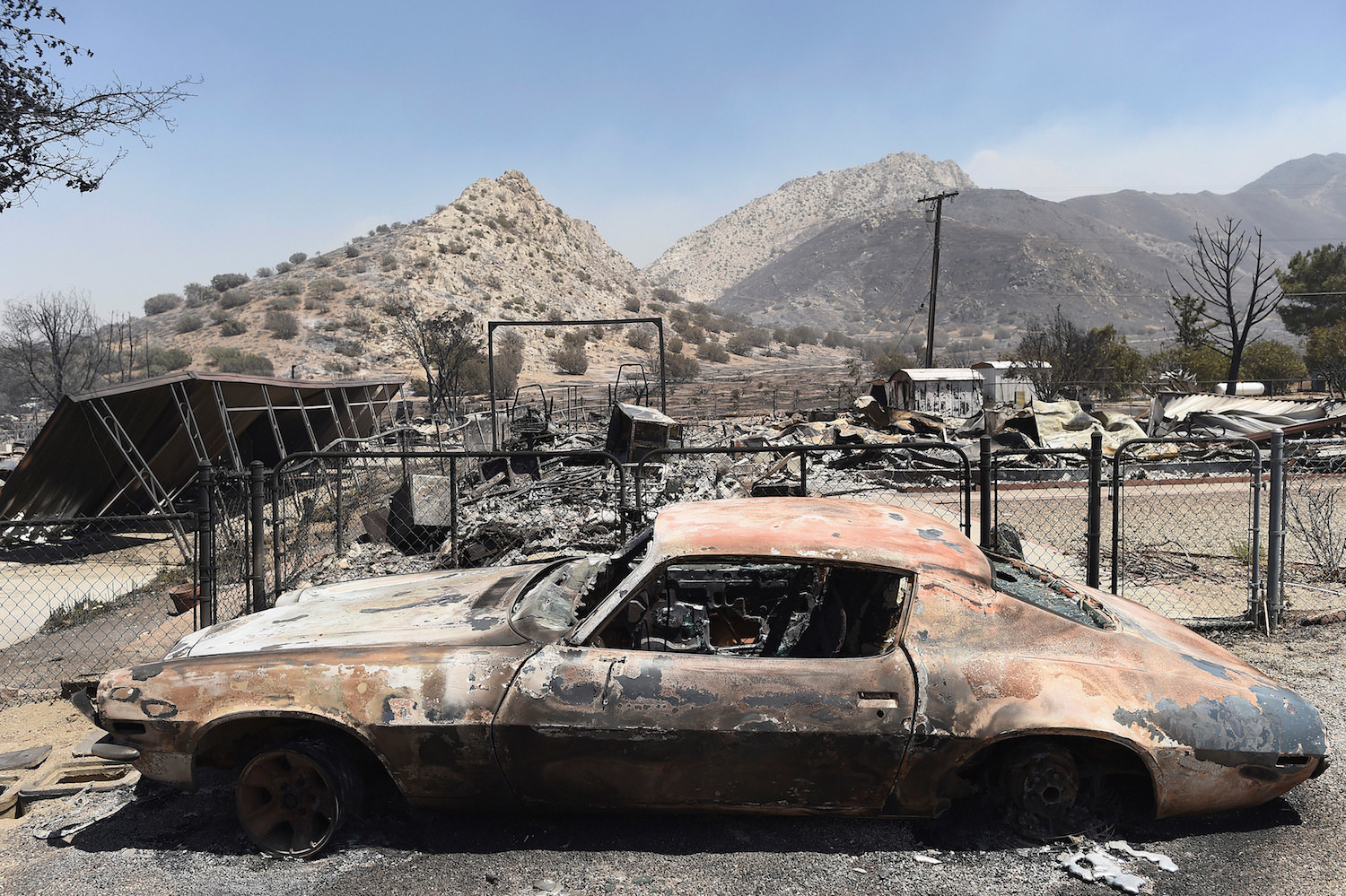 The fire prompted thousands of evacuations.
Brown said in his emergency declaration that the blaze necessitated "the evacuation of thousands of residents."
It also was threatening a handful of small communities Friday, according to fire officials. Bakersfield Now reported that a hospital was evacuated, and there were reports of power and cell phone outages in the area, county officials said.
"People were escaping barely within an inch of their lives," Marshall also told the AP.
Kern County Fire Department Capt. Tyler Townsend told the Associated Press that the damage was "more than I can remember in any fire in the last several years" and that the blaze "burned through several communities" in a matter of four hours.
"I've never been in a wildland fire where I've seen so many homes burn," Townsend added. "It's one of the most devastating I've ever seen."
Images from the scene showed fire engulfing buildings and plumes of smoke rising from the hills.
The fire exploded Thursday amid hot temperatures, high winds, and extremely low humidity.
Lake Isabella, a community near the fire, hit 92 degrees Thursday afternoon, according to the National Weather Service. At the same time, relative humidity plunged to just 8%. Winds gusted to 40 mph late Thursday morning, and continued to blow at more than 20 mph through much of the evening.
On Saturday, fire officials said during a community meeting that the fire is continuing to burn, though at a slower pace than in previous days.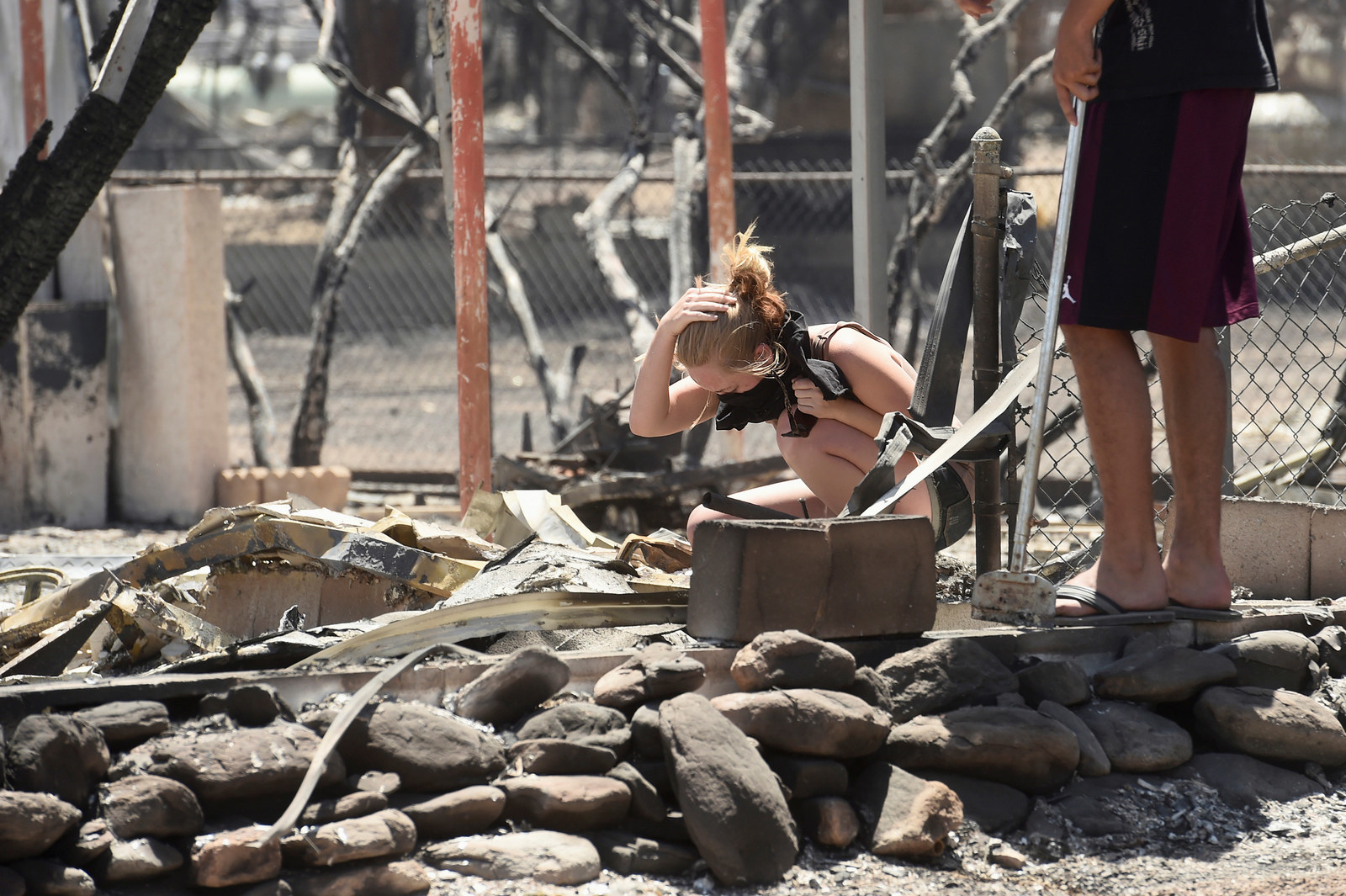 In addition to hazards posed by the weather, Townsend told the AP that many homes in the area have propane tanks, which were at risk of exploding.
Conditions were somewhat less dangerous Friday; highs topped out at 88 degrees and relatively humidity hovered in the teens and low twenties.
Winds hit 41 mph Friday.
"It's hot weather, steep rugged terrain, light flashy fuels, dry brush," Townsend said at a news conference. "That's the three elements that create a fast moving wildfire."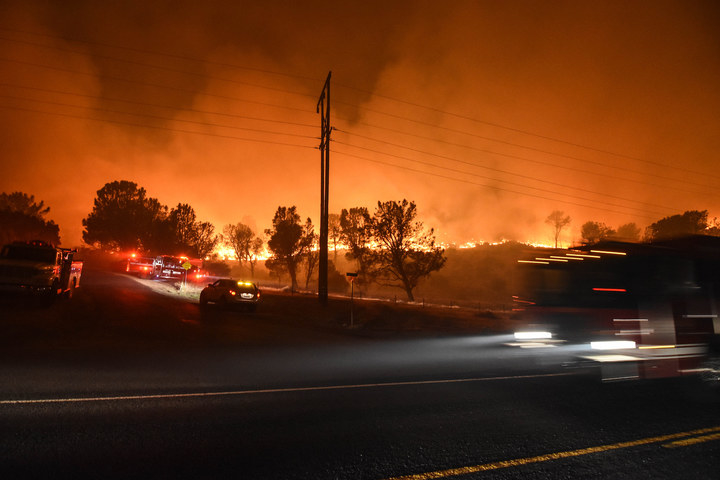 The deadly blaze may foreshadow a long and destructive fire season for the western U.S., which is suffering through a crushing, years-long drought.
More than than 62% of the contiguous 11 western states is suffering from some level of abnormal dryness. California has been particularly hard hit by the drought, which is now in its fifth year.
Drought exacerbates wildfires by leaving forest vegetation weakened and dead. In several western states, including California, bark beetles have preyed on weakened trees, killing millions of them and turning large swaths of land into tinder boxes.
"Tree dies-offs of this magnitude are unprecedented and increase the risk of catastrophic wildfires that puts property and lives at risk," Agriculture Secretary Tom Vilsack said in a statement earlier this week.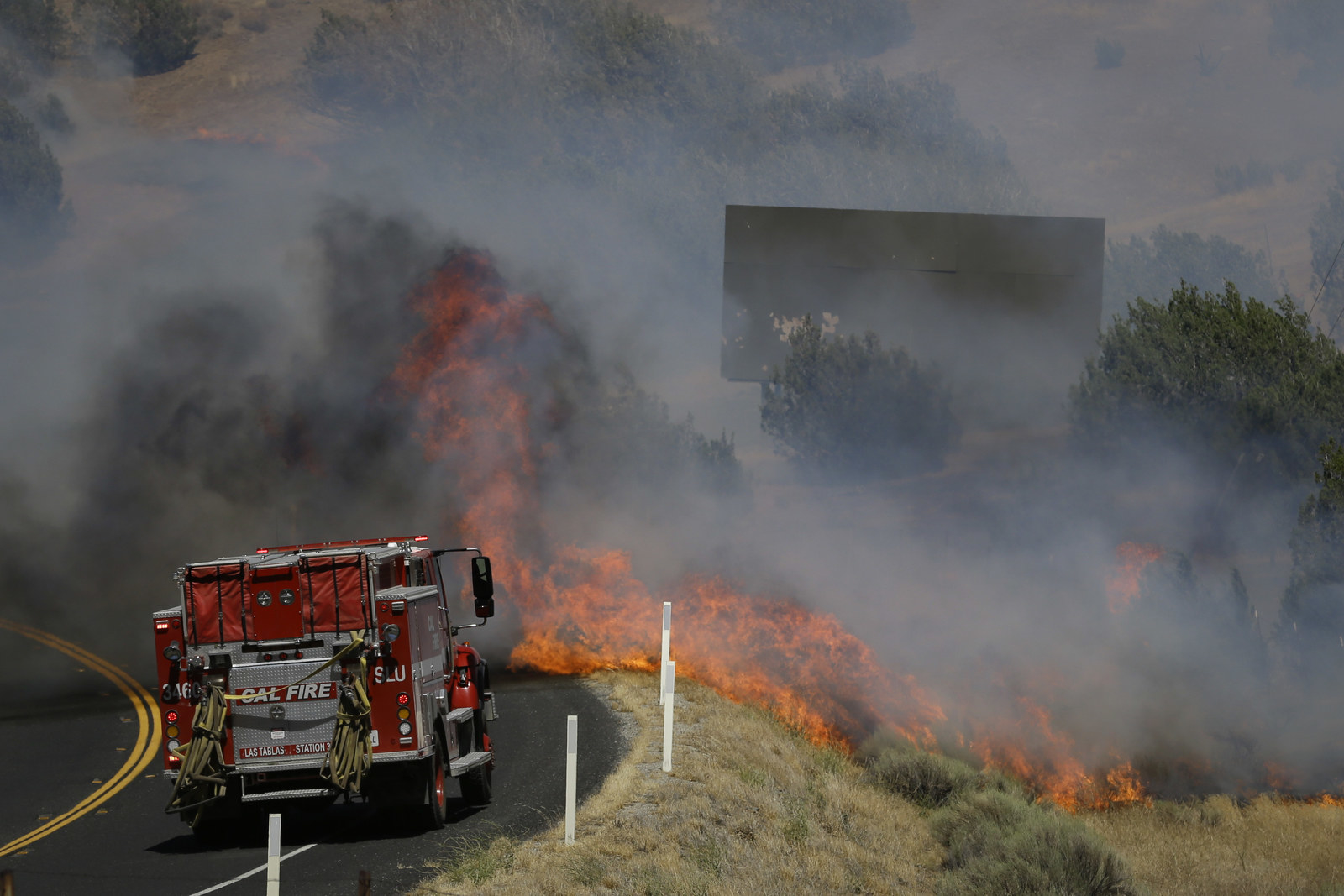 More severe fire seasons have had devastating consequences in the West. Years ago, "fire season" was limited to the hotter, drier months. But in recent years, experts have said the fire season is more extreme and year round.
One week into summer, that appears to be playing out in the West, with numerous fires ranging across California, Arizona, Nevada, and New Mexico. Some of the fires have been burning at the fringes of urban Los Angeles.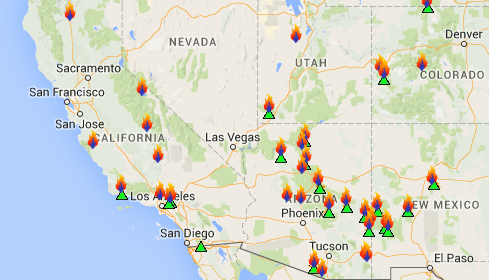 The prolonged fire seasons are also increasing the potential for higher death tolls.
This year, fires have already killed two people, and left 10 horses dead.