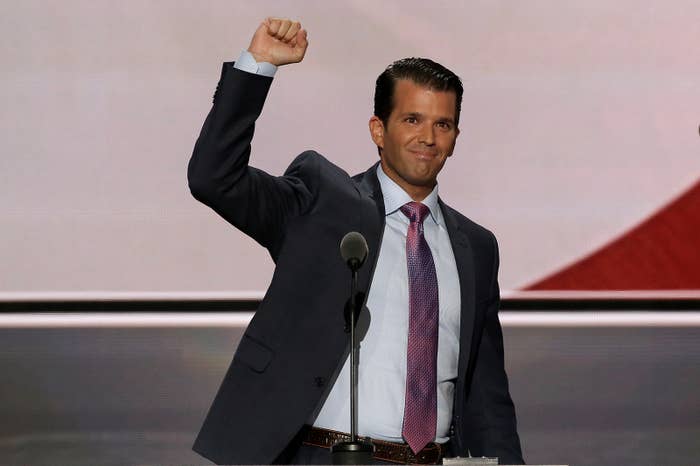 Donald Trump Jr. exchanged several private messages with WikiLeaks during the presidential campaign, keeping up a sporadic correspondence with a radical transparency group that American intelligence officials believe was used by the Russian government to leak information aimed at influencing the 2016 race.

The private messages, exchanged on Twitter, began in the final months of the campaign and continued until at least July 2017, according to copies of the tweets first viewed by the Atlantic, and later posted on Twitter by Trump Jr.
In a statement to BuzzFeed News Monday, Trump Jr.'s lawyer, Alan Futerfas, said that thousands of documents had been turned over to congressional investigators probing Russian election meddling.
"We can say with confidence that we have no concerns about these documents and any questions raised about them have been easily answered in the appropriate forum," he said.
The messages touched on an array of topics, and indicate that on more than one occasion, Trump Jr. shared information he received directly from WikiLeaks — an organization that, according to US intelligence officials, was used by Russia to disseminate information designed to "undermine public faith in the US democratic process" as well as "denigrate Secretary Clinton."
In one instance, on Oct. 12, 2016, WikiLeaks reportedly messaged Trump Jr. to tell him the organization had released new emails from Democratic nominee Hillary Clinton campaign chair John Podesta.

Trump Jr. didn't respond to that message. But 15 minutes after it was sent, his father tweeted about WikiLeaks and appeared to reference the new Podesta content.
Then, two days later — on the same morning that then–Republican vice presidential candidate Mike Pence insisted that the Trump campaign was not "in cahoots" with WikiLeaks — Trump Jr. tweeted the link the organization had sent him.

In a statement Monday evening, a spokesperson for Pence said he "was never aware of anyone associated with the campaign being in contact with Wikileaks. He first learned of this news from a published report earlier tonight."
WikiLeaks also tried to persuade Trump Jr. to release his father's tax returns, and suggested that if the elder Trump lost the election he could challenge the results. "If your father 'loses' we think it is much more interesting if he DOES NOT conceed [sic] and spends time CHALLENGING the media and other types of rigging that occurred — as he has implied that he might do," the organization DM'd.

Trump Jr. responded to other WikiLeaks messages in September and October, at one point saying that he had already shared a story the organization wanted him to promote.

After Trump won in November, WikiLeaks messaged Trump Jr. to suggest that he might be able to help Julian Assange become Australia's ambassador to the US.

Though Trump Jr. apparently stopped responding after the election, WikiLeaks continued to send messages, including one in July 2017 suggesting that he provide the organization with emails related to his June 2016 meeting with a Kremlin-connected lawyer. In the message, WikiLeaks made the case that leaking the information would benefit Trump Jr., who has come under increased scrutiny for the meeting amid questions about Russia's connection to his father's campaign.
Trump Jr. didn't respond to that message — but hours later, he ended up tweeting the emails himself.
A US official told BuzzFeed News Monday that the FBI is aware of the messages and has been scrutinizing the communications as part of its ongoing probe into Russia's interference in the 2016 election. The investigation, led by special counsel Robert Mueller, resulted in the indictments of three former Trump campaign aides earlier this month.
WikiLeaks founder Julian Assange responded to the report of the leaked messages by tweeting that he couldn't confirm the correspondence because the organization "does not keep such records."

Chris Geidner and Jason Leopold contributed reporting to this story.