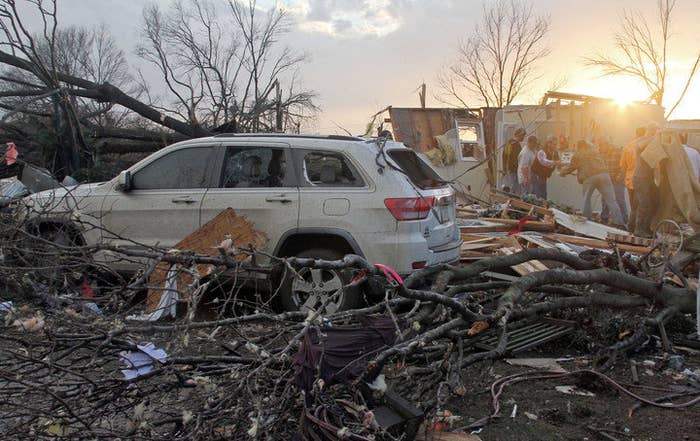 A powerful storm system on Wednesday, Dec. 23, produced multiple tornadoes and flooding that as of Monday had killed at least 48 people across seven states.
Five people drowned in flash floods in Marion County, Illinois, on Saturday while 11 people were killed in tornadoes that tore through Texas on Saturday night.
At least 10 people were reported dead in Mississippi, while 13 also died in Missouri. Six people were killed in Tennessee, two deaths were reported in Alabama, and one in Arkansas.
The storm system prompted a rare "particularly dangerous situation" tornado watch from the National Weather Service.
The National Weather Service had cautioned that "several tornadoes and a few intense tornadoes" were likely Wednesday. Tornado watches covered parts of Arkansas, Louisiana, Mississippi, and Tennessee.
Texas and Illinois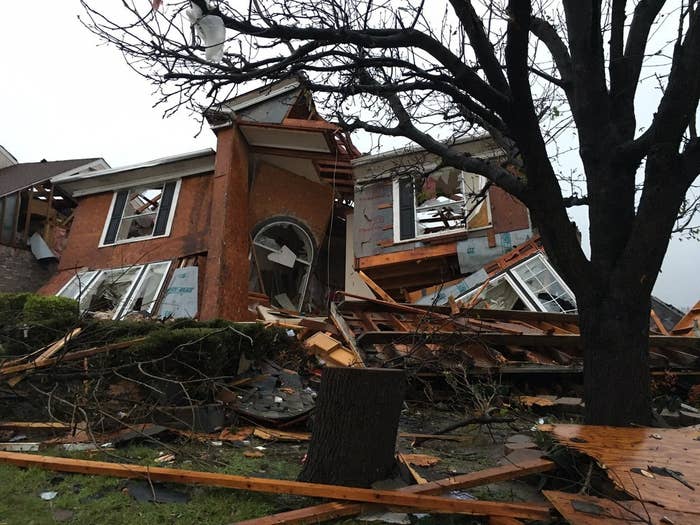 In Texas, 11 people were killed, including a child, after tornadoes struck the Dallas area on Saturday night. Eight people died in Garland while three were killed in Collin County, one of whom was believed to be a baby.
In Rowlett, 23 people were injured and "huge amounts of damage" was caused to some parts of the city, according to City Manager Brian Funderburk. Around 6,000 homes also lost power.
Gov. Greg Abbott said Texas was providing the Department of Public Safety, Texas Task Force 1 and 2, and the State Guard to help families and communities affected by the storms.
"We need Texans to be aware that there will be an ongoing problem for the next 24 hours especially, but really for the next several days," he told reporters.
He warned of the possibility of more tornadoes along with ongoing challenges presented by snow, rain, ice, and rising water levels in the state.
Bianca Ruiz, a 16-year-old in Red Oak, told BuzzFeed News that her uncle "missed the tornado by a hair." He was driving home to Ovilla in Dallas when he saw the tornado touch down, Ruiz said. The storm and debris damaged his vehicle but he was more concerned about his family's safety, the teen said. "His wife said she and their one-year-old baby were hiding in the bathtub trying to seek safety."
Ruiz said her family plans to be "more prepared for the storms and to take them very seriously." They intend to make tornado shelters under their house.
"We are so blessed to be safe especially considering we were so close to the storm," Ruiz said.
Five people died from drowning in Marion County, Illinois, on Saturday when the vehicle they were in was swept away in a rain-swollen creek. The occupants of the car, which was on its way from Kentucky to Minnesota, included three adults and two children, the Kentucky New Era reported.
Missouri
In Missouri, the death toll rose to 13 on Tuesday, Dec. 29 as authorities tried to evacuate entire towns amid rising water levels. Gov. Jay Nixon declared a state of emergency on Sunday as forecasts pointed to rising river levels and more rain over the next several days.
Officials ordered residents of West Alton to evacuate after a levee north of the St. Louis-area was breached.
"Widespread flooding and continued rainfall are causing very dangerous conditions across much of central and southern Missouri," Nixon said in a statement on Monday. "Multiple fatalities due to flash flooding have already been reported, and I urge Missourians in flood-affected areas to stay alert, avoid travel if possible and never drive into a flooded roadway."
Among those killed in the flooding were four international soldiers who were temporarily stationed at Fort Leonard Wood for training, the AP reported. They were killed when a car they were driving in was swept away.
Craig Strickland, the lead singer of the Arkansas-based country-rock band Backroad Anthem who was reported missing on Sunday, was feared dead after his hunting companion's body was recovered from Kaw Lake, the AP reported.
All deaths were by drowning, except one person who was electrocuted.
Alabama
Emergency crews on Friday worked to free trapped residents after a tornado touched down near Birmingham, Alabama.
Alabama Gov. Robert Bentley declared a state of emergency.
On Sunday, Coffee County Coroner Robert Preachers told the Associated Press workers had discovered the bodies of a 22-year-old man and 5-year-old boy who were attempting to cross a bridge in Jack, Alabama.
Mississippi
On Wednesday, a tornado touched down in Holly Springs, Mississippi, where witnesses reported seeing overturned cars and other damage.
Grant Feathers, of the Holly Springs Fire Department, told BuzzFeed News the storm killed a 7-year-old boy Wednesday afternoon.
The Mississippi Emergency Management Agency said Saturday that at least 10 people — six in Benton, two in Marshall, one in Coahoma, and one in Tippah counties — had died as a result of the storms. At least 56 people were injured and of a total of 400 affected homes, at least 241 homes were destroyed or sustained major damage.
Clay Byers, also of the Holly Springs Fire Department, said as many as 20 homes were damaged and 10 to 15 injuries had been reported.
Amid the storm, the National Weather Service declared a tornado emergency in Holly Springs.
Mississippi Gov. Phil Bryant declared a state of emergency on Dec. 24 for the affected areas.
In Coahoma County, Mississippi, about 90 miles southwest of Holly Springs, a tornado destroyed multiple buildings and injured as many as six people, Coahoma County Board of Supervisors President Paul Pearson told BuzzFeed News.
Pearson — who is also a volunteer firefighter — said at least one tornado passed south of the town of Clarksdale, as well as through several surrounding counties.
Max Croxton, 69, and Ellen Croxton, 67, of Faulkner were among those killed, their home completely destroyed.
The other two victims were 67-year-old William Crawford and 58-year-old Patricia G. Williams of Lamar. Their home was also demolished in the storm.
Benton County authorities, who were still searching for Michael Nunnally, 47, who lived with Crawford and Williams, reported another missing person Friday evening.
Pearson did not know exactly how many homes were damaged, but said the number could be as high as 10. He added that he had never seen a storm of such magnitude so late in the year, but added that initial reports suggest no one had died in his county.
"We've been very blessed in that department, that nobody's been killed," Pearson said.
In total, across multiple states and counties, dozens of people were reportedly injured. However, dispatchers and local authorities who spoke with BuzzFeed News Wednesday night were still combing their respective towns and working on casualty reports.
Tennessee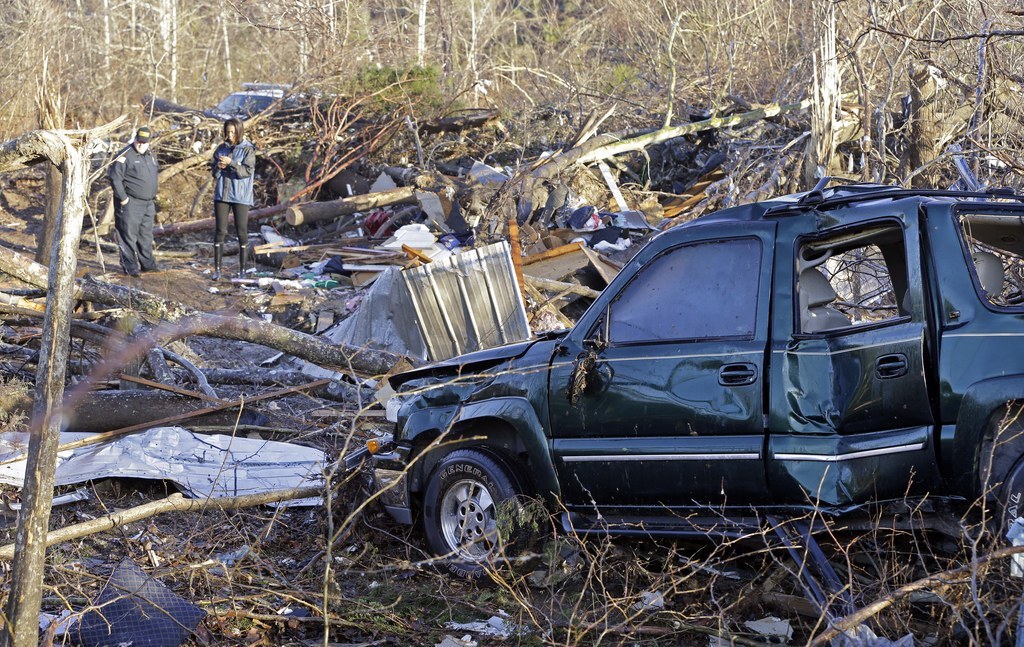 In Tennessee, six people were killed in the storms, according to the Tennessee Emergency Management Agency.
One person was killed in Rhea County, a 22-year-old man, according to the agency. Two people were also killed in Perry County — a 70-year-old man and 69-year-old woman.
Interim Perry County Sheriff Nick Weems had little additional information on the victims, but told BuzzFeed News that damage from the storm was extensive.
Three more people were later reported killed in Maury County, according to the agency. The victims were two 17-year-old boys and one 16-year-old girl.
Tennessee also declared a state of emergency Wednesday.
Arkansas
Arkansas reported one fatality as a result of the severe weather.
The Associated Press reported that an 18-year-old woman died in Atkins, about 65 miles from Little Rock, when a tree fell on a house. The tree also trapped a 1-year-old inside the house.
Georgia Gov. Nathan Deal also declared a state of emergency on Thursday in three northern counties.