Bitter Cold Freezes The Deep South, Breaks Records Across The Eastern U.S.
A massive Arctic air mass moving south from Canada sent temperatures plummeting Thursday.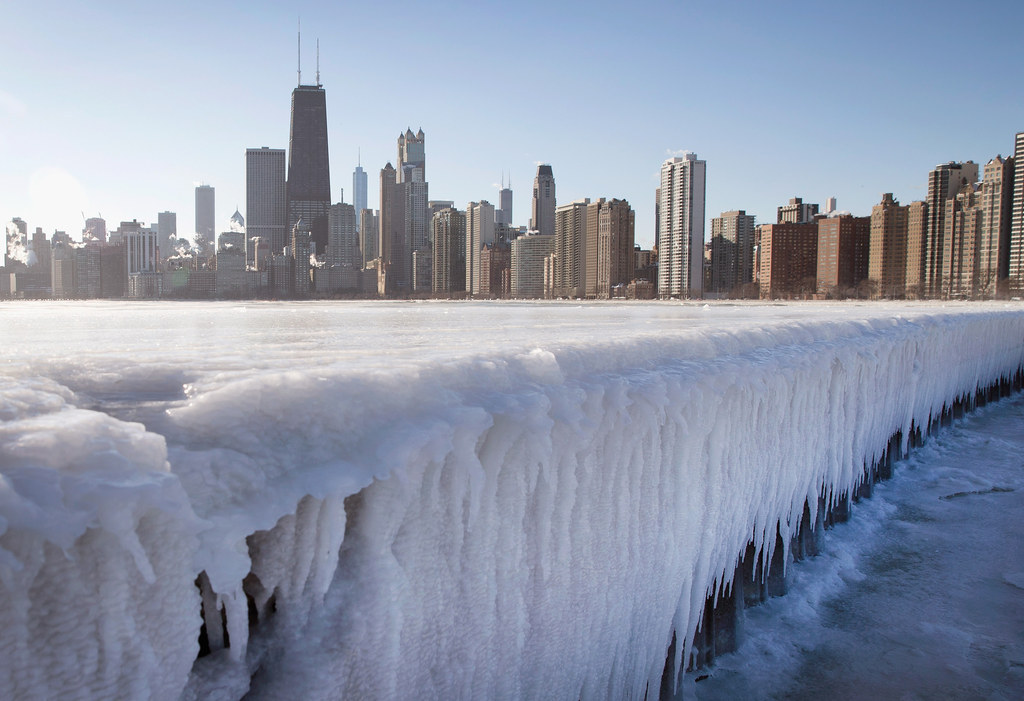 What We Know So Far
• Subzero temperatures have swept the Midwest and East. • Three people died in Clarion County, Pennsylvania, Wednesday when 17 vehicles collided. • The Arctic air mass is moving south from Canada.
The extreme cold is taking its toll on animals, including Sunny the kitten, who lost parts of her ears to frostbite.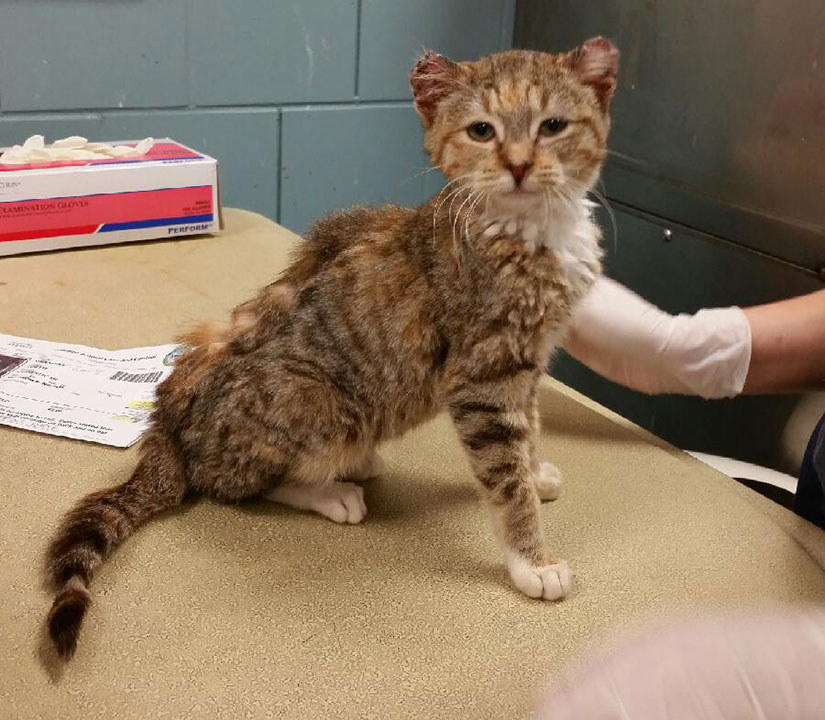 Sunny, a 1-year-old kitten from Chicago, was wandering the city Monday when city workers picked her up and brought her to an animal control shelter, according to the Chicago Tribune. Sunny was underweight and, due to the cold, lost the tips of her ears to frostbite, according to ABC 7.
The cold also was so severe that two baby penguins in Pittsburgh had to be moved indoors.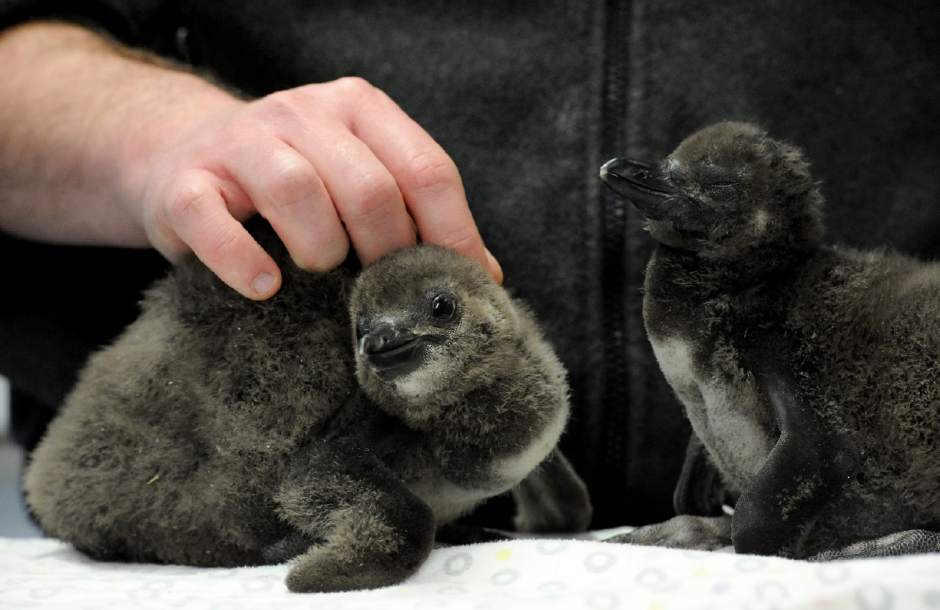 The pair of African penguins at the National Aviary were moved indoors to wait for warmer weather, Reuters reported. The penguins, which are endangered, are native to South Africa and prefer warmer weather.
Wildly cold weather continued across the eastern half of the U.S. Thursday, bringing snow and ice as far south as Florida.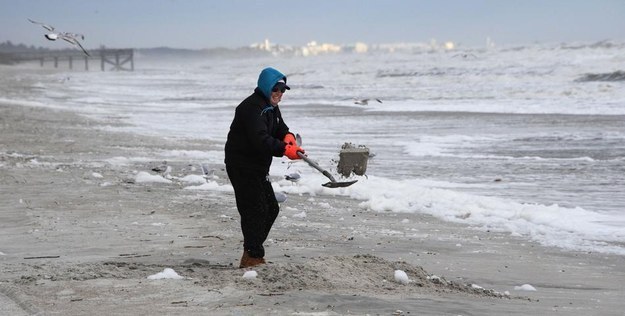 The cold — which is the result of a high pressure weather system coming out of Canada — broke numerous records. In Georgia, temperatures at St. Simons Island dropped to a new record low of 37 degrees. Jacksonville, Florida — about an hour away — tied it's record low of 40 degrees, and got a record-setting trace amount of snowfall, according to the National Weather Service.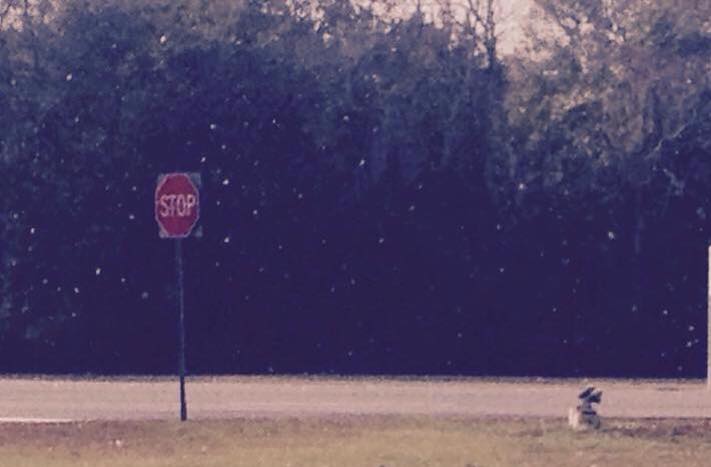 Other southern states were even colder.
In Pensacola, Florida, the temperature dropped to a painful 19 degrees, breaking the previous record of 21 degrees set in 1970. Hot Springs, Arkansas, about an hour from Little Rock, also saw a new record low Thursday: 9 degrees. That broke the previous record of 10 degrees, which was set in 1976.
Other records were tied or set in the South in Alabama, South Carolina, North Carolina, Louisiana, Mississippi, Kentucky, and Georgia.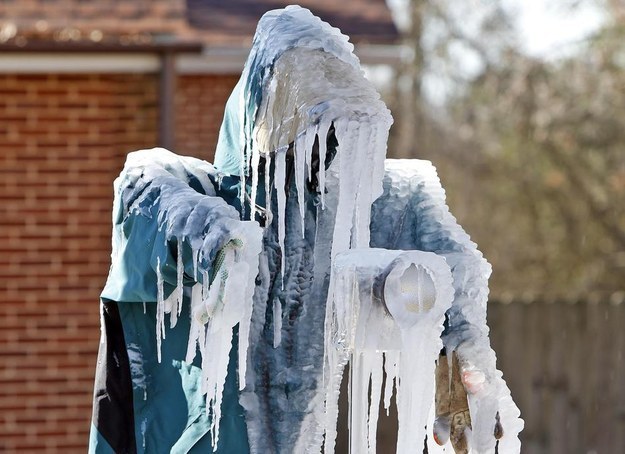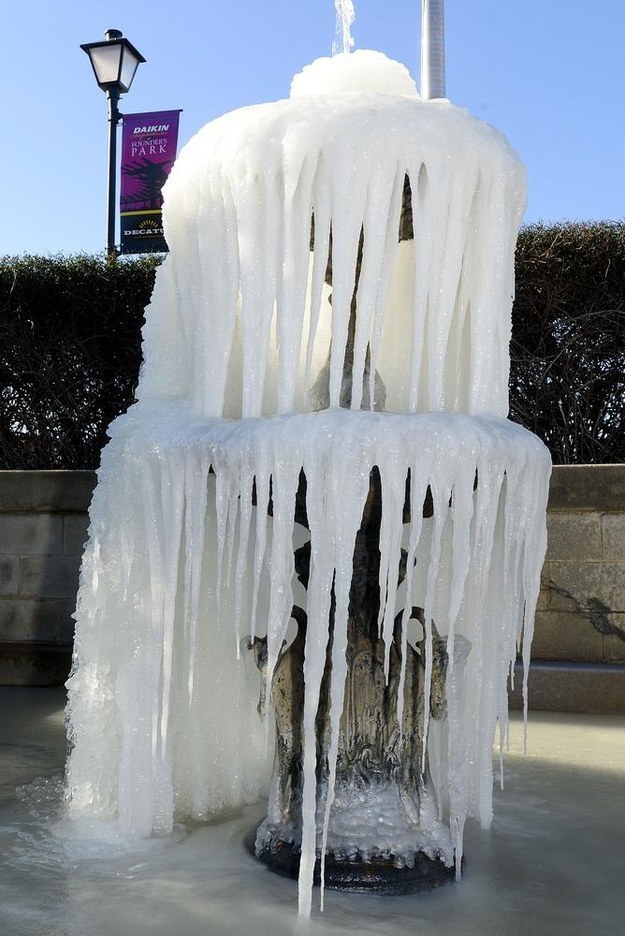 While southern states saw among the most surprising record-breaking weather, the cold was ubiquitous across much of of the Midwest and Northeast as well.
Estcourt Station, at the northern tip of Maine, was the coldest place in the country Thursday, Reuters reported. Many northern states also saw record-breaking lows. Among them, temperatures in Watertown, New York, dropped to -27 degrees. In Montpelier, Vermont, the low of -20 broke the previous record of -18, which was set in 1968 and tied in 2004.
Washington, D.C., several parts of Montana, and other places also saw record-setting snowfall.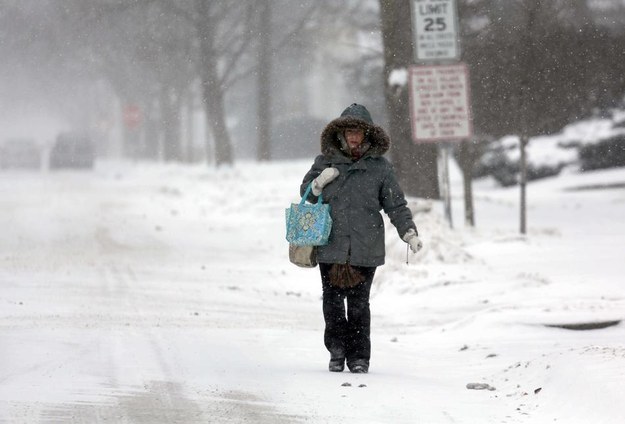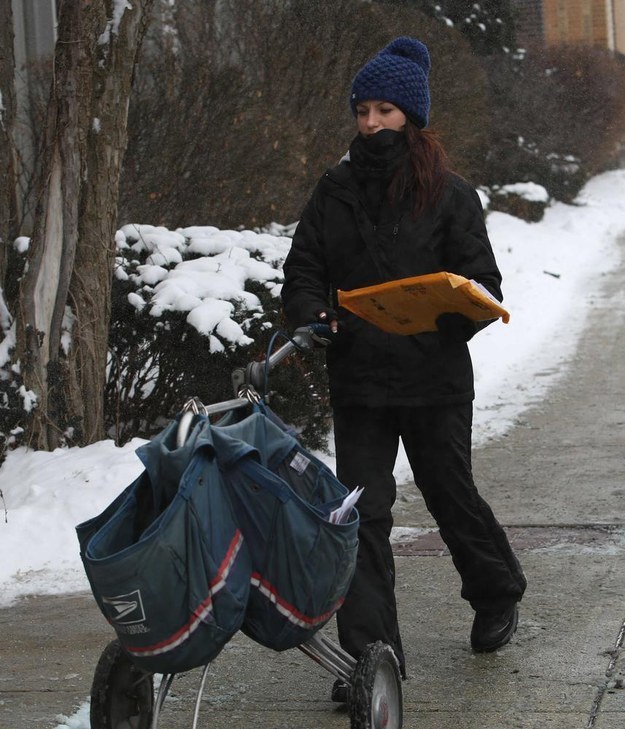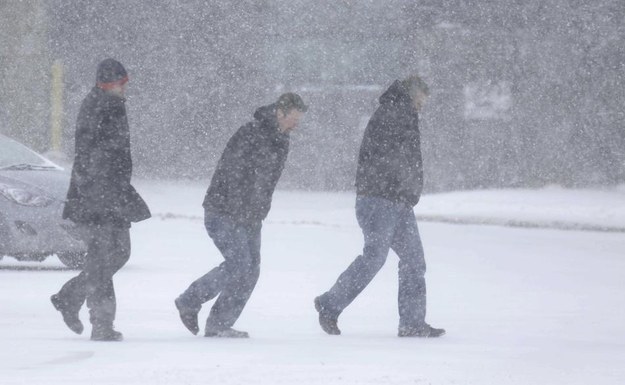 Intense snow was expected to continue in the Great Lakes area through the end of the week.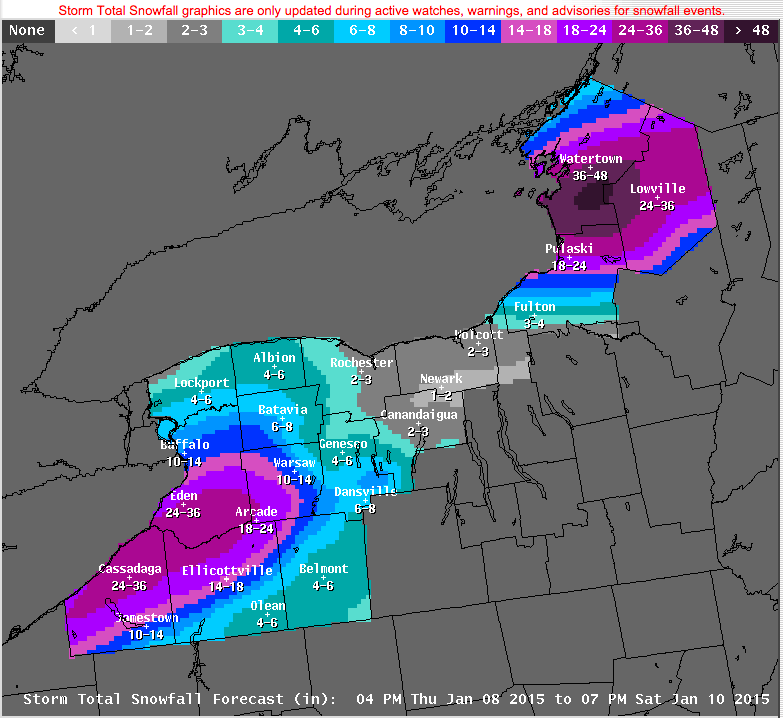 This post originally misstated the location of Pensacola.
Photographer Josh Nowicki captured images Wednesday of ice covering the Saint Joseph lighthouse on Lake Michigan.
The ice formed as the region continued to experience extremely low temperatures produced by the arctic storm coming out of Canada.
Chicago is canceling school for a second day.
On Thursday, Chicago Public School classes were cancelled for a second day due to extreme weather conditions.
"Our top priority remains the safety of our students, and tomorrow's weather conditions could again be dangerous to students traveling to and from school," said CPS CEO Barbara Byrd-Bennett in a statement. "It is in the best interest of our students to cancel classestomorrow, and we look forward to welcoming back all of our students once weather conditions improve."
Chicago Public School classes will be cancelled, but the buildings will remain open and will accept any students who do come to campus. Teachers will not be there, but school administrators, building engineers, and custodians will be expected to go to work.
The public school system in Chicago serves 396,000 students in 664 schools, making it the third-largest school district.
Boston Public Schools also announced that they would be canceling classes on Thursday.
Boston Public Schools canceled class Thursday due to dangerously cold weather.
The school district announced on its website that "due to the dangerously cold weather, all schools are closed Thursday, January 8. School buses will not be running."
The district includes 128 schools and serves 57,000 students.
Three people died Wednesday when 17 cars collided on Interstate 80 in Clarion County, Pennsylvania.
The collision happened about 1:30 p.m. ET and involved eight semi trucks and nine other vehicles, according to CBS Pittsburgh.
The Pittsburgh Post-Gazette reported that two of the victims died at the scene, while a third died at an area hospital. As many as 20 people were also treated for bone fractures.
Road and weather conditions leading up to the crash were treacherous, with temperatures having plummeted due to a storm system from Canada. In addition, 35 mph winds and snow created "white-out" conditions, the Post-Gazette reported.
And in upstate New York, the mercury could plunge Thursday to a brutal -24 degrees.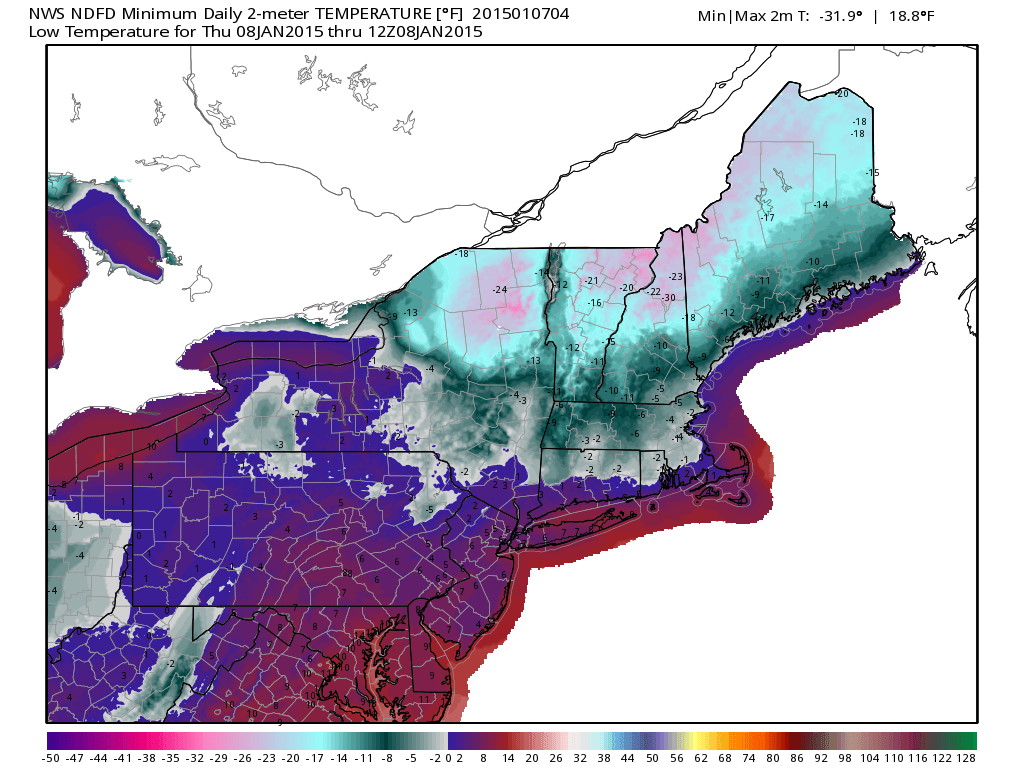 At -30 degrees, frostbite can set in after about 30 minutes in minimal wind of 5–15 mph.
This air mass, however, will bring faster wind, and the National Weather Service has issued wind chill warnings for several states.
"Wind chill indices will drop to 35 below to 40 below zero by mid-morning," the NWS said. "Wind chill readings this low indicate frostbite to exposed skin can occur in as little as 15 to 20 minutes."
And the wind chill will make it feel even worse.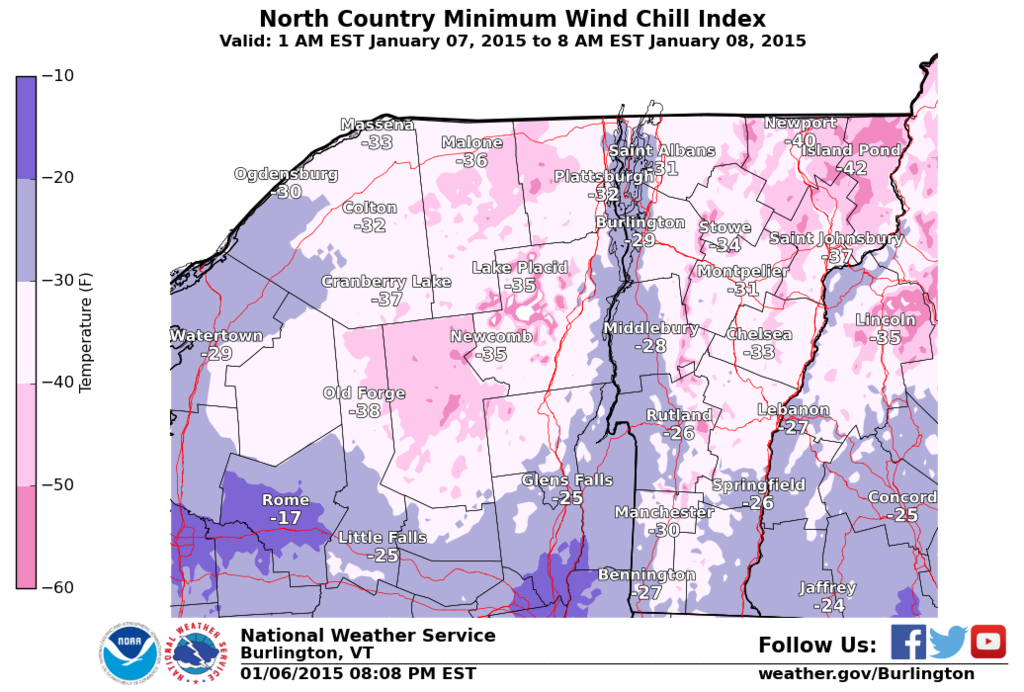 Some temperatures will be cold enough to cause frostbite: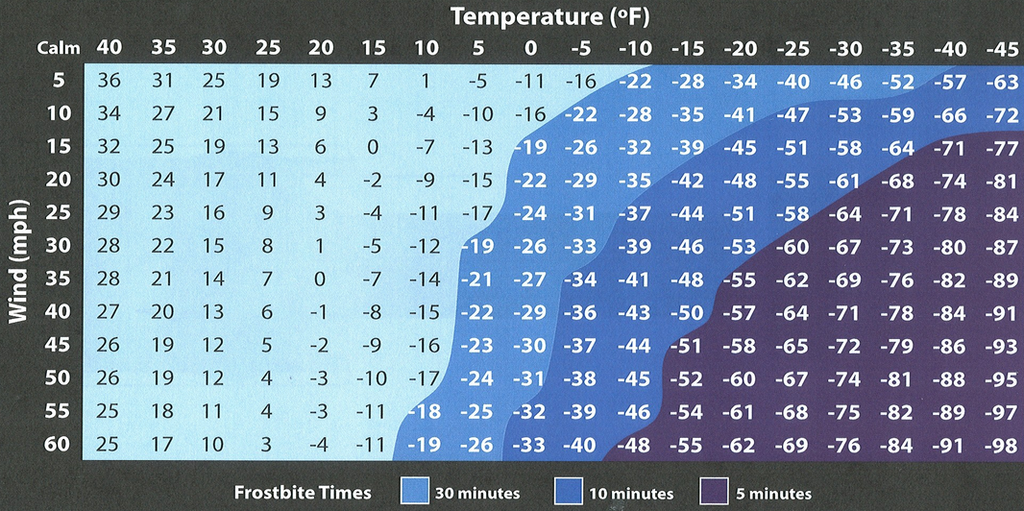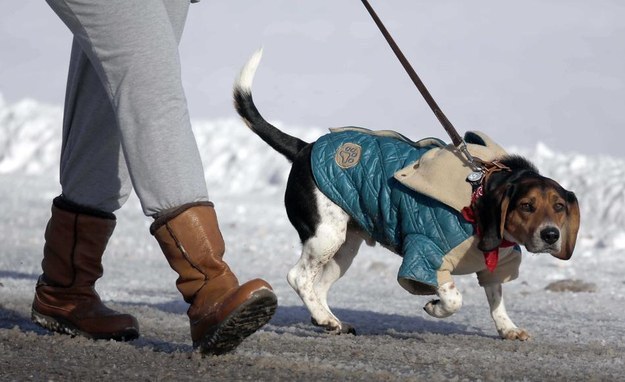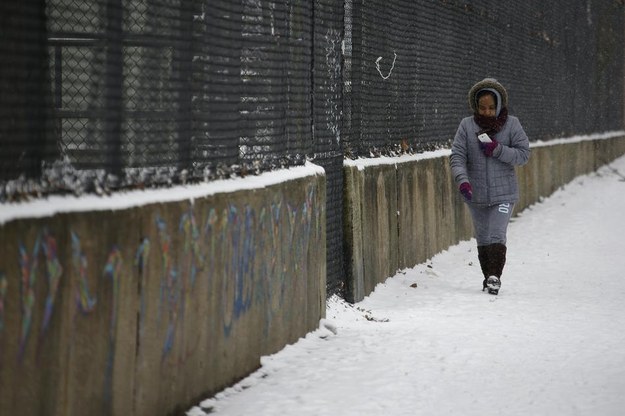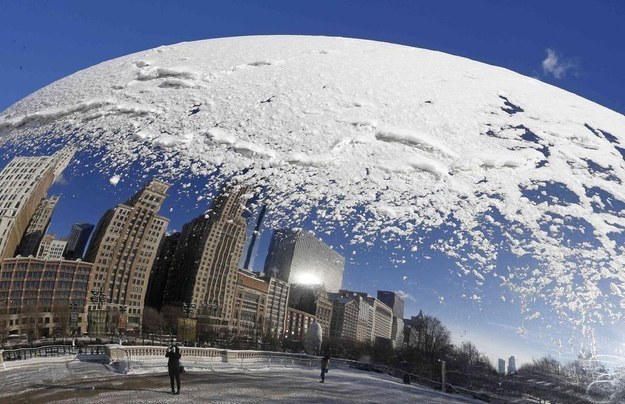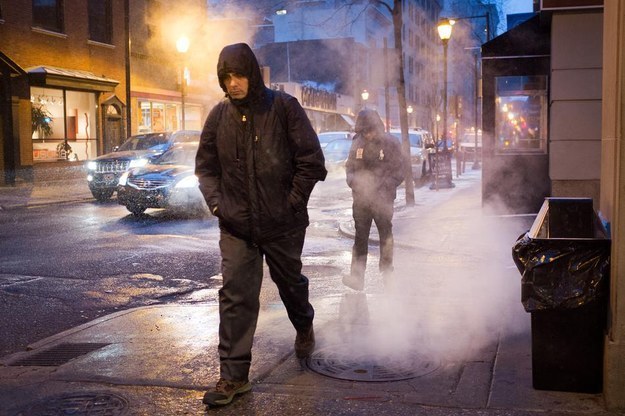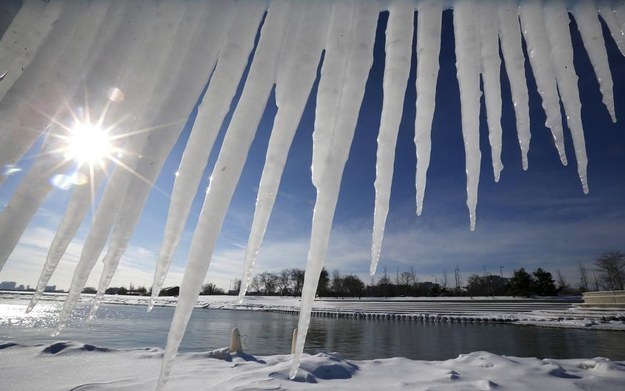 Temperatures in Chicago will drop to around -8 degrees. It'll be even colder farther west in Illinois and Iowa, where temperatures will bottom out in the negative teens.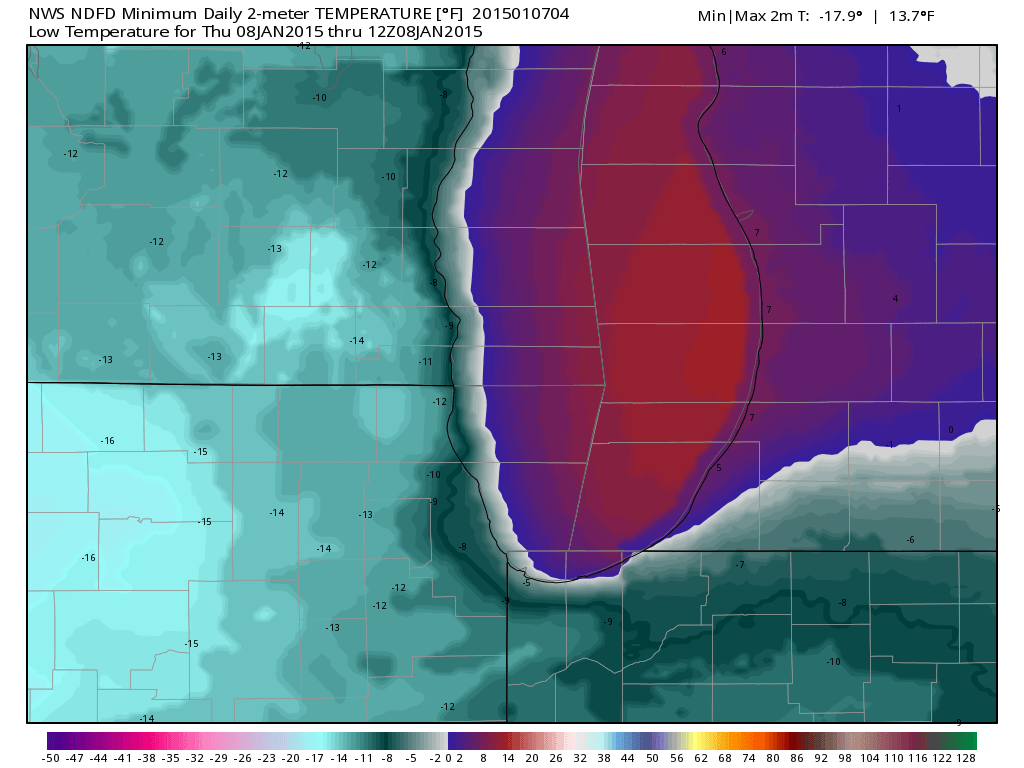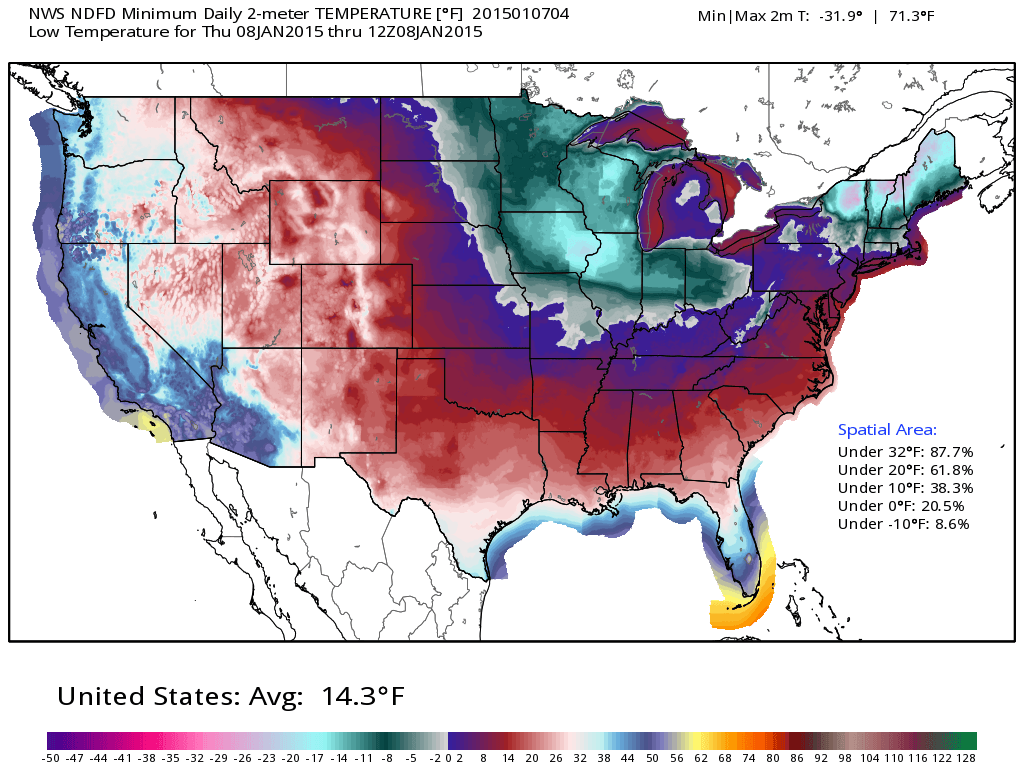 Aside from schools, the storm led to a flurry of wintery imagery from across the eastern U.S.
Both school districts later apologized for staying open despite the treacherous conditions.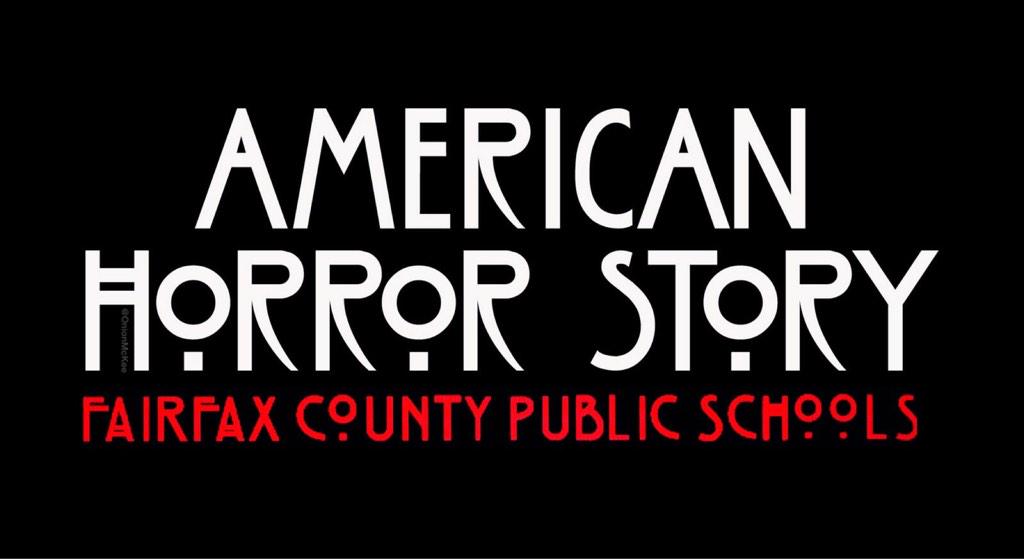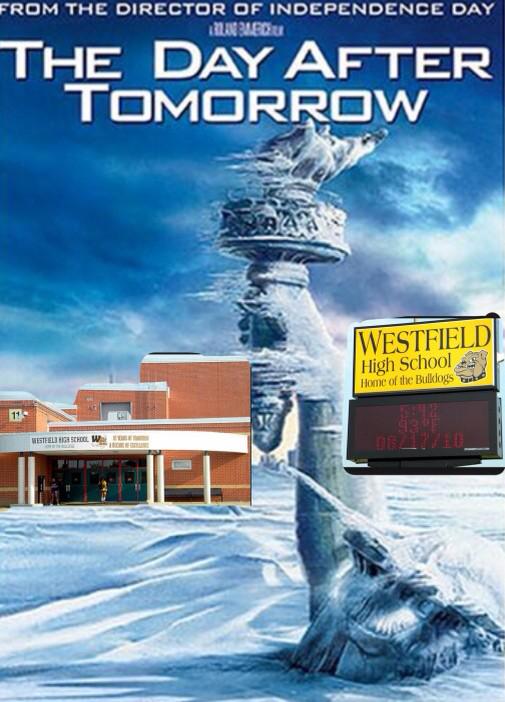 Some schools refused to cancel school despite significant snowfall and slippery roads, prompting students to unleash a torrent of tweets.
Fairfax County and Loudoun County public schools in Virginia both stayed open Tuesday. The result was two hashtags — #closeFCPS and #CloseLCPS — filled with pictures and video criticizing the schools.
The coldest weather is forecast to blast the northern Midwest and New England.
The map below shows the low temperature forecast across the U.S. on Thursday morning. The southern and western coasts will be the only areas where temperatures remain above freezing.
The coldest air mass of the season is bearing down on much of the U.S. and promises to bring subzero temperatures to many areas.
The Arctic air is expected to wallop a massive 2,000-mile-wide corridor from Montana to the East Coast. The National Weather Service is warning of "bitterly cold temperatures the Dakotas to the Northeast," as well as lake-effect snow around the Great Lakes.
Also, this: "Wind chill advisories and warnings are in effect for many of these same areas, with some of the coldest wind chill readings in the -25 to -45 degree range!"