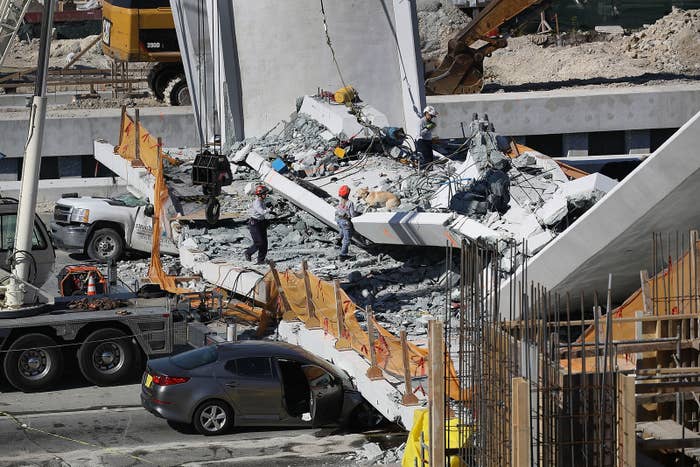 Multiple companies involved in the construction of a pedestrian bridge that collapsed Thursday in Florida, killing at least four people, have previously been accused of unsafe practices at other work sites or been involved in other bridge collapses.

The bridge that collapsed Thursday spanned a wide intersection at Florida International University, crushing cars and prompting a rescue effort. The cause of the collapse was not immediately known, but the 950-ton section of the bridge was only installed on Saturday after the support towers were completed at either end.
One of the companies involved in building the bridge, Munilla Construction Management, is currently facing a lawsuit over a temporary bridge that collapsed in October 2016 at the Fort Lauderdale–Hollywood International Airport. Munilla has a contract to expand a terminal at the airport. As part of the construction site, a short plywood walkway was erected. When TSA worker Jose Perez stepped onto the structure, it collapsed, his attorney, Tesha Allison, told BuzzFeed News.
Allison said Munilla had been repeatedly warned about problems with the small bridge.
"They were told of the fact that the structure they built was not safe and they did not fix it," she added.

Perez suffered broken bones and spinal injuries and is "still in considerable pain," Allison said.
Munilla issued a statement about the Florida bridge collapse, but did not respond to BuzzFeed News' request for comment on the lawsuit Thursday. Allison said the case has not yet gone to trial.
FIGG Bridge Group, another company involved in the Florida pedestrian overpass, has also faced trouble in the past over its safety practices. In 2012, a piece of concrete that was 52 feet long and 10 feet wide collapsed from a bridge the company was working on, according to court documents reviewed by BuzzFeed News.
Six workers were injured in the collapse, WTKR reported, and Virginia's Occupational and Safety Health Compliance Office fined the company $28,000 for safety violations, including inadequate training and inspections.
A railroad company later sued FIGG over the collapse, but the case was dismissed with prejudice in December 2013, according to court documents.
FIGG did not respond to BuzzFeed News' inquiries about the 2012 incident. In a statement on Friday, the company said the bridge collapse was an "unprecedented event" and that "no other bridge designed by FIGG Bridge Engineers has ever experienced such a collapse."

The company said their bridges were "proven to be incredibly durable," pointing to "nearly 35 miles of bridges in the southeastern Atlantic and Gulf of Mexico that have withstood multiple hurricanes."

FIGG said that the collapse was "truly tragic," adding that the company would work with authorities to determine the cause.
It was unclear if similar safety concerns would prove to be a factor in the Florida bridge collapse, but on Friday, Matt Morgan, an attorney for one of the still-unidentified injured victims, said that "this tragedy was foreseeable and could have been prevented."
"We are currently working with a team of experienced experts to find the exact cause of this tragedy," Morgan told BuzzFeed News in a statement.

Florida Gov. Rick Scott said Thursday evening at a news conference that an investigation would be launched into the bridge collapse "to find out exactly what happened and why this happened."
"And we will hold anybody accountable if anybody has done anything wrong," Scott said.