Jury Set To Deliberate On Sanity Of Theater Shooter James Holmes
Holmes has pleaded not guilty by reason of insanity for the 2012 shooting massacre during a midnight premiere of The Dark Knight Rises. BuzzFeed News' Jim Dalrymple is reporting from Aurora, Colorado, as closing arguments begin.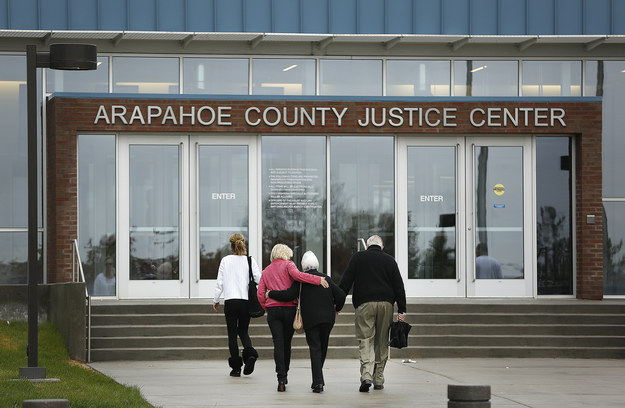 AURORA, Colorado — The incredible scope of the Aurora, Colorado, movie theater massacre in 2012 was made painfully clear as the charges against the shooter, James Holmes, were read aloud in court Tuesday.
Holmes is facing 165 counts of murder and attempted murder, including 24 charges related to the 12 people who died in the shooting.
As closing arguments began, Arapahoe County Judge Carlos A. Samour Jr. read through each of the victim's names, multiple times Tuesday. The reading and jury instruction lasted much of the morning. Holmes, who was swiveling slightly in his chair, stared straight ahead, motionless.
Just feet away, the families of victims filled the rows of benches. As the judge read the names, a woman patted the back of a gray-haired man who had his head bowed slightly. A few rows ahead, a couple clasped hands.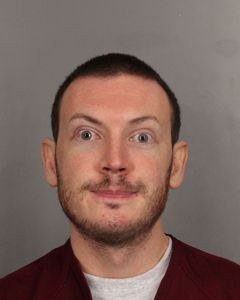 Attorneys began their closing arguments later in the day after 11 weeks of testimony from hundreds of witnesses. District Attorney George Brauchler faces the burden of proof — that Holmes had the mental capacity to know right from wrong, to form the intent to murder, when he entered the theater on July 20, 2012, and opened fire.
"That guy was sane beyond a reasonable doubt, and he needs to be held accountable for what he did," Brauchler told the jury.
During his closing arguments, Brauchler showed an image of Josh Nolan, who was injured in Holmes' attack. The image showed a deep cut across Nolan's back, and Brauchler added that doctors actually moved one on Nolan's tattoos.
Across the room, Nolan sat listening, clenching and unclenching his jaw. The wooden cane he now uses to walk leaned against his thigh, and as Brauchler changed the image, Nolan wiped tears from his eyes.
Later, Brauchler told the story of Caleb Medley, an aspiring stand up comedian who was shot in the face. Medley was at the theater with his pregnant wife who, Brauchler said, kissed his head and told him she would take care of their unborn child.
Medley ended up surviving, but is confined to a wheelchair and severely disabled. He too attend the closing arguments and nodded slightly as Brauchler went on.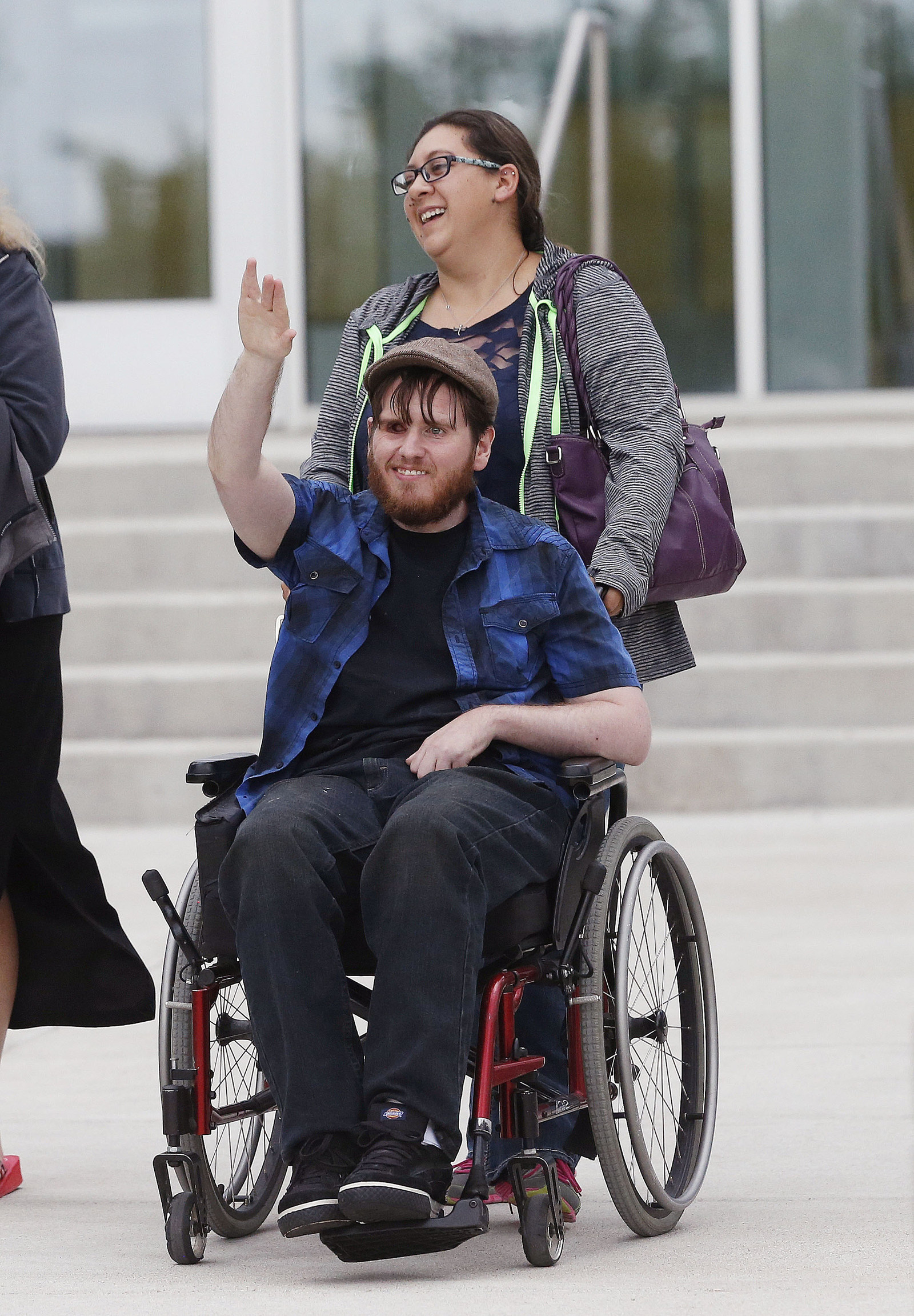 Thoughout his remarks, Brauchler conspicuously avoided saying Holmes' name, instead jabbing a finger at the defense table and spitting the words "that guy" again and again. Ultimately, the image he painted of Holmes was one of hate, calculated evil, and a plan to create a "killing field."

Brauchler added that the killing had "nothing to do, nothing at all to do, with any sort of mental illness."
Defense attorney Daniel King might as well have been describing a different person. when he later began his own closing arguments.
"Mental illness causes this to happen," King said. "Only the mental illness caused this to happen and nothing else."
King went on to ask the jury to focus on the evidence, which he said clearly pointed to Holmes' insanity. Emotions should not guide their deliberations, he added.
"Here in the fortress of the law there is no room for hatred or vengeance or retaliation," King said. "That's not what this is about."
State-appointed psychiatrists have testified that Holmes was legally sane at the time of the shooting, though he suffers from severe mental illness. A defense expert — a psychiatrist who specializes in schizophrenia — instead testified that Holmes was trapped in psychotic delusions in the weeks leading up to the shooting and could not be held responsible for his actions.
Brauchler questioned how Holmes could be insane as he meticulously planned the shooting spree while concealing his actions from friends, family, and authorities. He planned for contingencies, including that his victims might try to fight back. To Brauchler, those actions show Holmes knew what he was doing and had the capability to form intent to commit the crimes.
"He knows that his victims won't agree with him," Brauchler said. "He knows his victims want to live."
After the shooting, Holmes saw police officers begin to arrive — they hadn't been diverted to his apartment, as he had planned, after explosives failed to detonate. Holmes evaluated the situation, placed his gun on the roof of his car and surrendered so that police would not kill him, Brauchler said.
"That is logical, that is rational, and that is anything but psychotic," Brauchler added.
King conceded that Holmes knew what he was doing was legally wrong, but that didn't matter; the legal standard calls for a defendant to understand a crime was morally wrong.
Holmes' delusions that killing people can increase his "human capital" persist to this day, King added. And in interviews with a psychiatrist, Holmes suggested anyone involved in giving him the death penalty could see an increase in their own human capital.
"That's the strength and the persistence of this psychotic delusion," King said.
After closing arguments ended Tuesday, Sandy Phillips told reporters she didn't care if Holmes was mentally ill — he set out to kill people and should be convicted, she argued.
Phillips' daughter, Jessica Ghawi, was among those killed in the shooting. She and her husband Lonnie have since been vocal about the case, and earlier this year moved from San Antonio, Texas, to Colorado so they could attend the trial. Tuesday, as arguments were winding down, Sandy stood out in the courtroom by her green scarf.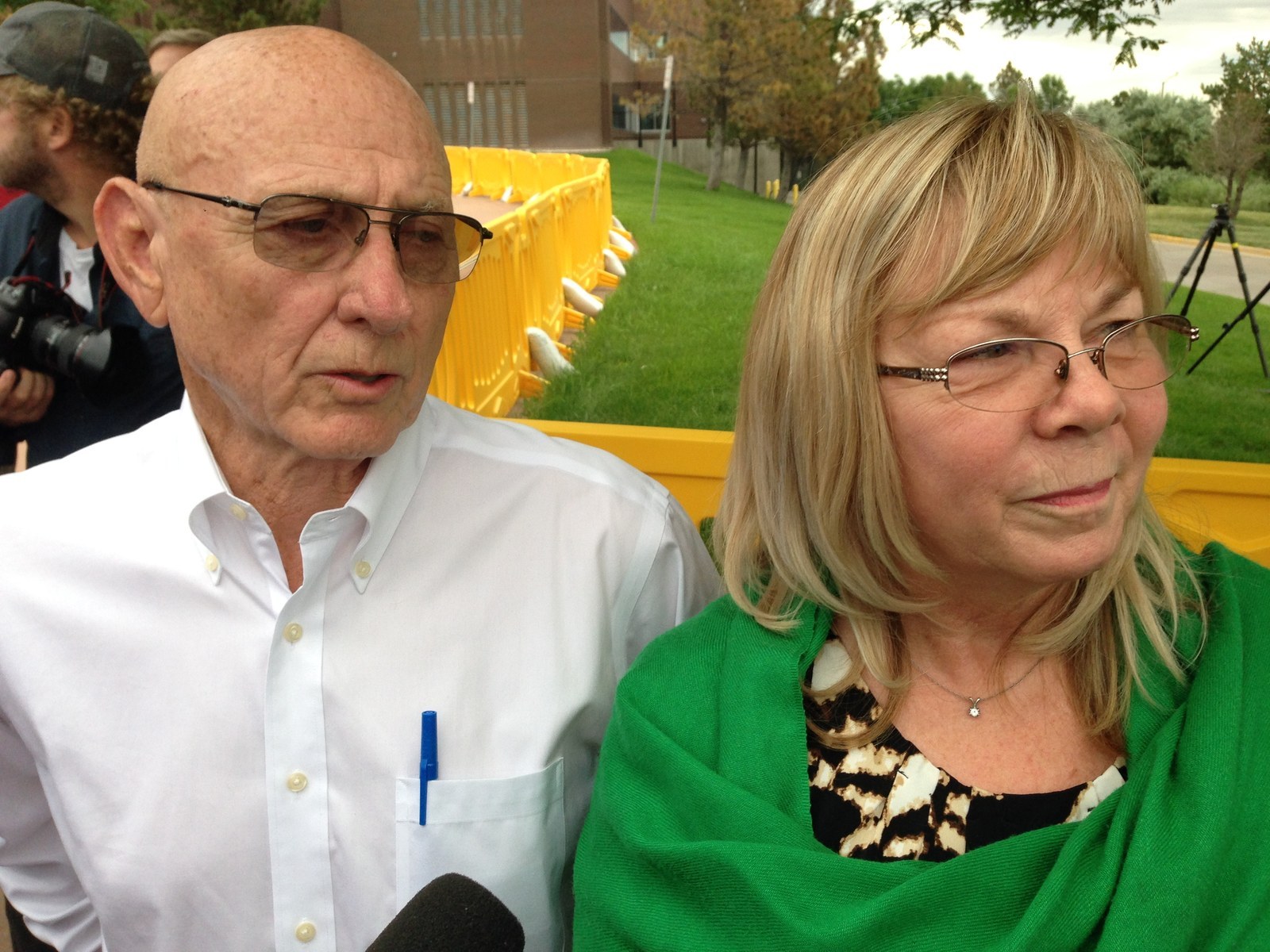 "It was Jessie's," she explained. "It's been with me everyday. I get hugs from her this way. Can't have them in real life so you take what you can get."
If the jury finds Holmes not guilty by reason of insanity, he will be confined to a state mental hospital indefinitely. If he is found guilty, a second phase of the trial will begin to determine whether he should receive the death penalty or life in prison. The jury deciding Holmes' fate includes nine women and three men.