Violence erupted Thursday evening in San Jose outside a rally for Republican presidential candidate Donald Trump.
In the hours leading up to Trump's speech, protesters and Trump supporters verbally sparred in the street outside the San Jose convention center. But while heated, those exchanges remained relatively civil.
As protesters' ranks swelled from a few dozen to several hundred, they became increasingly hostile, jeering Trump supporters trickling into the event behind a wall of police.
But it wasn't until supporters began leaving the rally that things turned ugly. Trump backers, safe behind the police, tossed taunts back at the raucous protesters, unaware that the line of officers ended only a few yards away — leaving them directly exposed.
Video from the scene showed a self-identified Trump supporter being struck in the head by a protester. He later had blood streaming down his face.
Another Trump supporter was attacked with eggs and bottles.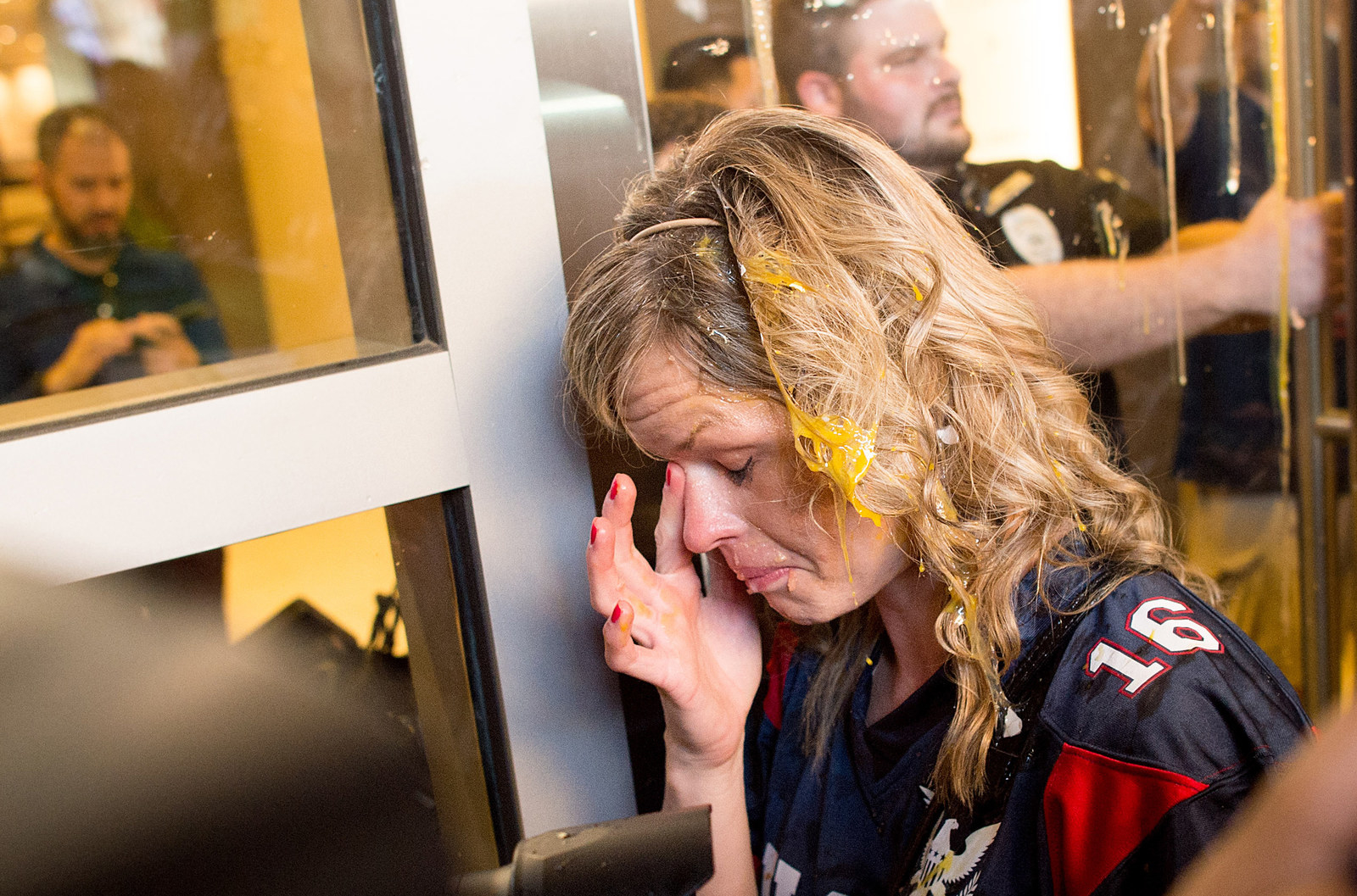 Among the supporters taunting the protesters was the woman who would eventually be cornered by the angry mob. Pinned against the doors of the Marriott hotel next to the convention center, she became the focal point of the crowd's anger. Protesters hurled obscenities, spit on her, and ultimately began egging her.
Although hotel staff eventually rescued her, police never stepped in — a decision that clearly emboldened protesters, who took to the streets, marching, burning flags, and chanting "Fuck Trump!"
Another protester was seen punching a man in the head as he walked down a street.
Other images from the scene showed fights breaking out between Trump supporters and protesters.
Within minutes of the rally's end, the bulk of the crowd spilled into the streets of downtown San Jose, mixing in with protesters and creating a volatile situation. Fights between Trump supporters and protesters began to break out almost immediately.
In at least two instances Trump supporters engaged with protesters, chanting "Donald Trump" and walking directly into the thickest, angriest portions of the protests. But things quickly spiraled, and rallygoers simply trying to get back to their cars were chased down and beaten — often at the feet of San Jose Police, who stood by motionless.
Some protesters were seen burning an American flag.
At least one protester, who was wearing a "Make America Great Again" hat he had stolen from a rally participant, was attacked by protesters, who mistook him for a Trump supporter.
Police were present at the gathering, but took a hands-off approach to the crowd. In some cases, officers stood nearby as fighting and violence broke out.
A police source told BuzzFeed News that officers were under orders to not break ranks, and that while "nobody wants to see somebody beaten... we had a global plan."
The source added that the department did not want officers to step in for several reasons, notably out of fear for individual officers' safety, as well as concerns that breaking up a fight may end up escalating the violence.
Eventually police declared an unlawful assembly, and began pushing protesters back.
About two hours after the gathering turned violent, police were making arrests.
John Podesta, chairman of the Hillary Clinton presidential campaign, tweeted that "violence against supporters of any candidate has no place in this election."
Sanders' rapid response director tweeted that "we cannot stop Trump's violent rhetoric with violence — only peaceful protest in a voting booth can do that."
San Jose police arrested four people, and have formed a task force to go after others who committed crimes at the event.
Officers at the event "had the difficult task of weighing the need to immediately apprehend the suspect(s) against the possibility that police action" would "further insight the crowd and produce more violent behavior," San Jose police said in a statement to BuzzFeed News. The department opted to form lines to direct the crowd "in order to prevent violence or a large-scale confrontation."
At a news conference Friday, Chief Eddie Garcia further defended his department's strategy of "holding the line," saying it was a "universal police approach." He added that officers typically don't move into crowds unless assaults are "life threatening."
Garcia said his department is forming a task force in response to the chaos. The task force will review video from the evening and pursue arrest warrants against people involved in the violence.
"What happened last night was disgraceful and we're not going to tolerate it," he said. "And that's why we're forming a task force. We're going to work tirelessly to make sure justice is served."
San Jose Mayor Sam Liccardo, a Clinton supporter, praised the police response in an AP interview, saying "we are still holding our breath to see the outcome of this dangerous and explosive situation." Liccardo also criticized Trump.
"At some point Donald Trump needs to take responsibility for the irresponsible behavior of his campaign," Liccardo said on the phone with the AP.
Trump's rallies have frequently been marred by violence. In April, for example, protesters poured into the streets of Costa Mesa, California, scuffling with Trump supporters and smashing a police car. Twenty people were arrested.
In May, protesters and Trump supporters clashed again in San Diego and Anaheim, resulting in dozens of arrests.