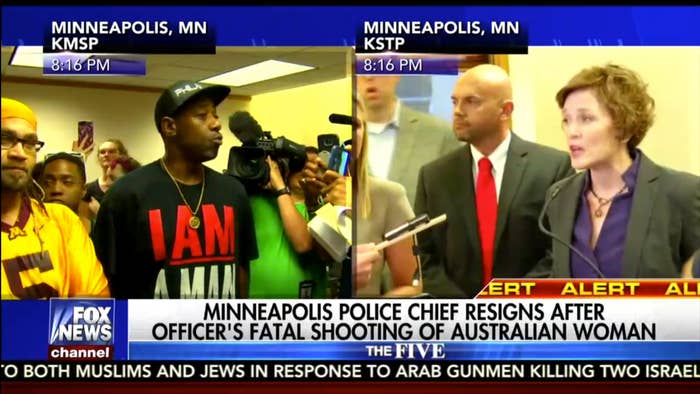 Protesters shouted down the mayor of Minneapolis during a news conference Friday evening after the resignation of the city's police chief, eventually driving her from the room and taking over as television cameras rolled.

The news conference had been billed as Mayor Betsy Hodges' chance to discuss the ouster of the city's police chief, Janee Harteau. Hodges announced hours earlier she had lost confidence in Harteau and demanded her resignation in the wake of the fatal police shooting of Australian yoga teacher Justine Damond.
However, as Hodges read a prepared statement, a protester in the back of the room began shouting, "your department has terrorized us enough" and called for Hodges herself to step down.
The shouting continued for several moments before Hodges attempted to regain control of the press conference by speaking to the protester and continuing with her prepared statement.

However, a group of protesters then began chanting "bye bye Betsy" and Hodges eventually walked out of the room without finishing her comments.
The protesters then took over the room, holding what they described as their own press conference and airing grievances with both the police department and city administrators.
Several protesters could be heard shouting the name Philando Castile, a black man fatally shot by a Minnesota police officer in July 2016. Protesters also criticized assistant police chief Medaria Arradondo, who will succeed Harteau in the position.

Meanwhile, other protesters were gathered outside city hall following a march through the city.
The takeover of Hodges' press conference follows days of frustration in the community over Damond's death. Officer Mohamed Noor shot Damond, who was unarmed, on Saturday after she had called authorities to report a possible sexual assault.
The incident drew international attention, particularly from Damond's native Australia, and reignited larger concerns about policing in the community — many of which were mentioned by the protesters who took over Hodges' news conference.
The mayor eventually returned Friday evening to resume her news conference after protesters had left the room. She praised Arradondo, the incoming police chief, and said that Harteau's ouster resulted from "an overall assessment about what's been happening at the city."
"This isn't about any one incident," Hodges told the room.
Damond's killing was "awful and heartbreaking," Hodges said, but maintained she would not step down as mayor.
"I will not be resigning," Hodges said. "It is understandable to me that people's frustration is high. I share that frustration."