Kylie Jenner And Khloe Kardashian Among Celebrities Flouting Strict California Drought Rules
In the land of Kardashians and other celebrities, maintaining lush grounds amid a severe drought can run afoul of the rules, records obtained by BuzzFeed News show.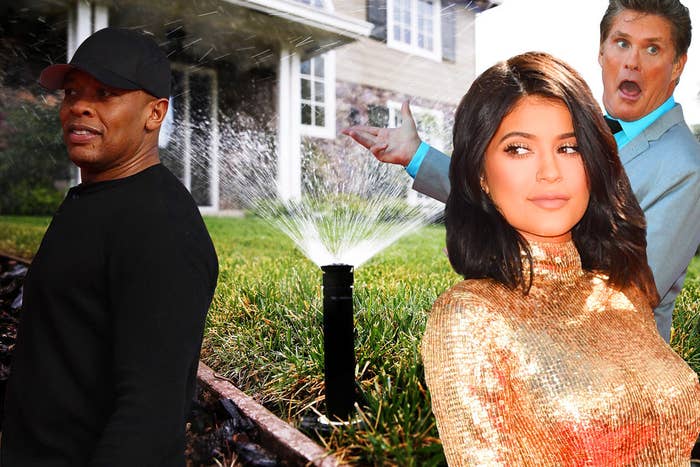 As residents across California let entire lawns go brown in a communal effort to address a crippling drought, documents obtained by BuzzFeed News show that for some celebrities, that effort doesn't always align with their lush, multimillion-dollar homes.
For the most part, strict privacy laws in California shield public utilities from turning over vast amounts of consumer data, making it difficult to gauge who's using what. But records do show that more than 300 people living in the ritzy enclave of Calabasas, northwest of Los Angeles, have either been warned or fined for breaking water rules.
The area gets its water from the Las Virgenes Municipal Water District, which limits outdoor watering to certain periods just two days a week amid the extreme drought. The district also prohibits things like using water to clean driveways or letting it run off onto sidewalks.
When the district finds a violation, it issues a written warning. A second violation results in a $100 fine, with penalties increasing from there.
The documents obtained by BuzzFeed News include names and addresses of people who have been warned or fined. For the most part, the violations were relatively minor, involving errant sprinklers and running water. Still, the water district said there are some homeowners who, despite its best efforts, actively resist changing their habits.
Here are some of the more high-profile violators:
Kylie Jenner: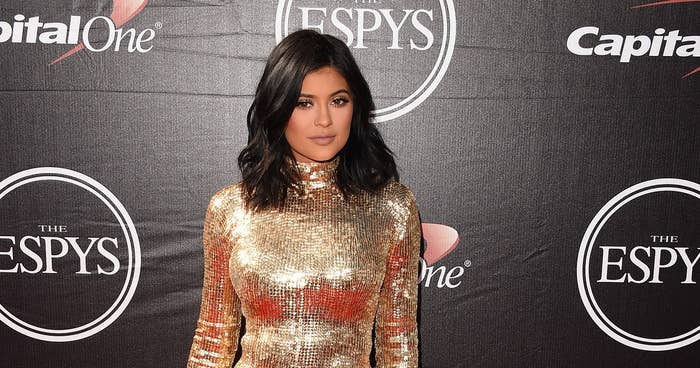 Jenner, who bought a 4,851-square-foot mansion for $2.7 million in March, has two water violations on record, which have led to both a written warning and a fine. She is one of the highest-profile figures to have been warned and fined by the Las Virgenes Municipal Water District.
Jenner did not respond to BuzzFeed News' request for comment, but a photo taken by the water agency showed her sprinklers overspraying onto a driveway and the sidewalk:
Dr. Dre: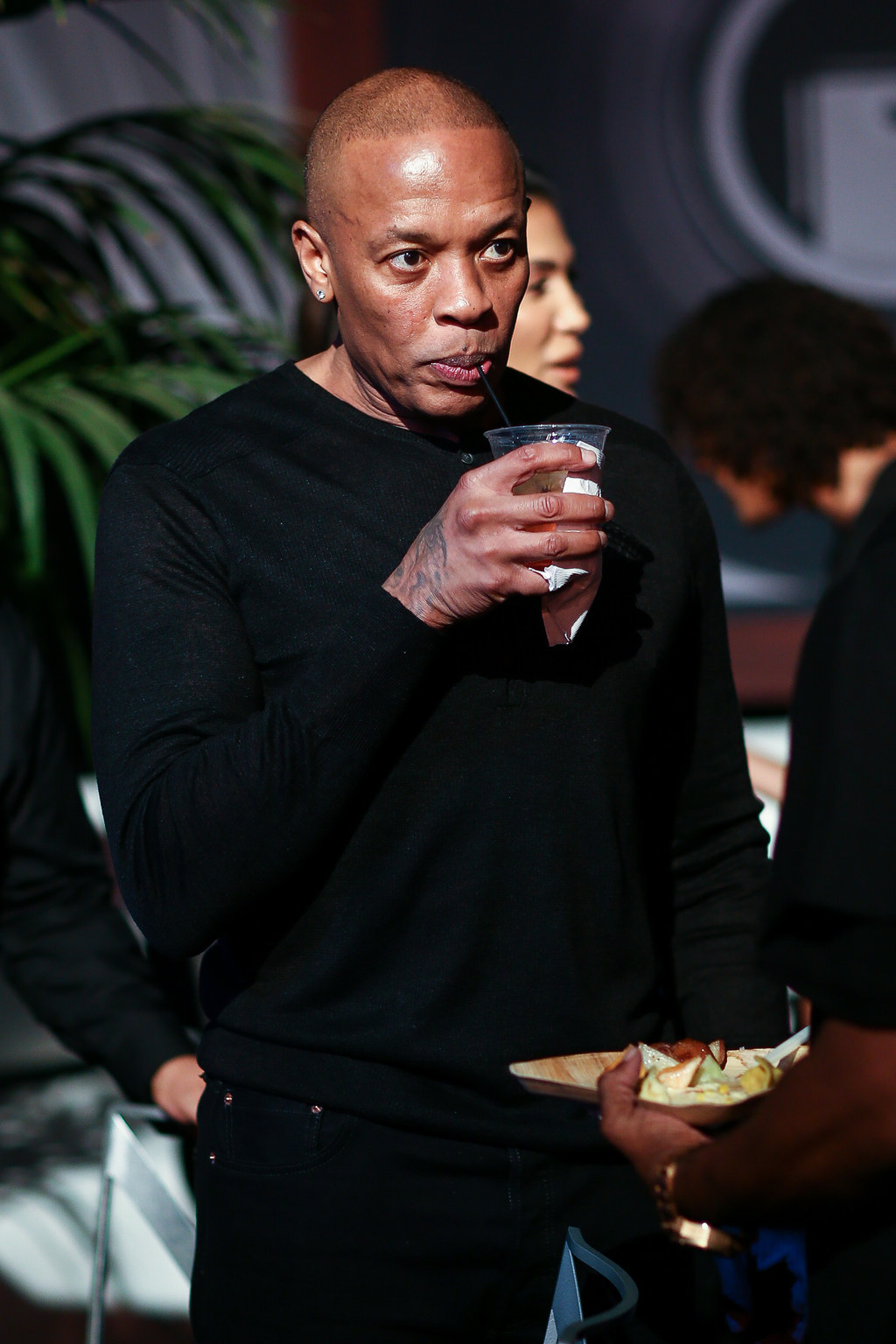 Dr. Dre's Calabasas home was previously in the news in 2003, when his mother Verna Griffin was arrested there for allegedly firing a gun at a friend. At the time, Dre — whose real name is Andre Young — owned the home but was not living there. Los Angeles County property records indicate the home is now worth about $1.5 million, though counties often value homes far below what they can actually fetch on the market.
Records from the water district show that Dre has been cited for a violation at the Calabasas property. A photo from Las Virgenes shows sprinklers overshooting vegetation while operating in the middle of the day — both prohibited by conservation regulations.
Dre did not respond to BuzzFeed News' requests for comment.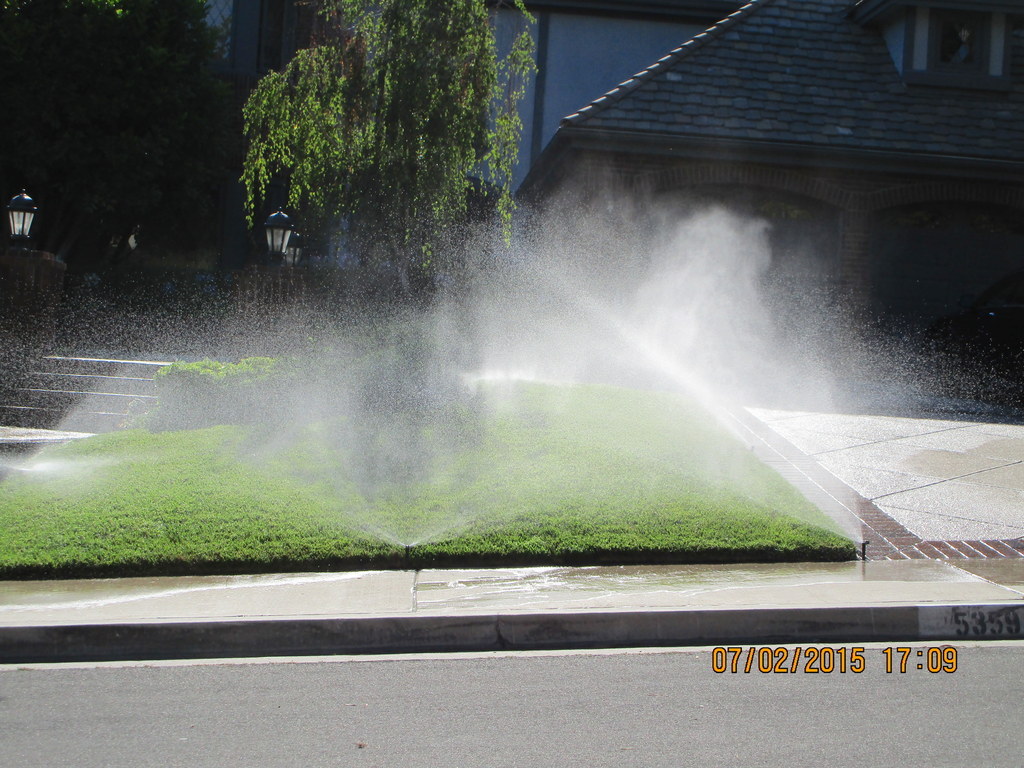 David Hasselhoff: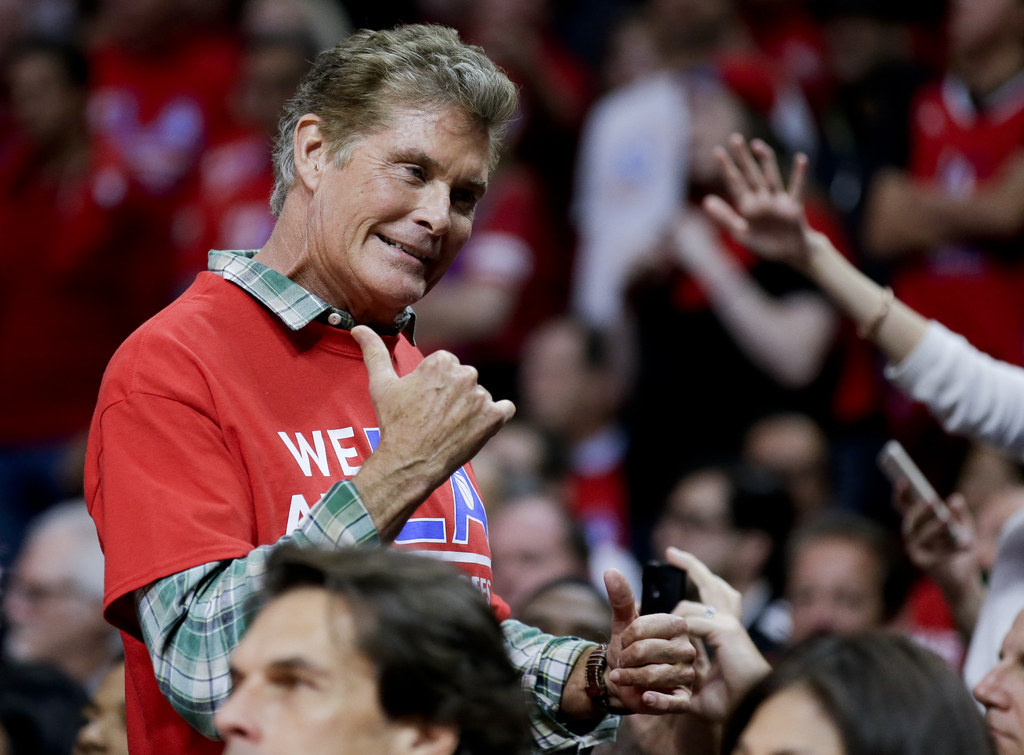 Hasselhoff, the former Baywatch star turned singer, was also cited for violating water regulations at his Calabasas home, documents show. Earlier this year, Hasselhoff put the home up for sale for $2.299 million, according to Zillow.
His spokeswoman, Judith Katz, confirmed to BuzzFeed News that while Hasselhoff was cited, he was not issued a fine.
Katz believes the concerned water usage was either due to construction work at the house or watering on the wrong day.
"It's been taken care of," Katz said, stating that Hasselhoff wasn't home at the time and has been out of town working.
Khloe Kardashian: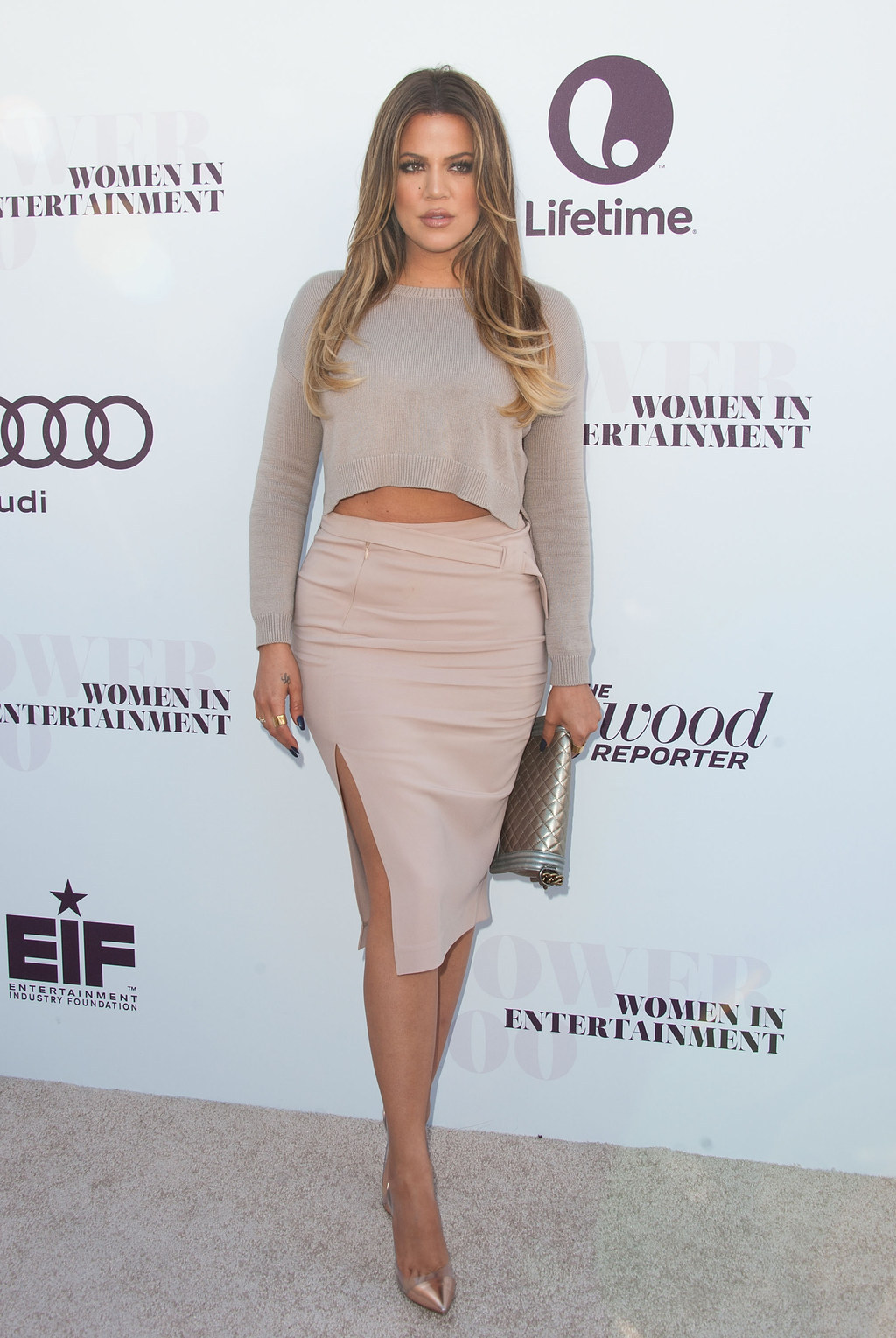 Last year, Khloe Kardashian reportedly paid $7.2 million for a home in Calabasas formerly owned by Justin Bieber.
During Bieber's time in the house, he was accused of using it as a base from which to egg a neighbor's home. The incident eventually earned him vandalism charges and probation.
According to district records, Kardashian has violated water conservation rules twice, earning a formal warning and a fine. A photo recently snapped by the district shows sprinkler water running down a stone pathway at her home: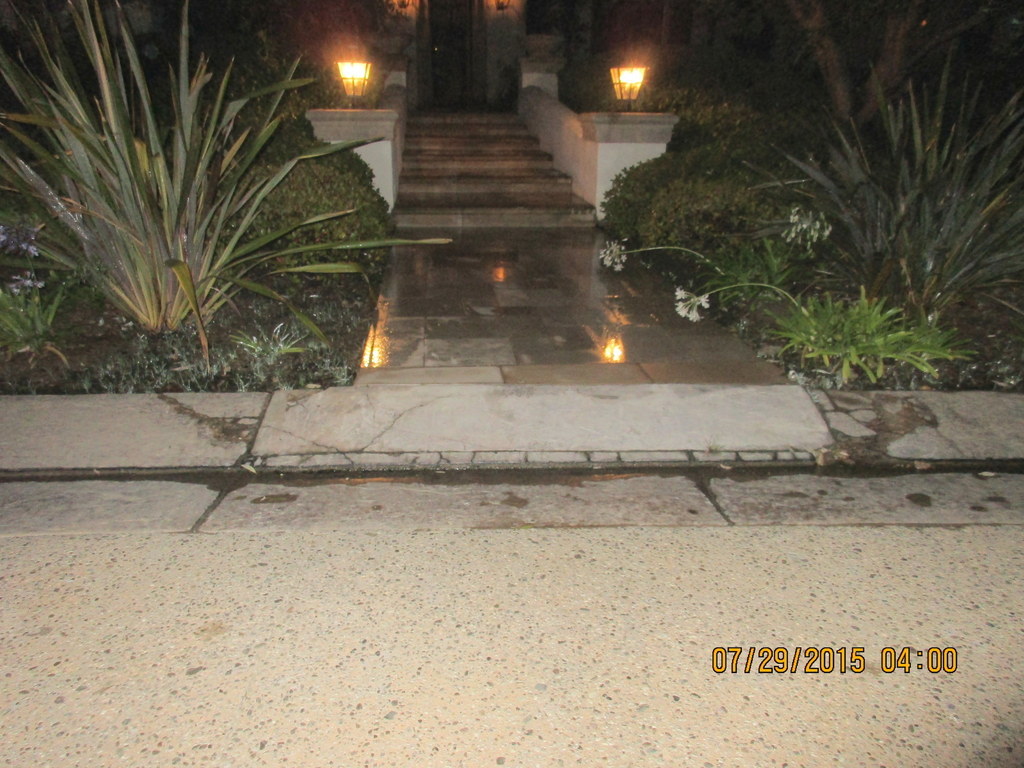 Paul Pierce: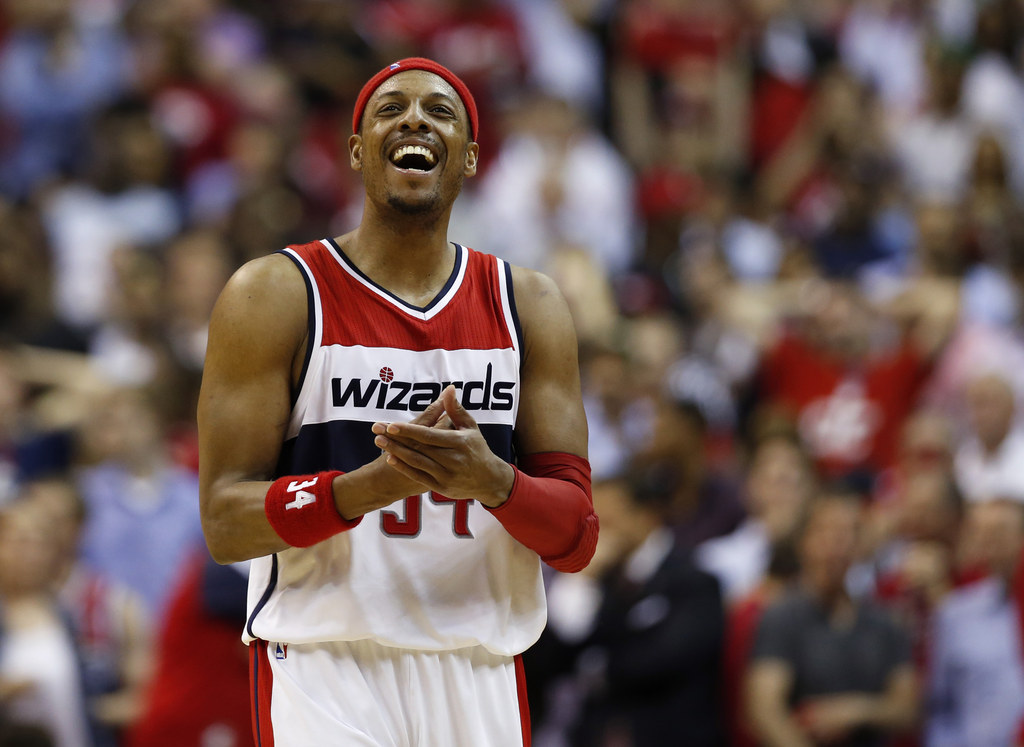 Pierce, the Los Angeles Clippers forward who in June was spotted around his Calabasas home, was cited for a water violation, according to the documents. County records value Pierce's home at about $7.6 million.
A Clippers spokesperson declined to comment, but a photo from the water district showed what appeared to be wet cement from overspray at Pierce's home: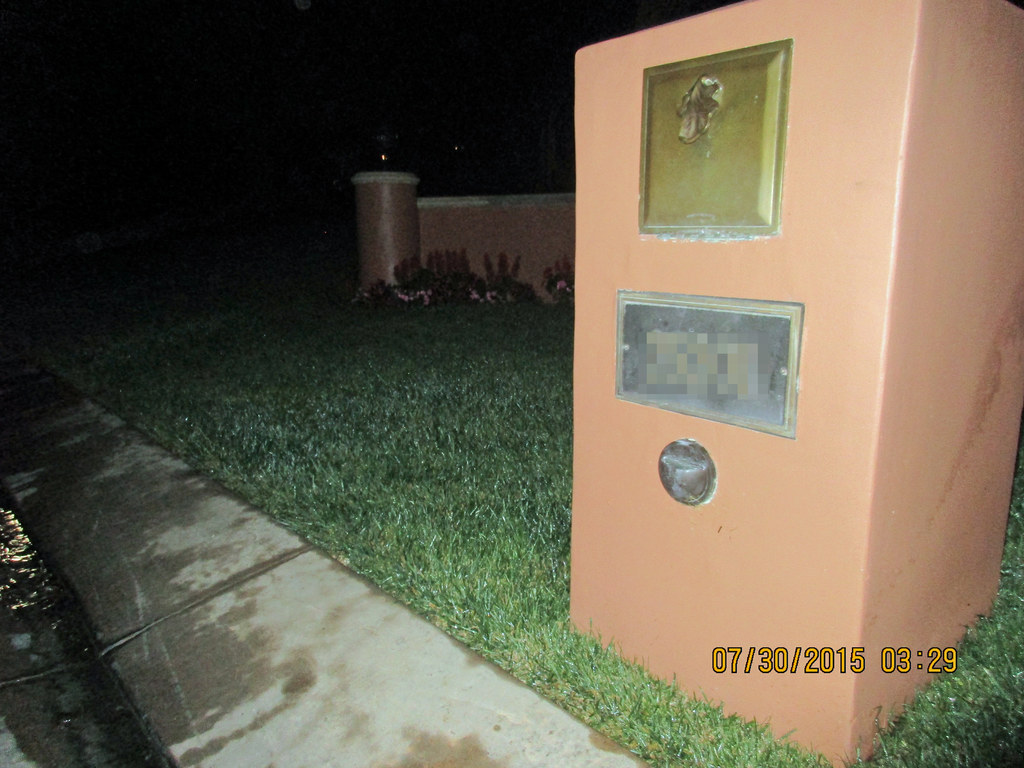 René Echevarria: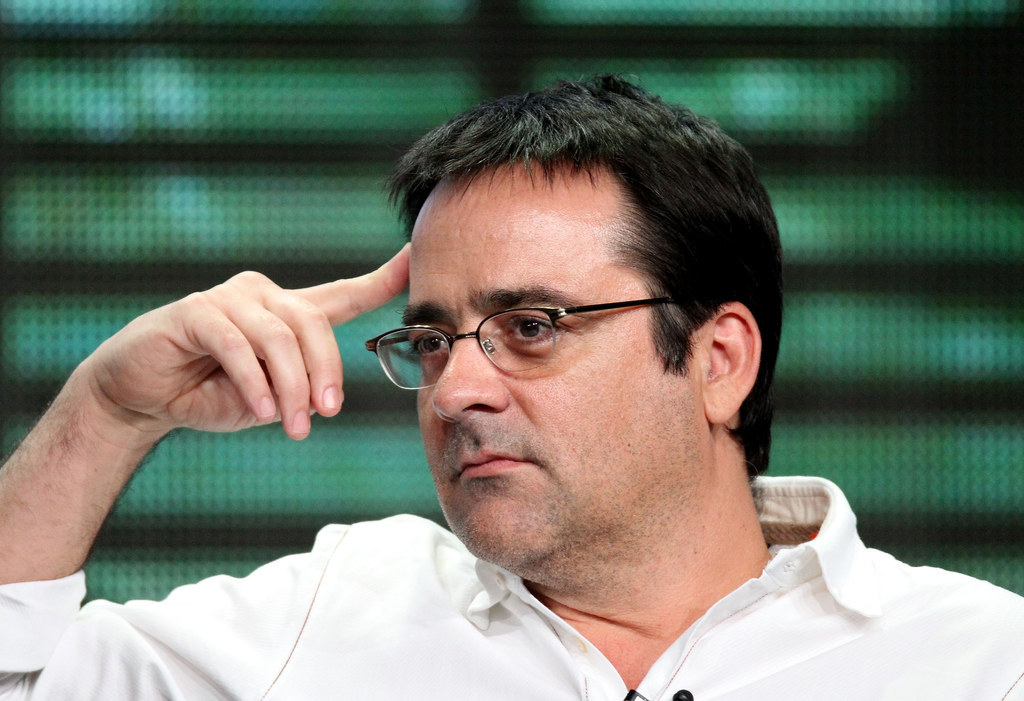 René Echevarria, a TV writer known for his work on Star Trek: The Next Generation and Castle, received a warning for a water violation at his home.
Echevarria confirmed to BuzzFeed News that he received a notice, but said he was out of town when the new regulations went into effect and "unfortunately my house sitter couldn't figure out how to adjust the sprinklers."
"I remedied the following week when I returned home," he added.
County records indicate Echevarria's house last sold in 2014 for just over $1.7 million.
Dylan Neal: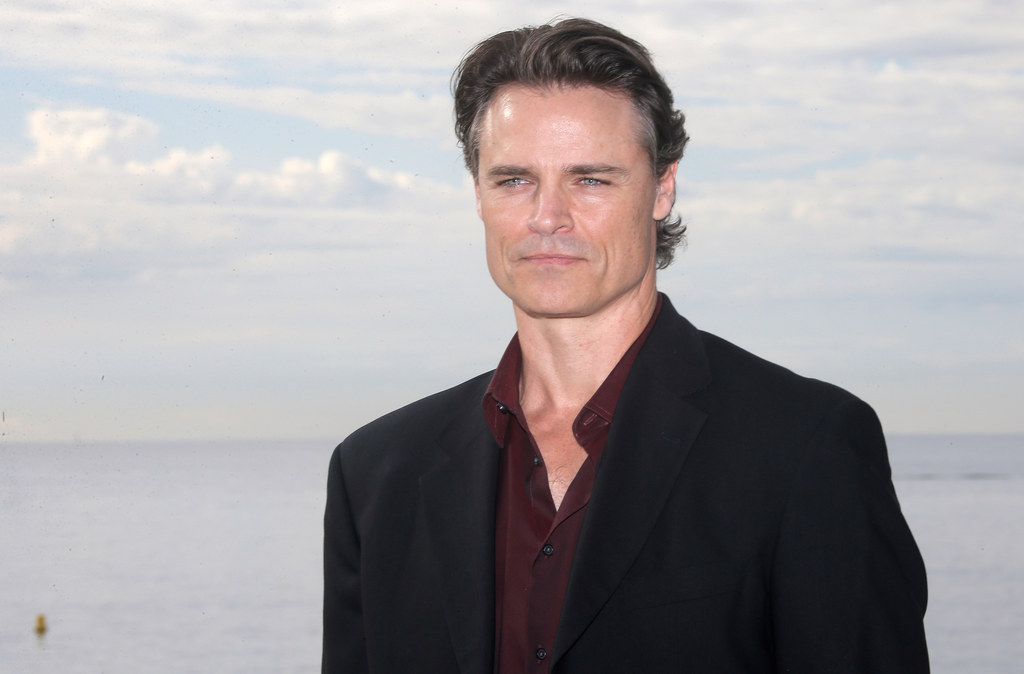 Dylan Neal, an actor known for his work on Dawson's Creek and The Bold and the Beautiful, was also warned for a violation.
He told BuzzFeed News that the warning resulted after an installer incorrectly programmed his new sprinkler system to turn on daily. At the time, he was on set in Vancouver and his family was visiting him. When his wife returned home, she "rectified the situation that day."
"We are environmentally conscious people who have installed artificial turf to do our part for the environment and help conserve water," Neal said.
County records value Neal's home at just over $500,000.
Tyga: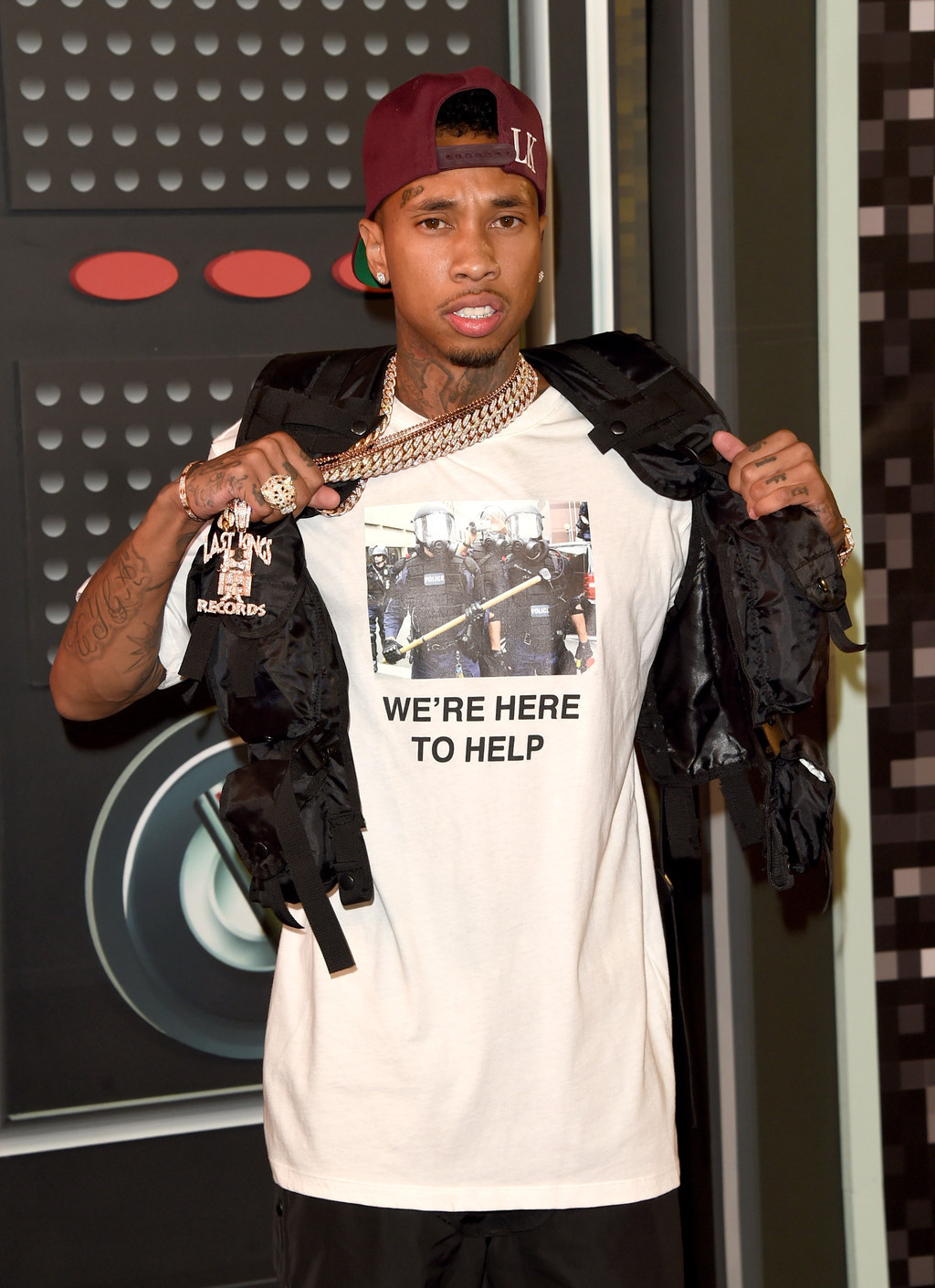 Rapper Tyga — whose real name is Michael Stevenson — lives just blocks away from his girlfriend, Kylie Jenner. Documents show that he has been warned and fined for two water violations at the home, which reportedly costs $25,000 a month to rent.
The citations are just the latest of Tyga's housing troubles; two different Calabasas landlords also have filed suits accusing him of skipping out on rent.
Celebrities in Calabasas aren't the only high-profile figures to have been busted for wasting water, though California privacy laws make it difficult to get widespread, comprehensive data.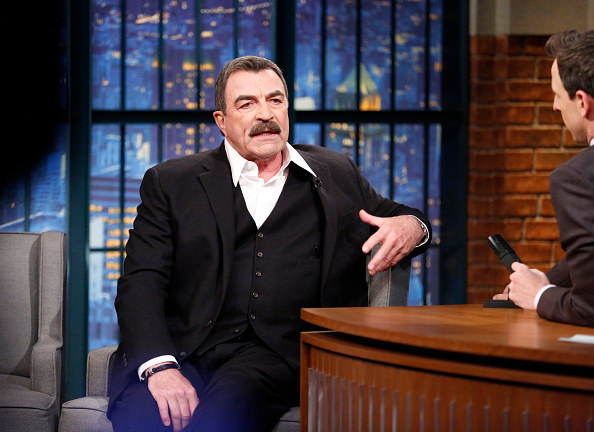 In July, actor Tom Selleck made headlines for allegedly hiring a large truck to siphon water from a fire hydrant and use it for his ranch. Selleck's case was detailed in a lawsuit that sought at least $21,700 in damages.
Other celebrities — including Kim Kardashian and Kanye West, Jennifer Lopez, and Barbara Streisand — have been accused of ignoring the drought after photos shot from helicopters showed sprawling, verdant lawns.
Still, it's difficult to know exactly how widespread celebrity water waste is in California because privacy laws shield residents, including the rich and the famous, from public scrutiny. According to the Center for Investigative Reporting, the protections date back to 1997 and were designed to "protect the privacy of the tech elite." Prior to that time, California laws made utility bills public, which allowed the Los Angeles Times to report on a number of powerful public figures who opted to ignore conservation during a severe drought in the early 1990s.
The strict enforcement comes as cities across California try to reconcile a prolonged, severe drought with a culture that devotes a massive amount of water to landscaping.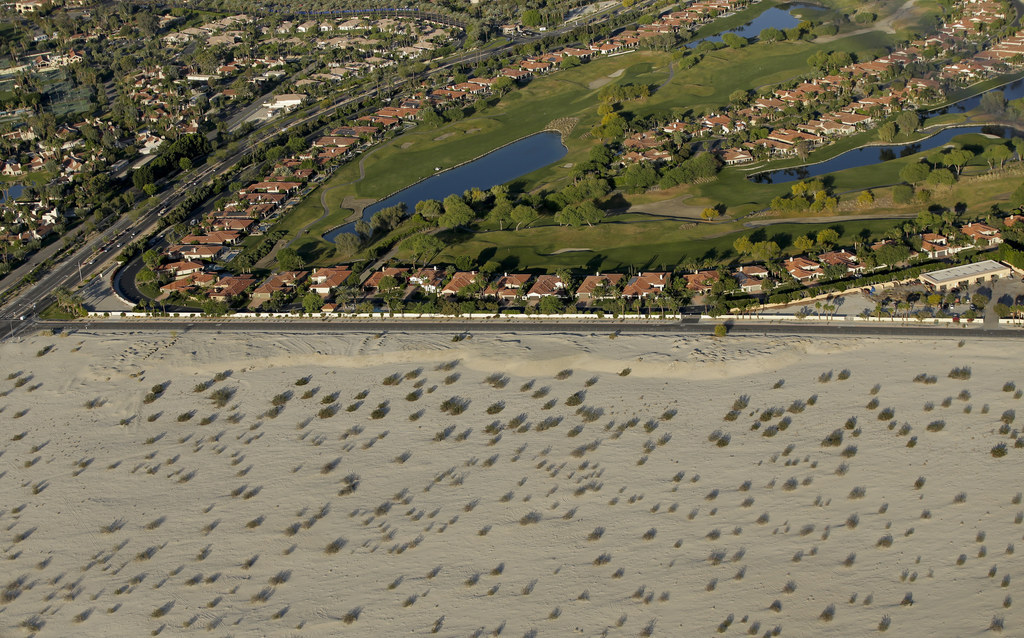 To cope with the extreme conditions, Gov. Jerry Brown ordered cities to reduce water consumption by 25%. Communities were then given "conservation targets," or reductions that must be made to avoid facing huge fines.
The Las Virgenes Municipal Water District and its cradle of luxury homes were told to cut water use by 36% — one of the steepest requirements to hit any water agency in the state.
To meet that target, Las Virgenes imposed numerous restrictions mostly aimed at curtailing outdoor water use, a response similar to those rolled out by communities across California.
And to a large extent, it has worked. In July, California's cities collectively reduced their water use by 31.3% compared to the same month in 2013. Major cutbacks also were reported in June, with authorities attributing the success to a mixture of public outreach, fines, and other programs.
Calabasas has experienced a similar level of success. In July, the community exceeded its target after cutting back by 37%. Combined with June, the overall reductions are only 35%, which is just barely shy of the state-imposed conservation target.
Las Virgenes General Manager Dave Pedersen told BuzzFeed News that the vast majority of the residents in his area are complying with the new rules, but said there was a "small minority" that "doesn't want to change."
"We've got to get them onboard too, and, unfortunately, penalties and fines are a way to do that," he said.