Casey Kasem's Body May Have Been Moved To Canada
Update: several days after Kasem's body disappeared in Washington several sources report that it was tracked to Montreal. The legendary radio host died in June and his adult children have subsequently been fighting his ex-wife for the body.
Updated — July 22, 12:35 p.m. ET.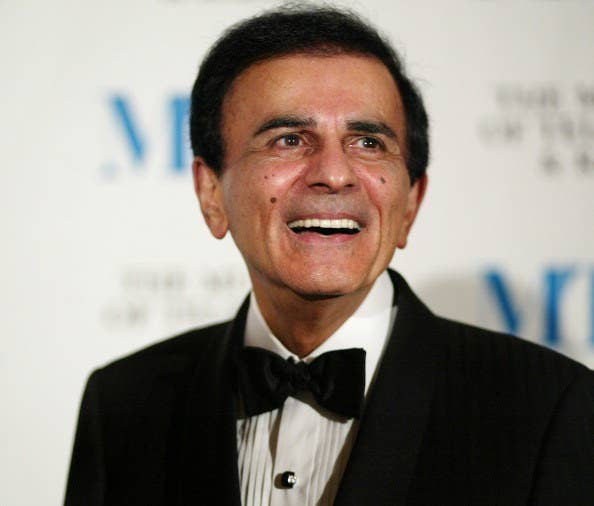 Citing a death certificate and a conversation with a Tacoma funeral home director, the BBC reported Monday that Casey Kasem's body had been moved to Montreal, Canada. The body was allegedly moved July 14 — before Kasem's daughter obtained a court order to keep the body in Tacoma — and ended up at the Urgel Bourgie funeral home. Jean Kasem, Casey's widow, was responsible for the move, according to the BBC.
However, a representative for Urgel Bourgie told BuzzFeed Tuesday there was no record of the radio host's body at the home. The representative declined to give her name, but said that if the body were at the home it should have appeared in the records. A Montreal police spokesman also told BuzzFeed that his department was not involved in moving or escorting the body from the airport. A lack of police involvement does not necessarily rule out the arrival of Kasem's body, however, as Montreal officers only escort bodies involved in criminal cases.
The body of legendary radio host Casey Kasem has disappeared, a representative for his daughter Kerri Kasem said Friday.
Kasem died June 15 and for more than a month his body remained at a Gaffney Funeral Home in Tacoma, Wash. Thursday, however, his daughter Kerri learned that the body had been removed, reports ABC News. Kerri was not told where her father's body was taken or who had taken it, a family representative told multiple media outlets.
A representative for Gaffney Funeral Home confirmed to BuzzFeed Friday that Kasem's body was no longer there, but did not say where it had been taken.
While no one knows what happened to the body, a family representative pointed to his widow Jean Kasem as a likely culprit behind the disappearance. Jean and Kasem's children have a long-running feud that catapulted into the public eye in May when the radio host disappeared. Kasem was later located in Washington.
Kasem's body was not supposed to be removed while the courts decided if an autopsy should be performed.
On Wednesday, a judge issued an order barring Jean from moving or cremating the body. The order was supposed to give the court time to decide if it should require an autopsy by someone of Kerri's choosing, as Kasem's adult children have requested. Kerri also has filed a police report alleging that Jean committed elder abuse by taking Kasem to Washington.
The news that Kasem's body is missing was first reported by TMZ. Kerri did not immediately respond to BuzzFeed requests for comment.